It started with an almond butter cup.
Kalle LeMone loves chocolate, and since she graduated college and began living in Columbia she's wanted to open a business. Two years ago, when Kimber Dean approached her with a Paleo version of a Reese's Peanut Butter Cup at a yoga session, Kalle realized she wanted Kimber, who was her instructor, to become her business partner. She sent her a Facebook message bringing up the idea. "I was like, 'Who is this girl?'" Kimber says, laughing at the memory.
The two agreed to meet and talk about a more formal business plan. At their initial meeting, Kimber told Kalle she was on a bit of a time crunch — she was four months pregnant with her soon-to-be daughter. At the time, Kalle's son, Bowen, was just 8 months old. They could do it, though; they had mom power, as Kimber called it.
Each brought their own skills to the table when making plans for the cafe. Kalle, who earned her MBA from Columbia College in 2012, handles the business side of things — marketing, accounting, social media, payroll and invoices. She also comes up with the smoothie recipes and writes the Nourish blog. Kimber, who graduated from Le Cordon Bleu in 2008, is the chef and CEO of operations — ordering, making recipes and working with the farmers for local food purchases.
Kimber also has a degree in personal nutrition from Shaw Academy, an online education organization, and a yoga certification. In addition to her schooling, she wrote a cookbook, Happy Food Cookbook, and ran a catering business while teaching yoga.
When the two started menu planning, keeping food costs low and standards high were their priorities. Kimber knew she wanted pesto on the menu, but pine nuts would be too expensive. Kalle countered with using raw pumpkin seeds instead. Maintaining affordable prices is one of Kimber's biggest challenges, she confessed, but between her personal nutrition degree and Kalle's knack for researching, they've found ways to balance each other.
Planting the seed
Both women smile as they reminisce on the inception of Nourish. "I'll never forget, I was so big in her kitchen doing recipes," Kimber says, recalling the end of her pregnancy and the birth of Nourish. "We ate so much that week, it was amazing," Kalle says.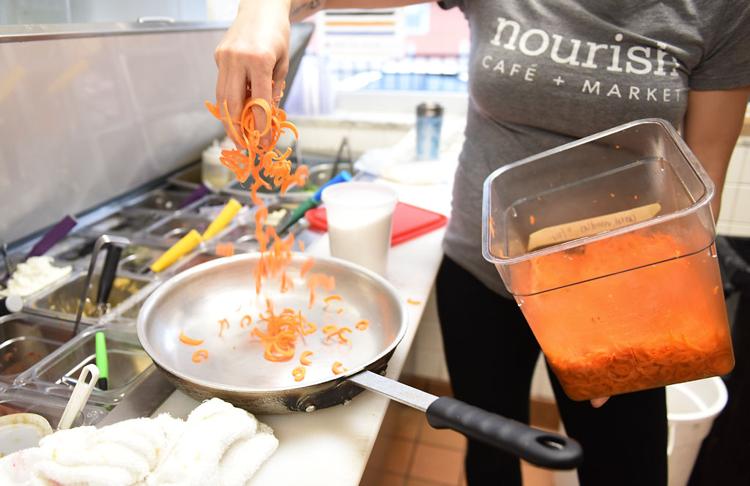 "We were cold-pressing juices in her house," Kimber adds, "constantly cooking, writing down recipes." They had chosen the spot at 1201 E. Broadway after looking at two other locations, and while Kalle designed the interior and worked on the remodeling with the help of her husband, Mac, Kimber was home configuring food costs with her newborn daughter Dillon, who was born that January. "The coolest thing was watching our kids grow together," Kimber says of their past few years as business partners.
Dillon, 2, and Bowen, 3, have been part of the team since the beginning. Healthful living isn't just a business for Kalle and Kimber; it's a lifestyle and mindset they are passionate about and want to raise their children with.
"He eats what we eat," Kalle says of Bowen. Even when he was just beginning to eat, she fed him healthful meals rich in nutrients and fats because babies' brains develop rapidly.
Kimber's daughter eats similarly at the Dean household; she practices moderation with Dillon. "I'll try to make my own chocolate for her so she knows what chocolate tastes like, or for her birthday, I'll make cupcakes but make sure there's no refined sugar, there's no gluten, soy, corn — all those things we don't eat."
They don't want to deprive their kids, though. Kalle says if they're at a birthday party, she'll let Bowen eat a cupcake. "I know everyone's looking at me like, 'Is she going to let him eat that bright blue cupcake?' I always do, but the few times he has, he's had a few bites. And he gives it to me, and he's like, 'I don't feel good.'" That's when she knows she's established healthful habits with her son.
Whenever Dillon's nanny takes her grocery shopping, she doesn't worry about going through the candy aisle because Dillon doesn't know what that is. "If you go through the produce aisles, she's like 'Blueberries! Broccoli!'," Kimber says. "It's just a totally different way of living."
Raising Nourish
Between cold-pressed juices and ice-cold acai berry bowls, the cafe beckons locals to take a step into its cool interior. Slate gray tables furnish the white brick-walled room. Bright green succulents hang out of bulbous white vases on the east wall. The fridge near the cash register houses the cold-pressed juices and local cow's milk, along with truffles, cheesecakes and cream pies.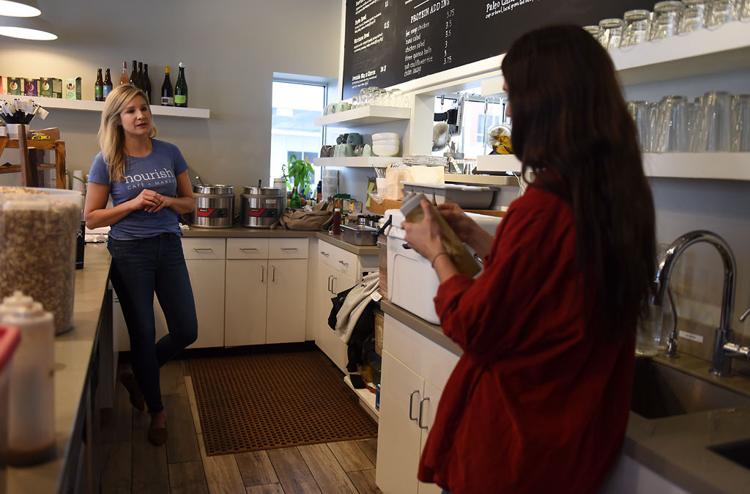 The best part? It's all good for you. When Kalle and Kimber sat down with a business plan in mind, the one thing they both knew they had to agree on was the business's mission statement. Now, it's displayed on the blue-grey wall facing the café: "We promise to serve organic, nutrient-rich, unprocessed food made from scratch, right here in our kitchen."
They pick their own basil leaves to make their own fresh pesto. They go through about 250 pounds of oranges a week for fresh-squeezed orange juice. To keep up with their mission statement, they even bought a citrus juicer to make their products fresh on site.
It would take about three minutes to drive from Nourish to Lucky's Market to pick up almond milk from the back wall of refrigerators. However, Nourish promises food made from scratch, soaking almonds for hours in preparation to make a meal, smoothie or almond flour for their baked goods. It doesn't appear that anyone would even have to ask if the commitment is worth it. Kalle and Kimber beam when they interact with their customers or talk with their employees.
"Cooking is my life," Kimber says. "I do it all day long." Her husband, Ryan, can attest to that: "When she feels like she has free time, she either redos a recipe, or she'll make a new one, and I'm her test dummy." She tests new recipes about once or twice a week, he says. When they go out to eat at a restaurant and she sees something on the menu she likes but thinks it could be made healthier, she'll go home and tweak it to fit her dietary preferences.
Tending to the roots
Kimber and Kalle aren't new to wholesome meals and healthful living, though neither of them were initially healthy eaters. As competitive athletes, they grew up on fast food and candy, never really paying attention to what they were putting into their bodies.
Kalle became health-conscious right after graduating from college. For Kimber, it started after a two-year drug addiction. Both use the word evolution to describe the process. "I started paying attention more," Kalle says. "What was in our food? I delved deeper."
Once Kimber made the decision to get clean, she wanted to do so without rehab. "I knew there was a way you could be steady in your mood," she says. "Because now when you go from uppers to crashing, it was like I was having panic attacks ... so I just wanted to be level." The first thing she took out was sugar in 2008 and for 10 years she has been clean. Since then, Kimber has also removed gluten, soy, corn and dairy from her diet. "I just eat the right things," she adds. "I feel so good now."
Kalle says she knows some people wonder how they do it because their idea of a healthful diet does seem so extreme. It's been a long time in the making, though. "If I were to see 10 years ago what I'm doing now, I'd think it was weird, too. But it's just our life; I can't think of anything else," she says.
Kimber compares the dietary evolution to smoking cigarettes: "It's like if you smoke your whole life, they taste good to you, and you want more. But the first time you ever smoke or the more it's out of you, it's disgusting, you know? It doesn't taste as good; the effect on your body is so much more intense."
Healthful living shouldn't be a chore, though. Testing out what works and doesn't work for your body is an important part of the process, and cheat days are welcome, though it's hard to cheat health at Nourish.