Pete Veros is the co-owner of Tony's Pizza Palace, a Columbia staple for over 50 years. The pizza joint, located in Columbia's Sharp End, was founded by Veros' parents in the 60s when they immigrated from Greece.
Decades later, the business has become a family affair, with Pete Veros and his brother Daniel Veros taking over daily operations. Even the Veros brothers' 81-year-old mother, affectionately known to customers as "Mama," still helps with the restaurant where she can.
On this episode of Vox Voice, hear about how the family business got started, how Tony's stayed afloat during COVID-19 and how customers are at the heart of everything they do.
Listen to Vox on Spotify, Apple Podcasts, Stitcher, TuneIn and Blubrry.
Want more Vox?
Don't miss a thing: Get more Vox straight to your inbox. Fill out the forms to receive highlights from our monthly issue, hand-picked calendar events, reviews, recipes and everything else you need to thrive in Columbia.
Sign up for our newsletters to get more Vox straight to your inbox.
Episode Transcript
Grace Cooper, 00:14: It's safe to say that the Columbia community is spoiled when it comes to pizza. If you crave it, you can get it: greasy late-night delivery, inventive toppings, wood-fired crust. There are plenty of options in town, but Tony's Pizza on North Fifth Street has seen it all come and go. Pete and Daniel Veros' parents immigrated to Columbia from Greece in the 1960s without jobs, English language skills, friends or much knowledge of life in the United States. They built Rome Pizza from the ground up and 55 years later, their legacy still stands. It's a cheesy, delicious legacy — one with lauded crust, hand-ground sausage and signature sauce — and devoted customers who swear by the food at Tony's Pizza Palace. I'm your host Grace Cooper and here's our reporter, Roshae Hemmings, in conversation with Pete Veros. Welcome to Vox Voice.
Roshae Hemmings, 01:13: Hey, y'all this is Roshae Hemmings with Vox Voice and I'm joined today with Pete Veros, co-owner of Tony's Pizza. Thank you so much for being here with us today.
Pete Veros, 01:23: Thanks for having me.
RH, 01:24: So getting right into the questions: I know that your family has been in the business for a while now, so can you tell us a little bit about your family and the pizza shop's history?
PV, 01:35: Sure. So my parents immigrated here from Greece in the early 1960s. My mom's oldest brother, actually, how they found Columbia was my mom's oldest brother came here in the late 1950s to find work and knew some Greeks in Duluth, Minnesota. They, I don't know how they found out through the grapevine, but they knew that Columbia was a good college town and a good place to open up a business, and so they came down here and started kind of looking around for a place to set up shop. And my uncle started a restaurant here in Columbia, which is no longer in business, called Rome Pizzeria and his siblings all followed at some point. And my mom was one of his siblings, and so my mom and dad opened Tony's Pizza in the early 1960s. I don't know exactly what year it was. I think it was 1965. And I think we are the oldest pizzeria in Columbia today. And so we are the second generation owners. My dad passed away years ago, but my mother's still alive. She's 81 years old, and she's still very active in the restaurant. She comes in every morning. She kind of gets things ready for us. COVID has been a weird year for us, because, you know, at her age she didn't want to get out. But up until this last year, she would come down every morning. She would work lunch, stay for an hour or two, greet customers, help us out where we needed to, and then she would leave. And she still enjoys doing that. It gives her something to do every day. My brother and I run the restaurant, the day-to-day operations of it. And so, we're going on 56 years now. So the place has been in my family that entire time.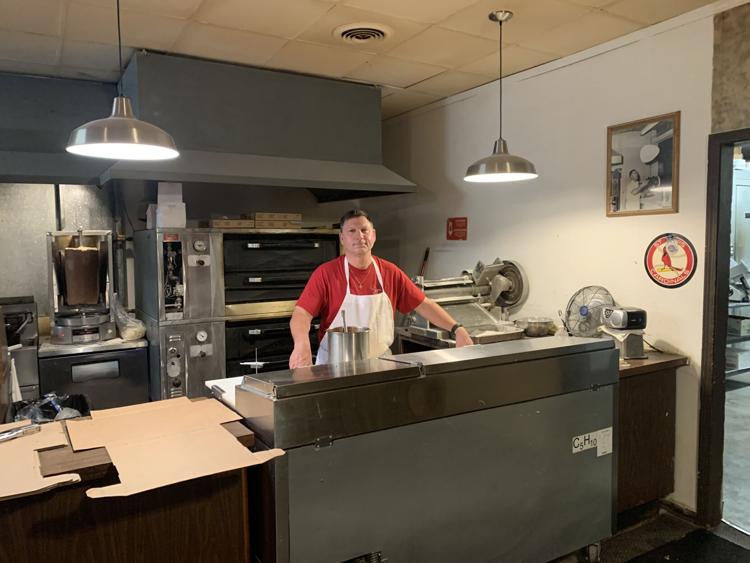 RH, 03:22: You mentioned your parents immigrating from Greece to America. Can you talk more about that transition from a place that's so familiar to them to a place that's unfamiliar, and also creating a business and being successful?
PV, 03:36: Yeah, just imagine going to a foreign place where you had no English skills. I mean, they literally learned everything from the ground up. And so it was quite a challenge for them going to a strange place and not really knowing anybody or anything about the place and starting a business. And they worked their tails off. They were really the great immigrant story: They came here with nothing, worked their tails off, built something out of it, and we've established it and kind of kept it running from that point on. For me, it was pretty easy because the business was established, so I kind of took it over. And then being second generation, you've already got an established clientele and it's pretty nice. The customers that come to us are ones that I've seen forever, and now their kids are coming and their grandkids are coming so I'm building on that.
RH, 04:34: Can you dive more into what it's been like for you and your brother to take over the business? You did say there's already been an established clientele and everything like that, but can you talk a little bit more about y'alls involvement and what you do?
PV, 04:49: We do everything. I mean, we are the day-to-day operations of it. My brother and I, we split our time there. Anything and everything that the restaurant needs, we do. We don't have managers; we do everything ourselves. We have employees, obviously, but I think what sets us apart too is that we take a lot of pride in how we do stuff. We don't get everything in a truck and just throw it on a pizza. It is almost all homemade. We make our own dough, we make our own sauce, we make our own sausage, we grind our own beef, all the vegetables are cut daily, fresh. I think that sets you apart from other places. And when you put out a good product and you've been doing it for 55 years, people come back to you. And I think that's what drives us and why we're successful.
RH, 05:34: Absolutely. It sounds like a lot of work, but it does sound like there's immense payoff, for sure.
PV, 05:40: There is. It really is nice. And it is very hard work. And, actually, we've got a lot easier than my parents did. My parents lived in that place, and it was their dream and their goal to make a better life for their kids than they had in Greece. And they accomplished that, and we've kind of taken off and run with it. And it's been good. I've been doing it for 33 years, almost.
RH, 05:43: You mentioned that this was your parents dream. How important is it to continue that that legacy and that dream for them?
PV, 06:13: Well, we're gonna do it as long as we can. My brother's several years younger than I am and he's got lots of young kids, so he's gonna be working for a while. And I'm not going to retire anytime soon, certainly. I've got two boys. I don't know if they're interested in running the restaurant or not. One of them works for me. Hopefully, it'll go to a third generation, but it's a lot of work. It's a lot of time; it's a lot of effort. There's no paid vacations. A lot of the stuff that people that work for companies take for granted, you've just got to put in all the time and effort to get any success out of it.
RH, 06:48: Absolutely. So you did mention your mom, and how she's still a part of Tony's and the community that's been fostered. What are her interactions with the customers today and what is her role within the restaurant today?
PV, 07:05: First of all, she's just known as "Mama." If customers come in, it's "Hey, Mama. How are you? Good to see you. How are you doing?" You know, like I said, she is still very much a part of the restaurant. She comes in every morning, gets things going for us. We still have our dining room closed because of COVID, but a lot of times during the day she will just greet customers as they come in the door and talk to them. I mean, you gotta remember she's been here from the start, so she knows a lot of people within the community. And even when she's not at work, people will see her at Walmart or at the grocery store. And they'll say "Hi" to her, "How are you feeling? How are you doing?" She's very much proud of the fact that we're running the store as a second generation. A lot of places don't do that.
RH, 07:55: So having been around in Columbia for so long. How have you seen the community rally around your restaurant over the years?
PV, 08:04: We have, and especially this last year with the coronavirus. There was a lot of angst at first. Last March when it all came out and they started shutting dining rooms down, we didn't know what was gonna happen. And certainly we were all on edge about it. But as the weeks turned into months and our customers — what we did is we kind of transitioned our business. And pizza restaurants — just from my understanding, what I've talked to some other people in the business, my sales reps — pizza places have tended to have done better during COVID than a lot of sit-down restaurants. It's different. You can take a pizza home in the box and eat it. You can't do that with a filet mignon and a baked potato. It's just not the same. And so the places that really struggled were the places that did almost exclusively all dine-in. And so the transition was easier for us because a lot of my business before COVID was carry-out and delivery anyways. And so it just transferred all to carry out and delivery. And so we did well with it. We didn't set the world on fire by any stretch, but my customers were very, very loyal to me during that time. And I think people, especially in Columbia, were very aware of the fact that that they needed to support their local businesses to help them get through the coronavirus — not just talking about us, but just all the restaurants in Columbia that were locally owned. It was kind of a rallying cry for a lot of people just, "Hey, let's keep these places open, so they're still here after COVID." And I think a lot of my customers took that to heart because we did okay during all this. And we're not there yet, but I think pretty soon we'll get back to normal. I hope so.
RH, 10:00: You mentioned customers and how they've been loyal to you, even before COVID. Generally speaking, what's the importance to you of having a regular group of customers that are constantly supporting Tony's?
PV, 10:16: It's the world to us. It really is. Not only are they customers, a lot of them are just friends. They've become friends over the years because we see them so often. Because I've been there so long, I can hear a person's voice on the phone and just know who it is. I'm literally writing down an order before they start telling me what it is, because the customers that come in always tend to get the same things. They want a large sausage and pepperoni pizza with two orders of wings or whatever it is. And it's funny because my brother Daniel and I talk about this all the time. When you see the same people all the time, you know their names, you know their families, you ask them what's going on with their kids or their grandkids. And that's important to them too because it means that you're taking an interest in them too. When you've been there as long as we have, it's important for them — and for us — to know all that stuff about our customers and keep them coming back.
RH, 11:11: So kind of a fun question: You've been doing this for a few years now, so you must have some stories or some some fun experiences. Is there a funny story that you can share with us about working at Tony's over these years?
PV, 11:30: You put me on the spot. I don't know if I can think of anything that's funny off the top of my head. I would just say the daily interactions are the best part of the restaurant, the parts that I enjoy the most. Whether it's just cracking jokes or watching sporting events. Well, I'll tell you just a quick story. Just recently, when the Kansas City Chiefs won the Super Bowl, one of my very good customers and a close friend of mine, he doesn't like the Chiefs. He likes the Denver Broncos. And so he came and picked up a couple of pizzas one night, and on the inside of the box I put in huge letters, I took a marker and put "Kansas City Super Bowl champs." And he texted me and he put it on Facebook. And we just had a great time about it. And he still gives me a hard time to this day about doing that. He said, "Oh, you ruined my appetite that night."
RH, 12:24: One more question: What is the most fulfilling part of this work for you serving the community?
PV, 12:31: Well, I think that's just it. Serving the community is a big part of it. When you own your own business, you take pride in what you do. You take pride in how you do it and that's what drives you. You want to do it well because it's your reputation and it's your business on the line. If you work for somebody else, you don't necessarily have that incentive or that drive to do something like that, but we do. I take a lot of pride in taking care of our customers and doing the best that we can to make the business successful.
RH, 13:09: Awesome. Thank you so much for joining us. Thank you so much for your time.
PV, 13:12: Glad to be here.
RH, 13:14: We appreciate it.
GC, 13:26: Thanks so much for listening to this episode of Vox Voice. Next time you crave a slice, stop by Tony's. Tell Pete that Grace sent you.
Related Stories