Imagine a perfectly browned, breaded chicken breast — crunchy on the outside, juicy on the inside — with a couple thin pickle slices resting on top. The combination is wedged between two buns that are so soft your fingers melt into them, and there is a special sauce slathered inside that brings all the elements together in a flavorful punch.
Is your mouth watering yet?
The truth is, crispy chicken sandwiches are a delicacy, revered by many as a fast food favorite. However, not all chicken sandwiches are created equal. For years, different restaurants have tried their own spin on the classic meal, and it's sparked a heated debate among the chicken-loving community. 
The chicken sandwich wars are continuing as fiercely today as they did when Popeye's controversially launched a competitor to Chick-Fil-A's classic sandwich in August 2019, with McDonald's releasing its own crispy chicken sandwich variation in February. Even locals have gotten involved, with Columbia restaurant Brassy Bird opening early this year to provide a small menu of deluxe chicken sandwiches.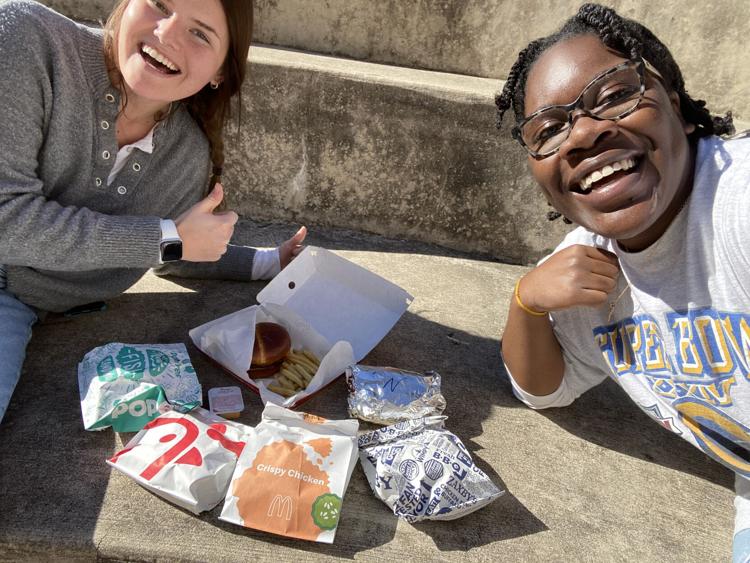 With this growing number of options, Vox's resident chicken experts Alyssa Shikles and Roshae Hemmings spent an afternoon scoping out the competition by trying each sandwich to rank which franchise holds the most delicious meal. After much deliberation — and a belly full of chicken — here's their take on Columbia's top six competitors.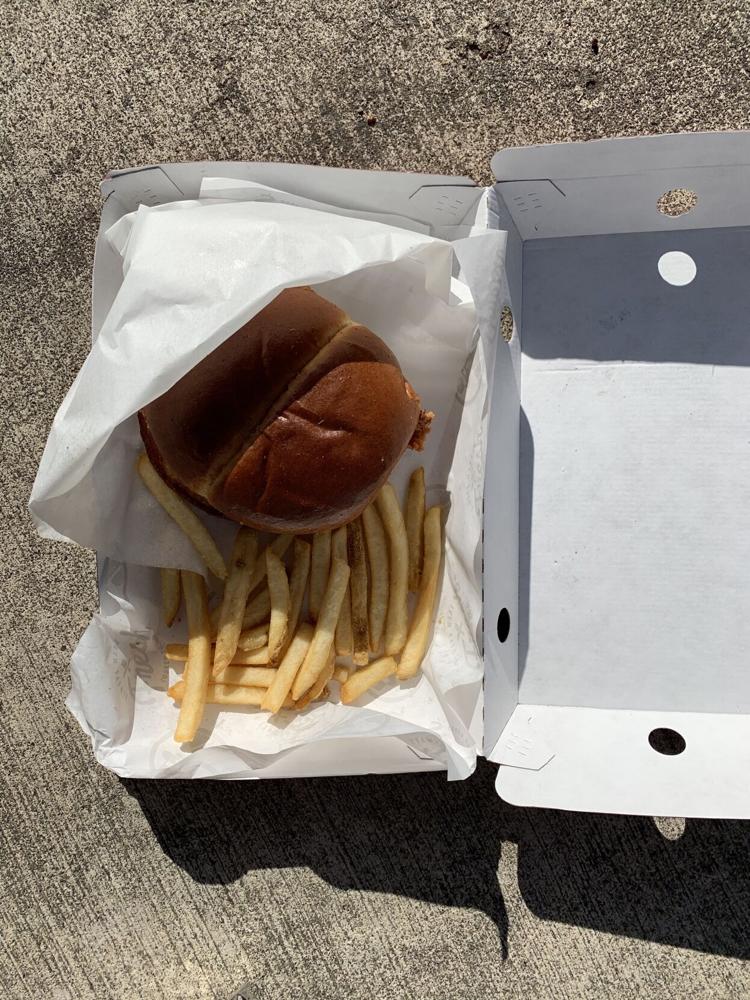 Slim Chickens
Crispy Chicken Sandwich: $2.99
Address: 2641 Trimble Road
The cheapest of the chicken sandwich options, we had our doubts about Slim's legitimacy compared to other chicken legends. However, the second we sank our teeth into the bun, we were pleasantly surprised by the quality of flavor each bite held.
Although proportionally the sandwich was off — some bites had little or no chicken at all — the texture and crispiness of the chicken was superb. The zesty ranch mayo and thin pickles also added a subtle richness to the taste without being overwhelming. The bun could be fluffier, but overall we were really pleased by our experience from Slim's. Plus, the drive-thru accidentally gave us free fries, so they earned bonus chicken points from us. 
Roshae's thoughts: The ranch flavor is definitely coming through and it's not bad. The chicken is crispy. It's good!
Alyssa's thoughts: The chicken is very crispy and has good flavor. I feel like the pickles add a good touch, and they aren't overwhelming. I'm a fan. I think the bun and proportions could be better, but, overall, pretty good.
Final rating: 🐔🐔🐔🐔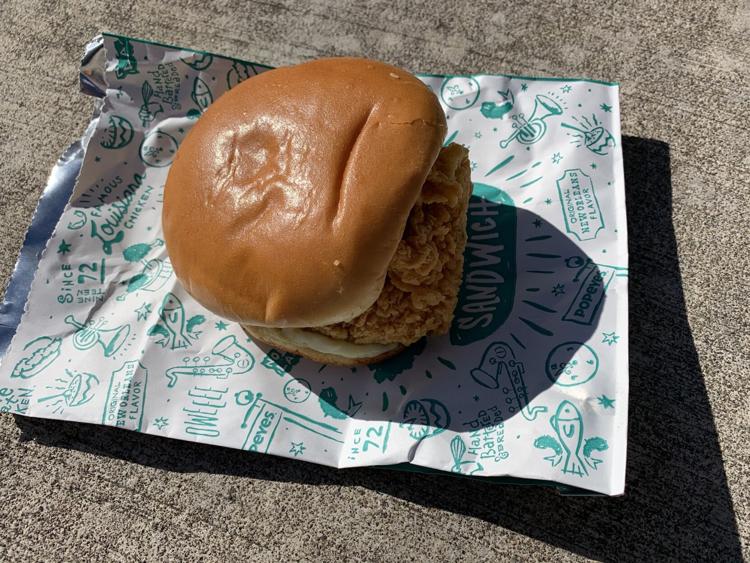 Popeye's
Classic Chicken Sandwich: $3.99
Address: 111 Business Loop 70 East
As one of the most infamous sandwiches of the bunch, we both had high expectations. After all, this sandwich incited madness and was so popular that Popeye's brought it back two months after its initial limited release. There was no way it couldn't be good — or so we thought.
Upon taking the sandwich out of its insulated bag, its glistening bun indicated promise. Once we took a bite, however, we were left wanting more. Like Slim's, the bun-to-chicken ratio was off. While the chicken was big, the flavor was not. It was crispy on the outside and dry on the inside, and the heavy slathering of mayo did very little to help. The pickles worked overtime to add a tangy flavor to the sandwich, but we deemed them too overpowering.
Alyssa's thoughts: I feel like the flavors are kinda bland. It's definitely crispy, but I think the mayo almost detracts from the flavor a little bit. A lot of what I can taste is pickles.
Roshae's thoughts: It's not very juicy, which is so weird because it's such a big piece of chicken, so you'd think it would be. And the flavor is off. If this didn't have mayo on it, holy cow, it would be a dry sandwich. Wow, this is disappointing. And this is Popeye's. People were starting fights when this sandwich came out. This is what y'all were fighting over?
Final rating: 🐔🐔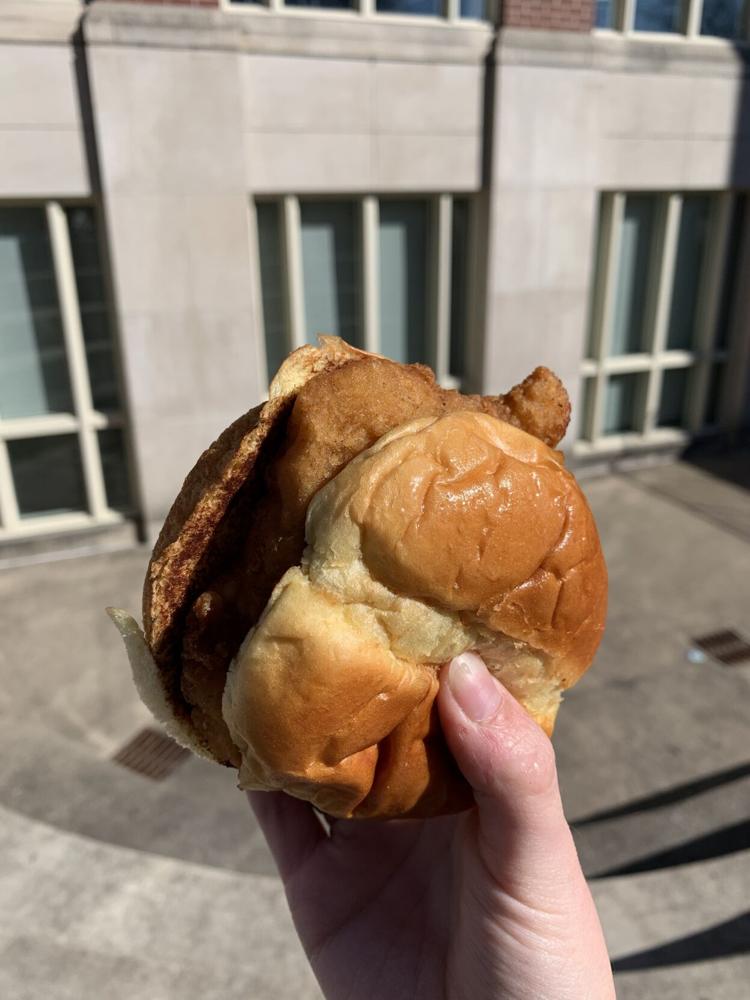 McDonald's
*NEW* Crispy Chicken Sandwich: $3.79
Address: 500 E Nifong Blvd. 
As we ventured into our third chicken sandwich, the taste test very quickly went from bad to worse. There isn't much to say about this sandwich other than "no ❤."
Coming out of the bag, Mickey D's sandwich immediately looked different than the others. Although the toasted bun looked hopeful, the barely breaded chicken itself resembled a chicken nugget. The first bite left us clawing for our water bottles, as the toasted bun combined with the dry chicken and lack of sauce made for an anticlimactic, regretful chicken sandwich eating experience.
Alyssa's thoughts: It's just pickle flavor and chicken mush. I'm honestly surprised you're still eating it.
Roshae's thoughts: I'm looking for some kind of redemption, and there's just none. That was so sad. McDonald's, all I'm gonna say is that if you want to be in the chicken sandwich wars, you gotta give something better than that. That was not a contender.
Final rating: 🐔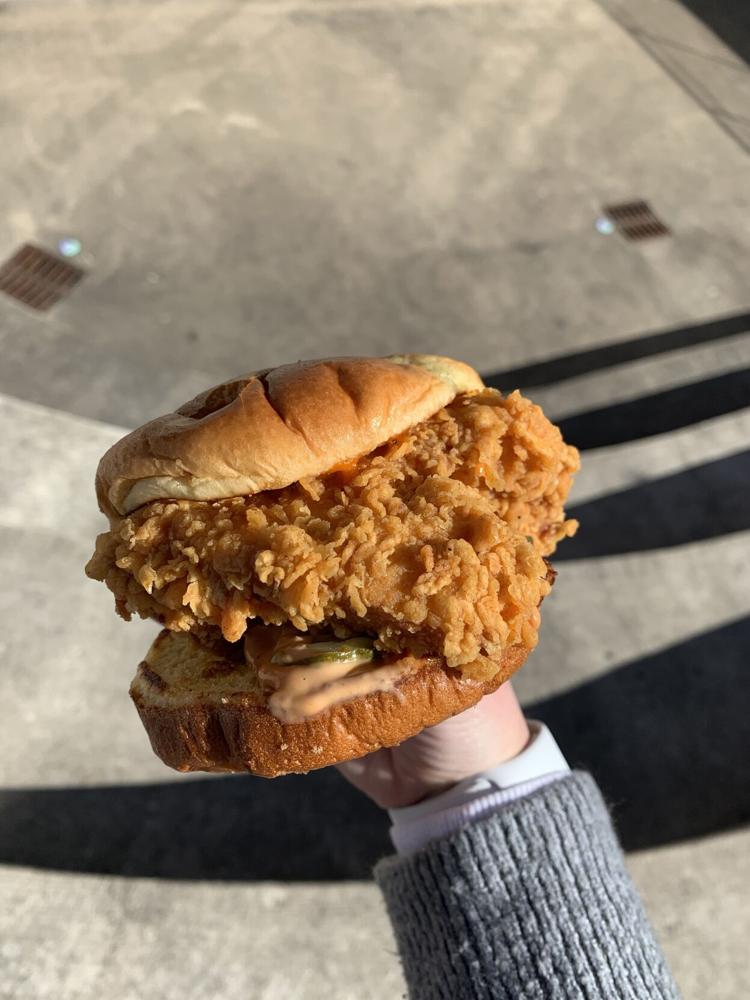 Zaxby's
Signature Chicken Sandwich: $4.99
Address: 1411 Cinnamon Hill Lane
Coming off of Popeye's and McDonald's lackluster attempts at a chicken sandwich win, we needed something to inspire hope, a sandwich to uplift us and invigorate our chicken-loving spirits. Needless to say, Zaxby's sandwich needed to put in the work. And it did … mostly.
We immediately noticed that the chicken was Certified Thick with a heavy dose of breading, but the bun was soggy and lost all fluffiness when held. When we took our first bite, the first thing to hit our palettes was Zaxby's sweet and tangy Zax Sauce, which we were split on. However, the chicken was juicy and crispy and, though soft, the bun was able to withstand the thicker portion of chicken. All in all, not too bad, and we regained some much needed hope in fast food chicken.
Alyssa's thoughts: I'm confused with what the sauce is, but I think I like it. The chicken is very dense. It's very juicy and very crispy.
Roshae's thoughts: I think the sandwich itself, minus the sauce, is pretty exquisite. The bun maintains its integrity, but the sauce. I just don't think I like it.
Final rating: 🐔🐔🐔
Chick-Fil-A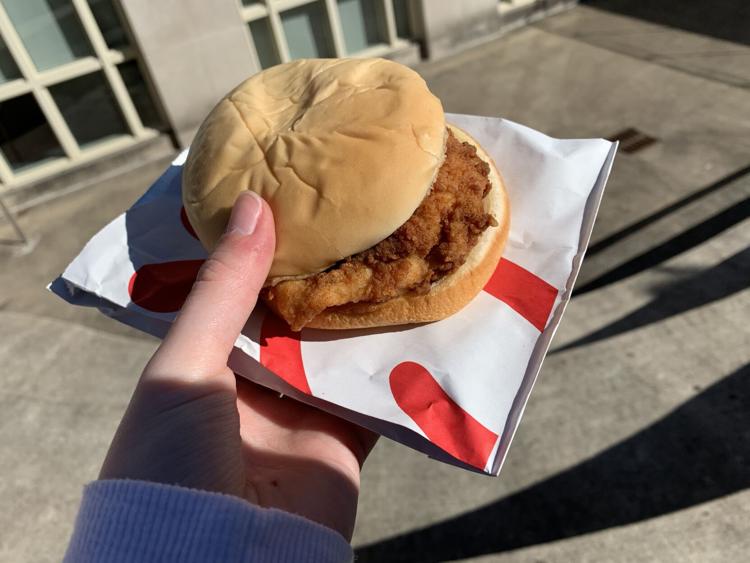 Original Chicken Sandwich: $3.75
Address: 305 N Stadium Blvd.
Chick-Fil-A brands itself as the "Home of the Original Chicken Sandwich," and we would agree. There's nothing quite like the classic nature of the fast food legend's sandwich, and it's clear after trying it that there is a reason Chick-Fil-A is appraised by many as the chicken king.
This sandwich is proof that keeping things simple can sometimes be the best way to go. The soft yet sturdy bun combined with the subtly crisp chicken made for textural harmony. The dill pickles paired beautifully with the pickle-brine-marinated chicken, crafting a blend of savory flavors that make you crave another sandwich the moment after you swallow the last bite. There isn't much to say about this sandwich other than it's *chef's kiss* perfection.
Roshae's thoughts: I mean, it's Chick-Fil-A. Of course it's good.
Alyssa's thoughts: The [Chick-Fil-A] sauce is fantastic, and even without the sauce, the sandwich holds its integrity. This is two hours cold and it's still good.
Final rating: 🐔🐔🐔🐔🐔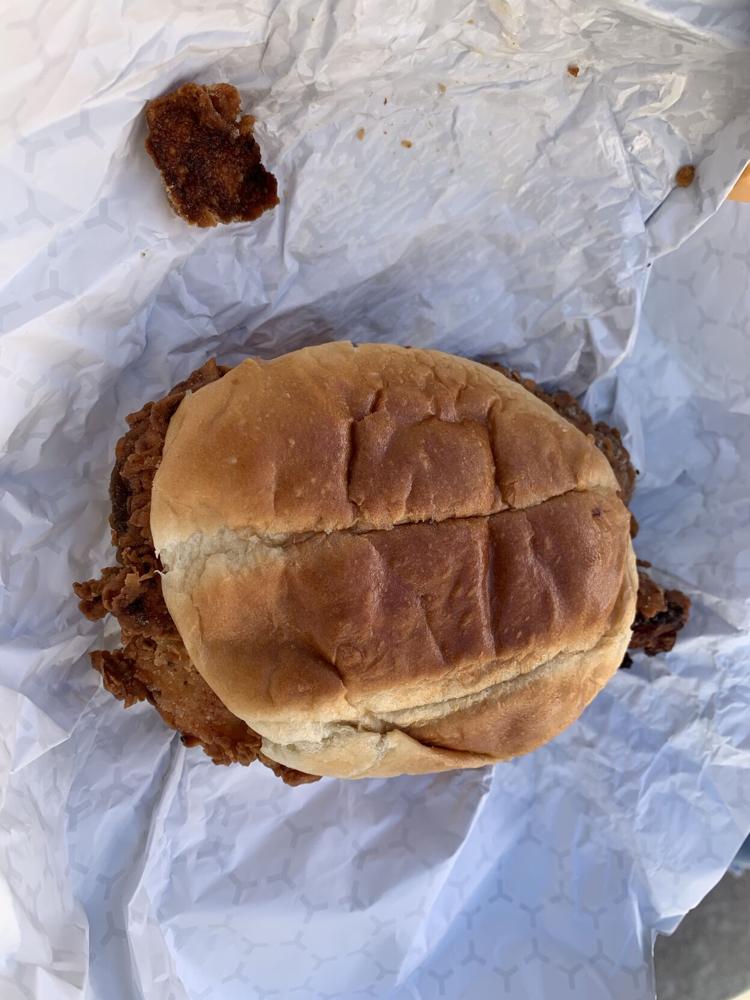 Brassy Bird
Naked Bird: $10
Address: 15 S 6th St
Chick-Fil-A is a tough one to beat, but Brassy Bird showed up and held its own. It was the most unique looking sandwich of the group, as its chicken was quite big compared to the others we tried.
Although this sandwich didn't come with mayo or any other sauce, it came with a healthy serving of pickles. Upon our first bite, we were surprised that Brassy Bird's house-made pickles were sweet ... and we weren't mad at it. The double breading on the chicken made for a hearty crunch, but the overall flavor was lacking.
Alyssa's thoughts: The chicken is different. I feel like it doesn't necessarily have as much flavor as the Chick-Fil-A chicken, but texture-wise it's pretty good. I wish there was sauce on it. It's a little dry, other than moisture from the pickles.
Roshae's thoughts: The pickles win. I'm usually a dill person, but these are really good. I previously had Brassy Bird's Hot Chicken sandwich and that was really good. This one is a bit lackluster.
Final rating: 🐔🐔🐔🐔
Overall ranking
The winner was clear: Chick-Fil-A remains the champ with its classic yet standout sandwich. Though there were some surprising and stellar competitors, with Slim's and Brassy Bird taking second and third place, some were definitely better than others.
If the battle for chicken sandwiches was a class project — Chick-Fil-A is the student who has been studying for months, mastering all the little details to perfection and McDonalds is the procrastinator who threw the assignment together the night before. When the decision was made on who is best, it came down to craft and expertise, and the ultimate sandwich had us begging for seconds.
Related Stories