As the temperature in Columbia continues to show promise of warmth, then plummet unexpectedly — thanks, Missouri! — there's always one sure way to heat up your stomach and soul: a bowl of simmered stock and ramen.
Classical Japanese-style ramen soup contains a range of ingredients, but the most essential are ramen noodles, stock, chashu pork (marinated and braised pork belly), scallions, seasoned soft-boiled eggs and nori, an edible seaweed. But there's no fault in looking to tweak, upgrade or otherwise diversify your ramen experience. Columbia has lots of options for sipping, slurping and spooning your way to satisfaction — and six of our favorite recommendations are conveniently located downtown. 
Bonsai Sushi
Location: 308 S. Ninth Street Suite 105
Hours: Mon.-Thurs. 11 a.m. to 2:30 p.m., 4-9 p.m.; Fri. 11:30 a.m. to 2:30 p.m., 4-9 p.m.; Sat. noon to 10 p.m.; Sun. noon to 3 p.m. 
Dish: Ramen chashu pork
Ramen is often excessively salty, and therefore it's sometimes discouraged to drink the soup. However, Bonsai Sushi's ramen chashu pork soup is light and creamy with a miso base, making it smoother and less intense — so feel free to take a few sips. Although the flavor of the eggs in this dish is not particularly strong, they'll stand out more if you allow them to soak in the broth laced with scallions.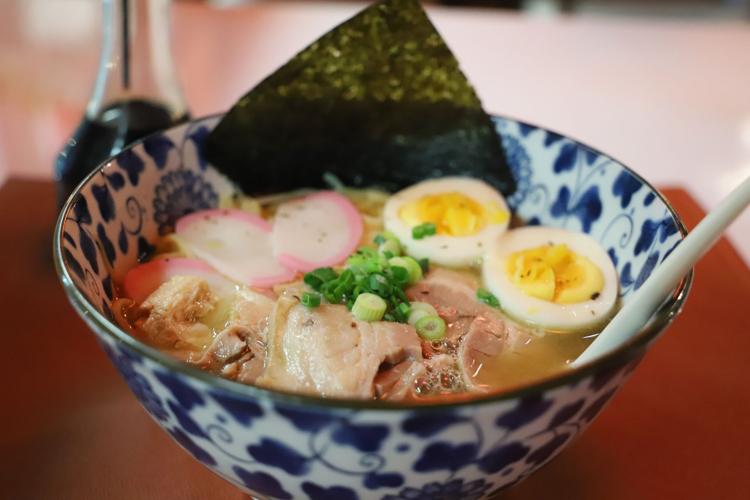 Geisha Sushi Bar
Location: 804 E. Broadway
Hours: Mon.-Wed. 11:30 a.m. to 2 p.m., 5-9 p.m.; Thurs.-Fri. 11:30 a.m. to 2 p.m., 5-9:30 p.m.; Sat. 5-9:30 p.m. 
Dish: Tonkotsu ramen
The tonkotsu ramen with a mild pork-bone soup contains luxuriant ingredients for you to explore. Of all the ramen bowls downtown, this one is the most like a treasure hunt; different ingredients pop up every time you stir the noodles. You'll find sweet corn, deep-fried seaweed, mushrooms, fried tofu, grilled eggs and more with each bite. The chashu pork is not only an embellishment but a spiritual pleasure — the tender pork belly seems to melt as soon as it hits your tongue.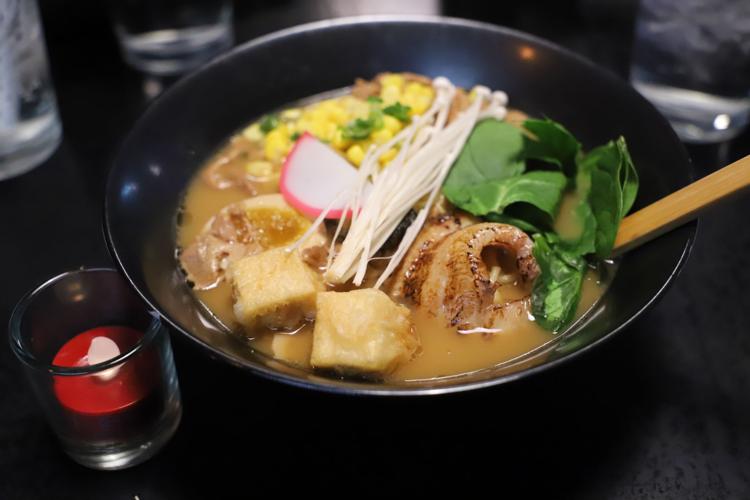 Kampai Alley
Location: 907 Alley A
Hours: Mon.-Thurs. 11:30 a.m. to 2:30 p.m., 5-10 p.m.; Fri.-Sat. 11:30 a.m. to 2:30 p.m., 5-11 p.m.; Sun. 5-9 p.m. 
Dish: Ramen 
This classic Japanese-style ramen bowl features a rich, aromatic and lush stock, with scattered sprouts, green onions and spinach. Topping the broth, there are two round slices of roast pork, which are densely compacted but still juicy.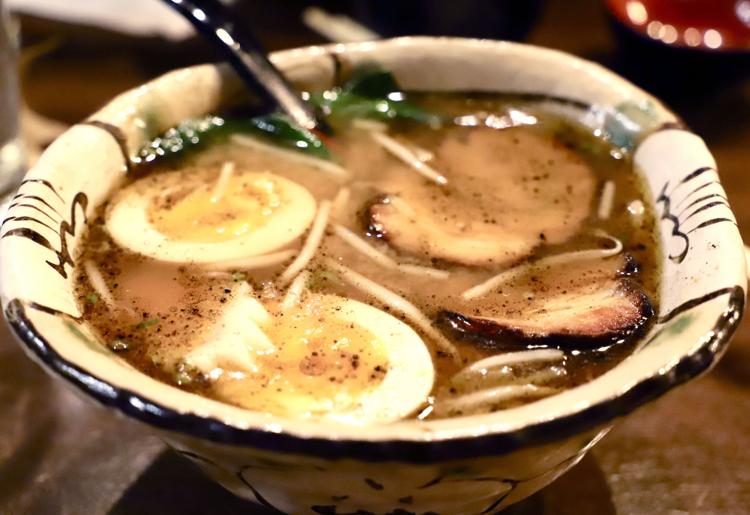 Le Bao
Location: 1009 Park Avenue
Hours: Mon.-Thurs. 11 a.m. to 9 p.m.; Fri.-Sat. 11 a.m. to 10 p.m. 
Dish: Chicken ramen
In this spicy chicken ramen, the marinated cabbage and meat were a bit cramped within the noodles and small amount of broth. But there's certainly plenty to eat! Le Bao offers three other different ramen bowls, including pork, tempura shrimp and veggie. All come with a boiled egg that's soft and silky.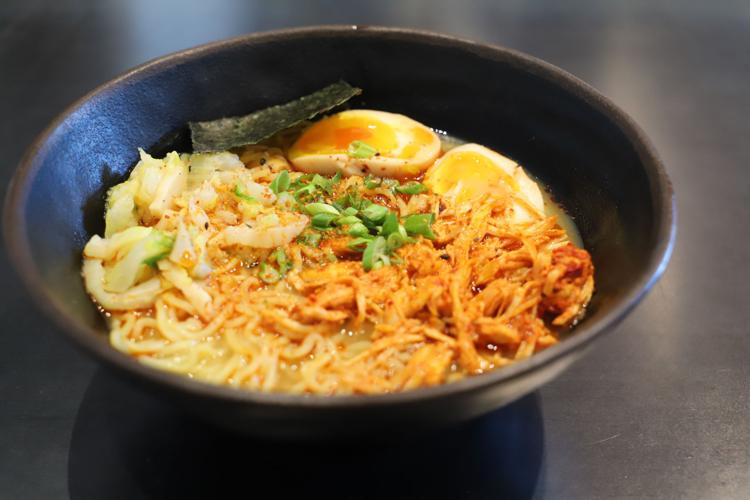 Sake Japanese Bistro and Bar
Location: 16 S. 10th Street
Hours: Mon. noon to 9 p.m.; Tues.-Thurs. 4-9 p.m.; Fri.-Sun. noon to 10 p.m.
Dish: Ramen bowl
This dish is not a traditional ramen bowl, as it does not feature chewy ramen but instead pho-like rice noodles. The add-on of jalapeños and raw carrots is also a deviation from the usual Japanese recipe. Nevertheless, the gorgeous braised pork belly is a little bit crispy outside but tender and succulent inside.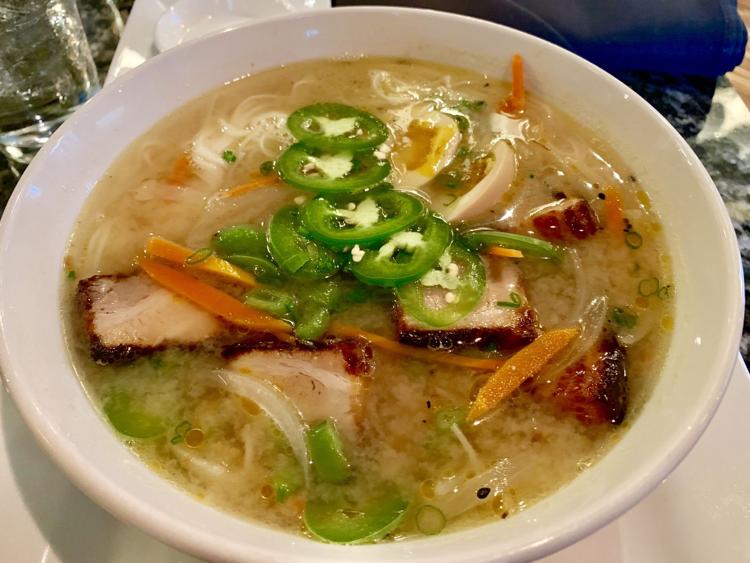 U Knead Sweets
Location: 808 Cherry Street
Hours: Mon.-Sat. 10 a.m. to 8 p.m. 
Dish: Beef noodle soup
This traditional bakery serves nostalgic Chinese noodle soups. This braised beef soup is highlighted by the marbled beef slices and the perfectly al dente Chinese pasta.
Related links