As the January chill starts to creep into your bones, what better cure is there than a big, steamy bowl of meaty goodness? To help you beat the frost, Vox broke down our top seven favorite places downtown to grab that winter classic: chili. 
All you health-conscious chili consumers, rejoice! Nourish Café prepares a paleo-friendly mix of grass-fed beef and veggies in this bean-free chili that's evocative of bolognese. It's thick and chunky, weighed down by beef and then lifted up by oregano. Substantial slices of bell pepper, red onion, butternut squash and zucchini mingle with tangy tomato for a slightly sweet, herby finish. Nourish doesn't serve alcohol, but go for a bottled kombucha or coconut water and walk out feeling, well, nourished.
Price: $4.50 cup; $6.50 bowl
6) Klik's Deli & Bar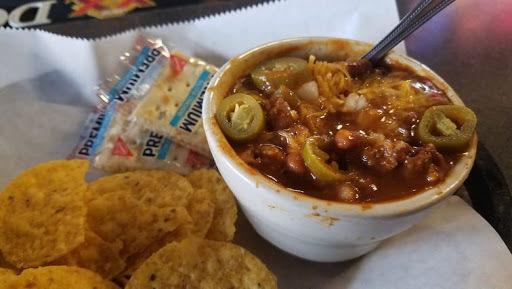 If you could eat nostalgia, Klik's chili would be it. A single bite will take you back to warmer days of football game Frito pies. Loaded with beans and a starchy tomato sauce, this beef chili is best served with customizable fixings, such as shredded cheese, white onion, jalapeños and hot sauce. The cumin-and-onion-forward flavor surrounds huge chunks of beef, tomato and a touch of spice. Try it ladled on salty tortilla chips.
Price: $3 cup; $4.75 a bowl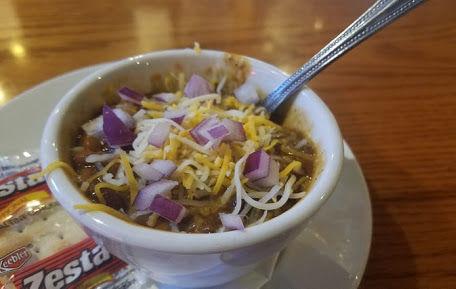 Easy on the spice and made with celery, Shiloh's homemade chili is warm and reminiscent of gumbo. The moderately thick stew isn't your classic chili, but the mild-hearted will joyfully spoon in this herb-heavy treat made with two kinds of beans, chili and kidney, and served with shredded colby jack cheese and red onion. Crush in a little cracker, if you fancy, and sip on some kind of wheat beer.
Price: $2.99 cup; $4.99 bowl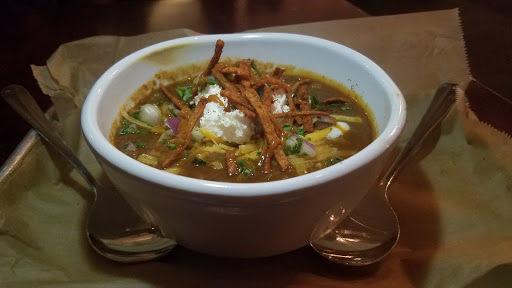 44 Canteen's Americana vibe shines through in this super-loaded bowl of delight. The saucey chili is made with Bur Oak's Boone County Brown ale, meat, pinto beans and an array of toppings. Sharp cheddar melts through waves of smokey beef; whipped sour cream cools the hot edge of Valentina butter sauce; a hint of fresh cilantro cuts through acidic tomato; green and red onion provide a pungent punch, and fried tortilla strips add a satisfying crunch.
Price: $7 loaded bowl
As one of Columbia's most historic restaurants, Booches offers up only the classics, and its chili is no exception. Served with salty crackers, the thick, traditional Midwestern stew blends a hearty helping of beef with beans, onion and chunks of tomato in an acidic chili/cumin sauce, while a hint of hot pepper tingles the tongue. Try it out of the cup or atop a Booches hot dog, and wash it down with a tall draught of Stag.
Price: $2.75 cup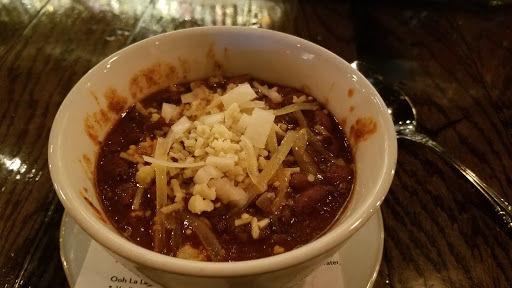 OK, so this place isn't technically downtown, but the butchers at Barred Owl have done it again, serving up a delicious meat-forward dish. Its ingredients are simple, but the flavor is complex. On a menu loaded with high-end bites, this dense goulash packs a bang for your buck. Topped with cotija and aged cheddar cheeses, the smokey, mild tomato and onion base supports a smidge of beans and a Ron Swanson-approved load of beef and pork.
Price: $6 bowl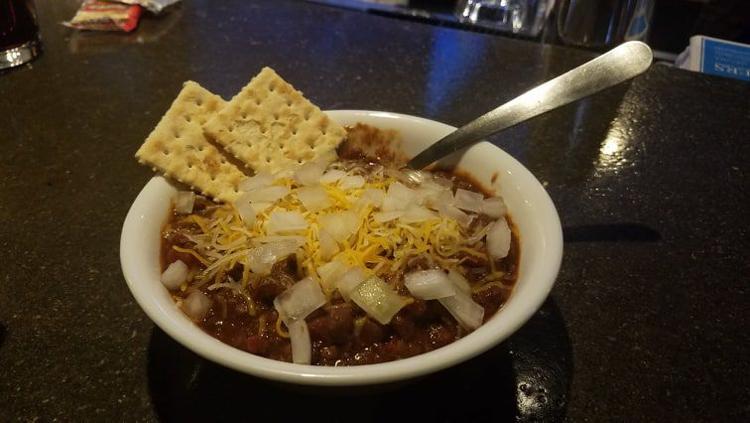 It's thick, chunky and little bit smokey. The classic chili flavor is rich with garlic and cumin, and a hefty portion of jalapeño produces a heat that sticks to the back of your throat like blue chalk on a cue ball. Equal parts meat and beans, the one-size "Molly's Chili" bowl is dotted with diced tomato and comes with the option for fine shredded cheese, white onion and, of course, a side of saltine crackers.
Price: $3.95 bowl