Choosing a dirty spin on a favorite drink can be a fun detour from your regular routine. Add a little extra flavor to your diet with these two local drinks: one that will provide your daily caffeine intake and one you can sip on after a looong day. 
Lakota Coffee's Dirty Chai Shake
Downtown CoMo is home to a total of six coffee shops, but Lakota Coffee offers one drink that's not served anywhere else in The District: the Dirty Chai Shake. Made from chai concentrate, vanilla ice cream and a double shot of house-roasted espresso, this creamy shake will kick- start your day with a blend of sweet chai flavor and a boost of caffeine.
The Dirty Chai Shake has the smooth, cool texture of a regular milkshake with a surprising punch of rich espresso taste. Neither the chai nor espresso flavors overpower the drink. Instead, they seamlessly combine for an unexpected yet satisfying finish.
General manager Andrew DuCharme says the drink was added to the menu shortly after Lakota's opening in 1992. It sells particularly well during the warmer months, but DuCharme says the Dirty Chai Shake stays popular year-round because it's simply a killer recipe. "People love shakes, people love caffeine, and people love coffee," he says. "So you put all three of those together, and it's like a double cheeseburger with bacon. It just works." Price: $3.95
Also try: The Dirty Hippie at Cafe Berlin or the Dirty Chai at Coffee Zone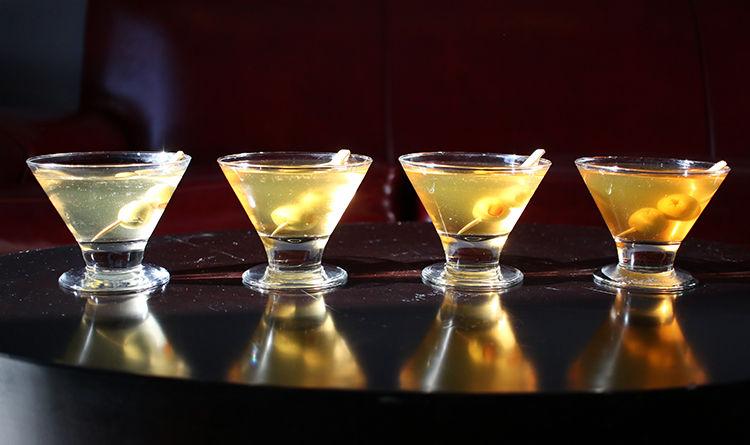 DogMaster Distillery's Dirty Martini
The martini is a classic cocktail. Even James Bond drank one, and of course, he took his shaken, not stirred.
At DogMaster Distillery, the Dirty Martini uses vodka that's distilled in-house rather than the gin found in a more traditional martini. Since opening in July 2014, the distillery has served what the bartenders call "liquor-forward" drinks with house-made alcohols. "Whatever we're mixing our drinks with, we're just making sure we're getting a good amount of alcohol in there so you can really get the taste of our product," says bartender Mallory Russell.
Russell says DogMaster's bartenders ice the glasses before pouring Dirty Martinis, which they make with fresh olive brine instead of brine from concentrate. Adding brine is what takes a martini from clean to dirty: the more olive brine, the dirtier the drink.
At DogMaster, you can order your martini barely dirty or absolutely lthy, distillery owner Van Hawxby says. "When someone orders a dirty martini, I ask them how dirty they want it," he says. "PG-13? R? XXX? We like to have fun here." No matter how you order it, though, DogMaster's Dirty Martini has a bold, powerful taste. Price: $7
Also try: A dirty martini at Teller's or Room 38
Dirty rice done right 
Satisfy your mid-day dirty food craving with this Cajun dish. 
If you're on a budget ...
Beans & Rice appetizer, $5; 217 N. Stadium Blvd., Tues.–Wed., 11 a.m. to 10 p.m.; Thurs.–Sat., 11 a.m. to midnight; Sun.–Mon., 11 a.m. to 9:30 p.m., 443-5299
If you're looking for something middle-of-the-road ...
Adobo Braised Pork Tacos with dirty rice, $11.99; 115 S. Fifth St., Mon.–Sun., 11 a.m. to midnight, 449-0400
If you want to splurge ...
Blackened Scallops & Dirty Rice, $29; 505 Cherry St., Mon.–Fri., 11 a.m. to
2 p.m., 5–10 p.m.; Saturday, 5–10 p.m.; Sunday, 5–9 p.m., 442-7281 
Dirty little (bar) secrets
Current and former bar employees dished on the dirtiest things they've seen while on the clock.
"One time, a guy at the bar ordered a shot, and the moment he took it, he puked all over the counter. That's actually happened multiple times."
— Peter Litzler, former bar back at Penguin Piano Bar 
"I've had to kick countless people out for doing it. It usually happens in the girl's bathroom. Someone will come tell you there is something happening in the bathroom, and when you go in there, you can see the curtain moving. Then you'll hear a guy's voice saying they aren't doing anything, but it's like, you're a guy, so why are you in here?"
— Kale Gentry, former bartender at Willie's Pub & Pool
"I've seen someone get puked on outside before. Some girls were standing on the balcony of The Lofts and puked off the side, and it hit people standing below. That was probably the grossest thing I've ever seen."
— Sam Clark, bartender at International Tap House