The start of a new year always seems to signify the prediction of trends, particularly food trends. Eater has even compiled a list of over 100 food and restaurant trends that are expected to be big this year. Some of these include cozy favorites such as cinnamon buns, along with more unusual dishes such as Arctic cuisine. Chef Gaby Weir, a personal chef in Columbia, gave Vox recipes inspired by three of 2018's predicted food trends, so you can explore them right from the comfort of your own kitchen.
Instagrammable food
With the amount of tantalizing #foodporn on Instagram now, it's not surprising that this year Instagrammable food is supposed to be major. Weir brought another predicted food trend, plant-based foods, into this recipe for mushroom ramen. She says the key to making this ramen primed for Instagram is in the arrangement of the veggies on top of the noodles and the broth. When you get the veggies positioned just how you like it, this ramen will be pretty enough for Insta, no filter needed.
Plant-Based Mushroom Ramen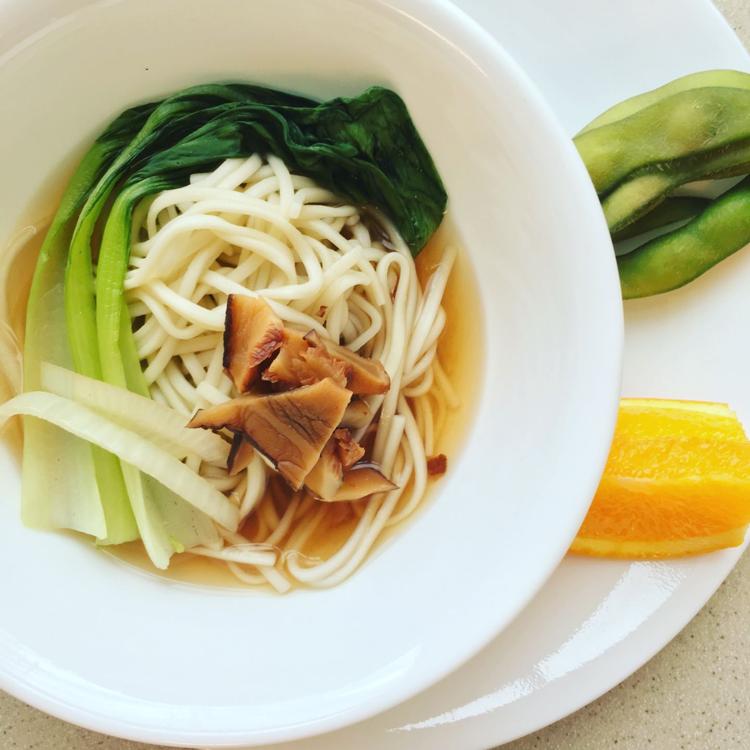 Servings: 4
What You'll Need:
For the broth:
8 cups of water
1 onion, quartered
1 carrot, quartered
1 cup of shiitake mushrooms, dried or fresh, with stems
4–6 cloves of garlic
2 tablespoon of sour sauce
1 tablespoon of salt
To serve:
4 bulbs of baby bok choy, locally sourced preferred, cleaned and cut in halves
6–8 shiitake mushrooms, stems removed, sliced
1 yellow onion, sliced
16 ounces of dry, ramen noodles
What to Do:
Place all of the broth ingredients in a large pot, and bring to a boil. Reduce heat to low, and let the broth simmer for two hours. Then, strain and discard the vegetable reserving the liquid in another pot.
In another pot, boil some water and cook the ramen noodles according to the instructions in the packaging.
Place the broth over medium heat to keep hot. Place each of the vegetables, one at a time, on the hot broth for about 30 seconds each to blanch. Remove from the broth and set aside until it's time to serve. Arrange the noodles and vegetables in the bowl, and delicately finish by pouring the broth over it.
Grain bowls
Following the current of Instagrammable foods, grain bowls (which are tagged over 2,000 times on Insta) are also trending this year. Luckily, they're not only cool to look at, but they're also super simple to make. Weir says part of the fun is that they can be arranged as an "artistic display," meaning you can get creative with the veggies and toppings you put atop your grain of choice. 
Building your grain bowl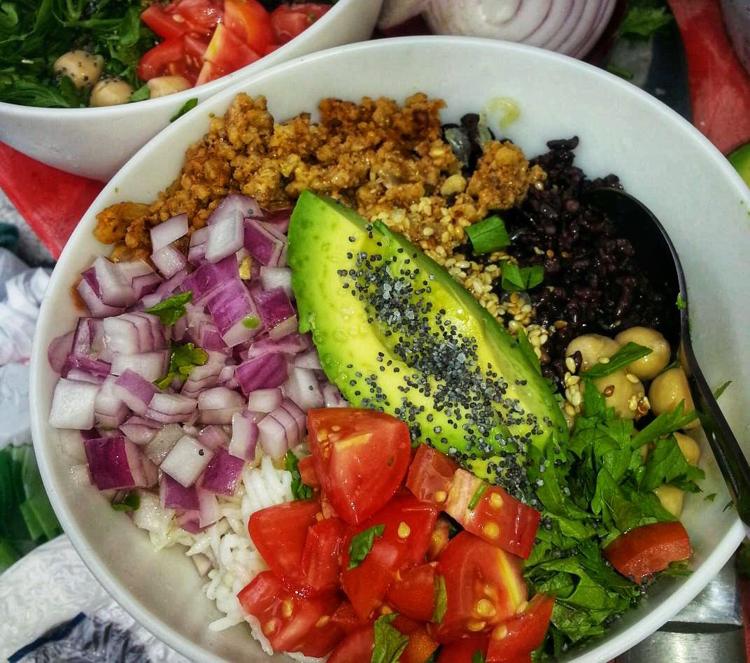 What You'll Need:
Cooked rice: black forbidden rice, jasmine or brown basmati
Cooked beans: chick peas, black beans or pinto beans
Diced avocadoes
Diced tomatoes
Diced onions
Chopped nuts: walnuts, almonds or cashews
Minced cilantro
Poppy seeds or sesame seeds
What to Do:
Place the rice choice in the bottom of your bowl. Arrange the remaining ingredients over the rice, one-by-one next to each other, going around the bowl until the whole area of the bowl is covered.
Pumpkin soup
Rejoice, PSL lovers. Everyone's favorite orange gourd is no longer reserved for pies and lattes served exclusively in autumn. That's right, in 2018 pumpkin soup is going to be trending all year, not just a seasonal favorite, like we saw in 2017. Weir also thinks pumpkin will become more popular this year and suggests adding toasted pumpkin seeds on top of her soup recipe for a little crunch. And if you're wanting to give the soup some kick, Weir says you can add in smoked chipotle peppers along with some curry powder to spice it up.
Pumpkin Soup with Fresh Sage and Toasted Pumpkin Seeds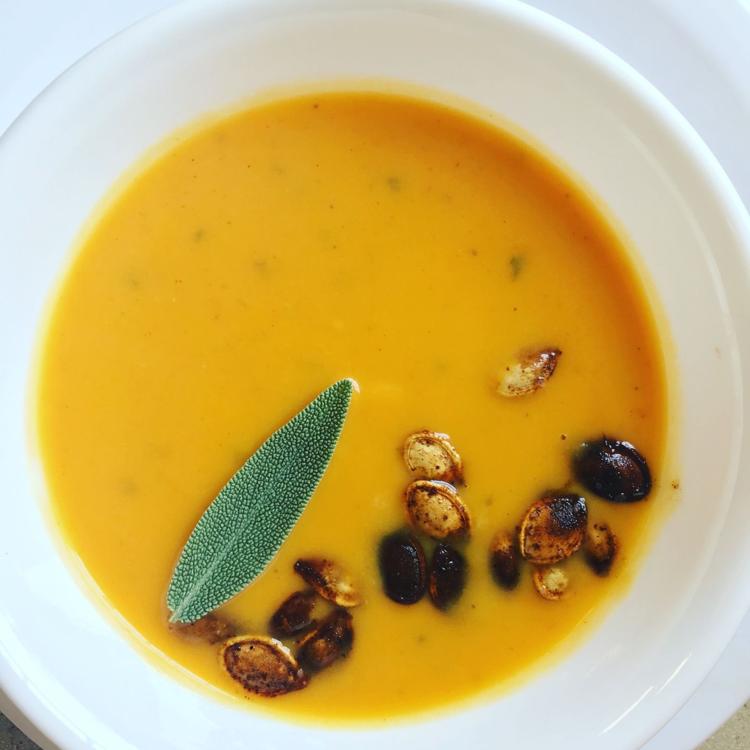 Servings: 8
What You'll Need:
Olive oil
1 cup chopped onions
½ cup diced carrots
½ cup diced fresh fennel
4 minced garlic cloves
4 cups medium diced pumpkin
Water, enough to cover all of the veggies
1 cup coconut milk
½ bunch fresh cilantro
1 lime
Kosher salt and freshly ground pepper
Pumpkin seeds, reserved from the pumpkin, about ½ cup
What to Do:
Place the onion, carrots, fennel, garlic, and pumpkin in a crock-pot. Season with salt and pepper, about a teaspoon of each, and toss to cover all of the veggies. Cover with water until veggies are just about covered. Allow to cook for 4 hours on the low setting or until the pumpkin is very soft. Once soft, transfer to a blender, or insert a hand-blender, and blend with coconut milk, lime and cilantro. Season with salt and pepper to taste. 
Bake the pumpkin seeds in a 350F oven tossed with oil, salt and freshly ground black pepper for about 18-20 minutes.
Garnish soup with fresh sage leaf and the toasted pumpkin seeds.