Chim's Thai Kitchen is my go-to place for pad thai in Columbia. Once upon a time, they had three locations — downtown, off Nifong Boulevard and down by the river at Cooper's Landing. Last fall, I called to to put in my weekly order and the phone rang and rang. No one picked up. I drove to the restaurant, and it was vacant. What was I supposed to do? Where was I supposed to get my pad thai? The other Thai joints had to suffice. I didn't know where Chim's went.
Recently, my fiancé and I drove to Cooper's Landing to take a walk by the Missouri River. Cooper's Landing is located south of Columbia; you drive south on Providence and take a left at Old Plank Road, which will turn into Smith Hatchery Road, at the sign that says Cooper's Landing. You will drive down a windy road that turns to gravel road about 10 minutes before reaching your destination. Try to avoid coming from the other direction; it's a one-lane gravel road a foot away from the river.
Cooper's Landing is technically a part of Columbia, but it could very well be its own tiny town. It is definitely one of those tucked away places everyone should visit at least once. The area is a camping ground. Visitors can canoe on the river or sit on the many picnic tables and enjoy live music. It's also right off the Katy Trail, so many cyclists stop here to relax and hang out. Food is available for purchase at the store, but the area has one unexpected complement to its river scene.
As we parked and walked towards the landing, I spotted the white trailer, awning and tables. It was Chim's! The river was the last place I would ever expect to find them (they did have one lone Facebook post about their location change). I immediately ordered my chicken pad thai and Thai iced tea, $10, and sat down.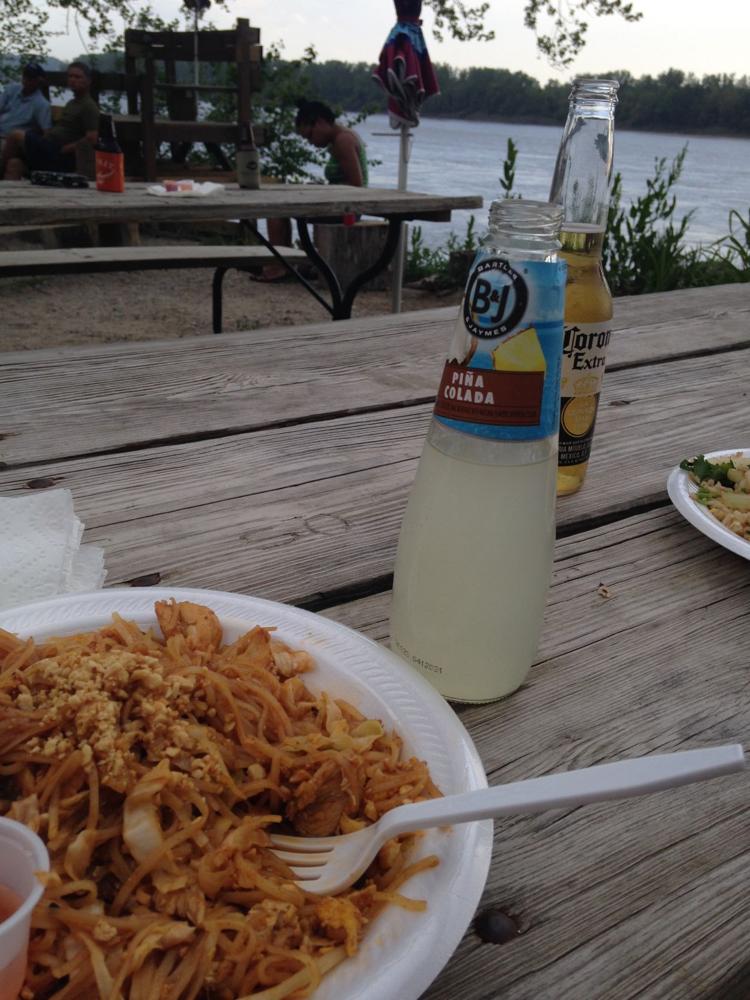 Chim's makes their pad thai with thin noodles, a combination of sweet and hot chili spices and sprinkled with finely chopped peanuts. The sweet and creamy Thai iced tea tones down the spicy flavors in your mouth. The rest of their food is tasty, too — Thai-lovers can try the satay chicken, drunken noodles, curry or Thai fried rice. The visit was definitely a perfect surprise. There's just something about eating Thai food by the river. Go to Chim's for your taste of Thai this summer.