Hot tea, iced tea, matcha tea, bubble tea and now ... cheese tea? Just when we thought this versatile drink couldn't get any more interesting, a Taiwanese twist has taken over the U.S., and Columbia offers one spot to try the trend. 
U Knead Sweets owners Helena and Allen Shih opened the Columbia bakery in 2012, and six years later, U Knead Sweets is still located at 808 Cherry St., though under new ownership. Jack Lee took over as owner two years ago, and along with him came cheese tea. The restaurant sells three varieties of the cheese tea trend: Cream cheese oolong tea, cream cheese green tea and cheese Oreo black tea, all for $3.75 or $4.07 with tax included.
The drink was first served in a variety of East Asian countries, though debate persists as to where exactly the mixture was first created: China or Taiwan. Eater reports that cheese tea originated at night markets in Taiwan around 2010. The creamy concoction usually involves a cream cheese, salty or sweet, mixed with condensed milk to create a frothy tea topper — similar to the foam you'll see decorating certain coffees and espressos.
You might be thinking, This does not sound appetizing. At first, I agreed, so I decided to try the trend myself to see if it's worth the hype. 
As I strolled into U Knead Sweets, a small bakery with just enough room to get in and out, I immediately spotted the TV screen menu filled with drink options. Besides the three cheese tea options, the bakery also sells bubble tea, including matcha milk tea with red bean or taro milk tea with coconut jelly. As an Oreo lover, I knew I had to try the cheese Oreo black tea. When the drink arrived, my initial reaction was how similar it was to a coffee with whipped cream. I wasn't sure if I should mix the cheese or just let it rest, so I tried each piece individually.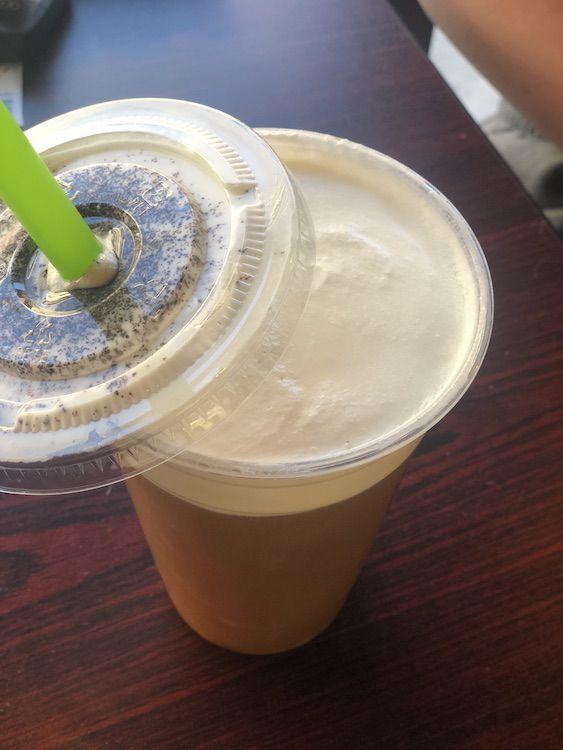 The black tea was subtly chilled, not cold enough for brain freeze but not warm enough to warrant ice. I'm no tea connoisseur, but this black tea was sublime. Next, it was time for what I'd come to see: the cheese. I dipped my finger into the goopy blend and took a taste. The flavor is salty, then sweet, textured like a thicker, smoother version of whipped cream. I'd have been happy to continue snacking on the cheese topping alone — forget the tea. 
After trying each part separately, I mixed the cheese and tea together. In my head, I thought this would be the equivalent of adding milk to coffee, but it wasn't. The cheese evened out the bitterness that overwhelmed the black tea, leaving a pleasant and refreshing taste. 
My advice, go give this trend a try. But if you want to give cheese tea a whirl at home, Glutto Digest provides a simple step-by-step recipe.
Tools:
Tea kettle
Heat-safe pitcher
Hand blender
Tall clear glass
Ingredients:
For cheese:
1 cup milk
2 oz. cream cheese
2 oz. cream cheese powder
1/3 cup whipped cream
2 1/2 Tbs. condensed milk
1 pinch of salt (or Himalayan pink salt)
For tea:
Preferred tea (oolong, green, matcha, black, etc.)
Sugar to taste
Directions:
Prep the cheese: Mix the milk, cream cheese and cream cheese powder in a large bowl, and mix with hand blender or fork until even.
Add condensed milk, whipped cream and salt into the mix until foamy peaks appear.
Cover the cheese mix with plastic wrap, and chill in the fridge for at least two hours.
Now for tea: Boil water in a tea kettle or pot, and pour the water into a heat-safe pitcher.
Add tea to the water until it reaches the preferred strength.
For chilled tea, store in fridge until it's cool.
Pour the tea into the glass, and add sugar to taste. 
Then, spoon cheese into the glass until it is topped off, and enjoy!