Baking is often advertised as an autumn activity, thanks to Pinterest-perfected apple pies and pumpkin muffins, but there's no reason spring can't be equally sweet. During this busy time of year, with graduations and holidays quickly approaching, you might not have time for layer cakes or hand-spun sugar. Thankfully, tasty treats can be surprisingly easy. 
To celebrate the warmer weather, spend a few extra minutes in the kitchen this weekend — and have fun with these floral desserts. 
Easy, breezy, and delicious.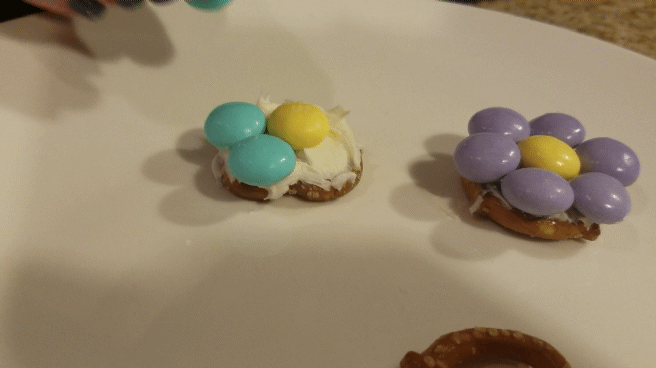 What you need
Pretzels (Square ones are best, but you can make the normal shape work.)
Chocolate melting wafers (Frosting works, too.)
Pastel M&Ms
Prepare
Lay the pretzels out on a plate or tray. If using melting wafers, put one on each pretzel and microwave for about 45 seconds or until the wafer is soft but not totally melted. If using frosting, just spread a thick layer onto each pretzel.
Quickly place an M&M in the center and six M&Ms of a different color around it. The bites look best if you make sure the M is facing down.
Let the melting wafer or frosting harden, then serve!
Serve professional-looking cookies without taking a trip to the bakery.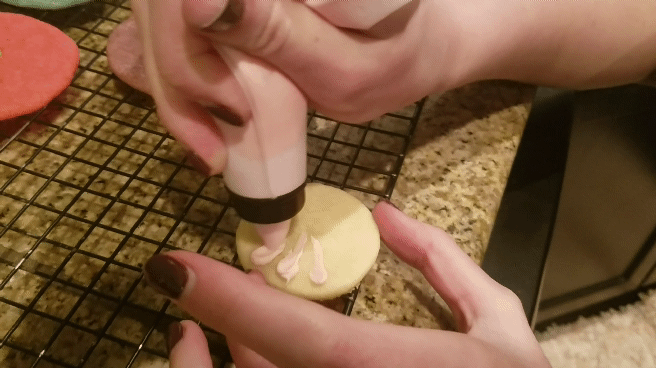 What you need
Sugar cookie dough (It's best to refrigerate the dough for one to two hours before baking.)
Flour
Frosting
Food coloring
Sugar sprinkles (I used the pastel M&Ms that I already had; jellybeans or different colored frosting can work, too.)
Cookie cutter (Use any shape you want, or just use a drink glass to create a simple circle.)
Small frosting tip
Bake
Add flour to the sugar cookie dough (about two tablespoons or until the dough is no longer sticky).
Roll out, cook, and bake according to the dough directions. Make sure to sprinkle flour on the surface and rolling pin before you cut the dough, or it'll stick.
Decorate
Mix a very small amount of food coloring with vanilla frosting, so it creates a pastel color.
Using the frosting tip, pipe a large dot on the outside of the cookie, and pull it toward the center. Leave a little space between each piping.
After letting the frosting harden for about 10-15 minutes, create a second layer starting closer to the center. If the cookies are larger, add a third layer. Make sure to leave a small hole in the center
Fill the hole in the center with yellow frosting and yellow sprinkles (or an M&M or jellybean).
If you want the flowers to have a little more texture, you can add some color dust to the base of each petal.
More spring dessert recipes to try
Related links