Living in CoMo for three years, I've never set foot in most of the restaurants downtown. Even Columbia staples like Harold's have never been places I found myself visiting. This is not because of a lack of interest, but more a lack of any sense of culture. I realized that being so far behind has hindered my experience eating all the great foods that Columbia has to offer.
I was tired of being uncultured in CoMo, so I decided to take action. As a self-proclaimed dessert junkie, I decided to start with sugary, delightful desserts and challenged myself to find the most unique pastries in Columbia. I searched high and low and here is what I found.
Blueberry Bagel Bites with Cream Cheese Frosting 
I never really thought to make bagels sweet, but the combination of the blueberry with the cream cheese frosting makes them bite-size heaven. It is addictive to taste the mix of sweet cream cheese with acidic blueberries and feel them collide on your tongue. These bagel bites are among their more popular menu items and you can get them in any quantity.
Cost: $0.49/bite
Where: B&B Bagel, 124 E Nifong Blvd., Columbia MO 65203 and 904 Elm St., Columbia MO 65201
Patchwork Maple Bacon Doughnut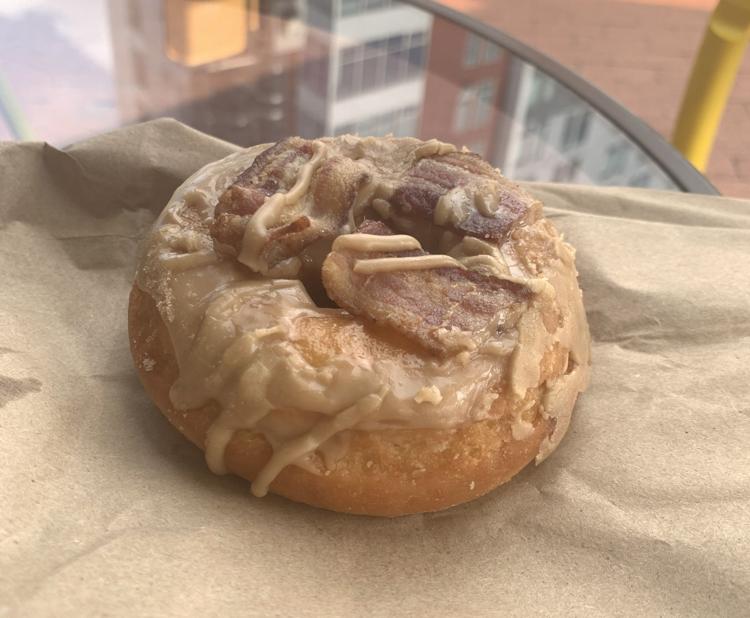 This is a doughnut that will haunt your dreams in the best way. After devouring this doughnut, I want another. Harold's Doughnuts has been a Columbia staple for years, but their creation is a new surprise to me. Their menu offers countless unique doughnuts that change month to month, but the Maple Bacon doughnut seems to be here to stay. As a first-time Harold's customer, I must say I wasn't disappointed. The maple glaze on top pairs perfectly with the bacon garnishes and, of course, it all tastes fantastic on top of the doughnut that Harold's has seemed to perfect.
Cost: $2.20
Where: Harold's Doughnuts, 114 S 9th St., Columbia MO, 65201 and 204 E. Nifong Blvd., Columbia MO, 65203
Pistachio Baklava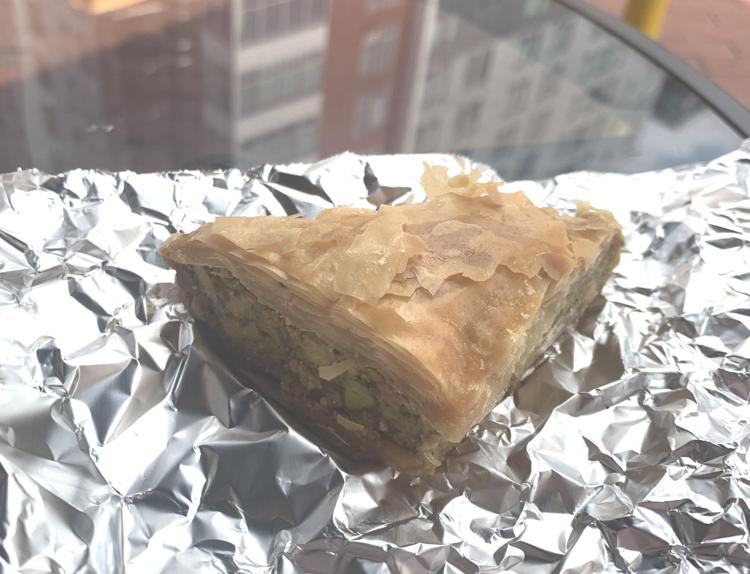 Baklava is a dessert that is popular in the greater Middle East and originates from the Ottoman Empire. At its core, it is layers of filo (unleavened dough), nuts and a sweet syrup, often honey. At International Cafe, they serve both pistachio and walnut baklava. I tried the pistachio baklava and again, was not disappointed. The pastry layers are soft while the pistachios add a crunch to create a very interesting, yet delicious, combination of flavors.  
Cost: $2.25
Where: International Cafe, 26 S 9th St., Columbia MO, 65201
Macarons
U Knead Sweets offers more desserts than you could ask for. The macarons, however, seem to be the most unique item they serve. Flavors from blueberry to dulce de leche allow you to mix and match what types you want to order and give you endless combinations. They even serve a flavor called "Hello Kitty," and it's served in the shape of a cat head with a face painted on it. The macaron itself is light and airy, and they are almost too pretty to eat. But once you take a bite, you will quickly realize you want to try them all.
Cost: depends on the flavor
Where: U Knead Sweets, 808 Cherry St., Columbia MO, 65201
Related stories