February is right around the time when most people give up on their New Year's resolutions. If you're sick and tired of Instagram-worthy meal prepping every week, let someone else do the work for you. For those who are running out of steam, there's always a place to eat meat-free in Columbia.
As food trends become more animal-friendly and environmentally conscious, restaurants have slowly come around to making inclusive adjustments. Here in Columbia, there are some locations that cater to people with vegetarian or vegan diets and a few that offer at least one alternative. To show how far the restaurant scene has come, here is one week's worth of vegetarian dishes available at local restaurants.
Sunday – Sophia's Restaurant
For a casual Sunday brunch, stop by the Italian-inspired Sophia's Restaurant to get a vegetarian dish worth coming back for. The restaurant offers several vegetarian options, but the Tiramisu French Toast is hard to top. The bread is dipped in batter and grilled until golden brown, then topped with a creamy tiramisu filling. To top it all off, it's finished with coffee-infused maple syrup, cocoa and powdered sugar.
Location: 3915 S. Providence Road., Columbia MO 65203
Hours: 11 a.m. to midnight, Monday-Thursday; 11 a.m. to 1 a.m., Friday and Saturday; 10 a.m. to midnight Sunday.
Price: $13 for its Tiramisu French Toast.
Monday – Main Squeeze Natural Foods Cafe
Start the week off right with anything from the all-vegetarian menu at Main Squeeze. There's a variety of wraps, bowls and smoothies to choose from, but there's one dish that server Jenna Heaston serves the most: "Our egg sandwich is probably the most popular order," Heaston says. It contains eggs, cheddar, spinach, tomato, onion, avocado and chipotle mayo on wheat bread.
Location: 28 S. Ninth St., Columbia MO 65201
Hours: 8 a.m. to 3 p.m., everyday.
Price: $9 for its egg sandwich.
Tuesday – Nourish Café and Market
It's easy to get off track throughout the week, but Nourish Café keeps you in line with food that is all organic and locally sourced. "Everything's gluten-free, and about 85% of the menu is vegetarian," says front of house manager Josh Old. With so many good options, it's hard to make the right choice. Start with a crowd pleaser, which Old says is the Broadway Bowl. It contains marinated kale, cumin-roasted sweet potatoes, broccoli, lemon garlic hummus and cauliflower balls.
Location: 1201 E. Broadway, Suite B., Columbia MO 65201
Hours: 7:30 a.m. to 2:30 p.m., Monday-Friday; 8:30 a.m. to 3 p.m., Saturday-Sunday.
Price: $11.50 for its Broadway Bowl.
Wednesday – Sake Japanese Bistro and Bar
To break up the week on hump day, try something fun like sushi from Sake. The veggie supreme roll comes with asparagus, yamagobo, kampyo, takuan and cucumber topped with nori furikake seasoning. The crunchy veggie roll comes with avocado, fried sweet potato strings and tempura asparagus topped with sriracha aoli. Good luck choosing between the two.
Location: 16 S. Tenth St., Columbia MO 65201
Hours: Noon to 9 p.m., Monday; 4 to 9 p.m., Tuesday-Thursday; noon to 10 p.m., Friday-Sunday.
Price: $7.50 for its veggie supreme roll, and $8.50 for its veggie crunch roll.
Thursday – Bangkok Gardens
Vegetarians will appreciate mixing and matching a variety of traditional Thai dishes at Bangkok Gardens. "We want to make it nice for everyone," says cook Billy Wilson. "Pretty much everything can be made vegetarian." With that in mind, it's hard to mess up an order here. Go for the combo vegetarian platter and have it all. It includes three samosas, two village rolls and three veggie dumplings.
Location: 811 Cherry St., Columbia MO 65201
Hours: 11 a.m. to 2 p.m. and 5 to 9 p.m., Monday-Friday; 11:30 a.m. to 2:30 p.m. and 5 to 10 p.m. Saturday.
Price: $8.79 for its combo vegetarian platter
Friday – Shakespeare's Pizza
The end of the week is about letting go, and there's no better way to indulge in a guilty pleasure than eating several slices of pizza. The Vegetablenarian pizza from Shakespeare's, however, is nothing to feel guilty about. With onions, mushrooms, green peppers and black olives, it's a deserving reward after a long week.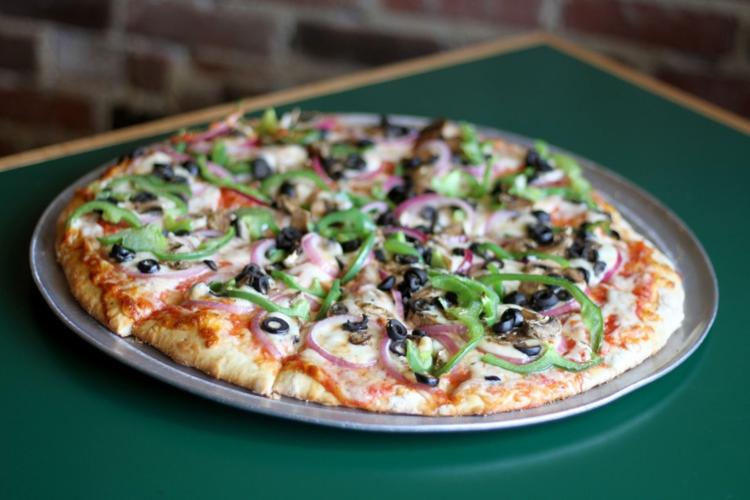 Location: 225 S. Ninth St., Columbia MO 65201
Hours: 11 a.m. to 10 p.m., Sunday-Thursday; 11 a.m. to 11 p.m., Friday-Saturday.
Price: $9.71 for its small Vegetablenarian pizza.
Saturday – Sycamore
A light lunch never hurt anyone, and the same can be said of the quiche and side salad at Sycamore, a restaurant that serves New American fare with local products. It's got all the essentials — spinach, white cheddar, goat cheese and rosemary.
Location: 800 E. Broadway., Columbia MO 65201
Hours: Monday-Thursday, 11 a.m. to 1:45 pm and 5-9 p.m.; Friday, 11 a.m. to 1:45 p.m. and 5-9 p.m.; Saturday, 11:30 a.m. to 2:15 p.m. and 5-9:30 p.m.
Price: $9.50 for its quiche and side salad.
Hungry for more?
For even more vegetarian options, check out our comprehensive restaurant guide. If you have any suggestions, tweet us @voxmag.
Related stories