The Venezuelan food is prepared a few steps away from the espresso machine at this Providence Road coffee shop, so it's no surprise that sometimes customers douse a cachapa with syrup because of its pancake-like appearance. Then they realize it's a dish served with shredded beef, cheese and slices of avocado. 
Yumivia and Jose Rojas are the owners of Como Arepas. They say bringing Venezuelan dishes such as cachapas to Columbia helps people become familiar with the culture and food of their home country. Their business serves customers from a counter at Aroma Coffee House.
They bring dishes such as their namesake arepa, as well as the sweet and salty cachapa, a corn mixture that becomes flat and round once it's cooked, and then can be stuffed with just about anything.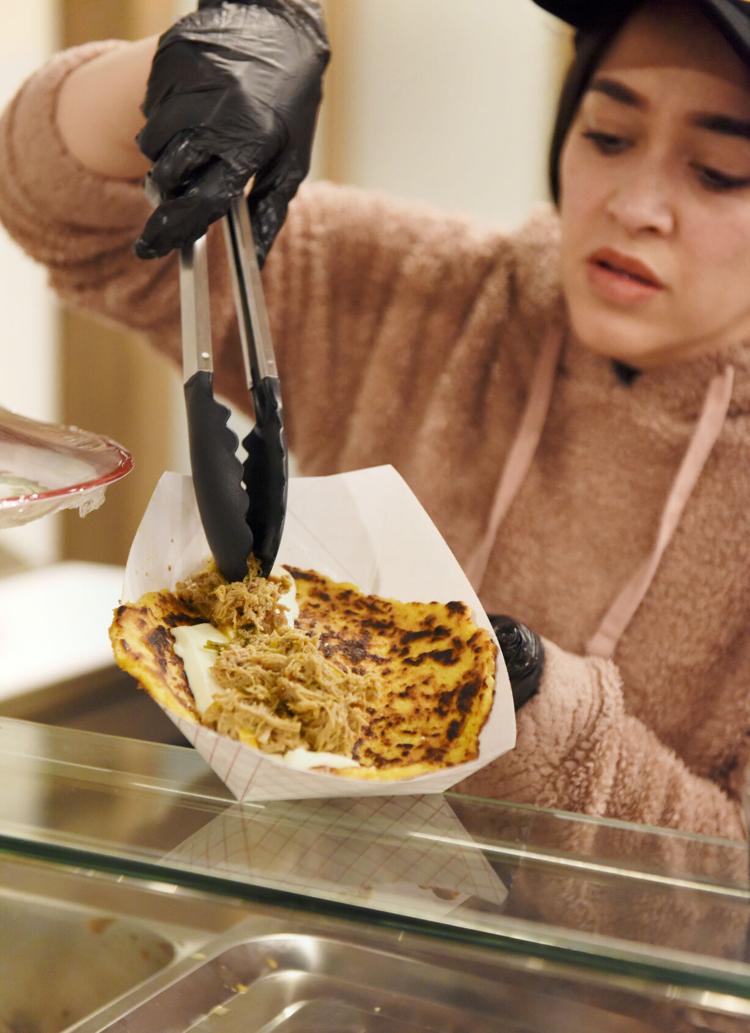 From an engineering firm to a coffee shop
The married couple started serving their small menu of Venezuelan food at Aroma Coffee House in October, after International Café owners Elizabeth Hernandez and Mohamed Gumati introduced them to Aroma's owner, Yousef Darkhalil. The Rojas had been running their business, Como Arepas, out of their home and with access to Como Cooks, a shared commercial kitchen on East Walnut Street, for carry-out orders since August.
They both studied engineering in Venezuela, and Jose moved to Columbia in 2020 to work for a local engineering firm, and Yumivia later followed. The Rojas say they always knew opening a Venezuelan food business in Columbia was a possibility. Moving from another country drew attention to the void of their home cuisine, Jose says. And he missed it.
Divine tastes
Yumivia says the beef and chicken salad arepas are customer favorites. But the flavor of the patacon is "divine." She credits that heavenly taste to a combination of many ingredients in the dish, including meat, pepper, sauces and bacon. Its distinction, though, is in its use of plantains. Jose says they're used like hamburger buns would be.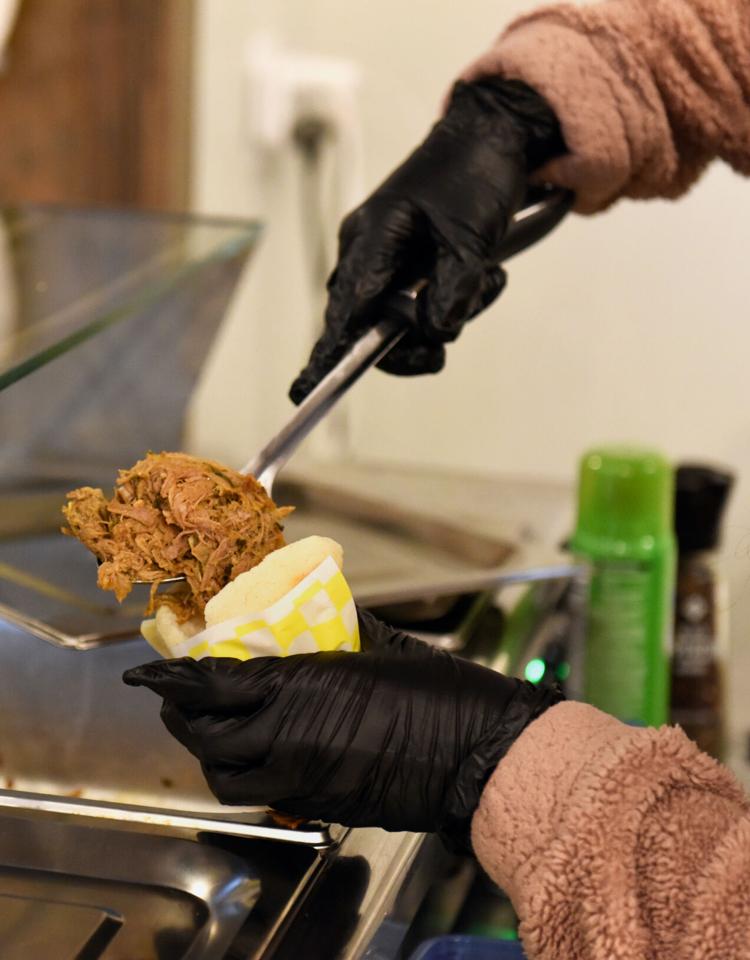 A menu staple is, of course, the arepa. It can be ordered with various protein choices: shredded beef, cubed pork, chicken salad or black beans. "(The beef is) like an explosion of meat juice with garlic, onion, parsley flavors," Yumivia says. In the chicken salad, cilantro is a strong flavor that comes through.
Other options are empanadas, taqueños and small tres leches cakes stored in the refrigerator and dusted with cinnamon. The tequeños' — a cheesy roll — are meant to be paired with one of Como Arepas' three sauces: a sweet mustard sauce, a parsley-based green sauce with cucumber or a hot sauce.
An interchange of cultures
In Venezuela, arepas are enjoyed with a small coffee at breakfast. But as Como Arepas' menu suggests, the dish can be part of any meal throughout the day. Customers order from the same single register at Aroma Coffee House.
The baristas don't prepare the food, but Yumivia does help Aroma make drinks. "We don't know how to make her food," Aroma Coffee House manager Kara Mackey says. "But she does have a couple employees that do. And they're really good."
The Rojas says they feel a great responsibility to change Venezuelan food and culture from a foreign concept to a familiar part of Columbia. "We don't come to compete," Jose says. "We come to share."
Related stories