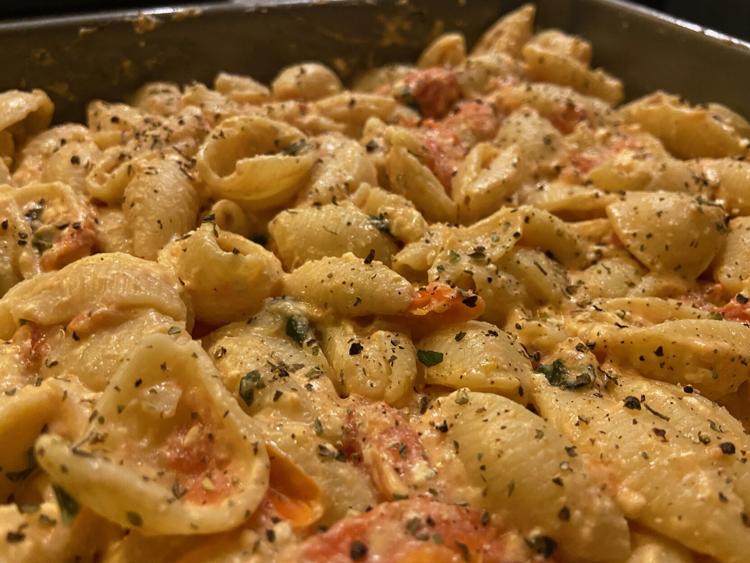 TikTok isn't just a place to discover new dances or pop culture references anymore — the social media app has become a hit for foodies, featuring many recipes for every taste. Vox found five viral recipes that are sure to make your mouth water while scrolling through your feed.
Baked Feta Pasta
The baked feta pasta, also known as #uunifetapasta, is perhaps the most popular recipe from TikTok after a Finnish blogger, @Liemessa, shared it. This vegetarian dish is not only creamy and flavorful, but it is quick and simple to make.
Ingredients:
Cherry or grape tomatoes
Feta cheese
Extra virgin olive oil
Fresh basil leaves
Garlic cloves, crushed
Salt, pepper and chili flakes
Pasta
Sugar (optional)
The process:
1. Preheat the oven to 395 degrees. Add the cherry tomatoes in a baking dish, drizzling olive oil and sprinkling salt and pepper. Stir it all together, making sure the tomatoes are coated in the oil.
2. Put the block of feta cheese in the center of the dish. Drizzle with olive oil and season with more salt, pepper and crushed chili flakes.
3. Bake for 30 minutes or until tomatoes are soft and have burst. Cook the pasta in salted water and save one cup of pasta water. After removing the dish, add garlic and fresh basil.
4. With a fork, mix the feta and softly mash the tomatoes. Add sugar to the sauce if needed. Combine the pasta and mix until the noodles are coated. Loosen the sauce with a a splash of pasta water if necessary.
5. Garnish with basil and serve warm.
Pancake Cereal
Pancake cereal is exactly what it sounds like; a bowl of pancakes served with a variety of toppings. This recipe is unique and fun, serving up fluffy, crispy and delicious mini pancakes.
Ingredients:
Your favorite pancake recipe or mix
Butter
Maple syrup
Toppings of choice
The process:
1. Get a resealable bag and cut off the corner (or use any type of piping bottle) to squeeze the pancake batter through. Make pancake batter and place aside. 
2. Heat up the pan or griddle on medium-high heat and let the batter sit for five minutes. Make sure the pan is hot to give the pancakes a crispy edge.
3. Pour the batter into the bag or bottle and squeeze the batter out onto the pan in tiny circles, making sure they don't touch. Cook until pancakes are bubbling on top and then flip, making sure both sides are golden brown. This should only take about two to three minutes.
4. Move pancakes to a serving bowl and add butter, syrup or your preferred toppings.
Tips:
Keep the nozzle of your bottle/bag in the middle of each pancake to get a nice round shape
Make your pancakes about 1 centimeter in width for a crispier result
Do not cover the pancakes after cooking or they will get soft
Adding too much milk like you would to normal cereal may make your pancakes soggy
Carmel Apple Tortilla Wrap
This recipe is part of the popular tortilla wrapping trend that allows you to personalize your tortilla wrap with endless combinations of food. The individual serving portions within a single tortilla make it simple and shareable. Apple pie tortilla wraps are guaranteed to satisfy your sweet tooth in just 20 minutes.
Ingredients:
1 Granny Smith apple or apple of your choice
1/2 cup packed brown sugar
1/2 cup granulated sugar 
1 tablespoon unsalted butter
2 tablespoons vanilla 
3 large tortillas
Caramel sauce
Nuts of your choice (optional) 
The process:
This dish works well on a panini maker, but a saucepan will also work.
1. Slice the apples, then mix the granulated sugar, brown sugar, vanilla and butter in a pan. Heat until bubbling. Once bubbling, add the apples and cook for another one to two minutes. 
2. Remove the pan from the heat. Cut only one side of the tortilla in half and add the apples into two sections on the tortilla. Add the caramel sauce on those two sections. Add nuts if you choose. 
3. Fold over the first quadrant of the tortilla and keep folding to the right until you have a wrapped triangle. Baste the outsides with butter and cook on a pan or in a panini maker until both sides are toasted.
4. Add more apples, whip cream or any other topping you'd like. Serve warm.
Dalgona Matcha
This whipped green tea is a variation of the popular Dalgona coffee trend. This simple four-ingredient recipe is customizable with a choice of any dairy or non-dairy base you'd like.
Ingredients:
Your choice: 1/3 cup coconut cream or 1 egg white or 3 tablespoons aquafaba
1 tablespoon sugar
1 teaspoon matcha powder
Milk of your choice
The process:
1. Whip the coconut cream, egg or aquafaba in a bowl on high until it resembles whipped cream. If hand whipping, it may take up to 10 minutes. Sift in sugar and continue to whip.
2. After sugar is combined, add matcha powder into the mixture and whip more.
3. Add milk base and sugar. Top the whipped mixture and serve cold or warm (heat the milk first).
Potato Galette
This potato galette recipe has gone viral throughout the pandemic. These vegetarian, gluten-free hash browns are perfect for pairing with chicken or steak. Not only does this recipe take less than a half hour, but it will be sure to impress your friends!
Ingredients:
1 large Idaho potato, peeled and grated
3 tablespoon canola oil
2 tablespoon parmesan reggiano
Salt and pepper
Green onions, sliced
Dill, chopped
The process:
1. Peel and grate the potatoes, then twist and wring them with a cloth to squeeze out any extra liquid. Discard the liquid.
2. Add oil to a large pan. Place half the grated potatoes in the pan on medium-low. Sprinkle the parmesan over the potatoes and throw in the other half of the grated potato. Add salt and pepper. Cook for five to six minutes.
3. Flip the potato and continue to cook, drizzling more oil if needed. Turn heat to medium for one to two minutes until potatoes are golden brown. Add more parmesan, salt, pepper, onions and herbs. Cut into quarters and eat right off the pan.
Looking for more TikTok inspiration? Follow Vox on Tiktok for recipes, news in Columbia and more.
Related Stories