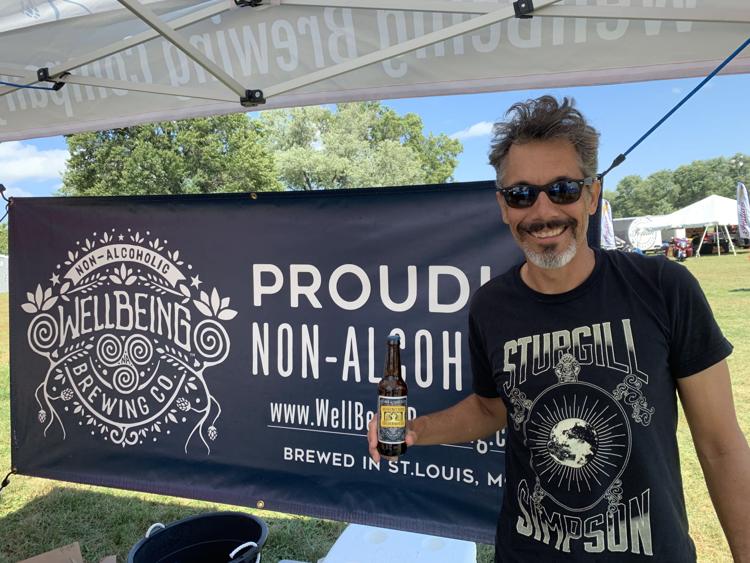 Among the endless food tents and art displays at Roots N Blues sits the red and blue tent that some people might not think twice about approaching. Nestled in this tent for the second year is the WellBeing Brewing Company, a St. Louis based non-alcoholic beer brewery.
Jeff Stevens, founder of WellBeing, says that it's nice to give people options. He also likes providing non-alcoholic beers to the crews and for the artists backstage.
"When you come to an all-day music festival like this, you get a chance to talk to people who come here and want to drink all day or have beer all day," Stevens says. "You can show them, 'Wow, if you drink one of our beers and two alcohol beers, you can extend the experience."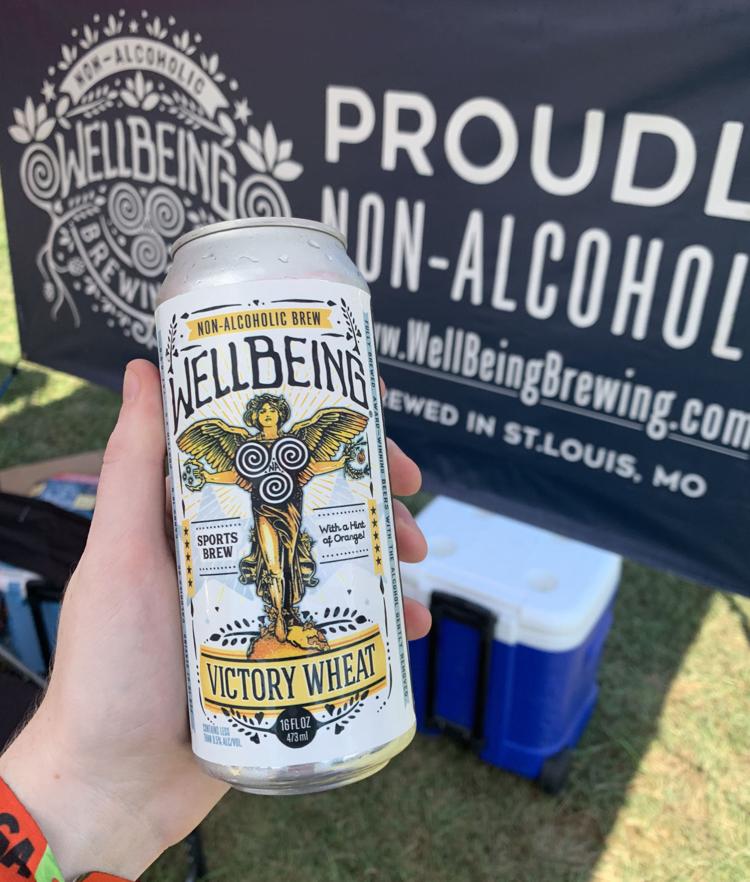 WellBeing Brewing Co, founded in 2017, is run by Stevens and his wife, Genevieve Berlow. As a lifelong non-drinker, Stevens devised the idea for WellBeing while working as a creative director for an advertising agency that worked on many projects surrounding beer and spirits. Stevens says he was constantly in and out of drinking events, so he knows the feeling of never having any good non-alcoholic drink options.
"You can drink soda, but you know, there just were never any good choices," Stevens says.
Stevens realized this was an under-served market. So, when the craft beer revolution began, Stevens decided to throw his hat in the ring.
"There's never been any good non-alcoholic beer or a company that said 'We're going to make great non-alcoholic beer,'"Stevens says. "So that's where the idea of WellBeing Brewing Company came from," 
Stevens says the company caught a great trend where people have started rethinking the amount of alcohol they consume and are more mindful about their drinking habits.
WellBeing Brewing Company operates out of Maryland Heights, Missouri, where they brew all four of their beer options: Intrepid Traveler Coffee Cream Stout, Hellraiser Dark Amber, Victory Citrus Wheat with electrolytes and Heavenly Body Golden Wheat. Stevens says they plan to release an IPA in January.
The difference in WellBeing's beer is that it really tastes good, Stevens says. When brewing, the stripping of the alcohol removes a lot of the aromatics that are naturally in beer. To get great flavor, WellBeing introduces the aromatics back into the beer, so you can really smell the beer, Stevens says.
WellBeing beer can also been featured in non-alcoholic cocktails, Stevens says. He thinks that the citrus wheat beer mixed with fruit juice and simple syrup is delicious.
"We love that kind of trend where people who aren't drinking, for whatever reason, have more than one choice at a bar," Stevens says. "It allows you to go out and have a great time, but you just don't have to be drunk."
In Missouri, you can find WellBeing Brewing Co. beer at Macadoodles, Moser's, Hy-Vee, Schnucks or any craft brewing store. Outside Columbia, you can order beer from their website. You can also buy a cool hat.
Related Articles