Pancakes are an all-time favorite food and an American breakfast centerpiece. You don't need an excuse to eat flapjacks. They come hot, straight off the griddle and onto the plate at any time of the day. Almost everyone loves a warm and soft pancake, especially on a misty, winter morning.
These stacks of warm, fluffy, sweet and buttery goodness have been around for centuries in different parts of the world. Even ancient Greeks and Romans ate pancakes, drizzled with honey and topped with seasonal fruits and spices.  And the best part — pancakes are one of the most versatile foods. With options like pumpkin spice and gingerbread, pancakes can adapt to every season and palate. If you're looking for some of the best pancakes in Columbia, look no further. Vox has compiled a list of some of the most fork-grabbing, delicious pancakes across town. 
First Watch: Big and Beautiful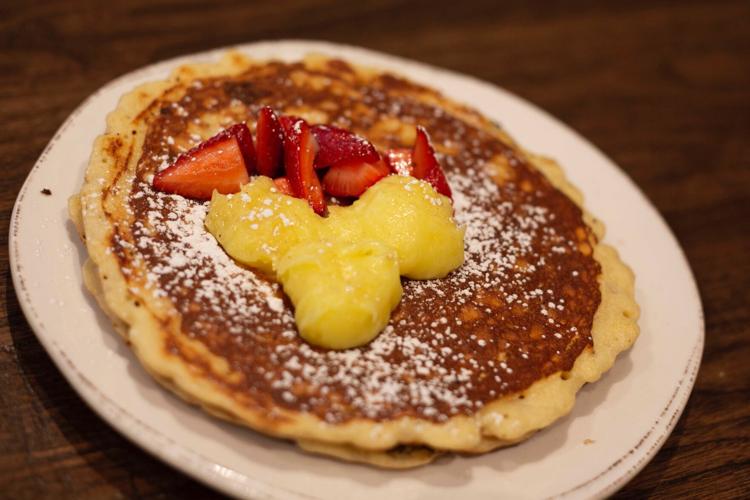 First Watch offers fresh and healthy pancakes on its regular and seasonal menus.  On its holiday menu, the Florida-based restaurant chain serves cinnamon chip and pumpkin spice pancakes. The regular menu hosts favorites such as lemon ricotta pancakes and a multigrain pancake with flavors of plain, blueberry, chocolate chip, banana granola crunch, carrot cake and pecan.
The most unique pancake it offers is the lemon ricotta, which has a harmonious balance of sweet and tart, as the sweetness of the strawberries and the pancake balances out the tartness of the lemon curd. The ricotta cheese is mixed into the batter. 
Location: 1301 Grindstone Parkway Building D or 421 N Stadium Blvd., Suite 109
Phone: 573-258-4972; 573-615-5100
Hours: Everyday 7 a.m.–2:30 p.m. 
Price: $5.89 
Wow factor: Seasonal menus
Broadway Diner: Light and Fluffy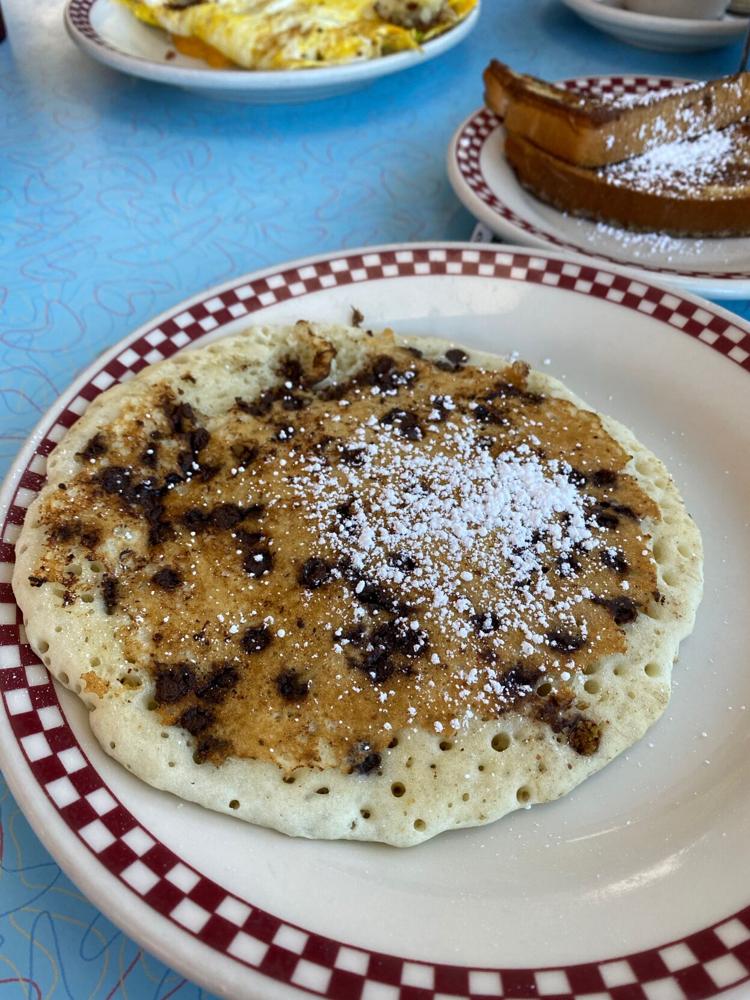 The Broadway Diner, a snuggly and vintage eatery in downtown Columbia, serves simple but hearty buttermilk pancakes that are warm and delicious. The menu also features plain, blueberry and banana pancakes, and you can choose between a short stack and a full stack. The locally owned diner, recognized by its bright red booths, has been a staple for Columbia residents for more than 60 years, serving light and fluffy pancakes and other breakfast platters. 
The diner's chocolate chip pancakes have a salty taste from the butter and sweetness from the chocolate chips and maple syrup. There is a generous amount of chocolate chips in the pancakes, and they have dusted sugar on top.  
Location: 22 S. Fourth St.
Phone: 573-875-1173
Hours: Wednesday–Sunday, 6 a.m.–2 p.m. 
Price: One pancake: $2.50; Short stack: $4.45; Full Stack: $5.15
Wow factor: Quick and friendly service
International House of Pancakes: Midnight cravings 
"Come hungry, leave happy." That's the slogan for the International House of Pancakes, a multinational pancake house, without which this list would be incomplete. The 63-year-old pancake restaurant chain serves seasonal pancake flavors such as "Winter Wonderland," cranberry vanilla and pumpkin spice, as well as other options such as original buttermilk, gluten-free, grain and nut, tres leches, cupcake, double-blueberry, strawberry-banana and more. If you grab a pancake between 2 p.m. and 10 p.m., you can also get a discount.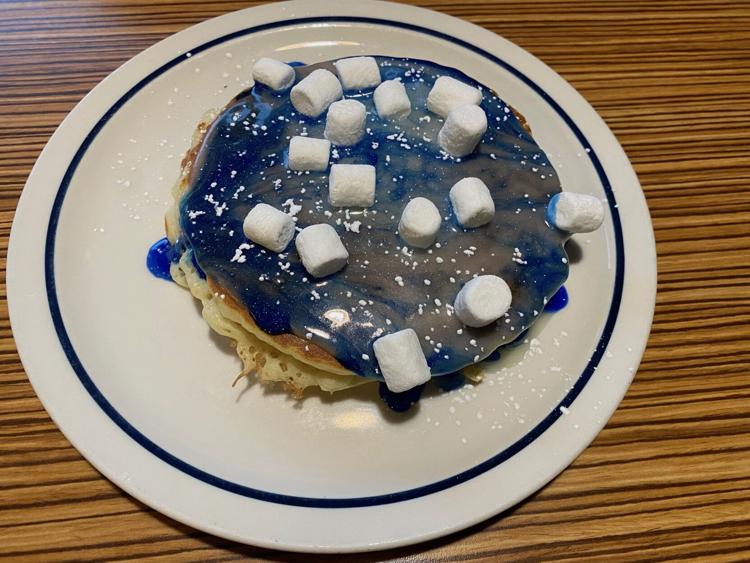 The Winter Wonderland pancake gives a festive winter vibe with its blue vanilla swirl, mini-marshmallows and powdered sugar snow.  
Location: 51 Conley Road
Phone: 573-442-9242
Hours: Everyday 24 hours 
Price: $5.89
Wow factor: Open 24/7
Nourish Cafe: Let it grain!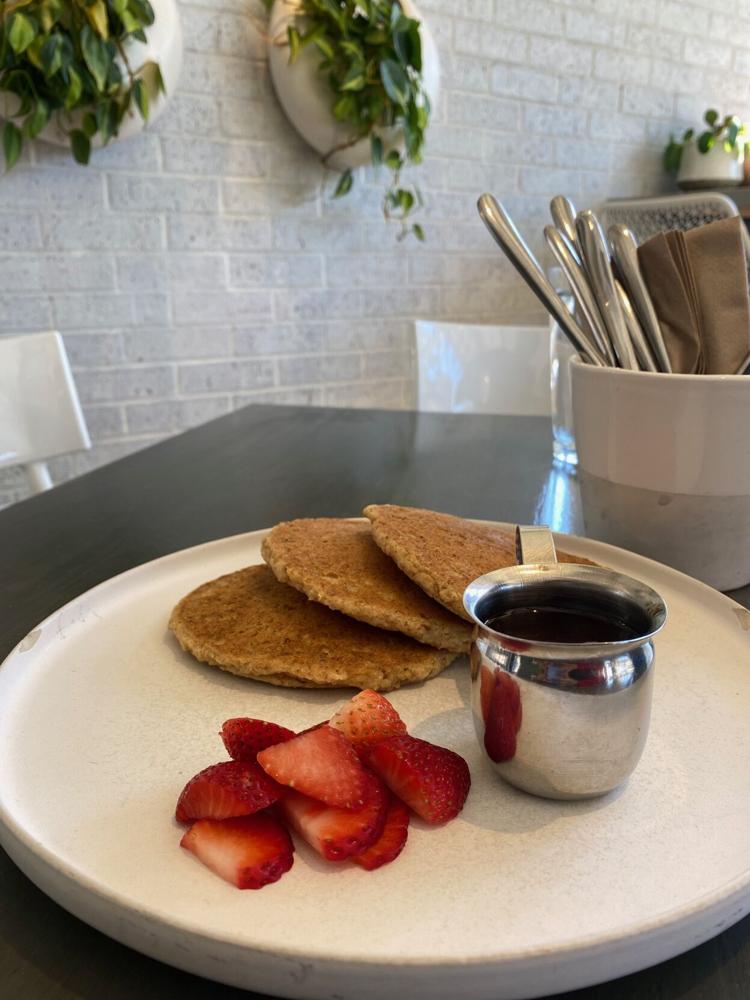 Nourish Cafe, which opened in June of 2016, uses only organic, locally-sourced and fresh produce for its dishes. The entire menu, which was made by two Columbia moms and "yogis", is gluten-free, as well as soy-, corn- and refined sugar-free.  
The cafe serves pancakes with a strawberry sauce, and the batter is made from local organic McKaskle brown rice flour, arrowroot starch, corn-free baking powder, guar gum, sea salt, vanilla, flax seeds, avocado oil, maple and filtered water. "I wanted to have a favorite comfort food that was accommodating to most dietary restrictions and food allergies," Kimber Dean, owner of Nourish Cafe says. "These are vegan, nut free and gluten free." 
Location: 1201 E. Broadway, Suite B 
Phone: 573-818-2240
Hours: Monday–Friday: 7:30 a.m.–2:30 p.m.; Saturday–Sunday: 8:30 a.m.–3p.m.
Price: $12
Wow factor: Locally sourced 
Cafe Berlin: Earthy and Scrumptious 
Cafe Berlin, with its hipster vibe and classic brunch offering, is so popular in Columbia that it's difficult to get a table on a weekend without waiting. And rightly so. Among a host of mouthwatering brunch dishes such as biscuits and gravy, poached eggs and waffle specials, Cafe Berlin serves buttermilk pancakes. You can add the following flavors: blueberry, banana, strawberry, chocolate chip, walnut or bacon. Cafe Berlin makes its pancakes with wheat flour instead of white flour and makes sure not to overwork the batter.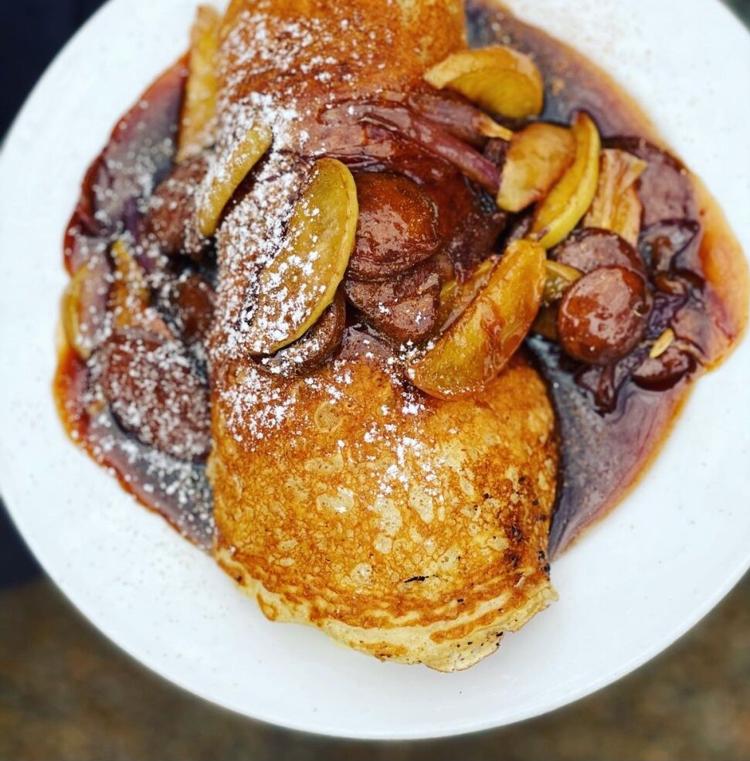 A popular pancake dish is the "Butch Jones," a pancake named after a local customer and truck driver who would always order the same modified pancake burrito. The savory pancakes are served with apples and sausages and are one of the best-selling dishes on the menu. "Cafe Berlin is built on pancakes and french toast," says Chef Samuel Johnson. "They're cheap, delicious and feed a lot of people"
Locations: 220 N. 10th St.
Phone: 573-441-0400
Hours:  Everyday 8 a.m.–2 p.m.; closed on Tuesdays
Price: $12
Wow factor: Creative offerings
Ernie's Cafe: Greasy Spoon style 
Ernie's Cafe is a breakfast diner that has sat in a nook of downtown Columbia for more than 80 years. The local cafe, with black and white diamond tiles, booths and outdoor patio seating, serves up plates of French toast and pancakes topped with housemade dollops of butter.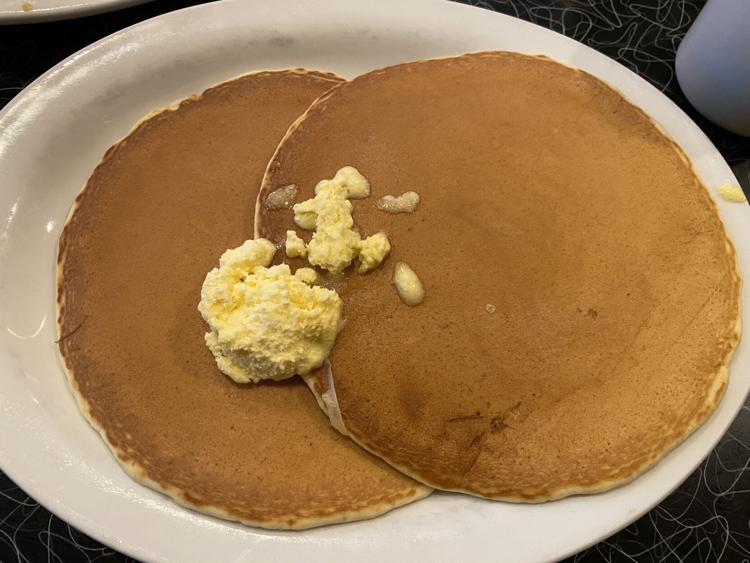 The moon-sized pancakes are extremely smooth and cutting into them is a seamless, satisfying task. The pancake itself has a rather subtle, wheaty flavor enhanced by the dark golden maple syrup and whipped butter. The traditional pancake recipe has not changed in the past 30 years, says Jesse Dack, who works at Ernie's Cafe. 
Locations:  1005 E Walnut St.
Phone: 573-874-7804
Hours:  Everyday 6:30 a.m.–2 p.m. 
Price: $4.99
Wow factor: Smooth as silk 
Related Stories