Peanut butter and jelly. Bacon and eggs. These are classic food duos. So, too, is wine and dessert, though finding the right pairing intimidates many diners. But with a little know-how, matching wine to dessert can be simple.
When it comes to dessert and wine pairing, much of it depends on a person's individual tastes, says Katie Miller, the wine and spirits manager at Hy-Vee. And she should know. Miller spends 40 hours a week with wine to understand the compatibility of each flavor profile. Her passion for wine led her to become a self-taught sommelier.
A delicate balance
One key to perfect pairings is the lighter the dessert, the lighter the wine, and the darker the dessert, the darker the wine, Miller says. It's also important to make sure the flavors don't compete. "So if a wine is really intense in a specific area, you want to get a dessert that's less intense in that specific area, or vice versa," Miller says.
More acidic wines, such as riesling, match best with softer, more savory desserts, she says. But if you're having a rich chocolate cake, stay away from equally sweet wines like moscato.
Jim Anderson, executive director of the Missouri Wine and Grape Board, says your wine and dessert should share a similar density and boldness. One should not outshine the other. "You don't want this big food and light wine or this big, heavy wine with this very, very light item," Anderson says. His personal favorite pairing is a port red wine and chocolate cake.
DIY wine pairing
Stores that sell wine and websites like  are good resources to improve knowledge of wine and pairings, Miller says. Customers often ask her what wine goes best with desserts.
Creating your own pairings can be exciting, Anderson says. You can do this when ordering at a restaurant. For instance, look at a restaurant's port list and pair that up with their chocolate. If you like fruity desserts, Anderson recommends looking at a restaurant's sweet, late-harvest wines, such as riesling or moscato. The grapes for these wines are picked one to two months after the regular harvest time, which produces grapes that are sweeter and fruitier.
You also could have a taste test party, Miller says. "You want to get a couple different desserts and a couple different wines, and just play around," Miller says.
But it all comes down to your own tastes — not what experts might or might not recommend. "You could like the wine separately from the dessert, but maybe not together," Miller says. "If you don't like dry wine and your dessert pairs with the dry wine, you might not like the pairing. You'll be able to tell that it just doesn't blend well."
The best duos also vary with the seasons. Anderson says he tends to pair different items together depending on the time of year. When it's warm out, he prefers a late-harvest wine because it's served chilled. "When it's very, very cold out, I tend to lean to a port because it's going to warm me up," he says.
Following advice from Miller and Anderson, Vox played around with wine and dessert pairings until we landed on a suggestion for each season. 
Winter — Cabernet and chocolate mousse ganache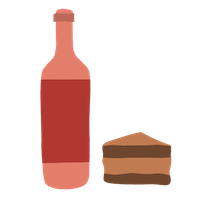 A dry cabernet often carries aromas of black cherries and hints of cedar. The notes of dark chocolate and berries in the wine pair well with a rich chocolate mousse ganache. The dark colors and deep flavors complement each other for a warm and cozy dining experience. Two to try: Joel Gott California cabernet and chocolate mousse ganache from U Knead Sweets.
Spring — Riesling and lemon pound cake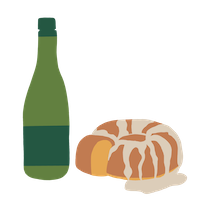 A riesling's high acidity contributes to its crisp, fruity finish. Aromatic hints of green apple and fresh cut grass complement the sweet, citrusy flavor of lemon pound cake. This combo is perfect for a bright spring afternoon. Two to try: Boundary Breaks riesling and lemon pound cake from Starbucks.
Summer — Prosecco and raspberry sorbet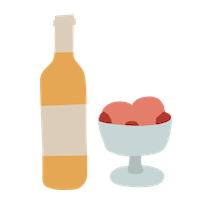 A light and crisp prosecco is refreshing to the taste buds. It perfectly complements the similar notes embodied by a raspberry sorbet. The wine's bubbly finish and the sorbet's tartness make for a lively combination on a warm summer day. Two to try: Josh prosecco and Talenti raspberry sorbet from most major grocers.
Fall — Cream sherry and pumpkin pie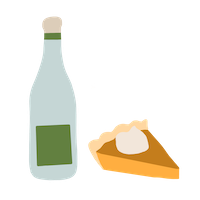 The rich, caramelized flavor of a cream sherry is the perfect beverage to accompany a classic pumpkin pie. The nuttiness of the cream sherry brings out the nutmeg and cinnamon flavors in the pumpkin pie and creates a delightful course for fall dining. Two to try: Stonehill cream sherry and pumpkin pie from Peggy Jean's Pies.
Illustrations by Hope Johnson.
Related Articles