Karena Miller is finishing the last few bites of her pork tenderloin dinner. A personal table raised a few inches from the dining room table is pulled in front of her electric wheelchair — known in her house as the "little red Corvette" for its cherry-red base. Miller is joined by her roommates Ellen and Pam. All three women are in their pajamas and taking the term "lazy Sunday" pretty seriously. Usually Sundays are Miller's night to cook, but the on-call staff member, Tori, made the meal for the women tonight.
Full extension of Miller's left arm is difficult, and it's almost impossible for her right. But with her food closer to chest level, Miller is able to scoop the meat and green beans on her own. After Miller finishes dinner, Pam grabs both of their dishes and uses her other hand to push her wheelchair to the sink and wash the plates.
"Thank you!" Miller chimes in, filling the otherwise silent kitchen.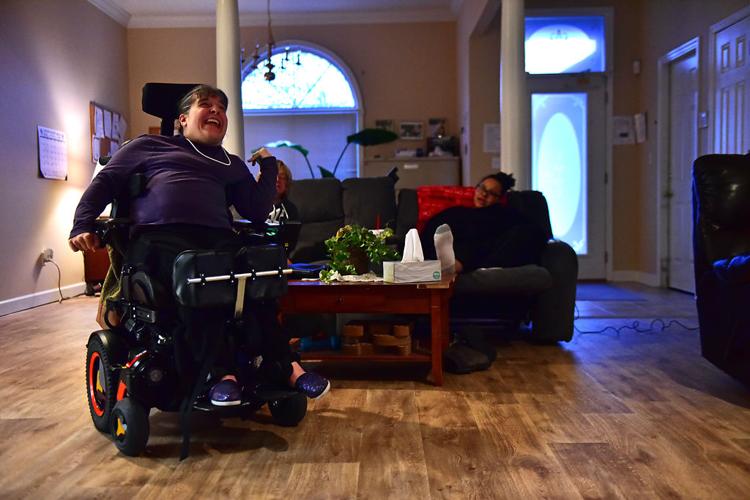 When Miller talks, she speaks with a bouncy inflection that lightens as she continues. She has a voice that is soft and sweet. Her fingers are locked tight unless she's telling a story — then she talks with vibrant energy through her hands. At 39 years old, Miller's dark-brown hair is just barely starting to gray. She usually pulls it into a ponytail with a clean braid that falls almost to her shoulders. A morning staff member typically helps with the braided style — she likes the fact that it keeps her hair tidy all day.
Dinner is over, and Pam enjoys a bowl of ice cream before heading for the solace of Sunday Night Football alone in her room. Miller joins Tori in the living room. The glow of the TV in the corner becomes the main source of light as the sun sets. Tori begins to nod off while Miller enjoys Happy Gilmore. Miller takes these weekend nights to relax before her week is in full swing.
Born in Sedalia, Missouri, Miller says her parents didn't know anything was wrong with her motor skills until they noticed differences in how she and her twin sister, Katrena, were developing. At about 7 months old, Karena was unable to roll over or sit up on her own, but her sister could. Doctors dismissed it, urging Karen Wright, Karena's mother, to remember that her daughters were born premature and might develop differently from other kids.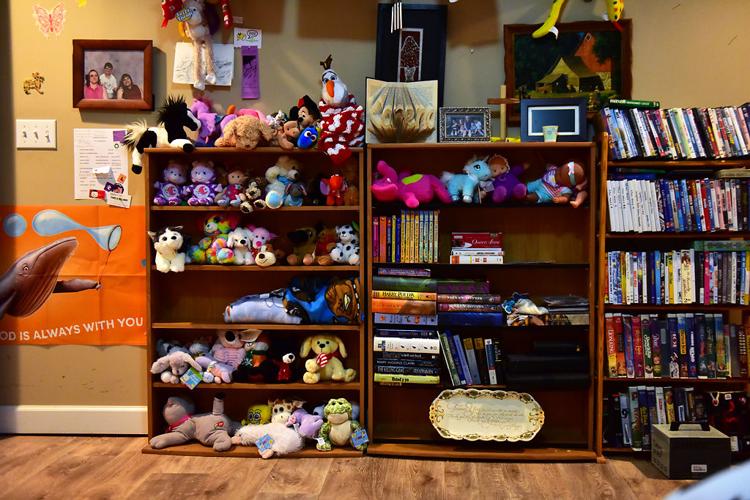 By the time the twins were a year old, Katrena had progressed to walking, but Karena was still unable to roll over or crawl without her mom doing it for her. Wright was frustrated with the doctors for still suggesting a clean bill of health for Karena. After all, the two girls were twins. Although they were premature, Wright expected them to at least hit milestones at similar times. Wright disagreed with the doctors' assessment, so testing was conducted, and at a year old, Karena was diagnosed with cerebral palsy.
Cerebral palsy is a neurological disorder that leads to a loss or impairment of motor function. The condition restrained Miller's movement in the lower half of her body and limited the motor skills in her arms and hands. It is caused by abnormal formation of the brain in utero or by injury as a child's brain is still developing. Although this can happen after a child is born, the majority of cases occur before birth or during labor. Cerebral palsy is not curable, but it's not life-threatening. Physical disabilities and needs may vary, but assistive technology, therapy and other forms of treatment can make cerebral palsy manageable, allowing most who are diagnosed to live well through their adult years.
In order to keep family support close, Miller's family bought a trailer when she was in third grade and parked it on the edge of her grandparents' farm in Sedalia. As she grew up, Miller and her mom discussed the idea of finding her a place to live independently once she was old enough. When Miller was 18, however, her mom injured her back, which meant any long-term plans that they had discussed went out the window. They had to find immediate help for Miller. For almost a year, Miller bounced around among care facilities in Sedalia every few weeks; only certain homes were equipped to help with her needs. Most of the time, Miller even brought her own lift equipment, as long as the homes could at least help with her care. She stayed in rooms as they became vacant, either while other patients were out of town or between transitions of residents. She would move into a facility, and the following day her mom would be calling around town to find her next stop. "It was really awkward and frustrating, but there was no real choice," Wright says. "We had to have care for her." The constant moving was exhausting. One day, Wright heard about an organization that could offer Miller more sustainable support. Miller and her mother turned their sights to Woodhaven in Columbia.
Miller was 19 when she left home and moved into Woodhaven — a nonprofit that provides support for adults with developmental disabilities. She was nervous to leave her home and her mom. Still, she thought, "Anything is better than moving every three weeks." Twenty years later, Woodhaven is still her home.
With more than 300 employees and about 130 volunteers, its leaders prefer to think of the group as a community-based form of support. Rooted in Columbia's history, Woodhaven's initiative began 53 years ago when the National Benevolent Association got a land grant in Columbia from Lenoir Memorial Home (of land previously owned by Dr. and Mrs. Frank J. Nifong)*. Chris Palmer, the administrator of an NBA home for children in St. Louis, noticed a need for a group home for children with disabilities. Woodhaven Christian Home for Exceptional Children was born out of this necessity.
About 10 years after Palmer opened the home, Woodhaven was also providing services and housing to young adults with disabilities. They began building adult housing, and by 1975, the organization was serving more than 225 children and adults. Years passed, and the public school system became more accommodating toward students with disabilities. Woodhaven saw the need to shift its focus solely to adults with disabilities. Starting in the early 1990s, Woodhaven began to move these adults into individual homes in the community.
Rhonda Lock, a staff supervisor for Miller's house, has been with Woodhaven for 35 years and has seen the difference between group living and independent housing. "Moving into homes makes it feel more like family," Lock says. "It just seems so much happier."
Today, Woodhaven serves 105 adults across 55 different homes and apartments with an annual budget of roughly $11.5 million. Through a combination of state funding, local fundraising, donations and program fees, Woodhaven finds accessible housing to rent for individuals with developmental disabilities and sets them up with care based on their specific needs. Each home or apartment also has a yearly budget delineated for them by the Central Missouri Regional Office of the Department of Mental Health. Expenses like rent, groceries and utilities are taken into consideration and split up as each roommate's monthly dues. Social Security is applied directly to these dues, as well as any wages the residents make if they are able to work a job. "We're really just fitting in the part of the support that they really need," says Curtis Sousley, program director for Woodhaven. "If they're able to do a full shower themselves, let them have that opportunity — not just go in as caregiver roles and try to take away some of that independence." Woodhaven encourages these adults to work, volunteer and contribute to the community just as much as the community does for them.
Individuality, personal choice and sense of autonomy are the cornerstones of the support that Woodhaven prides itself on. For Miller, this means assistance when using her lift to get into the shower and bed, or tasks like cooking food on the stove, which is tricky because it's slightly out of reach and requires fine motor skills in her hands. Although a staff member might have to help cook meat on the stove, Miller can pour an assortment of vegetables into a pan to heat up, or she can throw ingredients in the slow cooker for their weekly slow-cook meal. Staff members occasionally drive her to work and back. Other days, she takes Para-Transit, which is a transportation service through Columbia's Public Transit for people with functional disabilities. "I feel like I have a life the same as any other typical 39-year-old with their support," Miller says.
Miller yearns to be closer to her mother, sister and brother, who all still live in Sedalia, but the 1 1/2 hour-distance apart is a small price to pay for the quality of life, Miller says.
Miller is active in the Columbia community and keeps busy volunteering through Woodhaven. She volunteered for the third time on Woodhaven's Red Carpet Gala Fundraiser committee this summer. The formal event, in its sixth year, benefited the Food Bank of Central and Northeast Missouri. In the past few years, the event has typically raised several hundred dollars for the food bank's Buddy Pack Program and donated more than 1,000 pounds of nonperishable food each time. Miller and other individuals with disabilities on the committee help plan the event, deciding which nonprofit to support, what the theme of the evening will be and everything in between. Miller is also eager to speak about the work of Woodhaven. "I like to call myself the unofficial spokesperson," Miller says.
It's Wednesday night, and Miller has a slow cooker meal waiting for her after work at Central Missouri Subcontracting Enterprises. She then can head to church to help lead a volunteer program at 6 p.m. Miller and a staff member make the under-20-minute ride once a week to Open Door Baptist Church — the distinctly triangular-shaped church off of Old Highway 63 South. Miller doesn't recall when she first attended Open Door Baptist Church, and she admits that she doesn't go every Sunday — in fact, she hasn't been in nearly a year. "I know that I don't have to go to a building to worship," Miller says. "You can worship anywhere." But for the past eight years, Miller has volunteered as a leader for the Awana bible club ministry, a national program for kids of all ages that is popular in many Christian churches.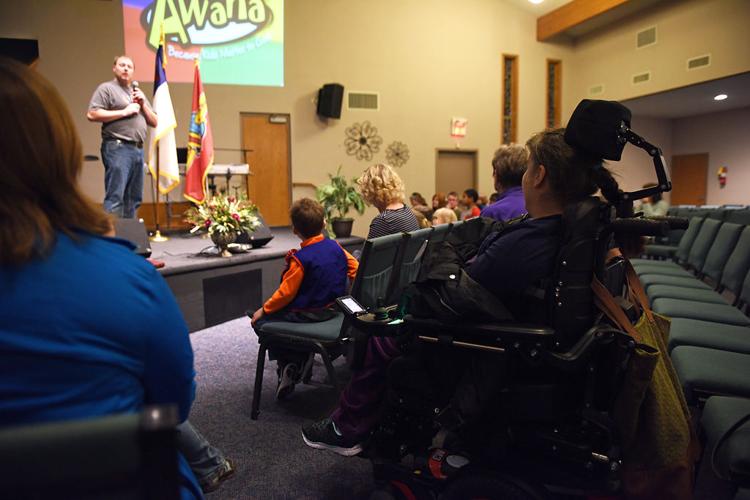 Miller is in charge of the games. The kids, ranging from 4 to 10 years old, rotate their time with her. The kindergarten through second-grade group is first. Michael Casady is in charge of setting the games up, and Miller helps any way she can, sometimes verbally directing the kids through their activities. Casady says he admires Miller's commitment and her ability to create fun activities off the top of her head.
"Karena comes with a willing spirit every week; she's ready to take on whatever game," Casady says. "She's really good, and they listen to her." Miller sits to the side while the group prepares to start the night's opening game.
PHWEEE! A whistle sounds, and the kids are off, frantically trying to knock down tiny pumpkins with a ball in a nylon stocking. Miller smiles, watching the kids hoot and holler as their teammates run through the room. "Sometimes I think it's a lot of fun for the volunteers, too," Miller says as she watches the madness. "I know I have fun." After the first round, a young girl named Serenity slowly inches her way next to Miller. Looking curiously at the left arm of Miller's chair, she points to the mechanism resting underneath Miller's hand. "What's that?" Serenity asks. "That's my joystick," Miller tells her. "It helps me move." Serenity doesn't shift her gaze, still looking puzzled. "It's kinda like a video game," Miller offers. That draws a smile from Serenity. She giggles and skips back in line.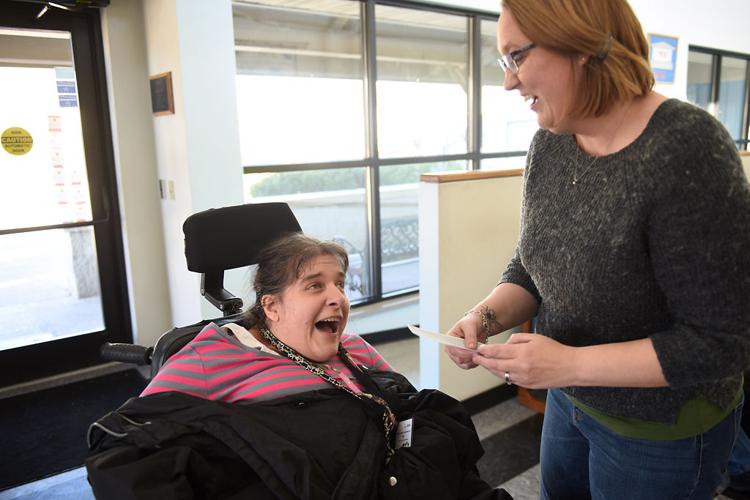 The next group to come in for games is even younger. Miller and the other Awana leader, Mike, gather with the kids in a small circle in the middle of the floor. They talk about the lessons they learned that day and then break out for more games. The kids line up at the end of room, Miller calls out orders, and the frantic running begins again."Red light!" Miller shouts. The kids stop in their tracks, freezing in silly poses. She pauses. "Green light!" They sprint again. The kids make their way out of the gym slower than they came in, their faces red, their breathing heavier.
"Thanks, Miss Karena!" they shout.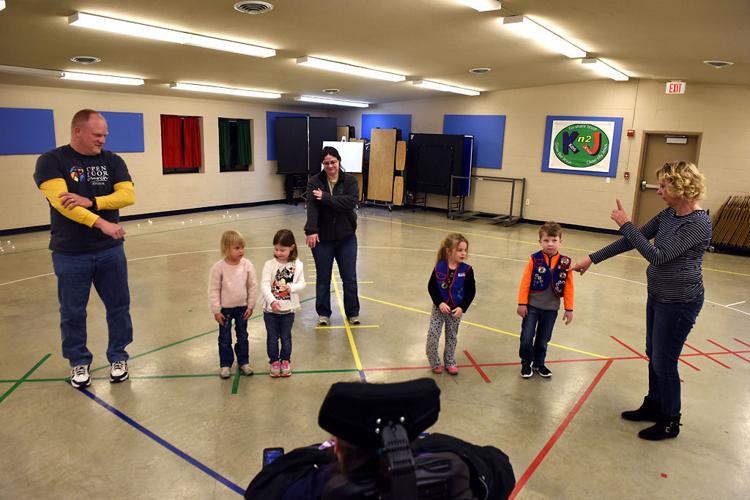 It's Thursday morning now. Valerie Vallier, another Woodhaven staff member, drops Miller off in the large red Dodge van. It's no Corvette, but it gets the job done. Miller works half days at Central Missouri Subcontracting Enterprises, a 135-person operation that provides assembly and packaging for companies. CMSE primarily employs adults with disabilities or mental illnesses. Miller's job is to assemble lugs for Schneider Electric Company. Miller pulls up to her personal workspace, a table raised up on two pieces of two-by-four. She's almost ready to get started, but she is sliding slightly forward in her chair. To fix this, she uses her joystick to lean her wheelchair seat all the way back until she's horizontal. Giving a delicate push with her left palm off the arm of her chair, Miller brings herself back to a more comfortable position. Finally resting against the back of her chair again, she tilts her chair back to its normal facing and wastes no time getting to work. The maneuvering is an example of the many steps it takes Miller to make basic moves, such as scooting forward in her chair.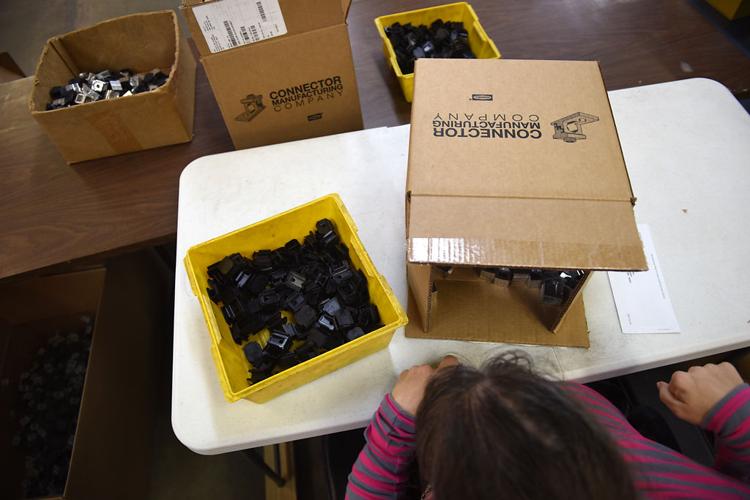 Still relying mostly on her left hand, Miller reaches into an open box of metal lugs. Setting the small block, about 3 inches wide and 4 inches tall, on the table, she snags a flat black plastic piece from another bin. Then, she brings the plastic piece to balance over the silver lug, aiming for where she'll drop it and snap it on.
Sometimes it's a hit-or-miss process. Click. Success. Clank. Another satisfying noise sounds as Miller drops the assembled lug into a box at her left and it joins the pile of other finished lugs below it."I like that noise," Miller says. "Means the job's getting done." About an hour later, the box is nearly half full with around 100 lugs. The job comes with annoyances, but Miller has been told "no" enough times already in the work world.
After being told she no longer qualified for paid training hours at Alternative Community Training, an agency for individuals with disabilities, Miller found a more productive opportunity at CMSE. "That's the most important thing of all — the self-esteem and dignity that a person gets from working and being productive," says Bruce Young, executive director of CMSE. "No matter if that person is only working at maybe 10 percent of what a regular worker might work at, that's just as important to that person as it is to a person that's doing 100 percent plus on production." Miller has been at this job for almost a year now, and her employee manager, Sarah Johannaber, says she has seen her blossom socially and in her functional skills.
Miller has yet to ask what she gets paid, but to her, it doesn't matter — she still works as fast as she can."I'll tell ya what," Miller says, "It's better than sitting at home and watching DVR all day."
That light joke might have been closer to a reality for Miller if it weren't for Woodhaven. Instead, on her Thursday afternoon, she'll punch the timecard at the end of her shift, and she'll beat rush-hour traffic to get home. Her "little red Corvette" will roll up to the house, and Sunshine, her pet parakeet, will start to chirp as soon as he hears the garage doors open. Miller will enjoy a meal that she can help make and relax to a few reruns on TV with her roommates and staff who have become her family. And tomorrow, it's back to business all over again.
* CORRECTION: An earlier version of this story misstated the source of the land.