After the buzzer sounded, after his team shuffled into the locker room, after he had done his media interviews and talked with his family and fans, Bob Burchard walked out of Municipal Auditorium in Kansas City and looked at his assistant coach, Sean Dooley, in bewilderment.
"Can you believe we did that with that team?" Burchard said, shaking his head.
If you would have told him two months earlier the team that had embarrassed themselves in a 77-60 loss to William Woods would be playing for the National Association of Intercollegiate Athletics (NAIA) title in March, he would have laughed. But a single coaching decision made out of frustration would give Burchard one of the most successful seasons he's had in his 30 years at the helm of Columbia College Athletics, both as the men's basketball coach and the athletic director. Not for the run the Cougars made, but what the season taught him. The 61-year-old doesn't consider himself a coach. Instead, he thinks of himself as a teacher, and like every good teacher, he has to constantly learn and grow if he wants his classroom and the people in it to do the same.
A piece of paper and a dream
Since his sophomore year at McLean High School in McLean, Virginia, Burchard has wanted to teach the game of basketball. His basketball coach, Clay Estes, had such an impact on him that when Burchard was assigned a paper about his career aspirations, he wrote that he wanted to coach someday. He kept that paper until water from a nearby creek flooded the basement of his first family home when they moved to Columbia in the 1980s.
Burchard's high school career led him to Catawba College in North Carolina University, where he played point guard from 1975-1979. "Not a very good one," he says. "What do you have to be? Fast. Probably have to shoot the ball. I wasn't good enough."
His basketball coach, Clay Estes, had such an impact on him that when Burchard was assigned a paper about his career aspirations, he wrote that he wanted to coach someday.
What Burchard lacked on the court, he made up for on the sidelines and in the classroom. He went to graduate school at East Carolina and earned his master's degree in education with an emphasis in physical education in 1980. There, he met his future wife, then Faye Cromwell, who was in the same classes as Burchard and helped him in his tennis teaching assistantship.
"I found out she was a tennis player — the No. 1 tennis player at Arkansas State for undergrad," Burchard says. "That was a nice in."
Burchard drove by in his 1968 blue Mustang one day, and when he saw Faye running, he stopped to chat. After he found the courage to ask her out, he drove off as soon as she said "yes." Faye watched the Mustang speed down the road.
"Now I have to run back home after I've been standing around for half an hour?" Faye says, laughing. "I'm five miles away. Thanks a lot."
"Yeah, that was on her; that wasn't on me," Bob counters. "You crash and burn, and she says 'no,' then you're just out of there. It's perfect. Done."
Burchard's plan worked, even if Faye did have to run five miles back to her house. The two began dating as they looked for jobs, so when Missouri Western State University's Student Recreation Department hired Faye, Bob went looking for a job nearby.
Jameson, Missouri
The place where Burchard landed was an hour from Faye and his first home in his lifelong career as a coach. Initially, though, he couldn't find it.
MO-13 is the only highway that borders Jameson, a 141-acre town in the northwest corner of Missouri. In 1980, Jameson High School, now North Daviess R-III, didn't look like a school to the 23-year-old coach from the suburbs of Washington, D.C. Burchard drove by the three-story building — one level each for elementary, junior high and high school — three times before realizing it was the place he was supposed to be interviewing for a job.
Eventually, he parked and waited for someone to open the school doors. An old, muddy truck rumbled up to Burchard's Mustang, and a farmer stepped out. The two talked for about 20 minutes before heading to the doors; Burchard assumed the man was a janitor.
"Turns out, he's the superintendent," says Burchard, who still uses the story as a teaching moment to his players today. "First lesson is I either got the job or didn't get the job in the parking lot. You can't assume anything. Everyone should be treated at the highest level."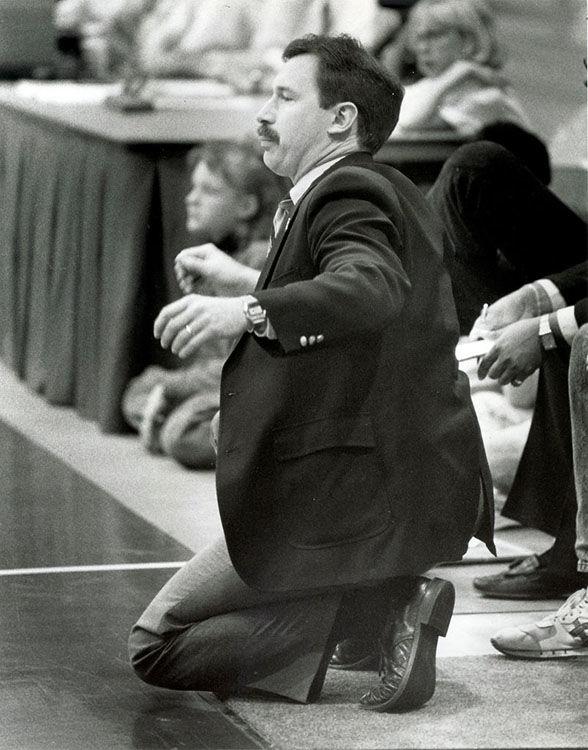 The superintendent offered Burchard a physical education and coaching position for $8,000 a year. Burchard pushed for $10,000 for a job that included teaching seven periods of PE and coaching four sports: softball, track and field, and boys' and girls' basketball. He rented a trailer from the town's general store owner for $100 a month and lived just outside the school's backyard. He didn't even have to cook.
"The moms of the town ran the cafeteria for the school, so everything was home-cooked," Burchard says. "They kept giving me food. I think I put on about 30 pounds that year. I haven't recovered from that."
Burchard inherited a basketball team that had won more than 50 consecutive games and a fan base that lived for those games. He learned quickly that if students weren't in church or in school, they were playing basketball.
Jameson's court was smaller than most, and there were no poles to hold the baskets; the hoop was nailed to the wall. Burchard and his player pupils went 19-8 in his one year at Jameson, but he spent his free time driving the hour to St. Joseph where Faye worked. He played tennis with her and Missouri Western's basketball coach, Gary Filbert, almost every weekend. The Burchards married in 1981, and Filbert offered Bob an assistant coaching job on the Missouri Western staff. He said goodbye to his trailer and the 136 people in Jameson, making the hour-long drive to St. Joseph one more time, where he and Faye would stay for seven years.
In 1988, Columbia College had a job opening for athletic director and men's basketball coach. It was common then for smaller programs to have one person do both jobs. Burchard calls himself a dinosaur because most colleges now have separated the positions.
Filbert was the one who advocated heavily for Burchard to get the job with the Cougars. Columbia College president Don Ruthenberg officially hired Burchard and put him in charge of an athletic department with no full-time staff members, four sports and fewer than 75 student athletes. Faye Burchard, who was hired as Columbia College's director of student activities and later as the dean of student affairs, didn't think they'd be around for long — such is the life of a coach's family. But Burchard had a vision.
Building a program
Faye says that from the day Bob walked into the tiny gym with two sets of wooden bleachers, a small table for ticket sales and another for concessions, his plan began to form. It has taken 30 years, but he transformed a four-sport NAIA college to a 16-sport NAIA powerhouse, expanded Cougar facilities and fostered recruiting. Burchard guided the men's basketball team to an 18-12 record in his first year — the first winning season in 15 years.
Burchard made a bet with his team that first fall. If the Cougars finished above .500, he would allow a player to shave his head. Thomas Roberts transformed from player to barber in front of students in the cafeteria the day after clinching that winning record. Burchard grimaced while the players grinned. Burchard's son, Brett, a toddler at the time, burst into tears when he saw his dad come home without hair. Worth it? Absolutely.
Burchard is vastly different from that first season. On the sidelines, he's either sitting, crouching or standing – not pacing or yelling. During timeouts, he lets his players and assistant coaches solve problems before offering his advice.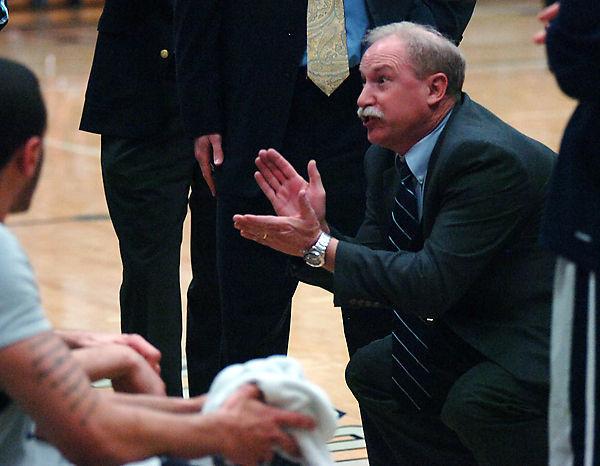 "He doesn't have a lot to say all the time, but then what he does have to say is really important," says former player Nathan Biggs. "I know that he's not happy after we lose. You can tell. But he's had enough experience to understand that he needs to keep it collected and save it for practice."
Was he fiery when he was a younger coach? "Oh yeah," says Drew Grzella, who played for the Cougars from 1998-2000 and became the associate athletic director for advancement and marketing in 2011. "If one moment happened and he didn't like it, he'd snap right then, regardless of where you are in the workout ... I think his reminders were a lot more frequent, a lot louder than they are now."
Faye thinks her husband remembers every loss he's ever had as a coach. "When he was an assistant, I won't lie, I pretended to be asleep sometimes when he came home after a long road trip," she says. "The thing is, he might be mad or disappointed right after, but by morning, he's already looking positive and wants to see what he did wrong."
White vs. Blue
Cindy Potter, associate athletic director for media relations and compliance at Columbia College, has a bobblehead sitting on a shelf in her office. It's a miniature Bob Burchard, and it is spot on.
Little Bob, in a gray suit with a white and blue striped tie, is holding a Diet Coke can — a staple for the coach in his office and on the court. The corners of his eyes are wrinkled, exposing the smile his graying mustache hides. He's crouched in a surfer's position, mimicking the photo on the box the bobblehead came in. It was handed out at a game in 2012, right before Burchard's induction to the NAIA Hall of Fame. The photo is Burchard riding the wave on top of a table in a Municipal Auditorium locker room shortly after his team clinched its place in the NAIA title game in 2009. Players surround him, howling with laughter and clapping. The bobblehead is a symbol of the legendary coach it takes shape from, but it is also a reminder of the special season that formed from a broken team.
Burchard was mad after that abysmal loss to William Woods in January. Not only was it to the Cougars' rival, but his players also didn't play well together. Burchard decided on the 30-minute bus ride home from Fulton that he would split the team in half: the white team and the blue team. Each team would get five minutes of playing time before the other team would be substituted in. Because there were 11 players, one player would float between the teams in case of foul trouble or injury. There were no starting lineups; it was either the white team or the blue team. Every drill in practice — white against blue.
Burchard's white team liked to attack and didn't pass the ball much. The blue team, on the other hand, loved to pass. Burchard matched the teams based on personalities, too. Both got along off the court.
The idea came from North Carolina coach Dean Smith's substitution plan: Put the reserves on the court in crunch time so starters will get vital rest. Burchard had attempted it before, but he had never sustained it. If they were going to do it, he told his assistant, Dooley, they had to go all in.
"We have to do something. Desperation is what we're going to do. And all of a sudden it was brilliant."
The Cougars won 17 of their last 18 games before playing Rocky Mountain College in the NAIA championship game.
"It was basically out of frustration," Burchard says. "This team sucks. We're not getting any better. We have to do something. Desperation is what we're going to do. And all of a sudden it was brilliant."
When the postseason came, Burchard told his players that they needed to ride the wave, and they were either going to have the ride of their lives or crash and burn.
The Cougars wore teams out because of the pattern, but the championship game was different. There were TV timeouts. Burchard and Dooley didn't want to switch the strategy, but there were more breaks than normal, allowing Rocky Mountain to rest, too. The Cougars couldn't keep up.
"Fairytale rides don't always… well, we crashed on the beach," Burchard says. "It just took us a long time to do it."

Columbia College lost 77-61 to Rocky Mountain in the Cougars' first championship game in program history. Burchard hasn't used the substitution pattern in the same way since, nor has he been able to bring his team back to the last round of the tournament.
Yet, he says if he could go back to that game, he would do it the same way. No one event would define that weird, turnaround season. The Cougars figured out how to get a job done, and that's what mattered.
"It was the right button to push," says Dooley, who is now the head coach at Baker University, an NAIA school in Kansas City. "He always finds a way to figure out a way to get that team or individual to the next level."
That year, Burchard learned how to manage the personalities that comprise a team rather than competing against them. As his accomplishments have grown, his attitude has become less about winning and more about how he can improve the lives of others.
"He'll probably tell you that he's more proud of what his players have accomplished and the graduation rate and all that," Dooley says. "For his assistant coaches too, he's not trying to keep us there forever. He wants us there to learn and try to help us become a head coach."
He's no less competitive, though. That has been consistent since his first game at Jameson. But now, he has a spot where he can withdraw, harness his competitiveness and come back refreshed.
Burchard enjoys going to his Lake of the Ozarks house because no one calls him "Coach" there. All that matters is the water temperature and if the fish are biting.
Fighting for relevance
When Columbia College broke ground on the renovated Southwell Complex in 2002, it was a big deal. Burchard organized the fundraising, the date and the press around the event. It was all set, until the Laurie family announced it was donating money to MU and what is now called Mizzou Arena. Goodbye press.
"Trying to carve out a niche of — importance is maybe not the right word — but belonging, in this town, you're always balancing the positive and negatives of the big state U," Burchard says. "Always."
Being a small private college in the same town as a large public university poses problems for the athletic director side of Burchard, who wants to attract as many fans as possible to events. He likens it to being a preacher.
"We have a lot of followers but not a lot of attendees," Burchard says. "We have a lot of people who know the success of the team, but they don't come. They don't come watch."
Compare Columbia College's fan base now to the pre-Burchard days, Potter says, and the difference is monumental. MU will always outweigh Columbia College, but "people know who we are now, and I think that's because of him," Potter says.
Columbia College has made sweeping changes since Burchard took over. He oversaw the expansion of the Southwell Complex, including more seating, a larger press box and the addition of two new courts in the back, and, in 2010, the connector that links the arena to the academic and training centers was built. In 2016, the main basketball court in the complex was dubbed Bob Burchard Court.
Burchard has earned Athletic Director of the Year in the American Midwest Conference six times. He has brought the NAIA Softball Championships to Columbia four times and the NAIA Women's National Volleyball Tournament to the college twice. He has developed the athletic administration from only himself when he started to now three associate athletic directors, four support staff members, two athletic trainers and 20 head and assistant coaches. There are even more graduate and student assistants who help.
Burchard is quick to give the credit to his staff because without them, he wouldn't be able to manage his two roles. "He's never told me 'no' if I have an idea, and he thinks that if you have an idea of something that you think will benefit the group, then go ahead," Grzella says. "And if it doesn't work, 'I like it, good try.'"
Faye also made her mark at the college as the dean for student affairs before she retired in 2016. Inside the student commons, the Burchards' Cougar Café is a testament to the impact Bob and Faye have had on the college.
Their two children, Jennifer, now 33, and Brett, now 31, grew up on the Columbia College campus. "We'd come over at night, and Bob would be having practice, and I would drop the kids off in the living room of the residence hall and say, 'Hey, can they watch TV with you for a little bit while I go over and do this student group?'" Faye says.
Jennifer went to Missouri State to swim, and Bret went to Taylor University in Indiana to play basketball. "Our dinner conversations were Bob asking Jennifer, 'Why don't you go to Columbia College?' and her saying, 'Why don't you build a swimming pool?'" Faye says. "And (Bret) had literally grown up here, so nobody was going to let him grow up here. He was always going to be little Bret."
Together, the Burchards made their impact on the campus, and now Bob is still influencing the athletics department. After 30 years as the department's main guide, though, retirement seems like it has to be forthcoming.
"I know that it's probably not too long before he retires," Potter says as tears form at the corner of her eyes, "but there's no replacing him."
Burchard doesn't have a plan for his retirement, nor does he want one. "The beauty of competition in athletics is, it's 100 percent unscripted entertainment," he says. "There is no script. I don't know when I'm going to end. Maybe today. I've worked on a handshake here for 30 years. My contract is a handshake, so it's unscripted."
Because even after all of the hires he has made in his department, after all of his accomplishments on the court, after all he has done to grow Columbia College Athletics in the city and in the NAIA, Burchard will never be satisfied. He will always have things to experience, to learn, to teach.
"My guess is that it will end unscripted," he says. "If it would end today, I'd go fish."