Evidence of climate change is all around us, and children today are growing up faced with a daunting global problem.
In 2021, The Lancet collected data from 10,000 young people aged 16-25 in 10 different countries. The results showed that young people across the world are worried about climate change, with 59% saying they are very or extremely worried and 84% at least moderately worried.
For children facing these large-scale issues, school is a place where they can go with questions and learn the science to explain what's going on around them. Public schools are tasked with laying the foundations of climate science education throughout elementary school and introducing students to the concept of climate change in middle school.
Educators in Columbia, in conjunction with Missouri state curriculum requirements, are trying to put climate change into context for kids. Here is a basic timeline of environmental science education in Columbia schools, from kindergarten through eighth grade.
Observing the impact of humans on the environment
In early elementary, children are taught to observe interactions between humans and the environment. Ragan Webb, Columbia Public Schools science curriculum coordinator for grades K-5, says it's as simple as students observing how the placement of a trash can reduce litter on the ground.
"They do talk even as early as kindergarten about solutions that would lessen our impact as human beings on our environment like recycling and reusing things instead of buying new things all the time," Webb says.
What is the difference between weather and climate?
In third grade, students learn the difference between weather and climate. Some teachers use analogies to explain the concept. "What you specifically put on in one day is weather," Andrew Kinslow, science curriculum coordinator for grades 6-12 says. "Climate is when you open up your closet and look in your closet at all the different types of clothes that you have for all of the seasons."
Third grade also introduces weather-related hazards like storms and fires. Webb says teachers make an effort to root the concepts in things students can observe in Missouri, like drought.
How is energy produced?
In fourth grade, students are taught about energy production and resource use. "Fourth grade is where they start talking about renewable and nonrenewable resources and how we use those to produce the energy that we use," Webb says. She says students are exposed to a range of energy production methods, like coal, solar and nuclear.
Localizing complex concepts
Joe Barnett teaches science at West Middle School and makes an effort to localize concepts whenever possible. One way Barnett does this with his students is during a species interaction unit. Taking a macro-level approach, the class looks at how humans influence the natural system. "One thing that we did last year was we examined some plants on a continuum away from the campus that's very heavily influenced by humans," Barnett said. "They looked to see how many different kinds of organisms, particularly plants, they were able to find as they ventured further and further."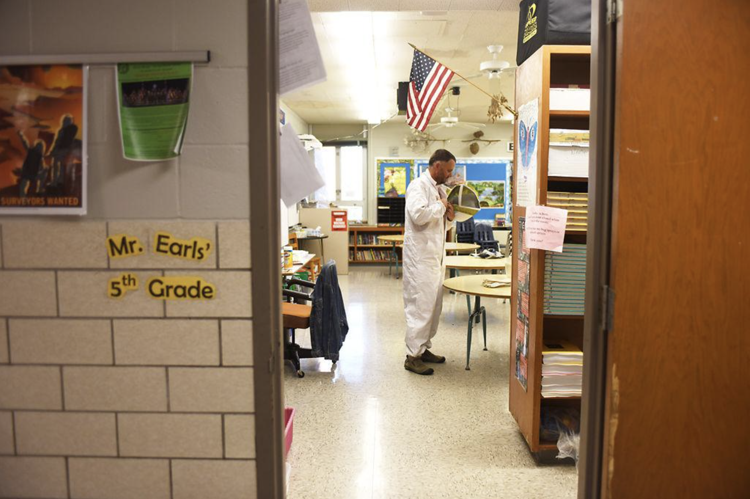 Kinslow says that teachers employ local examples to provide context to the concepts taught in the classroom. He calls it an "anchor phenomenon."
What does the data show?
Middle school is when students are introduced to more specific references to climate change. Kinslow says at this point, students have the necessary foundational information from elementary school to look at data on long term environmental change. "The evidence is telling us that humans are having an impact on the environment due to changes in the carbon cycle," Kinslow says. With that in mind, students can look at how climate change is affecting the world around them through a local lens, like prairie ecosystems, down to specific areas in the school yard.
In eighth grade, Barnett says students begin analyzing data trends. Eighth graders look at trends in climate patterns from an earth history perspective. "So when you're looking at the history of the Earth, they're going to, when we get to that portion of the curriculum, be finding these patterns, looking at the data trends and seeing what's happening now and what fits and what does not fit," Barnett says.
Across grade levels, teachers try to emphasize that there are small ways students can have an impact on their environment.
"They're coming in with questions like 'What does this mean for me?' 'How is it working?' 'What can we do about it?'" Kinslow says. "Those are very important things for us as science teachers and us as a school district to be able to give them the ability to look at evidence critically and make decisions based on that evidence."
Related Stories