When Joe Chee began online gaming in the mid-2000s, he strategized and battled alongside strangers from across the nation. He huddled over his desktop, a headset plugged in with the voices of his teammates echoing in his ears. He was 12 years old, but he played with doctors and lawyers. His World of Warcraft guild, a group of players who work together to maximize success in the fantasy game, was more of a family than an army. Its leaders were a husband and wife. As he joined the weekly meeting, his screen filled with the characters of 49 other people, all conversing about the humdrum upkeep of the guild in the friendly tone of old pals reuniting at a coffee shop. Chee still remembers the sense of belonging he felt when the 50 of them would gather, all in a virtual space.
His passion for gaming never left him, and in 2016, he worked at summer day camps in Columbia for kids interested in video gaming. The camps were arranged by a company called EpicEd and led by its three co-founders: then–MU student Connor Hall, MU alumnus Jack Jones and former MU College of Education Dean Dan Clay. Three counselors helped with the camps, and an average of 15 kids attended during popular times of the summer. The camps' goal: Help kids learn about the competitive gaming world while also learning skills like teamwork and responsibility.
Chee and fellow counselor Ben Brooks fostered relationships with the campers while running events. But they knew in the back of their minds that unlike the kids at football or soccer camps who would have tryouts in the fall and teams to join, these gamers would be back in their own rooms without a formalized structure to support their interests. EpicEd disbanded in late 2016, and that's when the pair decided to start their own company, Chee says.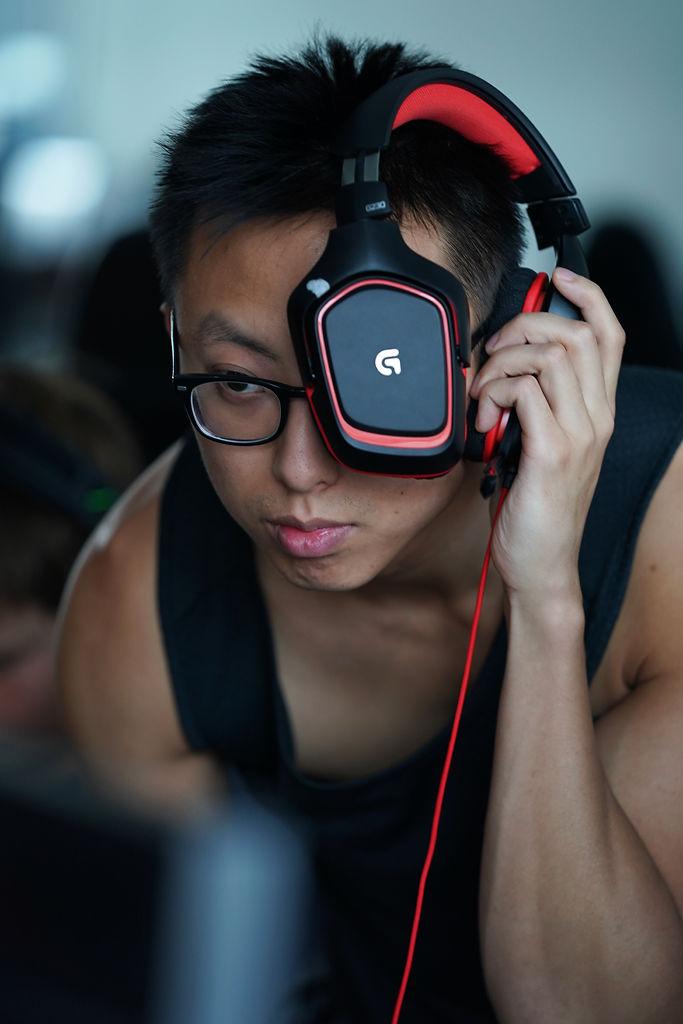 Becoming a reality
In February 2017, the pair founded a youth development program called Ukatsu, named after "katsu," the Japanese word for "win." Chee, now 25, and Brooks, now 21, wanted to provide what traditional team sports offered but to gamers: a physical space to meet others who share the same passion. They also wanted a safe spot for young gamers to engage in competition and learn methods for improving physical and mental health, and, of course, the kind of coaching that helps someone win games. "All the values I learned from being a part of team sports really helped me become a better person and helped me learn the social skills that I wouldn't have if I just played video games," Brooks says. "I wanted to provide an environment and a place for kids to develop those same skills, but for video games because there wasn't infrastructure for those kids."
Located off of Grindstone Parkway, Ukatsu hosts events ranging from gaming competitions to graphic design classes and physical training sessions. Most events center around something to do with gaming, whether it's playing a specific game or learning how to build a gaming computer. Social interaction and physical fitness are always included; their venue sports a weightlifting station as well as a concession stand stocked with healthy snacks. Chee and Brooks often include mindfulness exercises like journaling or goal-setting to promote good mental health.
When Ukatsu first started, the founders' personal savings powered the operation. Now, Ukatsu generates its revenue by charging for individual events, offering monthly memberships and from its high school eSports league sponsorships.
Going competitive
Through the company, Chee wants to give kids a community like the one he had growing up with his WoW guild. "Looking back at my past, (Ukatsu) is very similar to that kind of atmosphere, but in a physical setting," Chee says.
Chee's experience playing with such a positive online community is not the norm. According to a 2017 Pew Research Center survey, four in 10 American adults say they have been bullied online. For young adults, gaming is the culprit behind some of the harassment. Of the youngest age group studied, 18- to 29-year-olds, 18 percent said gaming was the platform where they were most recently harassed, compared with 5 percent of those 30 and older. It's not just aggressive banter, either. One survey respondent writes, "Anything perceived as poor in-game performance can lead to name calling and escalate to personal threats and attacks in seconds."
While online gaming has a growing reputation for toxicity, eSports is becoming more popular, according to Business Insider. In eSports, teams in a league compete against one another in a video game, often for an audience. If casually playing online games for fun is equivalent to kicking around a soccer ball with friends, eSports is like being in Major League Soccer. Just like traditional sports, you have teams of players, cheering fans and a game of choice.
Another similarity with athletics: The best players go pro by joining professional organizations and making competitive gaming their career. Prize pools can be in the millions. Matches have sold out the likes of Madison Square Garden. In 2017, eSports drew 258 million viewers compared to the 204 million during the 2016 NFL regular season in the U.S., according to USA Today.
Colleges have started to move into the eSports game. In 2015, Columbia College was the fifth college in the U.S. to establish a varsity eSports program. For the 2017–2018 season, the team placed second in the "League of Legends" College Championship in Los Angeles. Stephens College also has its hat in the ring as the home of the nation's first all-female collegiate varsity eSports team, which began its first season last fall competing in the online shooter game Overwatch last fall with 12 players.
Missouri is at the center of the eSports boom. According to ESPN, Missouri is the state with the most collegiate eSports programs, at nine. Second place is a four-way tie between states with four programs each, all of which are in the Midwest. Compare that with California's two programs, or Texas' one.
Mid-Missouri high schools have also joined the eSports trend. Ukatsu partnered with Columbia Public Schools and Jefferson City Public Schools to form the first live high school eSports league in the nation in 2018. "I think it's really forward-thinking for a school district to be doing something like this," says Columbia Public Schools Superintendent Peter Stiepleman. "When you see students so engaged and excited about their peers, you know that there's a real interest."
Of the approximately 110 children and teens involved with Ukatsu, Chee estimates that about 50 are high schoolers. Most of these students do not participate in sports outside of eSports, so the league brings them a sense of being part of a team, says Leah Johnson, sponsor of the Jefferson City High School eSports club. Justin Zhang, an 18-year-old who played on Rock Bridge's eSports team before graduating in May, says he didn't do any extracurriculars before, but in his last semester he looked forward to Wednesdays and Fridays to show his passion to his teammates and family. "It definitely has given me more purpose," he says.
One of the biggest benefits for educators is the accountability that comes with an extracurricular. Players have to maintain their grades and school attendance up to be eligible, and Johnson says she's seen both increase for her players since Jefferson City started its eSports club.
The league requires a 2.7 minimum GPA compared to the 2.0 required by Missouri State High School Activities Association for traditional sports and activities. "That really pushes me to get my work done, and it really pushes me to ask for help," says Rock Bridge eSports player Jordan Taylor, a 16-year-old sophomore. "It actually makes me feel ready to take on school."
Building friendships is one of the benefits of the league for the students. Cameron Day, a 16-year-old sophomore on Jefferson City's team, moved there from St. Louis two summers ago. "I didn't have very many friends, and I joined the club," he says. "It actually helped me get a lot more friends."
The largest high school league in the country, simply called the High School ESports League, began in fall 2017, but most of its matches occur online instead of live with both teams in the room. Jefferson City eSports coach Evan Rowland, an MU senior studying biochemistry, prefers that Ukatsu runs the league live instead of online, because it's "really not the same as getting to load up on the bus and come here and play, and get to shake hands with the other team afterward," he says. "It's something I would've killed for in high school."
For many eSports players, the league is the first time they have represented their school by competing. The matches are typically held at Ukatsu with a crowd of about 40, depending on the night. Taylor recalls the excitement from his very first match: "My heart was really pumping. I had never been on a stage before, never really performed anything in front of a lot of people, so it was really just a mind-racing event."
Zhang had a similar experience. "It definitely feels like a rush," he says. "I never felt like that way before. Playing on stage, you always get that rush for the first five minutes, and then you calm down, and you get in the zone."
Room for improvement
Competition isn't always pretty, and combating the hostile nature of competitive gaming is an important challenge for Ukatsu. A lot of these students haven't competed on a team before and grew up as the best gamer in their household, so loss is new, Chee says. Whether it's a high schooler storming out of an eSports match, or a kid at summer camp getting beat at their favorite game by kids they never met before, raging can be an issue.
"They're dealing with loss for the first time, and there's a turning point," Chee says. "You can either quit, or you can analyze why you lost, not make the same mistake twice and practice to get better. We obviously gravitate toward the latter in our program."
Another issue in eSports that Ukatsu hopes to tackle is its gender disparity. Data from Entertainment Software Association's annual report in 2016 shows women made up just under half of all game players and 30 percent of the eSports fan base, according to ESports Insider. However, professional teams are still largely male-dominant.
Ukatsu sees this disparity in its programs, with a ratio of about 10 boys to one girl, Chee says. To combat this, the organization hosted a ladies night event in March in partnership with Stephens College's all-women's eSports team. "Ladies Night is a night not to say that that's their only night, but to say that hey, you are welcome here, and it's a safe place for you, and you should come to all the events," Chee says. About 16 female players attended the event.
Building careers and community
As the eSports industry grows, there are opportunities in the field beyond being a professional gamer. Ukatsu offers career-building programs for children and teens who might be interested in joining the industry, not as a gamer, but in a role like social media manager, graphic designer or YouTube video editor.
Jack Jones, one of the EpicEd co-founders, now runs The Healthy Gamer, his media company that focuses on combining gaming with fitness. He says that parents often don't realize their kids can make a career out of their interest in games. "They think there's no future here, (but) there's a whole massive industry around gaming now," he says. "Gaming is not just a dead end. It's a very viable way to support yourself doing something that you enjoy."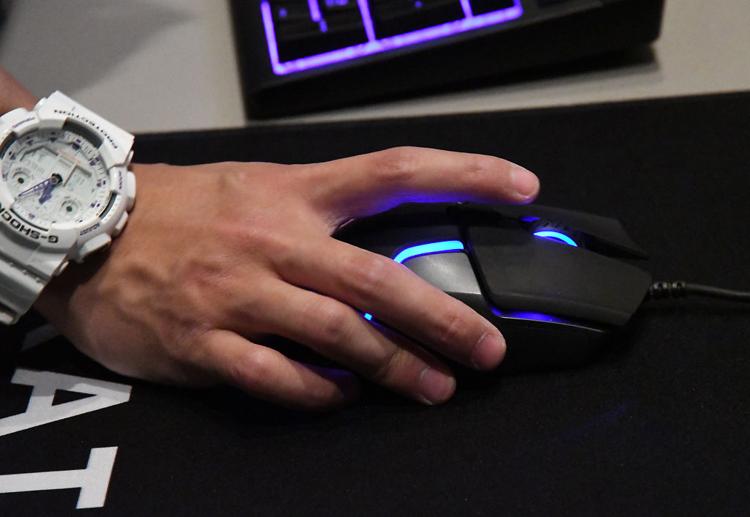 Although the games are what initially draw kids to the program, the community is what keeps them coming back, Chee says. The kids respect Chee and Brooks for their gaming talent, and then they start going to the pair for guidance in other areas – even dating advice. "Some of them say things like, 'I've never worked out a day before in my life, but every time I come to Ukatsu I work out,'" Brooks says. "One has said before, 'I never had friends before I joined this program, and now I feel like I'm part of a community that I belong in.'"
This communal aspect is one of Ukatsu's biggest strengths, Jones says. "It's just hugely beneficial for gamers to have a social outlet," he says. "When I was growing up, I felt really kind of ashamed that I was playing video games so much." He says that with Ukatsu, kids will be able to share the effort they've put into games, motivate one another and then be encouraged to put effort into other aspects of their lives.
"It's helped me have more time to play actually with my friends in person instead of stuck to the computer, and meet new friends," says Kevin Brooks, an eighth-grader at Smithton Middle School. "They also provide a lot of opportunities for people of all ages to play some games in a nice, friendly environment."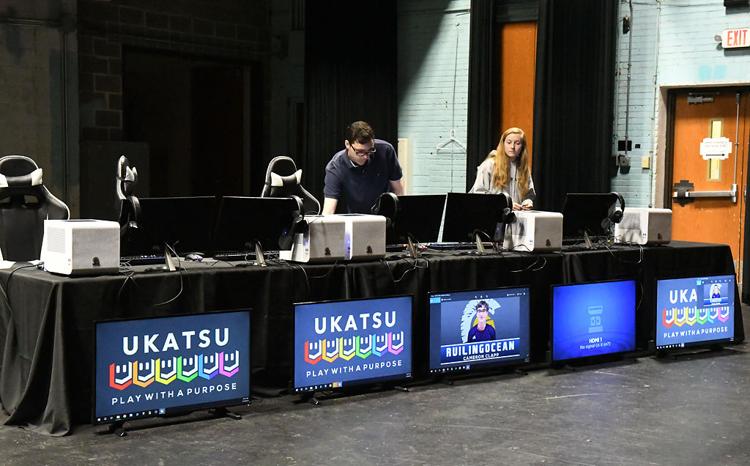 Kevin was one of the players at a weekday event focused on Fortnite, a multiplayer survival game released last year which has the players compete by attempting to be the last person or team standing. Guns are the main weapon used to take out enemies, but the game's cartoonish style negates any graphic violence. The game isn't just about shooting, either; in order to win, players strategically build forts out of collected materials to defend themselves. The nerdy talk is evident when one player runs across the map to find opponents and says: "It's a long trek. This is like Fellowship of the Rings."
Chee sits next to one boy and gives him advice during the match. "Make sure you're always scanning the horizon," he says. "Try to get to a roof and see if you can scan the city." When the player is eliminated by a surprise attacker, he asks, "What did we learn? The lesson, I think, is we need to check to see if people are landing around us."
In a separate match a few computers down, a player calls out, "We're sieging, come on Eli, we're sieging," as he races toward an enemy fort during a team match.
"But I'm scared!" the friend responds.
"Siege!" he repeats in encouragement.
Kevin Brooks' father, Jeff Brooks, laughs as he watches his son and his friends play. (Ben Brooks is not related to Jeff and Kevin Brooks.) Jeff Brooks pays for a monthly membership, so his son can attend plenty of events like the Fortnite Night. Dad is a gamer, too, and he often drives the carpool of his son and his friends to Ukatsu and sticks around to watch them and learn a bit about games himself. "Ben and Joe are great with the kids; they're really good teachers," Jeff Brooks says. "(The kids) are not just going to sit here for six hours and play a game, they're going to exercise. They're going to learn about sportsmanship." This was clear when halfway through Fortnite Night, Chee, Brooks and the kids took advantage of the nice weather by playing a game of Frisbee.
Working for the future
Keeping this community alive takes a lot of work, especially as a two-person operation. "It always feels like our hair is on fire, to be honest," Brooks says. The pair holds events at Ukatsu every day, arriving at 10 a.m. and leaving as late as 1 a.m. the next morning.
"There's not a single day Ben and I are not working, which sucks," Chee says. "We're so exhausted right now because it's only a two-man team, and I wish I had more free time. But, if you asked me what would I do with that free time, I would just continue putting it into Ukatsu."
To help out Chee and Brooks, there are about 10 regular volunteers, either friends or people who reached out because they heard about the company's vision. They assist with things like day-to-day operations, maintenance, selling concessions and setting up equipment when they travel for eSports.
In the future, Chee and Brooks hope to expand beyond Columbia and eventually go nationwide. Connor Hall says this dream isn't unrealistic. "ESports is developing so fast," he says. "The college scene was not that big a year ago. Ukatsu and that age group are going to be a very large market in the coming years."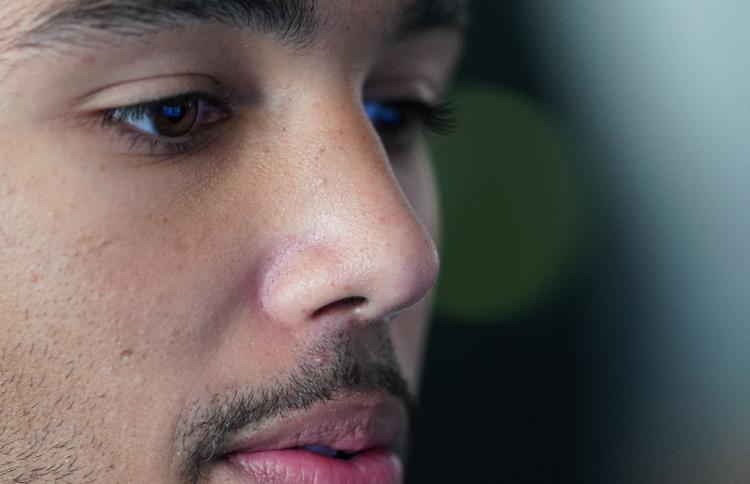 Even if they don't go national, Chee and Brooks say they will feel successful knowing they made a difference in Columbia. "It's pretty cool what we've built here, just Joe and I, and the excellent volunteers that we've had," Brooks says. "I just hope that even if we don't make it big, that someday there's a program like this, for kids to be able to come together and socialize in a physical space, even though they're surrounded by video games."
At Ukatsu's first high school exhibition match last September, Chee remembers when a player's father, a strong, burly man who had never played a video game in his life, walked up to Chee. On the stage, two teams of five stared intensely at their computers, headphones on, hands gripping their mice and ready at their keyboards. In front of each player, a screen displayed their name, roster photo and their username in the game. "I played college football back in my day, and I have no idea what's going on right here," he says, motioning to the League of Legends match. On the stage was his son, with his teammates, each wearing a team jersey, as the crowd seated in front of them cheered. "But I get it."