When Annie Fisher walks into an elementary school classroom, she wears a loose gray blouse, a white apron and round, wire-framed glasses. She introduces herself and tells students she was born in 1867. Her parents were born enslaved, and she dropped out of school after third grade to work. She learned how to make beaten biscuits with country ham, started her own business and quickly became one of the most famous and wealthy black people in Columbia.
When she reaches the end of her presentation, Fisher turns to the class and says, "Look, I am just acting! I am not Annie Fisher!"
In the younger grades, some of the kids often look around, shocked. They'd been fooled into thinking Verna Laboy, a community activist who portrays Annie Fisher in Columbia schools, was actually Fisher herself. "Even after she's shared with them that this is a woman in history, some kids still think she's the real one," says Adrian Clifton, Laboy's daughter, who was a first-grade teacher at Rock Bridge Elementary and had Laboy visit her classroom. "She's that believable."
Annie Fisher was regarded as one of the most successful entrepreneurs in Columbia during her lifetime. She was included in the National Cyclopedia of the Colored Race, a book of short biographies on notable black Americans that also featured luminaries such as Sojourner Truth, W.E.B. DuBois and Madam C.J. Walker, and included a foreword by Booker T. Washington. Fisher sold her famous beaten biscuits at the 1904 World's Fair in St. Louis and even baked for then-president of the United States, William Howard Taft, when he visited the Missouri State Fair.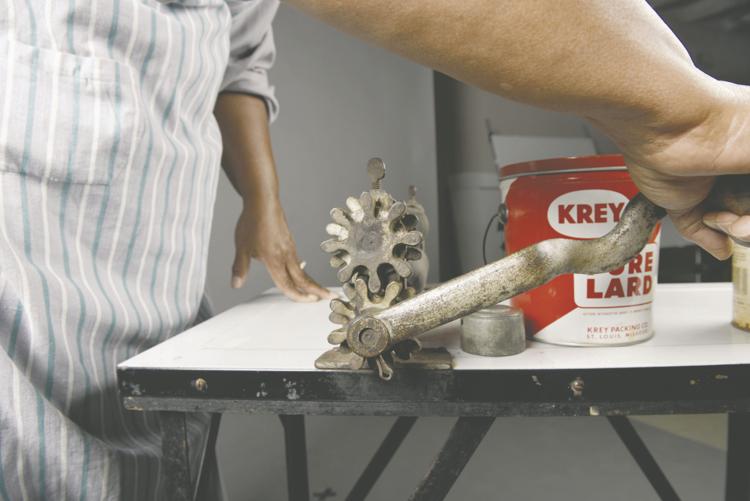 This December marks the 150th anniversary of Fisher's birth. But most students — and most adults — who see Laboy's presentation have never heard of Fisher. Even many who grew up in Columbia's black community, including Clifton and Chicago-based food historian Donna Pierce, didn't learn about Fisher until they were adults. Her story, effectively, has been erased. If not for the efforts of a few community activists like Laboy, it would stay that way.
Fisher was born Anna R. Knowles in what's now southeast Columbia on Dec. 3, 1867, to Robert and Charlotte Knowles. By 1907, Fisher had married and divorced William Fisher, a local reverend, and she had a 24-year-old daughter, Lucille Smith, whose father remains unknown today.
Fisher's specialty dish, which built her fame and fortune, was her cured ham on beaten biscuits, a Southern delicacy around the turn of the 20th century. Fisher typically baked batches of 40 dozen hardtack-like biscuits at a time. They were called "beaten" because part of the preparation involved literally bludgeoning the dough with an axe handle a couple thousand times before cooking. She filled orders both in Boone County and nationally to places such as Los Angeles, Denver and New York City. In a March 1911 article in the Columbia University Missourian, she estimated she'd already made 1 million biscuits that year alone, a clear exaggeration, but an indication of the huge volumes of biscuits she regularly baked.
She sold them for a dime a dozen, the equivalent of about $2 today, but she still sold so many that she amassed enormous wealth. She bought real estate and owned 18 houses, paid to build two beautifully furnished mansions and put her daughter through a music conservatory. "If I want to buy anything," she proudly told attendees at a 1919 National Negro Business League meeting in St. Louis, "I don't need to ask for credit, for I can write my check."
Although she would never reveal just how much money she had in her bank account, a 1927 Springfield Leader article estimated it at over $100,000, which would've made her a millionaire today. "She capitalized on the perception of others all the way to the bank," Laboy says. "I mean, if people wanted the good food and the good service, they would reschedule their parties and weddings and receptions so that Annie Fisher could accommodate them."
Fisher died in 1938. Her first house located at 608 Park Ave. downtown was razed in the 1960s. Her second house on Old Highway 63 met the wrecking ball right before Homecoming weekend in 2011. By that time, her gravestone in Memorial Cemetery had sunk into the ground, covered in moss and standing water to the point that it was practically invisible. Annie Fisher had been forgotten.
"It's like the spirit of Annie Fisher just possessed me, and I just became passionate about telling her story because it was one of resilience and success and a seemingly impossible period of time. Not only for women, but for a black woman at that."
To bring back the story of Fisher, Laboy did years of research in the late 1990s, collecting oral histories from older community members — many of whom have since died — who'd met Fisher. When she began to ask them about Fisher and her beaten biscuits, they really opened up to her. "I've never done anything like this before," Laboy says. "It's like the spirit of Annie Fisher just possessed me, and I just became passionate about telling her story because it was one of resilience and success and a seemingly impossible period of time. Not only for women, but for a black woman at that."
However, it is precisely because Fisher was a black woman that her story was excluded from the historical narrative. "History gets told from a white cultural perspective, and as it gets written from that perspective, then all of these things fall through the cracks," says food historian Donna Pierce, who grew up in Columbia and has studied Annie Fisher. "And that's why it's so important to bring them up now."
Before the 1960s, says Gary Kremer, the executive director of the State Historical Society of Missouri, mainstream historians typically focused on white men involved in war, politics or diplomacy. They also ignored sources of social history, such as oral tradition, and instead relied primarily on documents written by the people they were studying.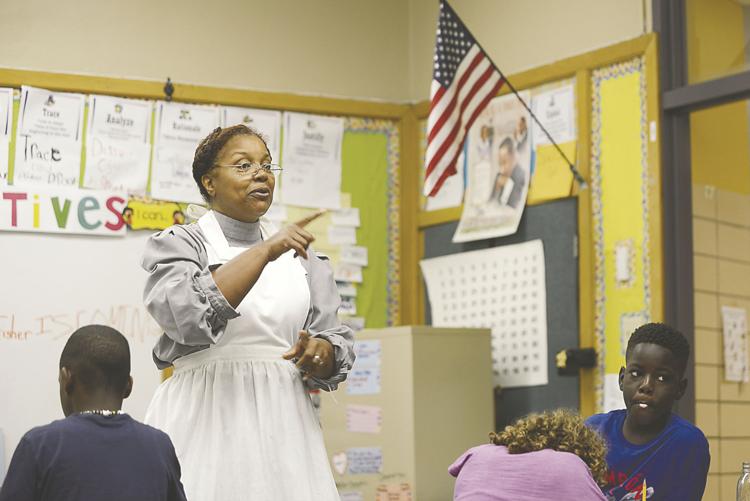 However, especially in the Civil War era and Fisher's time, laws and prejudicial norms prevented black people from learning to read and write, much less earn the money and influence necessary to publish books about themselves. By focusing on sources such as autobiographies and personal letters, historians ended up skipping over black people's stories because, as Kremer says, "If you're relying only on written records, that precludes people who couldn't write." It was not until the civil rights movement, Kremer says, that historians began to pay much more attention to the so-called "forgotten people" and accept oral history projects similar to Laboy's, which paved the way for stories like Fisher's to resurface. "People get remembered because people with power and wealth decide they're worth remembering," Kremer says.
This structural power imbalance, deeply embedded in historiography, spills over into other disciplines, too. The fact that the story of Fisher, as a successful local black woman, is still not a regular part of Columbia's school curriculums is, in Laboy's eyes, emblematic of the problems with the American educational system. She questions why students' only exposure to Fisher is in scenarios like her presentations.
"What I don't like about American history is that it's so full of lies and biases," Laboy says. "If we could just get the real history told — I mean, why isn't Annie Fisher and many other people's stories written anywhere? Well, it wasn't important. So you only get pieces of the truth; we don't get the real history of our communities."
Adrian Clifton, an MU College of Education community liaison and Laboy's daughter, isn't surprised Fisher's story hasn't been included in schools. It's representative of a larger trend of students learning from a whitewashed curriculum, which, she says, goes back to racism surrounding the origin of the school system at a time when black people were prohibited from attending white schools.
"It's bad because Columbia has a rich history, and we have a lot of amazing people who contributed to our community," Clifton says. "The erasure of black history is intentional. And so we're going to be intentional about counteracting that narrative and bringing the truth to our curriculum. And it starts with Annie Fisher."
To help rectify Fisher's exclusion from Columbia schools, Clifton, who also leads a community group she started with Laboy called Worley Street Roundtable, is working with Columbia Public Schools on revamping the curriculum. CPS Superintendent Peter Stiepleman wrote in an email that one of the district's goals is "to look at how we consider equity, diversity and inclusion in everything we do." To this end, Clifton says Stiepleman asked a variety of groups, including Worley Street Roundtable, to help draft a more inclusive curriculum that will be rolled out within the next couple years. "We're actually working behind the scenes with the school system to embed more culturally responsive history in the curriculum," Clifton says. "And then at that time, we will have the power — which is such a blessing — we'll have the power to actually embed Annie Fisher and other histories in the curriculum, so there's no excuse. It'll be there in the curriculum, and teachers will be able to utilize it and book my mom and bring her in."
Now, other community groups are also trying to revitalize Fisher's memory. The Sharp End Heritage Committee, which is planning Columbia's new African American Heritage Trail, has chosen to add Fisher in its list of important historic black figures in Columbia with a memorial marker at the site of her first home on Park Avenue. The idea to identify historic locations for markers along the trail developed in 2014, historian Mary Beth Brown says. The markers along the trail will symbolize the history of Columbia's black community.
The African American Heritage Trail, which runs through downtown and central Columbia, currently features signs memorializing the Sharp End, the black business district that existed between Fifth and Sixth streets north of Broadway until the 1960s; James T. Scott, a black MU janitor who was lynched from the Stewart Road Bridge near the MKT Trail in 1923; and the home of J. W. "Blind" Boone, a famous ragtime pianist. Fisher's marker, Brown says, is one of many planned for the future.
"With the markers, we're really trying to get people to keep talking about Columbia's history in that regard," Brown says. "People do stop and read them, so I think it'll be good. She'll get kind of revitalized when we do one for her. At least I hope so."
However, not every effort to revive Fisher's story has been successful. In 2010, Sheila Ruffin heard that the owners of a storage unit, who also owned Annie Fisher's house on Old Highway 63, were planning to demolish the home to expand their business. So Ruffin started the Annie Fisher House Project to campaign for saving it.
The first time Ruffin tried to find the house, she had one problem: She had no clue where it was. She drove up and down Old Highway 63, where it hooks around a roundabout near what's now several student housing complexes, including Copper Beech, Campus Lodge and Grindstone Canyon. Her plan, she said, was just to find the house and walk around herself. She eventually went to the storage unit business and simply asked. It was right next door.
The owners of the storage unit business — Old Highway 63 Mini Storage — offered to walk Ruffin around the home, and they showed her their plans to raze it. After having successfully petitioned the city to rezone the property from residential to commercial, the owners had quadrupled its valuation — if she wanted to buy it, they told her, she'd need over $1 million. For five years, Ruffin asked the Annie Fisher House Project to come up with the money, but the owners denied her request, so she only had a year and a half — not nearly enough time, she says. Raising that much money, no matter how many pamphlets, speeches, Facebook posts and prayers she made, was nearly impossible given the time constraints. "There was just really nothing I could do," she says. "It felt like I was just dropping a stone down into a never-ending well there."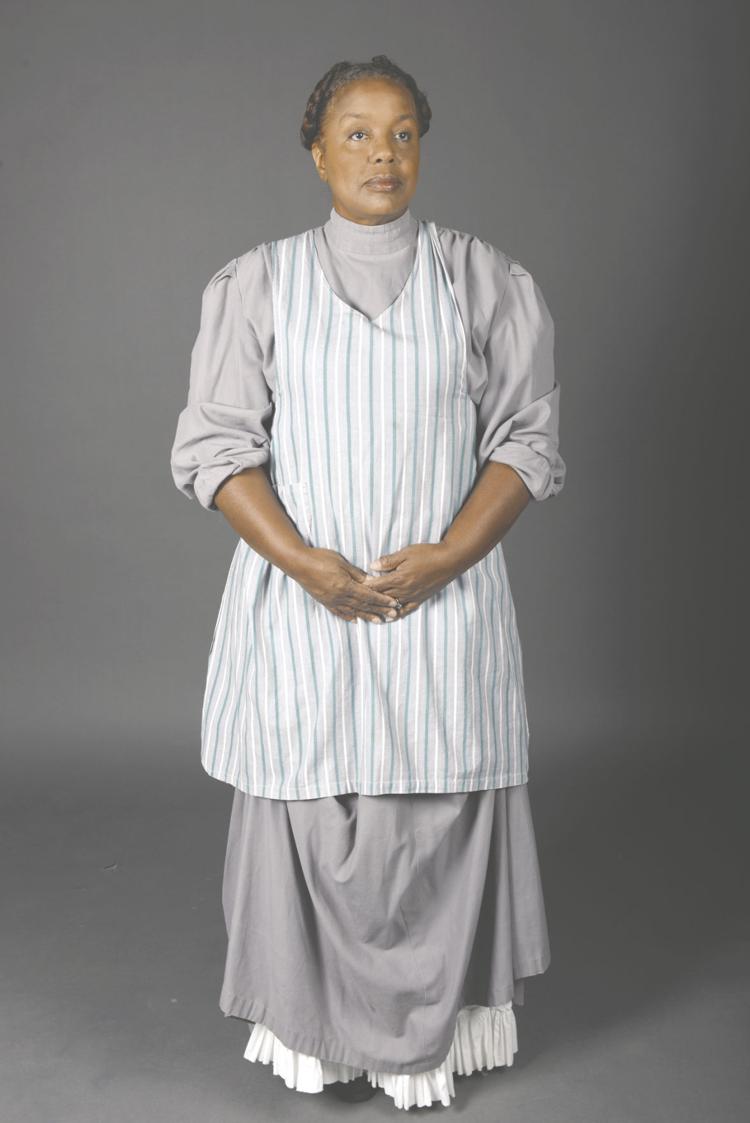 With the physical reminders gone, the question of how to keep Fisher's memory alive, for Kremer, is one he says he's struggled with for much of his professional life. The best way to honor someone's memory, Kremer says, is simply to remember them and to learn their story. That's where Laboy comes in.
"The resilience, the beating the odds, rising above the perception of others and capitalizing on it to a point where she grew to be very successful," Laboy says. "And it didn't really matter to her what other people thought of her. She was so good at what she did, and she loved it."
Reenacting the life of Annie Fisher is a volunteer effort for Laboy. She takes time off from her work as a city health educator and community activist, and she puts in a significant amount of preparatory time into each presentation she's done since 1996. Yet she still hopes more classroom teachers and community organizations will call on her to put on the apron and haul her turn-of-the-century biscuit machine out of her closet. That way, she accomplishes her main objective of making sure Fisher's story — a story of the black community's success in Columbia — "won't die with me."
"The resilience, the beating the odds, rising above the perception of others and capitalizing on it to a point where she grew to be very successful," Laboy says. "And it didn't really matter to her what other people thought of her. She was so good at what she did, and she loved it."
This is the message Laboy, as Fisher, gives every time she presents. When she visits classrooms, she says she hopes that students, by hearing the stories of Fisher and other figures in Columbia's history who overcame considerable obstacles, will be encouraged to not let anything stand in their way.
"I challenge young people (to) find your niche and be the best at it and market it," Laboy says. "No one gave her a loan; she had to work and save her money and earn her money and expand and grow her business. And she had to do that herself. And was it fair? Was it easy? No, but she was the best there was."