Under the pop-up tents protecting them from the bright Missouri sun, vendors line the paved COMO Flea Swap path. They wait behind folding tables covered with antiques, crystals, artwork, resale jewelry and vintage clothes. As soon as customers start trickling in through the parking lot in search of sales, the vending games begin.
"Some of these guys do it as a hobby," says COMO Flea Swap founder Craig Halliburton. "Some do it as a side business. Some people do it to clean out the garage. Some of these people are almost like family, I've seen them so much."
On a lunch break in early 2017, Halliburton, at that time a flea vendor who sold around the state, took a wrong exit off a roundabout and ended up on Wagon Trail Road. To the right of the road was an abandoned trailer park. "I said, 'man, that'd be a good place for a flea market,'" he says. "I started coming out here and just kind of looking around." He struck a rental agreement with the owner, tidied up the property and opened COMO Flea Swap in September 2017.
At the start, sometimes only one or two vendors would be at the market. Now, two years later, COMO Flea Swap averages 25 to 30 vendors per weekend, and the diverse collection of vendors peddle unexpected, odd and beautiful wares.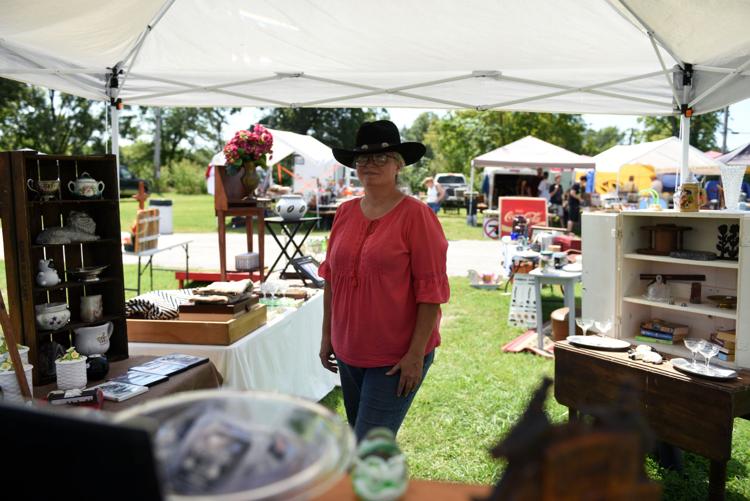 Taking up the mantle
Vendor: Lori Mantle
Products: Resale and antiques
Years vending at flea markets: 5
Her introduction to vending: "My mom had a booth in an antique mall, so I started with booths," she says.
A love for antiques is in Lori Mantle's DNA. After watching her mom vend indoors, Mantle took up the trade and began selling her own assortments outside.
Today she keeps china plates, ornate jewelry boxes and other antiques lining her booth's tables, but what she really loves is the unusual finds. "I'd rather have it unique than antique," she says.
At the front of her booth, a life-size plastic skeleton in a cage lies in wait. When customers walk by, the skeleton's motion sensors make it scream and shake, and Mantle laughs when it goes off.
Only feet away from the skeleton is Mantle's favorite item she's selling this weekend, a bathroom set with a toilet seat, tissue box holder and soap pump all decked out in seashells. The set is an antique, but Mantle doesn't limit herself to what she can resell. As long as it fits in her range of strange, she'll add it to the collection in hopes that someone will be "tickled" by it, she says.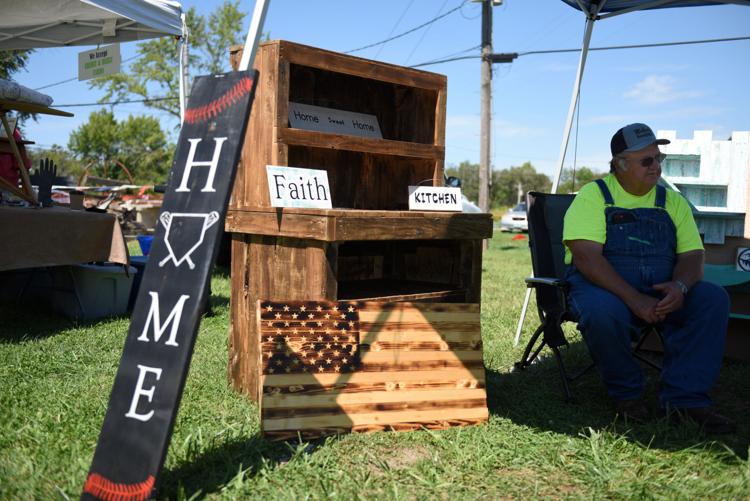 Wolfe the woodworker
Vendor: Freddie Wolfe
Product: Original woodwork
Years vending at flea markets: 10
How to vend: By bargaining. "You go up high and always come back down," he says.
Freddie Wolfe is a woodworker who goes with the flow. He constructs whatever's on his mind and is patient enough to wait for a sale. That's the beauty of selling homemade creations at a flea swap; it's all on his terms.
"I just get up every morning and start doing it," he says with a laugh. "I don't have no certain pattern." He makes picture frames, benches, swings and more. "You name it, and I try to make it," he says.
Wolfe began selling at COMO Flea Swap last year. His daughter went to Moberly Senior High School with Halliburton, and she recommended that Wolfe sell his woodwork at COMO Flea Swap. Now, he only vends at this market.
"It's sort of like family coming down here," Wolfe says. "You get to know a lot of people." The woodwork is not resale or antique, but it's welcome at the swap all the same.
While Wolfe is selling, a passing customer admires a small wooden well covered in flowers at the front of his booth. She asks if he made it himself. "Yes, ma'am," he says.
"This is gorgeous," she says. "Wish I had a yard to put it in."
"I wish you did too," he responds politely. He gives her a price just in case, but she leaves without the ornate little well.
"You have good, and you have bad," he says. When Wolfe's vending, selling is all a matter of being being patient and adaptable to whatever life throws.
Bolin's boxes full of history
Vendor: Kamie Bolin
Products: Resale and antiques
Years vending at flea markets: 1
Oddest encounter: At a swap that sells farm animals, she saw a man carrying a rooster under one arm and guinea fowl under the other. As he walked, his pants started to slip. "He was not dropping those birds, and he was going to let those pants drop first," she says.
During the week, Kamie Bolin works as the office manager of the mail orders department at Burgers' Smokehouse in California, Missouri. On the weekends, she travels around the state with her husband, Todd Bolin, to sell at flea markets. It adds to their income, and it's a shift they adore.
The Bolins started vending in 2018. Todd Bolin needed a change from his car sales job, so he now visits auctions and rummage sales full time to find pieces to sell. Kamie Bolin likes to take resale one step further. She loves to see new life breathed into resale treasures.
"Everything's so disposable now, and we're losing a lot of our history with each generation," she says. "There's a purpose for everything."
To demonstrate, she holds up a pair of burlap rice bags. "People want these to hang on their walls," she says. "The graphics are just so cool. When I was a little girl, I grew up on a farm and we used these burlap bags time after time." The rice bags are personal, but her husband often brings historic items to the booth too.
"We bought a box of linens at an auction, and there were four unused ballot bags from the Truman and Dewey election," she says. Someday, she'd love to complete the set by finding the matching election pins. Then, the historic pieces would be united again.
Related Articles