Check two things off your list with this month's First Fridays gallery crawl, hosted Dec. 7 in the North Village Arts District. You can meet local artists and perfect the art of giving all at once. There is an abundance of gift ideas we found at the standing booths at Artlandish Gallery, such as a necklace made of colorful clay beads.
Bead necklaces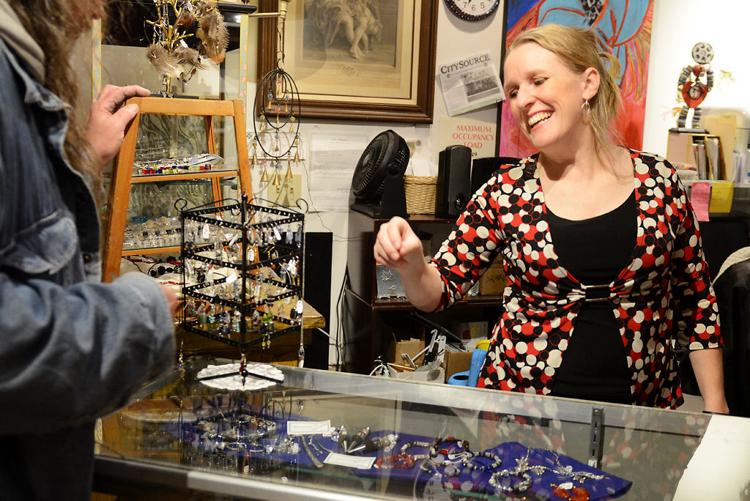 Carl Williams has been designing and creating necklaces and pendants with ceramic beads for eight years. Williams, the owner of Williams Handmade Crafts, makes the beads using a pottery wheel, then dries and splatters them with paint. He then fires the beads in a kiln, which brings out an array of colors in the clay. It might be unconventional, but not all of his necklaces close with a clasp; for particularly light pieces, he just bends the wires at an angle. From Nov. 23 to Dec. 25, all of his jewelry will be 20-percent off.
📿 Cost: $8-45; 
📿 Contact: (573) 228-8208
Ice-dyed clothes
Using untraditional measures, Liz Mitchell creates dyed clothing for her business Greetings from Earth. She uses a technique called ice dyeing, placing ice cubes with dye on top of the clothing. As the ice melts, the dye bleeds together into a pattern that's less calculated than one created through typical tie-dye methods.
🌈Cost: $25-30 for T-shirts, $7.50-15 for baby onesies and bandannas, $35-40 for skirts, $50 for dresses
🌈Contact: (573) 673-3053
Copper jewelry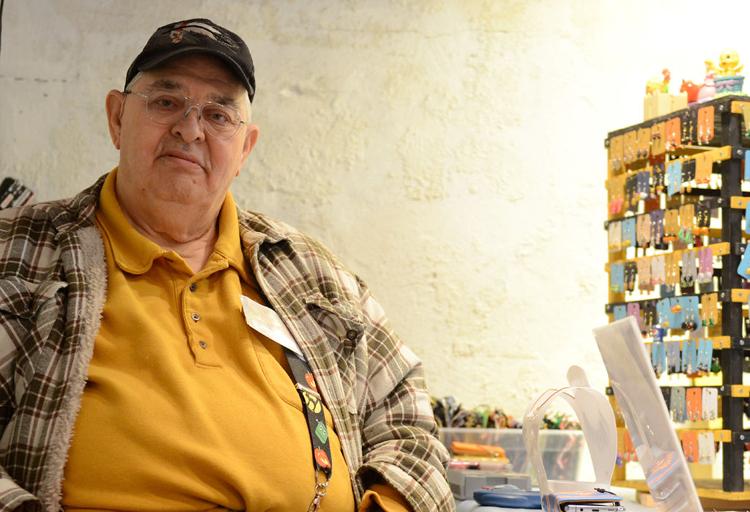 After a biking accident that shattered both his wrists in 2003, Michael Harper was told his hands would have severe arthritis. In hopes of staving off the condition, he began shaping old copper wires into jewelry. A few years ago, he began incorporating stones. Harper coats the pieces in multiple layers of clear lacquer to prevent the copper from discoloring your skin.
💍 Cost: $9 for rings; $9-18 for bracelets; $18-36 for necklaces
💍 Contact: (573) 823-5724 
Paintings
Nancy Palmer began painting about six years ago as a way to express her emotions. When she was still working as a diabetes educator nurse, she dreamed about taking a day off to paint. Now that she is retired, she has time to be a full-time artist. She loves to create faces, but she never starts her works with a plan in mind. "I just paint whatever emerges," she says. "I've tried to paint with a plan, and that does not work for me." She mainly uses acrylic, and most of her works are on canvas, but she's also completed some on wood and Masonite.
🎨 Cost: $50-150
🎨 Contact: (573) 819-1974
Knit hats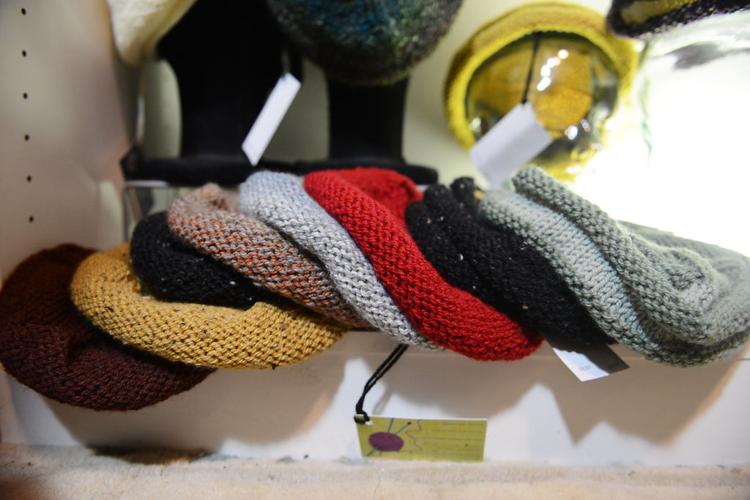 Knitting has become a way to de-stress for Jill Wren, who owns Granny's Guru and is the single mom of a 3-year-old and 17-year-old. Her favorite hats to knit right now are messy bun hats, which are hats with a hole in the back that allows space for a ponytail or bun. Recently, she has been making hats like those worn by women during last year's Women's March. She typically makes her hats with blended yarn so they can withstand multiple washes.
🧢 Cost: $22-26
🧢 Contact: (319) 230-3813
Candles
In April, Paula Vanlandingham started creating upcycled candles for her business, Antidote Goods. She makes them by melting down half-used candles. Sometimes, she'll blend the melted wax together; other times, she'll pour it into distinct layers. Because she recycles candles, her creations might be scented or not depending on the candles' original scents. Vanlandingham will be doing holiday-themed scents in December.
🕯 Cost: $4-7
🕯 Contact: (573) 819-6865 
Feeling artsy? This YouTube playlist on Vox DIY arts & crafts is for you.