Strolling by Francis Quadrangle in the weeks leading up to graduation feels like you've stepped into a music video or on a magazine cover shoot. Suddenly, you're surrounded by clusters of people posing for a photo, hoping to find the one that's just right. Champagne bottle corks blast into the sky and black and gold confetti rain down like money — except nobody snatches the confetti out of the air to take home.
It just stays in the soil or on the grass, or it rests on top of an unlucky plant. That might seem like a small problem. What's the harm in using confetti for one picture? But, consider this: In the 2016-2017 school year alone, MU granted students 9,150 degrees. Not everyone takes graduation pictures – or even uses confetti at all in their photos – but if even a fraction of those 9,150 people use confetti, a celebration can quickly turn into an issue.
On the one hand, there's the aesthetic problem. The confetti is "kind of a little blemish here and there, but pretty soon, if you're the 200th person to go out there and take your pictures, it doesn't look quite like it did for the first 100 people," says Pete Millier, director of the Mizzou Botanic Garden.
Then there's the environmental issue the confetti introduces. Millier says there are two options for dealing with confetti once it's in the soil. The confetti can either be removed along with the soil it's in — not ideal because plants are growing in the same soil — or the confetti can be left untouched. "If it's plastic, it's going to last longer than you have remaining in your life," Millier says. This year, California State Polytechnic University, Pomona announced it wouldn't allow plastic confetti at its commencement, citing the slow decomposition rate and the threat of the plastic being washed away into oceans and waterways.
There are alternatives; you can buy biodegradable confetti on websites including Amazon and Etsy, but Millier is big on bubbles. "Somebody will figure out a way to have black and gold bubbles," Millier says. Flower petals are another option.
Karlan Seville, communications manager for the university, is working on ways to spread a message next year that encourages students to use different celebratory methods. One option is to slide a piece of paper alerting students to this issue into each cap and gown. Seville hopes this will makes students at least do a double take before using confetti.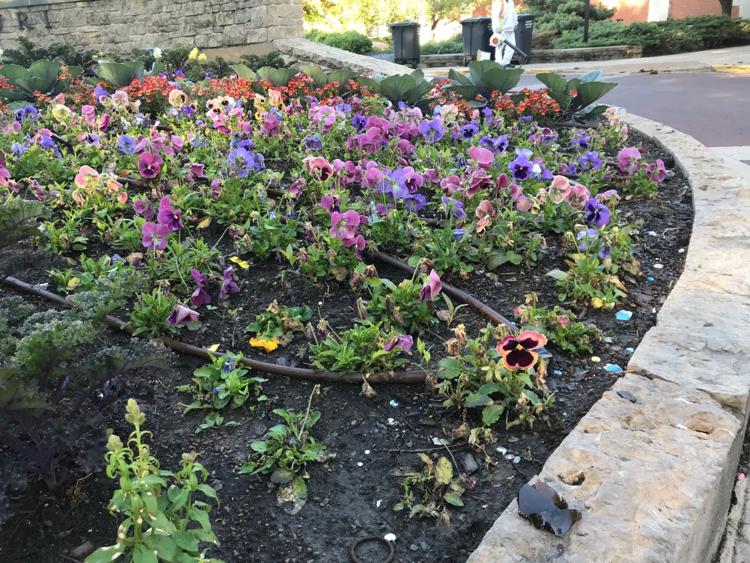 But it's not just the quad that's an issue. the Eighth Street circle garden, featuring a curving University of Missouri sign in brick, is a signature shot for graduation photos (as it should be). The columns and Jesse Hall are perfectly framed in the background, and blooming plants decorate the foreground. There's two entrance points into the garden that can be taken through mulch, which ensures plants won't be stepped on. Millier appreciates that students are attempting to walk carefully, but inevitably, the soil around the plants is stomped down. The plants won't fully mature because they're surrounded by compacted soil.
Millier is optimistic though. "The great thing about our students is they have an awareness that I don't remember having as an undergraduate many years ago about environmental issues and the consequences of decision-making," he says. During his 14 years at the university, he's seen an increase in interest of taking graduation pictures, and he loves that. The college he went to didn't have a marquee place to take graduation photos. The photos are also another way to show off the beautiful campus he helps maintain.
He's considering setting up more "vignettes" around campus for photos in the future, but more than anything, Millier wants students to reach out with questions. He recommends calling landscape services if students have concerns or want to set up a unique photo. In 2018, animal sciences major Massimo Montalbano brought Amelia, a 3-year-old dairy cow, to Francis Quadrangle for pictures. On Tuesday, another animal sciences graduate will be taking pictures with her favorite horse. "It's kind of neat to be able to do things like that with students that have these interests," Millier says.
Future seniors, ditch the confetti cannon, and grab a bubble blower — or your favorite animal companion. Just make sure you consider your impact on the plants and people around you.