Summertime means the perfect weather is here to venture into the outdoors and explore. This season, turn your run on the Katy Trail or family hike through the Pinnacles into the ultimate quest for hidden treasure with geocaching, a global adventure for all ages.
What is geocaching, anyway?
The answer is simple: Geocaching is a scavenger hunt. The app run by Geocaching.com, the self-proclaimed largest geocaching site, lists the coordinates of over 3 million hidden containers, known as geocaches, in over 190 countries. That might sound overwhelming, but Columbia houses a litle less than 400 caches, a more reasonable feat for those just getting into the game. GPS coordinates help guide you to a general starting point. Afterward, it's up to you to find where each item is hidden. It's a similar concept to Pokémon Go, but instead of searching for augmented reality creatures on your phone screen, you're tracking down actual containers hidden in your community that range from pill bottles to gallon buckets.
The beginnings of geocaching
The hunt began in May 2000 when GPS accuracy and reliability improved across the globe, according to Geocaching.com. GPS enthusiasts establish coordinates and create hidden maps using hand-held mapping devices. Only 75 geocaches existed when the website launched in September 2001. In 2013, the introduction of the free Geocaching app led to an increase of both users and caches because the game became more accessible. "Before, you had to have a dedicated GPS unit, which could be anywhere from $200 to $300, sometimes even more," says Dan Hickey, a local geocacher since 2010. "So with cellphone-caching, the number of caches exploded exponentially at that point. You were finding them just about everywhere."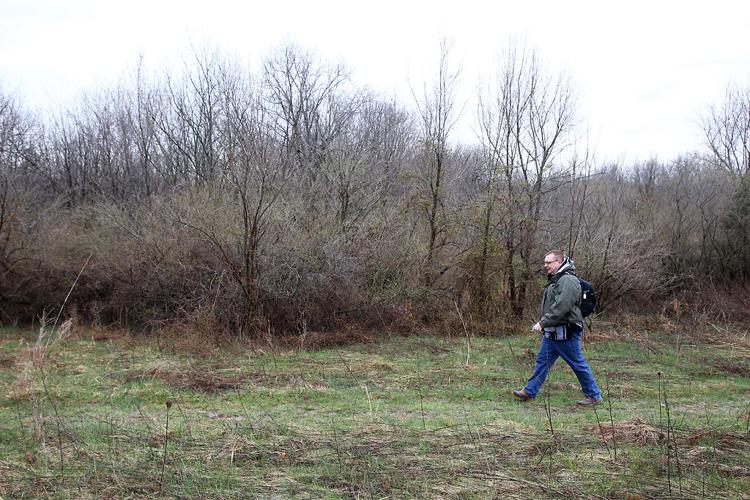 Where are geocaches hidden?
Anywhere and everywhere. True geocachers try to avoid spoilers, so the only way to find out is to go explore. The geocaches are hidden with the intention of getting people outdoors and venturing about their communities. "Geocaching, like letter-boxing and orienteering, serves the purpose of getting people to explore beautiful nature areas around Columbia," Columbia Parks and Recreation superintendent Mike Snyder says. "Anything that gets people outdoors and into nature is a good thing." This aspect makes geocaching appealing to a wide range of people. Anyone on an excursion through Columbia's many trails can add a challenge to a typical walk, and those seeking the thrill of finding buried treasure can find it right in their own backyards.
What should I know before my first hunt?
There are several types of caches out there, and difficulty and terrain ratings can help you find one that fits your skill set. "The container can be as small as the tip of your little finger or as big as a garbage can," local cacher Rick Jarvis says. Over the past decade, he's seen geocaching evolve from simple film canisters tucked under lampposts to caches that take hours to find. Some geocachers carry random trinkets and follow the "take one, leave one" policy. Owners often include a dollar or two for the cache's "First To Find" bragging rights. Many caches are too small to hold anything but the mandatory logbook. Logs allow geocachers to prove their finds and track cache history, so make sure you don't forget to bring a pen or pencil.
Find Columbia's geocaching hot spots
Any local park or hiking trail is a prime place for a new geocacher to get started. According to Geocaching HQ community relations manager, Chris Ronan, places such as Grindstone Nature Area and Rock Bridge Memorial State Park are among the top local options to enjoy nature and geocaching all at once. Use the app to find the nearest caches to your location, and read up before heading out. There might just be a brand-new cache a few hundred feet away.
RELATED