A bird's-eye view of one of mid-Missouri's best bird-watchers
After a health scare 25 years ago, Edge Wade turned to bird-watching and never looked back
She was gone before the baby had a name.
In May 1999, Edge Wade and her husband, Jerry, set out on an ambitious bird-watching trip to Attu, Alaska, a nearly uninhabited island that's closer to Tokyo than Juneau. Their first grandson had been born two days earlier.
Edge had booked the three-week Attu journey over a year in advance, well before her daughter, Kim Wade, was pregnant. Edge wasn't going to miss the trip, even though her grandson still needed a name.
Kim didn't mind. She likes that her mom is independent. She likes that Edge has an intense passion: bird-watching.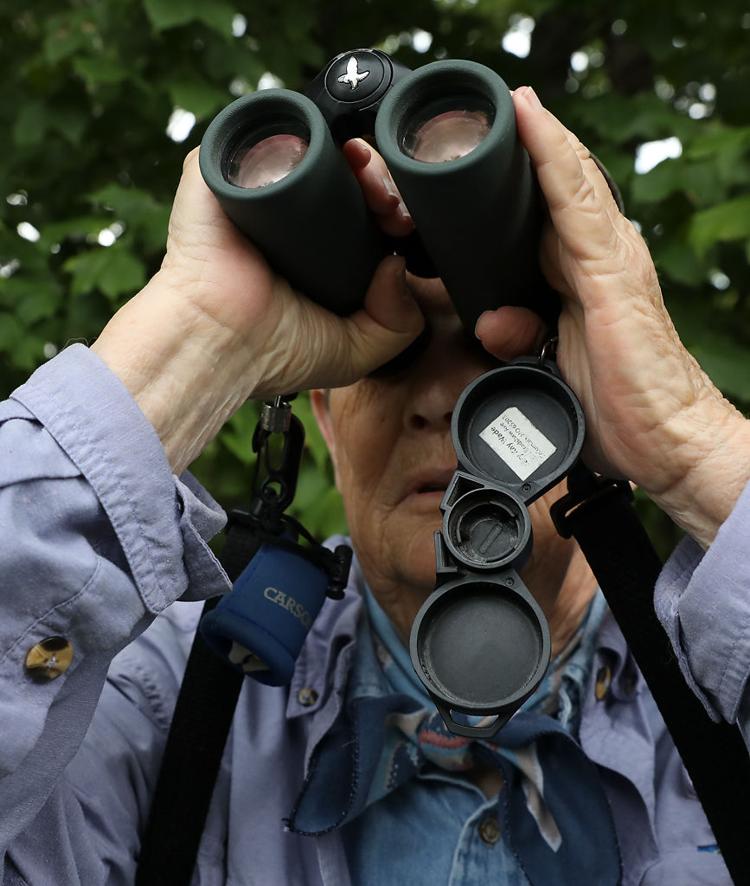 During her time on Attu, Edge spotted 111 bird species. The bird-watchers' base camp is a weathered concrete building that the U.S. Coast Guard abandoned decades earlier. Edge and Jerry sleep in a bedroom with stalactites hanging from the ceiling and have to mop the floors twice a day because of water seeping through the walls. They each eat 4,000 calories a day but still lose weight from biking and hiking across the island. It's all in search of feathered friends who have flown off course while migrating.
Edge learns her grandson's name, Elliot, while relaxing in the base's common room, an open area with four tables and a few plastic chairs. She receives the call on a bulky, foot-long satellite phone. She finds the name nice enough, but it doesn't take away her focus on Attu's birds. The mission of the trip remains unchanged. This is the life of one of the country's most hardcore bird-watchers.
---
Edge mentions her cancer in passing, as if it's a low tank of gas or a bird that got away.
"You had lymphoma?" I ask.
Dumb question.
"I have lymphoma," she says.
Last year, Edge couldn't drive for four months due to chemotherapy. Birding excursions evaporated. On good days, she'd feed the birds at her feeders, her cats and herself. Other days, the birds missed out.
Edge stands 5-foot-2. Her 74-year-old face is wrinkled. It looks like she has spent plenty of time outdoors and experienced a few sunburns. She sports several tan bandages on her arms, and she often wears a bandanna around her neck.
Now Edge is in remission, and she says her current treatment gives her a 60-percent chance of surviving at least five years from the time she was diagnosed. She's on year three. As the years go by, birding gives Edge something to look forward to. She connects with friends over the winged creatures. Bird-watching also ensures she exercises, which helps her health.
"Well, if I'm alive, I'm birding," she says. "And birding is part of what keeps me alive."
---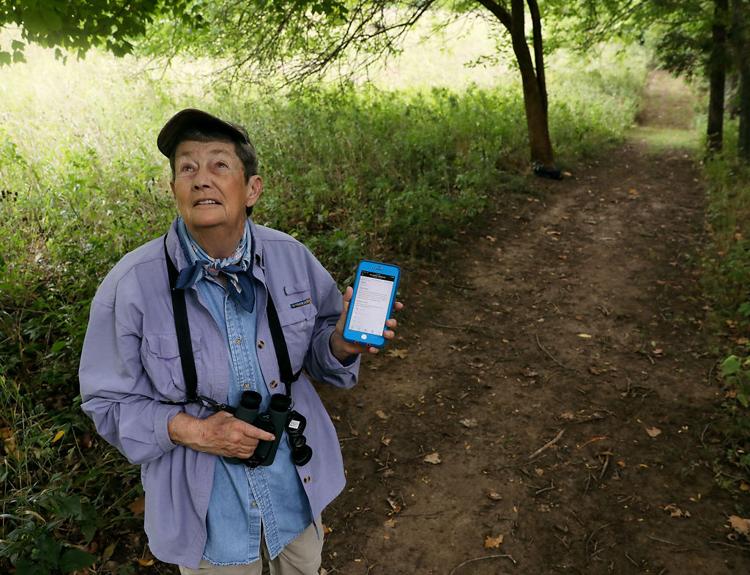 You don't want turkey vultures to poop on your car. Their waste is so corrosive, Edge says, that it will eat the rubber off windshield wipers. We are at the Eagle Bluffs Conservation Area. Gravel crunches under Edge's tires as she maneuvers her beige Jeep through the Great Missouri Birding Trail. She peers at the turkey vulture ahead. The bird has a small red head jutting from its body, which is disturbingly large. Its wingspan can reach 6 feet.
Edge's brain contains a wealth of knowledge about all kinds of birds, but she describes herself as a late-blooming birder — she began after doctors discovered a two-inch blockage in her left femoral artery in 1993 and had to operate. She grew tired of sitting indoors in the weeks following her surgery, so Jerry took her to Rock Bridge Memorial State Park on a spring day. While in the wild, Edge noticed a group of tiny bright birds.
When Edge returned home, she used bird guide, which she now says was awful, to identify the species as yellow-bellied flycatchers. She purchased a better field book, and a couple months later found out those flycatchers were actually ruby-crowned kinglets. That summer, she started studying two species a day and quizzing herself at the end of each week. Her passion was born, and her species list began.
Jerry grew fond of birds, too, though not as much as Edge. He still prioritized New Year's Day football over New Year's Day birding, and he wasn't a dedicated lister, someone who makes lists of the birds they've seen. Still, it was a passion they shared. Edge gave Jerry her hand-me-down binoculars, and he even served as president of the Audubon Society of Missouri from 2002 to 2004.
Edge's list now features 2,833 species of birds around the world, and eBird, an online database that gathers bird-watching information, lists her in the top 100 birders in the United States. She bought her car in November 2014, and it already has over 100,000 miles on the odometer. Cross-country road trips in search of birds will do that.
---
The Jeep's walls protect Edge from the cool weather outside. At the start of the journey in Eagle Bluffs, she notes the temperature is 28 degrees. She wears a dark vest, and a hat covers her mostly gray hair. Bill Mees, a friend and fellow birder in the passenger seat, logs each bird in a notebook.
Edge is frustrated. A white-tailed kite, a bird she has never seen in Missouri, had been spotted 160 miles southwest of Columbia in Stockton. She had tried to see the bird two days earlier but arrived 20 minutes too late. She's going back today; she has her bag packed in case she needs to stay overnight. Edge usually uses TripAdvisor, a travel website, to find hotels while on out-of-town birding trips, but she's not opposed to sleeping in her car. She did that in 2004 after a long day of birding on Martha's Vineyard in Massachusetts.
Edge is both steadfast in tradition and accepting of technology. She enters the birds she sees into eBird, but she criticizes young birders for using their phones to look up birds in the field. Sometimes their eyes are glued to the screen, and they miss the birds flying overhead. Edge uses the internet birding log only when she gets home. Bill interrupts his friend's gripe when he sees a bird, quieting her in an instant.
Edge halts her vehicle. She rolls down the windows, both birders grab their binoculars, and a church-like silence falls over the car.
Bill had seen a sparrow. It's a common bird, but the pair takes time to observe it. Savannah sparrows are small, Edge says. They have streaky upper breasts and forked tails. It's what birders call the quintessential "little brown job."
When Edge is doing what she loves, she's happy to talk, but her priority is always spotting birds. Since she started birding, Edge has learned songs and what habitats suit certain birds. This knowledge helps give her a bird list of staggering numbers. She now hopes to reach 3,000 bird species sightings around the world when she flies to India in November, and she is up to 368 in Missouri after spotting a green-tailed towhee in late April in Dallas County.
"Birding is not a hobby," she says. "It's a way of life."
---
Jerry Wade was an S.O.B.
Spouse of birder.
"He enjoyed chasing, going for a special bird," Edge says. "But he didn't like just going out day after day and looking at birds."
Jerry, a Columbia City Council member from 2007 to 2010, was a bearded man who traveled the world with Edge until he died from lung cancer in 2014. The couple met while studying at MU in 1962, and they were married for 49 years.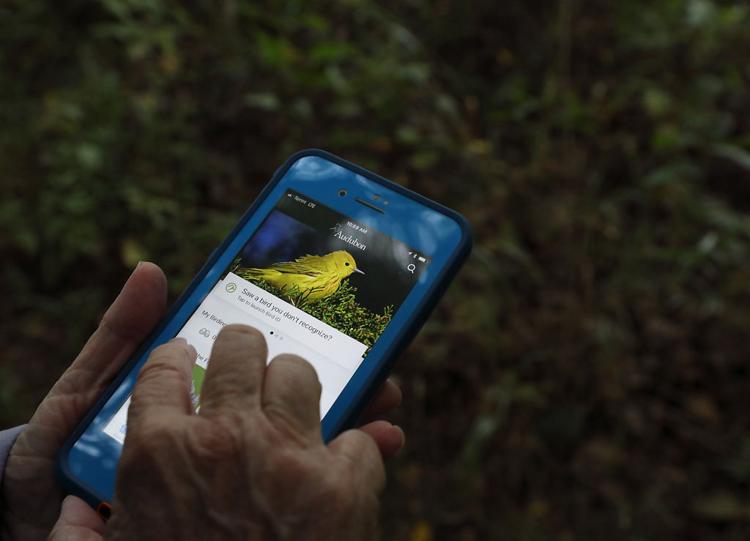 Birding has helped Edge through the grieving process. She's able to immerse herself in a world of quests and exploration, which mostly takes her mind off things.
"It's a two-edged sword in a lot of ways, too, because he was my aider and abettor and support, and I miss that a whole lot," she says. "On the other hand, I can go out and look at a bird and just go off with that."
Edge drove her old car around the country in the months following Jerry's death, needing to visit places she went with her husband. She wanted to relive the good times, the years before the cancer, and she wanted to make new memories.
Sometimes Edge played through a few CDs as her car streaked down the highway, but a lot of the time she spent without music. She visited Texas, Arizona, New Mexico and California, where she searched for birds and thought of the man she loved. Then it was back to the car for long hours of meditative silence. She needed to take the trip alone because she knew she couldn't control her emotions. Just a widow and the road, an occasional bird passing overhead.
---
As the Eagle Bluffs trip with Bill Mees comes to a close, a group of coots emerge. They are small black water birds with white heads. They were Jerry's favorite.
Edge doesn't mention Jerry as she talks about the coots' lobed feet, but she thinks about her husband. These outdoor adventures often clear her mind, but they can also bring back memories of her birding companion.
Edge laughs when asked how often she goes birding. If she's breathing, she's birding. Every vacation, every time she looks out her window, every trek to a park. There's always time for birds.
"Literally every trip," Kim says. "Like, a trip to the gas station."
Edge says it's unfathomable to a non-birder to understand how tuned in birders are with their surroundings. She keeps a pair of binoculars in her car. She watches the trees across the street as she sits in a coffee shop, just in case a bird flies by. Edge says she has three favorite birds: the bird she just saw, the bird she wants to see next, and chickadees.
The songbird has great knowledge of where food is located, so when migratory birds swoop into town, they follow the chickadees' lead. Edge likes that they know what's going on. She is kind of the chickadee of birders; she knows where all the birds are.
Sitting in Lakota Coffee Company, her iPhone rings. The ring tone is loud and sharp; her ears aren't good. Edge answers and sips a cup of hot coffee.
Kathleen Anderson, another birder, is on the line. She just saw a loon and red-necked grebe, so she called Edge. "That's a fantastic find," Edge says.
This is part of what makes Columbia birding fun. There's some competition, but birders always give one another tips on where to search. "Now that I know where she is and what she's got, I'll be going there," she says.
The Columbia Audubon Society — a different organization than the Audubon Society of Missouri — meets once a month, and birders from around mid-Missouri take part in the organization. Established in 1958, the society promotes "the earth's biological diversity through education, environmental study and habitat restoration and protection," according to its website.
The National Audubon Society has more than 600,000 members in 500 different chapters across the country. Some members take a more casual approach and simply enjoy watching birds while outside. Not Edge, who keeps detailed lists of the birds she sees and where she sees them.
She's been to every state except Connecticut and Rhode Island, owns timeshare condos in California and Texas, and has seen 797 types of birds in the United States and Canada, excluding Hawaii. "You don't have a list like that without making some significant effort," Bill says.
Effort indeed. Edge has seen birds in six continents, and near-misses still bother her. She can easily recount a trio of birds she's missed in Florida: thick-billed vireo, bananaquit and Bahama mockingbird. "If I had every bird that I've missed in Florida," she says, "I'd be well over the 800."
Edge went to South America this summer, which cost around $12,000. "Kim gets no inheritance," she said before she left. It's hard to tell if she's joking.
Kathleen took a group trip with Edge across the western part of the United States last fall. She compliments Edge's spotting abilities and research. "She does her homework as to the bird's habitat and where it might have been seen or where it's most probable to be seen," Kathleen says.
Edge writes birding guides of different local areas for the Audubon Society of Missouri, which ties into her educational background. She majored in journalism at MU before earning a master's in environmental history from University of Illinois-Springfield, then called Sangamon State.
She spent her working days completing various environmental projects. Some were for the Environmental Protection Agency, some were for MU. She even spent a summer as a park ranger. Since her 1993 surgery, she's been retired; her career is now birding.
Edge stays politically informed. She worries about the environmental impact of Donald Trump's proposed border wall; it would cut across some of the country's best birdwatching, making areas impassable. While driving with Bill, Edge won't refer to Trump by name, instead calling him "He who occupies the presidency of the United States."
As she reflects on birding, Edge has trouble naming her favorite bird sighting. She stayed at campsites across Big Bend National Park in Texas until she found a fan-tailed warbler in 2007. A friend once called her and said a rare bird was in Iowa, so she dropped what she was doing and drove through a blizzard until she found it.
For Edge, her list is more than just numbers. Each species brings back a memory, an experience. Birding is a passion, an escape, a way to see old friends and make new ones. The birds missing on her list represent goals, hopes for her coming days.