For many people, yoga is a way to unwind from the daily stresses of life. But sometimes, even the most advanced yogis want to add a bit of diversity to their routines. Although goat yoga — yes, a nationwide trend that incorporates the hoofed farm animals into the peaceful practice — can't be found in Columbia, yoga pros and beginners alike can still find an array of classes in town that will expand their meditative horizons. Whether enthusiasts want to relax, sweat their buns off, be stacked on top of their friends or fly through the air, there's something for even the most adventurous yoga lovers.
---
For the family of gurus
Yoga to Grow offers two classes for parents and toddlers and a variety of classes for kids. These classes invite children to connect with their bodies and find the power of a peaceful mind. Susan Mathis, owner of Yoga to Grow, was a child educator for 20 years and has practiced yoga for about 16. Her classes for children focus on a playful environment that incorporates stories and games as well as plenty of movement so even the youngest of yogis can join in on the fun.
Yoga to Grow, 17 N. Fourth St. 
Family yoga, one Sunday per month, 2–3 p.m., $25
---
For those not afraid to sweat … a lot
Turn up the heat at hot yoga, a style performed in heated studios. Temperatures are typically over 100 degrees, which can be challenging for some people to handle. Sumits Hot Yoga offers 60- and 80-minute classes. With a choice of nearly 20 yoga instructors to help one unwind, yogis are bound to reach the ultimate amount of zen at this heated sweat sesh. Just remember to hydrate.
Sumits Hot Yoga, 505 E. Nifong Blvd.
Drop-in classes, 80 minutes, $15
---
For partners light on their feet
This partner-based style of relaxation combines acrobatics and yoga. Laurel Goodman is the only certified acro-yoga teacher in Columbia. Although anyone can start off in Goodman's beginner-level class, it does help to have an understanding of one's body and level of fitness, she says. Often, people drawn to acro-yoga have a dance or gymnastics background, but athletic experience is not necessary. Como Acro is based out of Yoga Sol and hosts performances every fall and spring for its students who want to show off what they've learned. Goodman says her favorite part of the practice is the community aspect and that it's playful, fun and boosts confidence through the self-empowering poses.
Como Acro at Yoga Sol, 210 St. James St.
Foundations Acro, Thursdays, 7–8:30 p.m., $15
---
For yogis defying gravity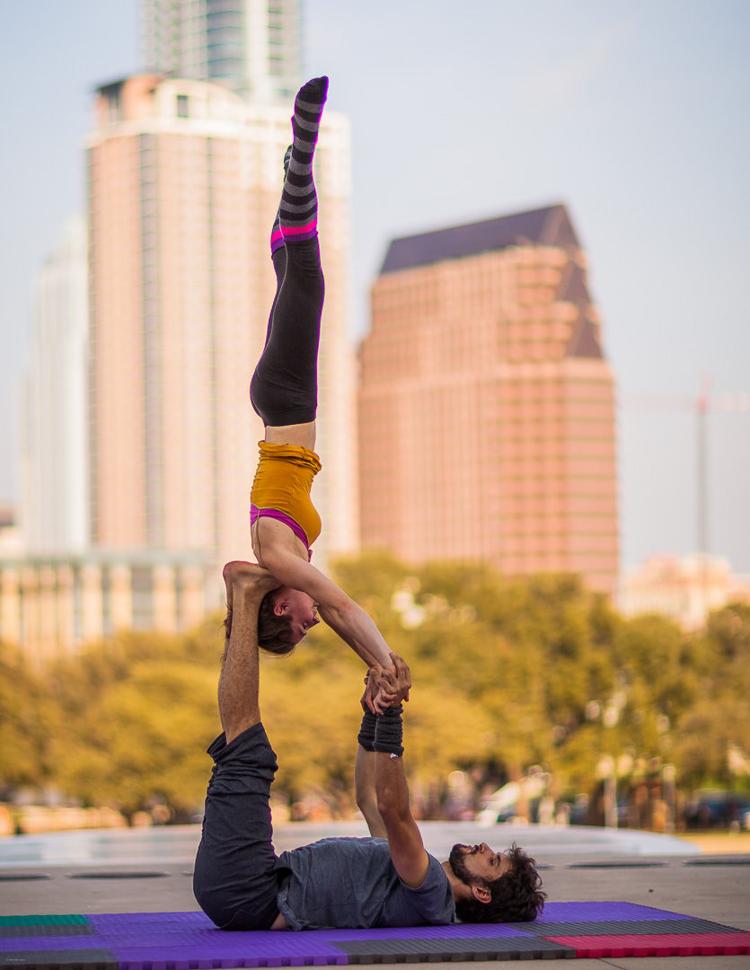 Imagine practicing a yoga pose while suspended in the air in a fabric hammock — that's aerial yoga. This style improves overall balance and agility, according to CoMo Aerial Arts' website. Aerial yoga uses the hammock as a tool to form basic yoga poses, but the difficulty level can increase as the poses become more advanced. No previous experience working with a hammock, hoop or aerial fabric is necessary for intro classes. Those with a fear of heights don't have to worry about the classes at CoMo Aerial Arts because the hammock is only a few feet off the ground. Anyone who wants to continue to up the ante can practice the more extreme aerial fabrics classes, where participants are taught to increase their endurance and be more dynamic in the air.
CoMo Aerial Arts at Wilson's Fitness Center, 2601 Range Line St. 
Introduction to Aerial Fabrics, Mondays, 6:35–7:35 p.m., $15