Last year, Jeni Mae McKenzie huddled under an afghan blanket in Columbus, Ohio, and drafted a business plan detailing her dream flower shop. She could visualize it as she jotted down notes: a versatile space to fill with contemporary floral arrangements and thriving plants. She knew what she wanted to create, but she didn't know if anyone was going to believe in it. 
It turns out Columbia was calling her home. The retail rent prices in Columbus were three times higher than in other cities where she had looked for shop space, and she soon realized the search was futile. She'd grown up in Columbia; her mother still lives here. "I was just like, 'what the hell am I doing?'" McKenzie says. "Why don't I just go home?" 
On July 21, the flower shop with lime green trim outlining the large windows opened in the North Village Arts District. 
At first, people had to ask. What was this shop? Why was it here? To this, coworker Caty Hunnicutt replied, "Welcome to Ophelia's! Have a seat. Let's have a plant about it."
McKenzie describes Ophelia's as the retail plant boutique you never knew you needed. "My main objective is to match the right plant with the right person," she says. "So I like to spend a lot of time talking to everybody that comes in." When you open the doors, scents of earth, peppermint and lavender waft past. Plants dot the wire shelving on the right side of the shop: bird's-nest fern, philodendron, dracaena and fiddle-leaf figs. Cubbies full of colorful containers, pots and vases follow after. On the left, a large oak-trimmed bar spans most of the length of the room. "In my mind, I built the bar for workshops, but it's really just become the heart of the whole space," McKenzie says. "We're sitting at the bar, and there's dirt everywhere. I like that people can sit there and talk to me while I'm working on stuff."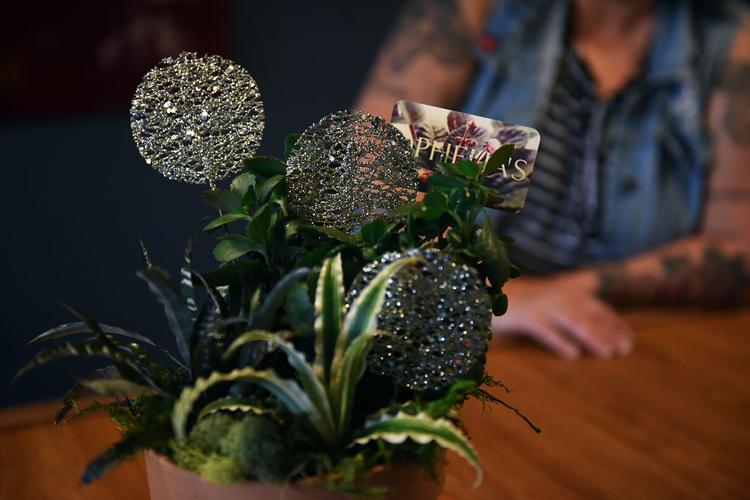 At 43 years old, McKenzie has experienced 20 years working with plants and three with flowers. The name of her store, Ophelia's, pays homage to the name of her truck when she worked for a wholesale floral business in upstate South Carolina. 
In addition to selling houseplants and floral arrangements, Ophelia's also hosts a variety of hands-on workshops. So far, the staff has held one class a month, but starting in October it'll go semimonthly. One of these workshops, titled Houseplant Killers Anonymous, helps teach plant owners the basic anatomy and care of their budding babies. Hunnicutt proudly shows off the white poster board of plant anatomy as if it's the cure for all flora failures. "When people kill a houseplant it's not necessarily their fault," McKenzie says. "It's just not working."
This is why McKenzie talks to people one-on-one before recommending plants to purchase. She says it's important to learn about customers' lifestyles, schedules and housing arrangements so their plants become a joy, not a job. "I've worked for people in the past and their business plan was more focused on hoping that people kill the plants because that means they'll come back and buy more plants, and I just don't really believe in that," she says.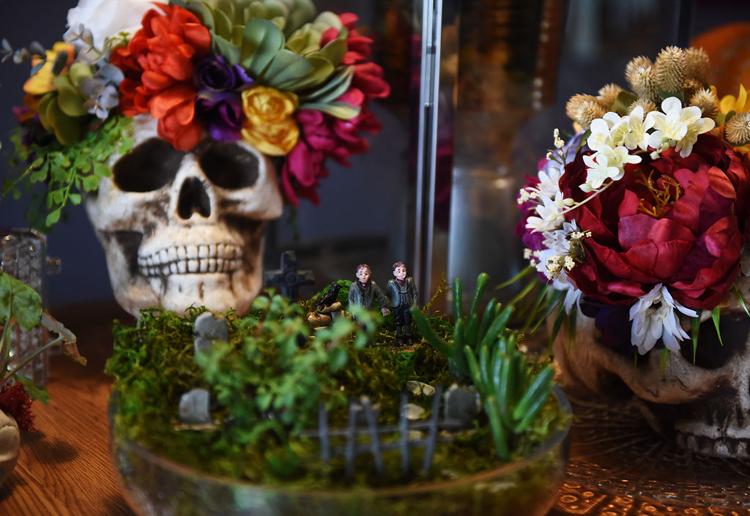 In the back room of the shop, a large reflective counter serves as McKenzie's artistic space. The workspace features a window where customers can peer in at a small desk, a softly glowing refrigerator and a plethora of plant and material scraps for designing. McKenzie notes the zinnia and foxtail sunflowers as some of her favorite flowers to work with. All of them are natural, seasonal and remind her inherently of Missouri. 
McKenzie is currently the only employee who creates the floral arrangements. She can hardly imagine the day when she has to hire someone else. Ophelia's is under her name, it holds her reputation, and she has a style that she wants people to recognize. Would another worker be able to reflect her desires? "When I do floral arrangements I like to ask people if they have a color, but I like to leave it really open and more designer's choice," she says. "It's always going to be my interpretation, my style. If someone was like 'Can you do me something in pink?' I would totally do you something in pink, but it's going to be mine."
McKenzie and Hunnicutt have yet to face a zero-dollar day. Ophelia's keeps growing, thriving in between other buildings in the North Village Arts District. Healthy green plants sit outside the shop and stretch toward the sun. Looking back, it's hard for the two to believe that it only took 15 days to settle in.
"Every day is exciting," Hunnicutt says with a smile.
"How long do we keep this up?" McKenzie asks.
"Forever," Hunnicutt says.