It's 10 a.m. on a Sunday, and a bearded, 35-year-old Josh Noble carries a cardboard box.
In it is a small plastic trophy and a rolled-up poster. Over his shoulder, he hauls a backpack heavy with computers to the Silverball bar on Ninth Street. He walks with purpose, looking slightly out of place among the older couples and families who are casually leaving their morning church services. As Josh arrives, so does Nathan Goett, who has a set of keys to Silverball and ushers them both in. As they enter the barcade, they pass the green and white Gunther's Games sign hanging by the entrance. The tournament begins at 1 p.m., and the men are three hours early to set up. Technically the bar isn't even open on Sundays, but the owner, Nic Parks, is cool with Josh and Nathan opening the place specifically for tournaments. Josh, tournament director of the Columbia Pinball League, organized this event, so it's up to him to figure out the tournament format and arrive early to troubleshoot. Before other participants show up, Nathan and Josh spend the next few hours testing each machine to make sure it's running as it should — light bulbs aren't burned out, the software registers each shot, the coin-drops accept each dollar coin inserted — and cleans each inside and out until they're immaculate. Once the tournament begins, he doesn't vacate this role. While other players, including Nathan, focus on their games, Josh makes sure coins don't get eaten and the floor isn't sticky with spilled beer. It's all part of his plan to make Columbia a popular pinball town.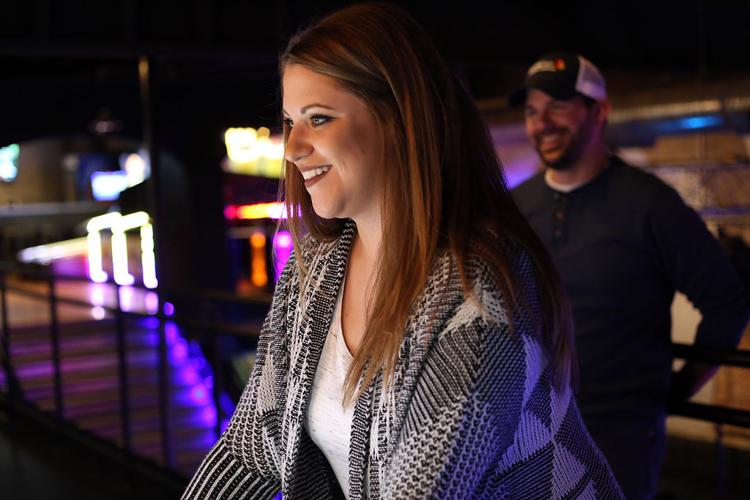 Love at first flip
In November 2013 at Snapper's Bar, Paige Ilsley had just arrived with her brother, Austin, and their friend Jordan. Josh, a friend to Austin and Jordan, greeted Paige's group. After a few rounds of Jell-O shots, the pair exchanged numbers. Convinced Paige wasn't interested, Josh waited weeks before reaching out. A couple of nights before Paige was slated to lead-sing at Roxy's with her blues band, The Last Kings, Josh texted Paige that he'd be there.
The Last Kings had just finished its set, and Paige walked off Roxy's stage while Josh watched her from the crowd. Jenny, Paige's friend, approached Josh. "You look way better in person than in your Facebook photos," she said, catching him off-guard. It wasn't until this moment that things clicked for Josh. "Oh, Paige likes me," he thought.
Paige looked for Josh in the crowd and saw him speaking with Jenny. She made a beeline for them. As soon as Paige approached, Josh asked, "Can I make you dinner?" She said yes.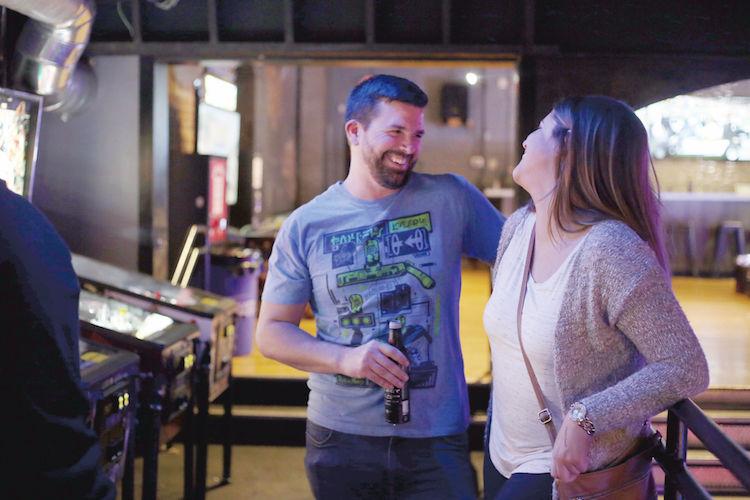 Days later, Paige was primping for their first date when she got the pre-date jitters. For reassurance, she consulted Jenny, who gave her the ultimate get-out-of-jail free card: "If the date sucks, just text me, and I'll fake an emergency."
On Sunday the night before Paige was to drive to his house, Josh texted her. "Sauce is on the stove." "I was like, 'Holy shit,'" Paige says now of the memory. She was impressed even before tasting the meal. "He even missed (pinball) league to cook me dinner the night before."
Paige arrived at Josh's Tuesday at 7 p.m. The pair dined on ricotta-stuffed pasta shells with red sauce — a dish that looked fancy but was easy to make. Paige said dinner was delicious. Without realizing, an hour had gone by, their plates were clean and they were lost in conversation. Josh waited for an awkward pause before asking: "Wanna play pinball?"
"Oh, sure. We can go out!" Paige said. She'd never played before but was always game to try something new. She figured they'd leave the house and go somewhere downtown to play, until Josh began descending the flight of stairs to the basement in his socks. Paige followed. Nestled there were three pinball machines side by side: Popeye, Atlantis and Swords of Fury. Josh led Paige to Swords of Fury and pressed the "start" button. The two played the first of what would end up being thousands of games together. After an hour, Josh could tell from Paige's face that she was a little overwhelmed. They went back upstairs for a movie. Before she left around midnight, Josh sent her home with a Tupperware full of shells leftover from dinner.
On her drive back home, she looked over at the shells and realized she never took her friend up on the fake emergency offer. She then called Jenny and gushed about how great Josh was.
Controlling the chaos
At the time he began dating Paige, then 21, Josh who was 31, had only been playing pinball for about six months, but he'd fallen for it — hard. He started playing at Gunther's Games downtown and found himself there after work almost every night learning tricks to the different games. At one point he even got a part-time job at Gunther's so he'd have keys to each game. After working at his information technology job from 8 a.m. to 5 p.m., he'd work the night shift at Gunther's till 11 p.m. Tuesdays and Wednesdays. He kept the position for about four months, and it wasn't for the minimum wage he was earning; it was for pinball.
The bright, flashing lights and dinging sound effects can be easily distracting for a beginner. But somehow pinball focused him. Strategy kept him coming back. Each machine has its own fingerprint, its own rulebook and design. Pinball can be played by a novice, but only a practiced veteran can really master the game, and Josh was determined to do just this. "You get stuck in that little world under the glass," he says. "It's chaos, and you try to control it."
But controlling the chaos — the constant flashing lights that direct players toward various shots, the unexpected sounds, the lightning-fast 80-gram silver ball that ricochets from one part of the machine to another — sounds easier than it is.
"When I first started, I was overwhelmed by it," Paige says. "He kept telling me to shoot the flashing lights, and I was like, 'Everything is flashing!'"
Always eager to share some meticulously studied pinball knowledge, Josh is happy to offer Paige, or anyone else he sees playing, advice on how to gain control of the game. He says it helps to have a method, to pick the shots you want to make and to try your best to hit them. For example, on many machines, sending the ball up the ramps repeatedly will start a mode, and the display will tell the player to continue to send the pinball around the curved ramps for an increased number of points. Locking three balls will start multiball and activate an array of jackpot shots. Josh says having a backup plan — a different set of shots to accomplish — doesn't hurt, either, in case you can't make your original shots. Manufacturers design modern machines, so anyone can enjoy the game, whether it's your first time playing pinball or you're ranked in the top 10 of more than 55,000 registered players in the world. There are multiple methods to playing each machine, so it's essentially impossible to "beat" the game. Designing the machines this way allows beginning players the opportunity to easily rack up points and encourages them to develop their skills. Experienced players can work on more advanced techniques, such as stacking up various modes and bonuses to achieve an avalanche of points. If all else fails, Josh recommends beginners relax and remember they're playing to have fun. Even if the game ends, the next one is just a another coin away.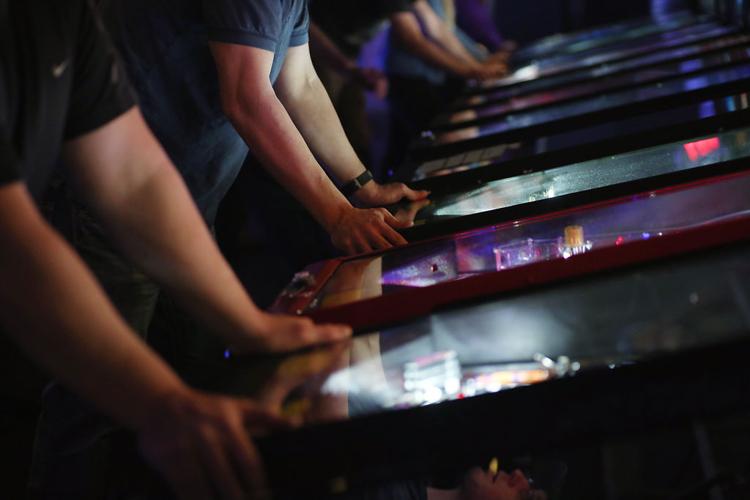 It's not just a game; it's a sport
Pinball quickly became Josh and Paige's thing in the early days of their relationship. Paige enjoyed aspects of the game, but couldn't keep up with Josh's pace. While she could play for an hour or so before she was ready to call it quits, Josh would've been content to play until closing time. She thought, "I wonder if we're gonna play every night."
The answer was yes. For the next two years, they played almost nightly after work. In their basement, at Gunther's (before it closed) at Lazer Lanes and at Shakespeare's, they'd spend a few hours each night enveloped in the world of pinball. Colorful lights illuminated flashing arrows, circles and squares. Abrupt sound effects known as "call outs" sounded, such as Paige's favorite: the hilarious "lion man!" quote from Swords of Fury. Frustratingly fun games would make them jubilant when they won or devastated when they lost. Together, Josh and Paige would unwind downtown with a pitcher of beer and a pocketful of quarters.
Paige steps up to The Hobbit machine. She leans over the glass, eying the measurements next to the plunger, and releases the ball into play, where it skates along a roll-over target. She achieves the skill shot. She's standing back about 2 feet from the machine leaning her upper body toward the game in a strong stance that enables her to put more power into her arms when she nudges the game. She has the habit of moving her legs around more like she's standing in front of a ballet barre than a pinball machine. As she gets consumed by the game, her feet squirm with every close call she encounters. The ball is recklessly bouncing around the playfield, and she tries to regain control. In one last-ditch effort, she gives the machine a push with the weight of her body behind it, and when she's not able to keep the ball in play, she lets out a frustrated "uuuurgghhhhh!" She's smiling, though, as she walks away from the machine. It might have gotten her this time, but she still has another ball.
Early on, Paige enjoyed playing for fun, but she wanted to win, so Josh introduced her to tournaments. He started playing in tournaments in 2013 and has since made a name for himself competing around Missouri. Josh has competed in tournaments as far away as Pittsburgh. He hit a personal record playing in 32 tournaments in 2016 and has played in 22 so far this year.
"He was nervous watching her and wondered if the student had become the master."
In July 2014, the couple traveled to St. Louis for Paige's first tournament at the Silver Ballroom. Josh and Paige walked into the retro, punk rock-venue and felt at home. The other players and tournament hosts were friendly, but there was also a wave competition in the air that Paige couldn't help but feel. This is when Paige began to love pinball. For their first game of the pin-golf tournament, where players try to get a certain score plunging the least number of balls as possible, Josh and Paige were assigned to the Attack from Mars machine along with a burly tattooed and bearded man who Paige says intimidated her. He was one of the best players at the tournament. The goal of the machine was to get 1 billion points. Paige was the first in the group, and she achieved over 1 billion points on her first ball — because she got in the zone, Josh says. He was nervous watching her and wondered if the student had become the master. Luckily, he also put up over 1 billion on his first ball, too, so they both started out the tournament with good scores. The bearded man took notice. "Where'd you guys come from?" he asked.
But this game was the pinnacle of the tournament. "That was the only good ball either of us had that day," Josh says of their play in the rest of the tournament. Out of 31 players, Paige placed 27th and Josh 13th. After that first tournament, Paige wanted more. She has since played around Missouri and in Oklahoma City and Louisville — each tournament had about 100 players. On May 13 in St. Charles, she took first place in the Missouri Open Women's Pinball Championship: a 16-player, all-women tournament in St. Charles. "She didn't just win," Josh says. "She wiped the floor with them." They like to brag about each other. For winning, she received a trophy of the Statue of Liberty holding a pink pinball, which Paige says was a pretty rad memento.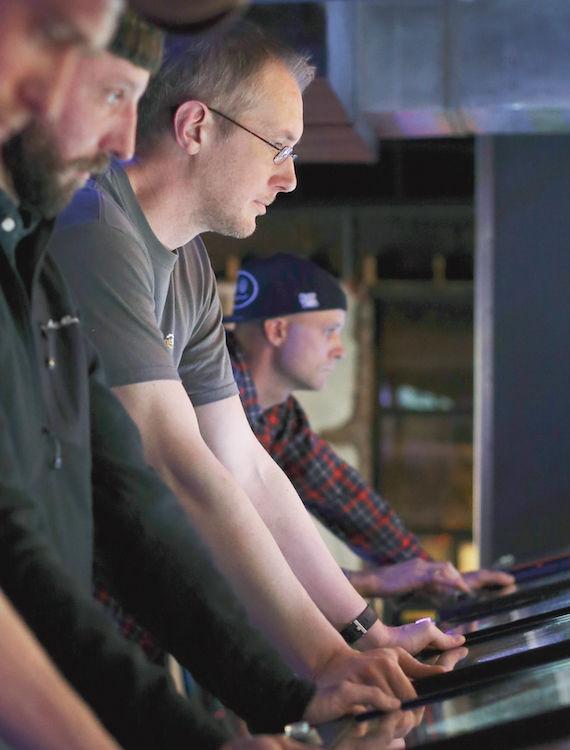 There's an app for that
It's October 2017, and Josh and Paige are hungry for dinner. Where to? Phone in hand, Josh suggests they just go to Truman's Bar & Grill. The restaurant might not have the best date-night ambiance, but Josh is adamant that it'll be a good time, so Truman's it is. After the couple walks into the dimly lit bar, Paige realizes why Josh suggested this place: It's the new home to a Monopoly pinball machine.
"Are you kidding me?!" Paige laughs. This is just the latest in his string of cons to get her to a restaurant or bar simply because he knows the venue has a game. "At first, I could convince her sometimes that it was just a coincidence," Josh says of consulting the Pinball Map app, a crowd-sourced collection of reviews, working status and cleanliness of local machines, before choosing a place to eat. "But I think she knows now."
But Josh has another good reason to choose Truman's: Pinburgh. If pinball were the NFL, Pinburgh would be the Super Bowl. It's the world's largest match-play tournament. At Pinburgh 2017, Josh had to compete on the Monopoly machine, and because he'd never played it, he didn't know how the game worked or any of its specific rules. He didn't have a great game. When he saw on the Pinball Map app that Truman's had a machine, he figured it was perfect. Now, he could get in practice before next year's Pinburgh and have dinner and drinks with his girlfriend. "It's a horrible game, and it's in really bad shape," Josh says. "But it's something different."
For the next two hours, Josh plays Monopoly by occasionally inserting coins but also on free play, meaning he accumulates enough bonuses and free balls that he doesn't have to insert a coin. He taps the start button, launches the ball and flips and nudges his way to victory. Every so often, he stops to rejoin Paige at their table for his next round of seemingly bottomless beers. Before Paige knows it, her dinner has come and gone with Josh still stuck on the machine. By the time Josh is ready to eat, his food is cold. He takes a few bites and washes them down with swigs of beer and then heads back to the machine. As for Paige, there are no hard feelings — she's used to it by now and knows how much mastering a new game means to Josh.
Before the couple leaves Truman's, Josh pulls out his phone. He opens the Pinball Map app, as he had done before dinner. He finds the Monopoly machine and writes a review. Josh runs the Columbia page and oversees contributions. On the app, he denotes where he has spotted new machines. "I share the love and don't keep it to myself," Josh says. "I let everyone know after I get the high score," Josh laughs.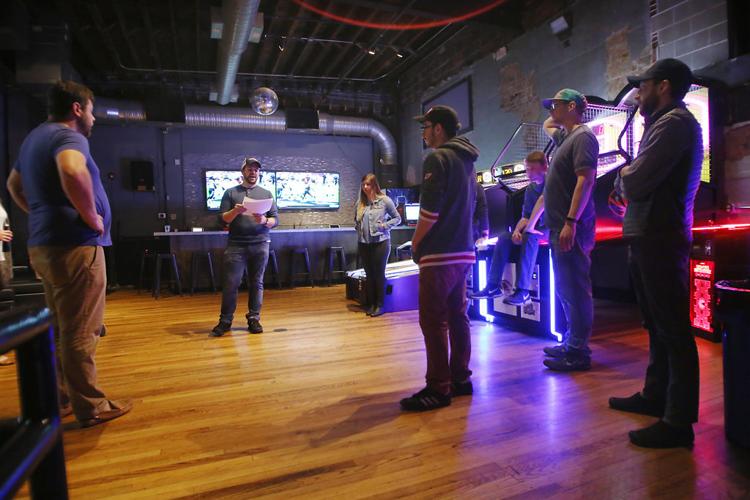 Nerd famous
At work, Josh is known as The Pinball Guy. Whenever he asks someone to cover for him, they ask him in which tournament he is playing. And in turn, Josh and Paige have become the Pinball Couple.
To prepare for the ice storm in December 2016 and a possible power outage, Josh and Paige went to Magelings Games to buy Dominion, a card game they'd heard about. They browsed, found the game and headed to the cash register. While scanning the game and exchanging pleasantries, the man behind the register looked up at Paige and Josh in front of him. "Oh, you guys are The Pinball Couple, aren't you?" he asked. Surprised by the recognition, they confirmed that they were, in fact, The Pinball Couple, and the man told them he'd heard about the league. He was a member of the Columbia Pinball League's Facebook page that Josh oversees. As always, Josh encouraged him to join as soon as he heard the "p" word: pinball. The sales associate happily gave the couple a discount and agreed to let Josh post some fliers for the league, then they left the store.
"I was like, 'Are we famous? Are we nerd famous right now?'" Paige says, laughing.
It's 11:45 a.m., and Paige, 25, is walking toward Silverball to practice before the tournament. She has baked goods in hand — pecan pie bars — as she always does. She loves to bake so much that though her full name is Paige Elizabeth Ann Ilsley, she selected PIE as her pinitials. Because she brings treats to tournaments all over Missouri, she's become known around the state for her baking. Even when she can't make it to a tournament, she tends to send desserts with Josh, 35. His competitors devoured her sugar cookie bars at a tournament in Springfield. For one Columbia tournament, Josh and Paige worked together to make a tasty confection. Paige made cupcakes from scratch and decorated them as pop bumpers. Josh looked up the pinitials of each player who registered in this tournament on the International Flipper Pinball Association's website. He added them in icing to each cupcake. When she arrives at the barcade, Josh unlocks the door for her, and she proceeds to the bar upstairs, where she arranges the treats on the counter. She checks in with Josh to see if there's anything she can help with, but he has everything under control. She picks a random machine and plunges the ball.
Midway through her ball, Paige starts nudging the machine. Her hands are off the flippers, and she's putting more weight than usual behind her shoves. Nothing happens, so she shakes the machine again. In her line of vision, she can see the ball is stuck in the back bumpers, but it won't budge. The challenge is to shake the machine enough for the ball to get loose and return into play but not so hard that it tilts. Josh has been watching her play, and because of the way she's shaking the machine, he can tell something isn't right. He walks over, and she explains the situation. He then reaches his arm along the side wood panel of the machine, forms his hand into a tight fist and gives it a solid hit next to where the ball is stuck. The sudden impact is enough to knock it loose. The ball slides down the playfield, and Paige's eyes are back on the game, fingers tapping the flipper buttons. Josh struts away from the machine with his arms up, flexing his biceps. "That's what I'm here for," he says.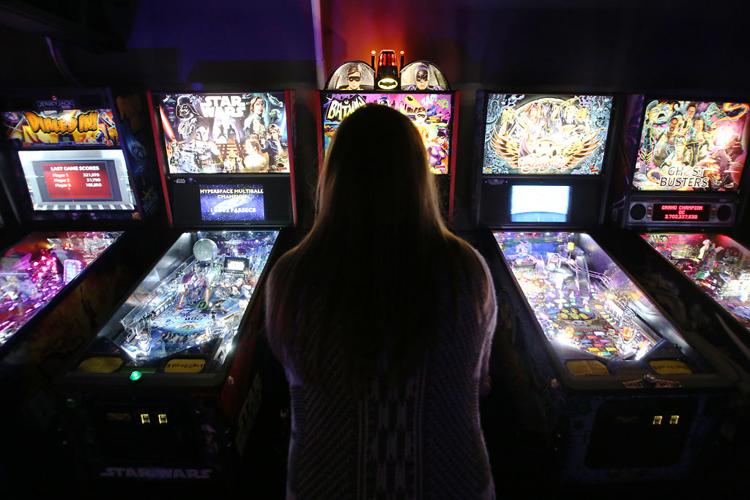 Putting CoMo on the pinball map
The Columbia Pinball League, formed by Adam McKinnie and Robert Ryan, is the epicenter of the pinball scene in Columbia. Robert was the league's first director, and after moving to St. Louis in 2014, Jacob Rogers took over his position for three seasons. Josh accepted the role after that in late 2014. Although he was apprehensive of the time commitment, he's grown to love his role. "I'm not giving it up now," he says. Since its inception, the league has had various homes: It began downtown at Gunther's Games, moved to Lazer Lanes after Gunther's closed and returned downtown when Silverball opened on Ninth Street in September.
Josh has been running CPL, currently in its ninth season, for the past three years. Before Josh took over, the league had two seasons per year, but now there are four. Increasing the number of seasons was part of Josh's effort to make Columbia a bigger pinball town.
"Josh is a great spokesperson for pinball," says Jacob, who knows from experience what it takes to run the league. "I think people gravitate around him, so it's good to have him running it."
League nights are the most mellow form of competition. They give players the chance to practice in a competitive environment, but they also create a community, a support system, a network of players of various skill levels who help one another improve their techniques.
At league, Monday nights at 7 p.m., Josh organizes the 20 or so members into new groups of three or four players to compete on randomly selected machines, and each group records its scores. Members who can't make it are allowed to post-play — Josh messages them the three machines their group picked, and they have until Sunday to play the games on their own time and send their scores to Josh. Guests are allowed to join in and play for fun. To be eligible for World Pinball Player Ranking points, which determine rankings, players have to register at the beginning of the season. After buying end-of-season plastic trophies with money from his own pocket for the past few seasons, Josh has started charging each player a few dollars at the beginning of the season to cover the cost of trophies. At the end of the 10-week season, players' weekly scores and an end-of-season tournament ultimately determine rankings.
Hosting regular tournaments is a way to put Columbia on the pinball map and attract players from all over Missouri, but running the big tournaments can be stressful. "I try to make sure that everyone's having a good time," Josh says, "which usually leads to me not having a good time and playing horribly." But he feels an obligation to make sure the tournaments run smoothly and are fun enough for out-of-towners to keep coming back. That means coming in early before tournaments to inspect each machine to make sure it's running correctly and that it's clean — inside and out.
When he needs it, Paige helps get the machines ready and gets Josh to de-stress.
"He'll always say 'thank you' when I do something to help," she says. "But he'll never ask for help."
Paige and Josh have attended tournaments in other cities, some good and some not-so-great, and he gets a bit frustrated when he's traveled for something sub par. Because he puts so much effort into the tournaments he hosts, he's disappointed when he attends competitions where the machines are malfunctioning, the buttons feel slippery and germ-infested, the glass over the playfield is foggy or scratched or the site is dirty. Josh is determined to make sure that no one visiting Columbia from out of town for a tournament feels that disappointment.
In November 2017, Josh made CPL a member of the Stern Army, a group formed by the pinball mega-producer Stern. Josh agrees to host a monthly tournament, and in return, Stern supplies him with giveaways, such as posters, stickers and even decorative playfields to give away at tournaments. The partnership is an effort to encourage new players to get involved, earn WPPR points and frequently participate in tournaments. The first official Stern Army partnership tournament was on Nov. 26 at Silverball, and there are monthly tournaments scheduled through January. For the December tournament, Josh and Paige decided to make the prizes more exciting by disguising them in holiday wrapping paper, so players got to open a mystery prize. To be eligible for the prizes, players had to donate food or money to a food drive for the Food Bank for Central & Northeast Missouri. The CPL raised $100 and collected 26 canned goods, four jars of peanut butter and four boxes of pasta.
Partners in life, competitors in pinball
It's a Friday night after work, and Josh and Paige have ventured over to Silverball from home to get some practice in on a variety of machines. Josh looks on as Paige prepares to play a game on the AC/DC machine against the top-100 ranked Adam McKinnie and two less-experienced players. He stands close enough to watch but far enough to give the players their space. A player inserts two $1 coins, presses the start button four times to activate the four-player game, and Adam steps up first to the machine as player one. They each take turns playing one ball at a time until they've each completed two balls. After his third ball, Adam's score is an impressive 60 million points. This places him ahead of each of the three players by about 40 million points. Paige is player four. She steps up to the machine for her final turn and plunges the ball. She spends the next few minutes strategically tapping the flippers and shaking, nudging and pushing the machine until she achieves a multiball. Paige's ball drains with her score at 69 million. She's just beaten a top 100 world-ranked player. She steps back from the machine to watch her bonus rack up on the display and then happy-dances toward Josh — a victory shimmy. He laughs and puts his hand up for a high-five, which she returns.
Competing against players as highly ranked as Adam helps Josh and Paige elevate their own skills. All of their competitive play contributes to their IFPA ranking. Out of more than 55,000 players ranked in IFPA's ranking system, Josh is currently ranked 496th in the world, which places him in the top 1 percent. This is impressive considering he joined the sport only four years ago. Paige is ranked 3,583rd, putting her in the top 6 percent of ranked players.
For Josh and Paige, there's more to pinball than their rankings. It's been a way for them to spend time together doing something they both enjoy with someone who can offer assistance and support.
"I play worse when she's there," Josh jokes — or he thought he was joking. He pulls up his IFPA profile on his phone to glance at his recent results. Some of his best performances were at tournaments Paige didn't attend. She looks worried. "We're gonna have to go back and look at your tournaments to see if that's true," she says. But they never ended up looking into it. It doesn't matter. It wouldn't stop either of them from playing or supporting each other at tournaments.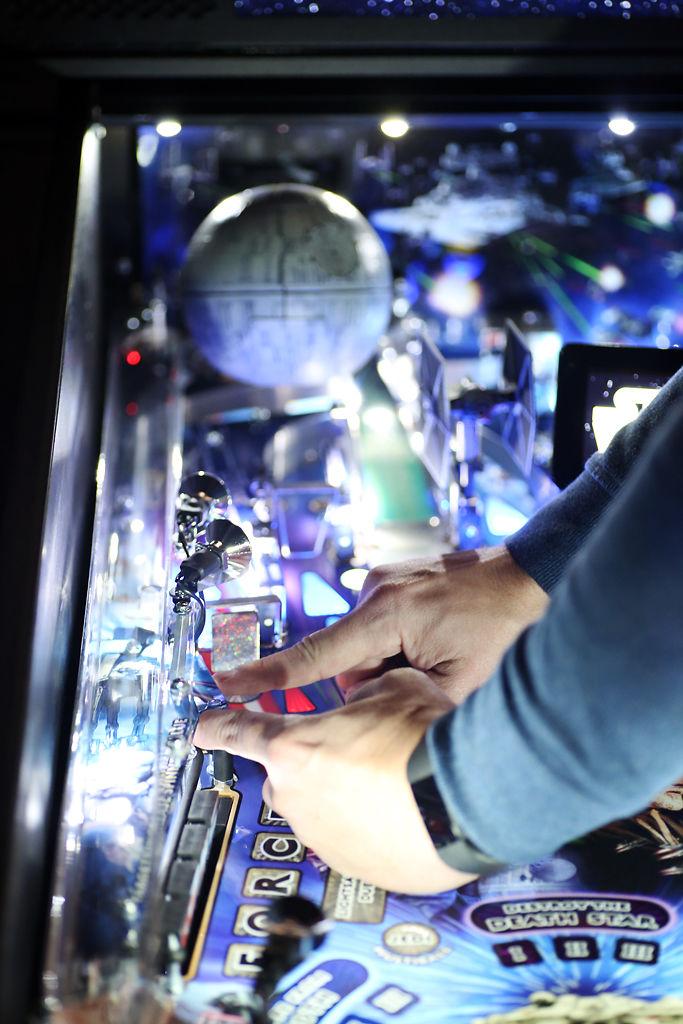 To celebrate their fourth anniversary, Dec. 2, Josh and Paige took a trip to St. Louis. They stopped at Nathaniel Reid Bakery for Paige, where she ordered a handful of delicious, gourmet pastries. For Josh, they bought a new pinball machine: a Stern Meteor. It's the fourth machine in their basement.
It's a little past 6 p.m., the tournament has ended, and Silverball is empty save for a couple straggling players stuck to their machines. Josh and Paige are packing up. They take down the Stern poster, featuring a character resembling Uncle Sam with a mane of white-gray hair who points at the viewer and commands them to "Join the Stern Army." They shut down the laptop and disconnect the computer monitor where just hours earlier, members had input their group rankings after each round. Josh had given out the trophy and prizes, so they are leaving almost empty-handed. Paige gathers up her dessert container that only has crumbs left. Sluggishly descending the center staircase, they walk toward the exit. As they leave, the Gunther's Games sign illuminates them overhead. Outside the bar, they can see Shakespeare's, where they've spent countless coins and downed bottomless pitchers. Finally, they head home, where four machines are waiting.