Smack dab in the middle of the Show-Me State lies the peculiar little city of Columbia. If towns had zodiac signs, this one would fall under Gemini, otherwise known as "the twins." Home to a famous journalism school, a historic library and a distinguished equestrian program, Columbia boasts some of the best schools in the state. But don't call it a mere college town; that'd be selling it short. Beyond the shadow of Jesse Hall and the Stephens bridge exists a vibrant, blossoming, albeit quieter Columbia. Although more visible when summer comes and students leave, this Columbia exists year-round: a place perfect for rock 'n' rollers, dance fanatics and history buffs. 
Regardless of the time and season, some things never change. Walk the streets of downtown on any given night, and music follows you. Street performers showcase their talents, ballads escape open bar doors, and percussion pounds through concert venue walls. Mouth-watering meals wait on many corners, and hometown breweries and distilleries are just a hop, skip and a gulp away. But Columbia isn't confined to The District. Nature thrives here, too. Creeks, trails and parks offer striking beauty, and adventure is never far away. 
It wasn't easy, but we've narrowed down the things we love most about Columbia, a midwestern town constantly in flux. For your big-city feel and heart to match, our cup runneth over, CoMo, and here are 24 reasons why.
Love, everyone at Vox Magazine
Intro by Lauren Styx
1. Fresh finds
These Columbia-area farmers markets host a slew of foods and products
By Isabelle Gustafson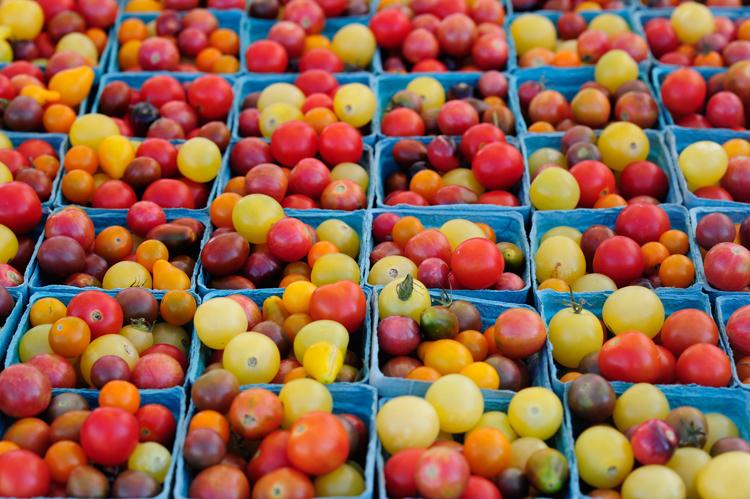 Columbia has all the fresh produce, locally raised meat and handmade goods a town could need. With the Columbia Farmers Market, the Orr Street Farmers and Artisans Market and the Boone County Farmers Market, the sheer number of vendors and products can be overwhelming. 
Here are a few favorites:  
• Einstein Canines sells its chemical-free dog treats and birthday cakes at the Columbia Farmers Market. The drool-worthy flavors include cheeseburger, peanut butter and cheesy chicken.
• Aron Fischer of Facture Goods' handmade wooden kitchen supplies has Fine Arts degrees from University of Missouri-St. Louis and MU. He sells his products at Orr Street Farmers and Artisans Market, in retail stores across the country and on his website. 
• Duncan Family Farms primarily sells free-range chicken at the Boone County Farmers Market. The farm has been in the family for four generations, and the farm also raises show pigs. 
---
2. Standing ovations
Companies such as Talking Horse Productions and Maplewood Barn Theatre, along with local university programs, host performances every week. Don't miss these acts: The Music Man at Columbia Entertainment Company June 9–26; The Adventures of Tom Sawyer at MU's Rhynsburger Theatre July 15-24; Missouri Symphony Orchestra's Hot Summer Nights Resident Opera Artists' Die Fledermaus at Missouri Theatre June 24 and 26. 
---
Click below to read current and former residents' #CoMoments.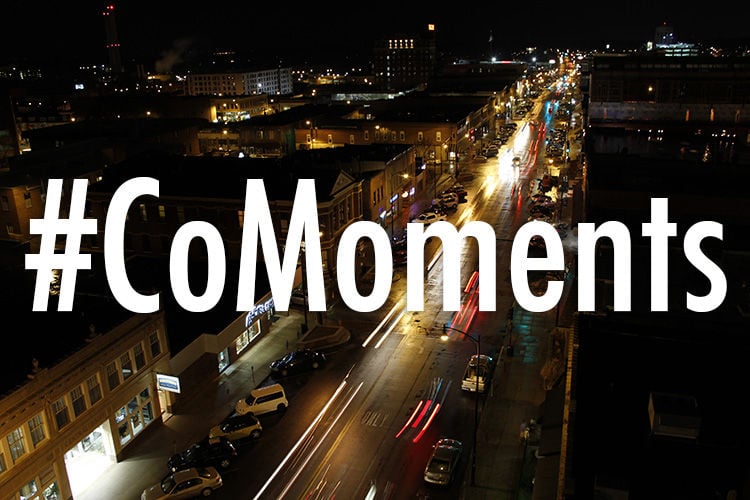 ---
3. Innovative minds 
MU has tested new ways to make human tissue. The typical process, called electrospinning, is not cost-effective on a large scale. But Dean of MU College of Engineering Elizabeth Loboa and her team investigated processes by which some textile materials are made to create synthetic human tissue. Advancements in this technology could help heal wounds from diabetes or circulation disorders, repair cartilage or bone and replace breast tissue lost during mastectomies. 
---
4. Sparky's odd couples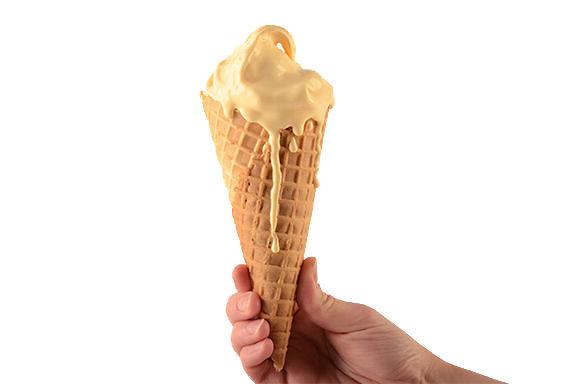 The widely beloved Sparky's is known for crazy flavors, fun wall art and, of course, the namesake bulldog. Summer right around the corner means hot, sticky weather, but this CoMo spot is sure to cool you down. 
Sparky's rotates its flavors regularly, and some of its current pairings include:
• Oreo Speedwagon (coffee and Oreos)
• Les Bourgeois (red wine and Ghirardelli chocolate) 
• Caramel Espresso Chip
• Chai Rice Krispie Treat 
---
5. Bicycles abound
In the span of 10 years, bicycle commuting in Missouri increased by nearly 80 percent. So what better place than Columbia to host a bicycling and music festival? Pedaler's Jamboree begins May 28 when participants cycle out of Columbia. Riding about 30 miles a day, bicyclists follow the MKT to the Katy Trail and end in Boonville. The festivities aren't just for serious cyclists, though: Live music and entertainment dot the scenic trail along the Missouri River to create a fun, relaxing ride.
---
6. Hardworking residents 
A little-known fact: In 2012, Parade magazine included Columbia in its ranking of the hardest-working cities in the country. Due to the area's low unemployment rate, multiple colleges and six hospitals, CoMo earned the No. 1 spot on the list. Parade also acknowledged the city's 80-percent rate of dual-income households as the highest in the nation. Keep working for the weekend, Columbia.
---
7. Mobile meals 
If you believe that food is more fun when it comes from a truck, you're in luck. Foodies, get your fix from any of CoMo's mobile offerings.
By Heather Finn 
When you want brunch without the wait:
Ozark Mountain Biscuit Co.
Check website for the day's hours and locations, 999-9323, ozarkmountainbiscuits.com 
When you want something classy but quick:
Playing With Fire Mobile Wood Fired Pizza
Check website for the day's hours, 579-1192, pwfpizza.com
When you want to satisfy your taco cravings:
Lilly's Cantina
Check website for the day's hours, 355-4831, lillyscantina.com
When you want to indulge:
The Big Cheeze
Check website for the day's hours, 356-3089, thebigcheeze.com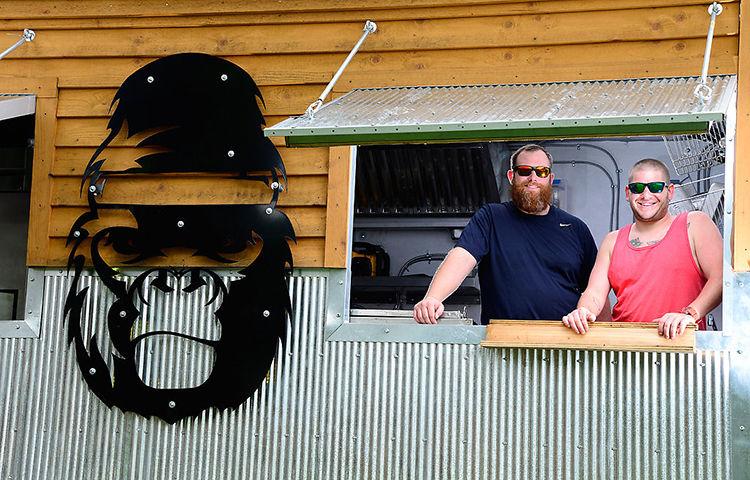 When you want a menu with variety:
Grill-A-Brother Sandwiches
Check website for the day's hours, 808-6870, grillabrothers.com 
Bonus: The new truck in town
A new food truck called Pure Flame appeared downtown this past month. To track down a plate of the truck's Chicago- and St. Louis-style wings, strips or burgers, find Pure Flame on Twitter at @PureFlame_. 
---
8. Wide open spaces
Nature lovers, rejoice. The Columbia area has plenty of parks to explore. Whether you're into hiking, biking, climbing, picnicking or just want to get out and enjoy some fresh air, head to one of CoMo's biggest parks to satisfy your adventurous urges.
By Christine Jackson  
---
9. Fantastic imaginations
The Stonewater Marches represent a large group of fantasy role-players in CoMo
By Cheyenne Roundtree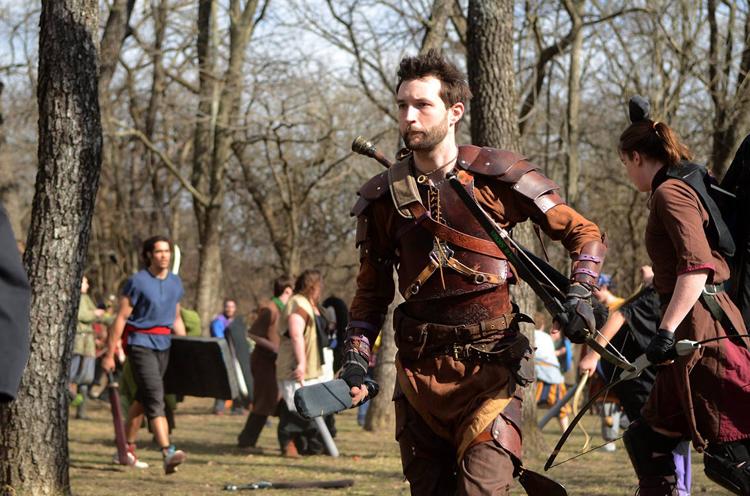 A family walks by Peace Park and tries to get a better look at a man dressed in leather medieval garb. With a longsword strapped to his back, a dagger hanging from his chest strap and a longbow in his hand, Stephen "Fayne" Rawlings looks out of place in modern society. 
Curious, a little boy breaks away from his family to get a closer look. He picks up a small sword and attempts to challenge the man to a duel. The mysterious figure declines politely. For him, this isn't a childhood pastime. He has spent the past nine years meticulously learning how to sew, construct bows, craft swords and improve his battle fighting. For Rawlings, leader of the LARP group The Stonewater Marches, this isn't a hobby. It's a lifestyle.
LARP stands for live-action role play. Participants follow a set of rules, work in teams and act. Simply put, it's a board game or virtual game that comes to life with real characters. Rawlings says LARP offers a chance to be creative.
Nationally, LARP is not new. Some link today's hobby to the 1700s, when people performed as chess pieces, or to modern Civil War reenactments. However, these don't qualify as LARP because they lack the fantasy aspect. LARP arrived in the late 1970s and was based on Lord of the Rings. The first formal LARP group ever created was the Dagorhir in Maryland in 1977. 
Dragorhir's creator, Bryan Weise, advertised on the radio in search of others who shared his interest, and LARP groups grew across America. Since then, the fantasy game has made its way into pop culture and has appeared in movies such as 2008's Role Models.
Rawlings founded Columbia's chapter of Dagorhir, The Stonewater Marches, in 2007 after his wife, Stevi, introduced him to the game. He became immersed and researched how to make his own garb and equipment. Rawlings taught himself how to sew so he could create authentic pieces such as his wool cloak and his leather forearm guards.
Involvement varies from player to player. Practices can last for hours, and battles can turn into day-long affairs. The group even has weekend- or week-long events, at which several days are spent in character. The Stonewater Marches practice for several hours at a time and attend extended weekend events. Outside of practices and battles, players spend extra time crafting garb, making weapons and researching battle tactics.
Peace Park might be a regular place for some, but Rawlings and The Stonewater Marches transform a simple park into a world of fantasy and make-believe.  
---
10. Towering views 
If you want to move up in the world, travel 20 minutes outside of Columbia to Pinnacles Youth Park. The 77-acre park features a rock formation, made of Burlington Limestone, that's popular among hikers and climbers. The Pinnacles peak at about 80 feet. For comparison, the iconic Tiger Hotel downtown is 140 feet tall including its signage.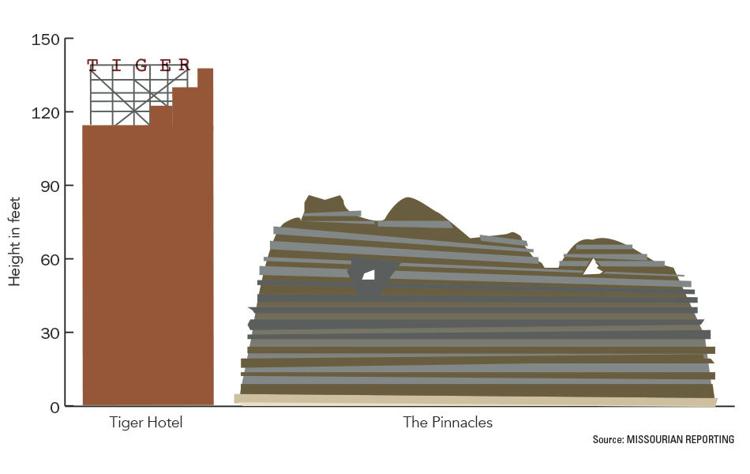 ---
11. Barbara Buffaloe 
The sustainability manager inspires younger generations to conserve energy and recycle
By Madelyne Maag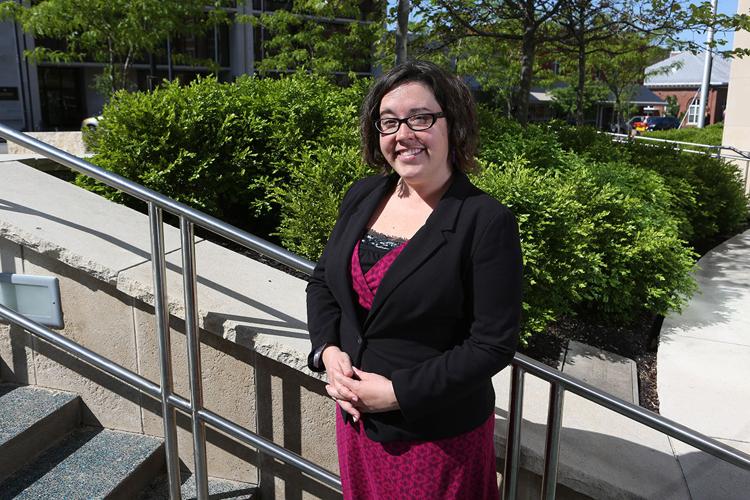 Little hands shot up as Barbara Buffaloe asked Lee Expressive Arts Elementary School first-graders questions such as, "Who shuts the water off when they brush their teeth?" Then Buffaloe let the group in on their magic power to help the environment. "You all have pester power," she says. "Use this power to bug your parents into using less energy."
Buffaloe, Columbia's sustainability manager, gives an Earth Hour presentation to students across the city. During her presentation, Buffaloe explains how Columbia saves energy with sustainability contest CoMo Energy Challenge.
The challenge is a campaign for Columbia's slot in the Georgetown University Energy Prize, which measures the energy used by 50 communities across America throughout two years. Columbia is ranked No. 14 in the race to win the award of $5 million at the end of 2016. Buffaloe attended MU from 1998 to 2002 and majored in architectural and environmental design. After graduation, she worked as a housing and design specialist for MU and was a board member on the U.S. Green Building Council. When the City of Columbia created a sustainability office to help fight global warming, Buffaloe heard it needed a manager. 
More than six years later, her influence has helped Columbia pursue several short- and long-term goals, including reducing 20 percent of the city's energy use by 2020 with initiatives such as more efficient lighting systems in small businesses and government buildings.  "Although large goals like that are great to strive for, I also like to focus more on the smaller, short-term goals that will eventually get us there," Buffaloe says.
By inspiring children to reach those short-term sustainability goals, she says she hopes to empower future generations to help save the world, one step at a time.
---
12. Historic spots 
Of the 51 Boone County locations listed on the National Register of Historic Places, 43 are in Columbia. Explore them on this interactive map, and find six highlights Vox chose from the city's many significant addresses.
By Christine Jackson
---
13. Our neigh-bors  
The Stephens College Equestrian Center is a haven for riders
By Lauren Puckett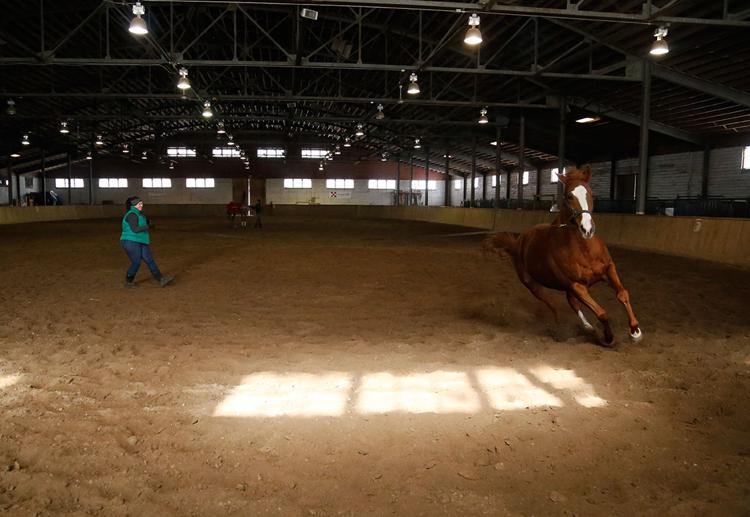 Just east of downtown Columbia, a pasture interrupts the asphalt streets and honking cars. A gravel driveway cuts a straight line through the grass and halts in front of a long red building. 
Inside are rows upon rows of horses. They poke their heads through slots in the stable doors and greet whoever passes through. Each animal has a special nickname, such as "Goose" and "Papa."  
This is the Stephens College Equestrian Center, home of an award-winning equestrian program and one of Columbia's notable historical properties. To those involved, the 55 horses are essentially family.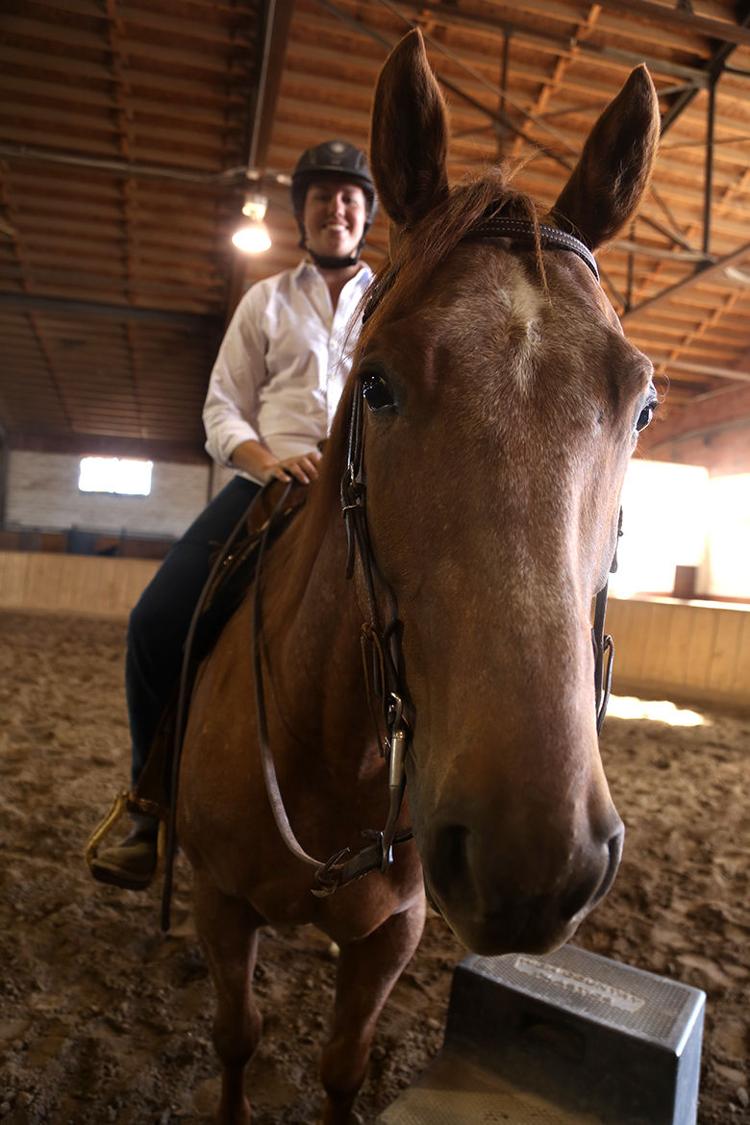 All the horses are donated, and they come with fascinating stories, says Sara Linde Patel, the program coordinator of the Stephens College Equestrian Studies Department. 
Students are assigned one or two horses to care for every day. "The horses are so valuable to teaching these women," Linde Patel says. "All the students have their favorites, but you have to be just as passionate about the horse in the stall next to your favorite. That's being a professional horsewoman." 
Founded in 1926, the equestrian program is part of a long tradition of horsewomen. Some students study riding styles such as Hunt Seat; while others focus on Western, Saddle Seat or Driving. They can obtain a bachelor of science in Equestrian Science or in Equestrian Studies, the latter in which they can study either business management or equestrian education. All three programs are through the School of Interdisciplinary Studies at Stephens. Many students compete in local or regional horse competitions and show off their jumping skills and way with the reins. 
Linde Patel, an alumna of the program herself, says the program has survived and thrived because of its quality. Stephens students and their horses have garnered awards from across the nation. Cool Down Papa is an American Saddlebred Horse Association Missouri State 5 Gaited Champion. Student Erin Cummings and horse Silver Charm were champions in the Missouri/Kansas Amateur 3 Gaited class at the American Royal Horse Show in November 2015. 
The program also hosts open houses, riding camps and riding lessons. "We're spreading the love of what horses can do for people," Linde Patel says.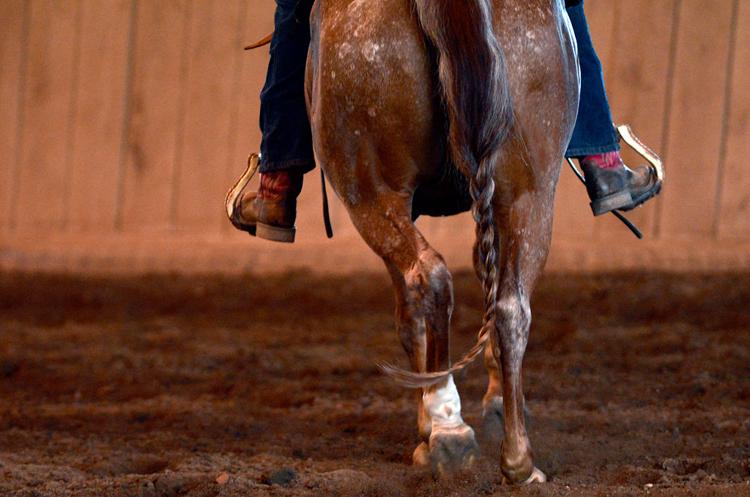 ---
14. Year-round festivals
Columbia plays host to many festivals throughout the year, but which one reigns supreme? Vox asked the community to decide which event our city loves most through a series of Twitter polls. It was a tough call for some: Unbound Book Festival beat Artrageous by a mere 4 percent, and the Boone County Fair lost to Heritage Fest by 12 percent. See how far your most beloved fest made it in this steely competition!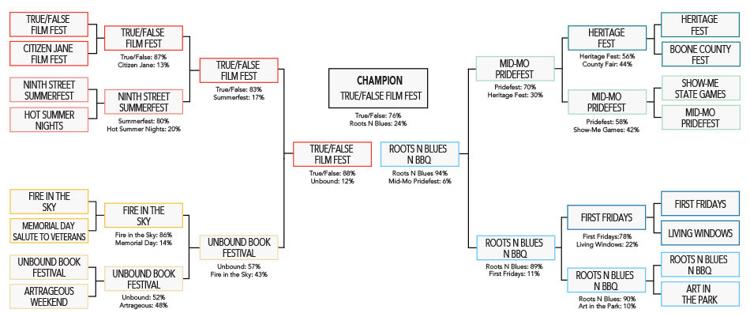 ---
15. Adam Saunders 
Adam Saunders is the development director of Columbia Center for Urban Agriculture, which he co-founded in 2009. Originally from Springfield, he arrived in Columbia as an MU undergraduate in 2003 and has lived here since 
By Nicola Dall'asen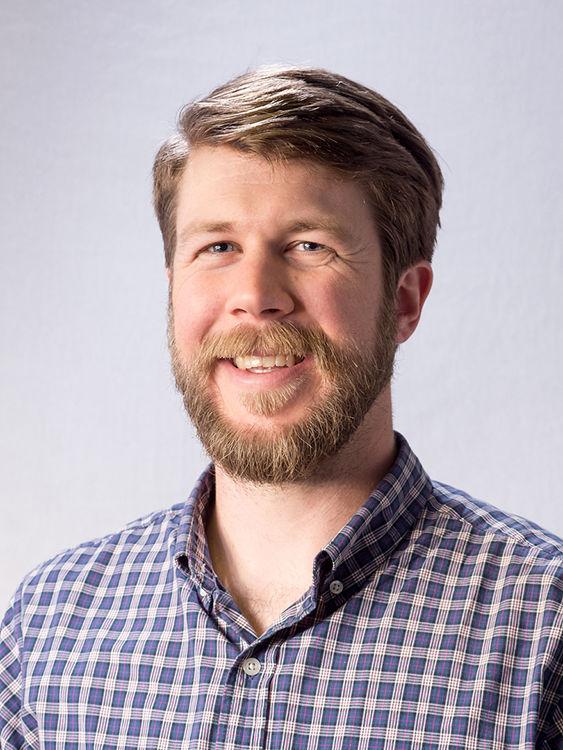 When and how did you become interested in gardening?
I've been gardening since I was a kid. My parents took me out in the garden as a baby. That's one of my earliest memories, putting peas in the ground, and that stayed with me my whole life.
Why did you create the Center for Urban Agriculture?
I had just graduated, and a couple of people were asking the same question I was: How do we make a difference in our community? And all of us, the core volunteers at the beginning, had a very similar experience as kids having a vegetable garden. Coincidentally, a lot of us had a parent who was a teacher. Both of my parents are teachers. We were steeped in education, and we all thought that would be something that we could replicate.
What do you love about Columbia?
We've got a rich agricultural history. A lot of people are engaged in agriculture, whether it's a single tomato plant in a bucket at home, a community plot, growing with their church or volunteering with us at the urban farm. People here have a great connection to food and farming. There's shared interests that you find in every demographic, age group and neighborhood in Columbia. 
---
16. Lucile Bluford 
A pioneer for civil rights, Lucile Bluford wasn't afraid to put up a fight
By Rebekah Hall
Lucile Bluford overcame adversity to achieve success. She was born in North Carolina in 1911 and moved to Kansas City when she was 7 years old. She graduated from the University of Kansas and worked for a variety of black-owned newspapers, including the Kansas City Call. She then applied to the Missouri School of Journalism for a graduate degree. She was accepted, but when she went to enroll and the school realized she was black, she was denied admission. 
Bluford fought to break barriers in higher education for black students. After 11 attempts to enroll and many lawsuits, she was finally admitted to MU, but the School of Journalism closed its graduate program altogether. 
She continued to fight racism through her work as a journalist for the Call. Carlynn Trout, author of the Notable Women of Missouri, says the journalist's contributions were vital. "She was an activist, and it was important for her to make a point at that particular time," she says. "And she fought hard for it." Bluford received an honorary doctorate from MU in 1989. She died in June 2003 after working for the Call for 70 years.
---
17. Claims to fame 
Columbia's population currently totals more than 115,000 people, but through the years, some of those people have transcended the boundaries of Boone County. Sheryl Crow once walked the streets of CoMo, as did Brad Pitt, who studied advertising at the Missouri School of Journalism. He dropped out two credits shy of a degree to pursue a career in Los Angeles, a choice we doubt he regrets. Here are a few more former residents who made it big. By Caitlin Busch 
• NASCAR's Carl Edwards graduated from Rock Bridge High School in 1997. 
• The Walton family, founders of the multinational retail corporation Walmart, established a home in Columbia in 1933. 
• Rebecca Blank, born in Columbia in 1955, is the current chancellor of the University of Wisconsin–Madison and was the acting United States Secretary of Commerce under President Obama in 2012.
• Charlie Ross, the White House Press Secretary under President Harry S. Truman, graduated from MU in 1905 and became one of the first professors at the Missouri School of Journalism in 1908.
---
18. 100 years of Ellis Library 
We crunch the numbers to find what it takes to manage the most well-read building on MU's campus 
By Dan Roe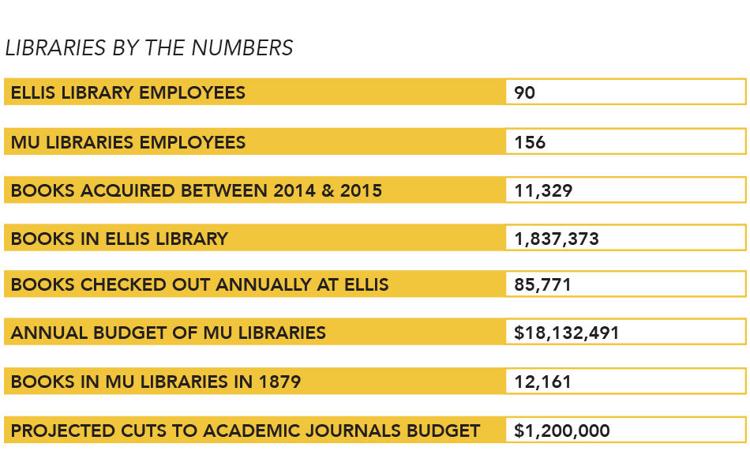 As Ellis Library turns the page into its second century at MU, the historic study hub continues to grow. Academic Hall housed the original library, and the Union Army used 467 of its volumes as kindling during the Civil War. When the Hall burned to the ground in 1892, the only books that survived were those checked out by students and professors before the blaze. 
To ensure the growth of a replacement collection, students were not allowed to take volumes off the premises of the interim library in the new Academic Hall (dedicated in 1895) or Ellis for the next 50 years. James Thayer Gerould, the university's first professional librarian, arrived on campus at the turn of the century to rebuild the library system. 
With persistent lobbying to the UM Board of Curators, Gerould and predecessor Henry Ormal Severance ushered in a new collection of books in time for Ellis to open in 1916. Here are the facts and figures on 100 years of Ellis Library — and here's to hoping the future is a bit less fiery. 
---
19. Local breweries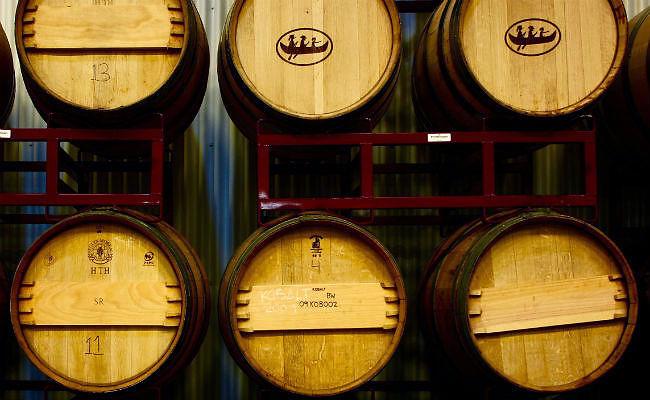 Beer is king in college towns, including CoMo. Thanks to our wide selection of local breweries, we don't have to sustain ourselves on Bud Light. Logboat, Bur Oak, Rock Bridge, Broadway and Flat Branch breweries all provide us with a variety of beverages to fill our pint glasses. No matter if you're a fan of dark stouts, light blonde ales or hoppy IPAs, there is definitely something to raise your glass to. Cheers!
---
20. Iconic snapshots 
After spending time away, what's the first thing that makes you feel like you've made it back home? Whether MU's Jesse Hall or the bright yellow sculpture, Cypher, outside the Columbia Public Library reminds you most of CoMo, these markers serve as symbols of the city. Vox rounded up five photos depicting some of Columbia's recognizable landmarks.
Photos by Heather Finn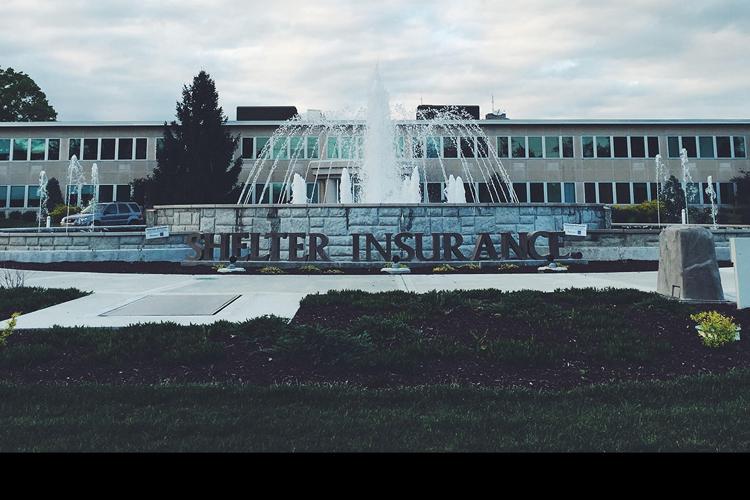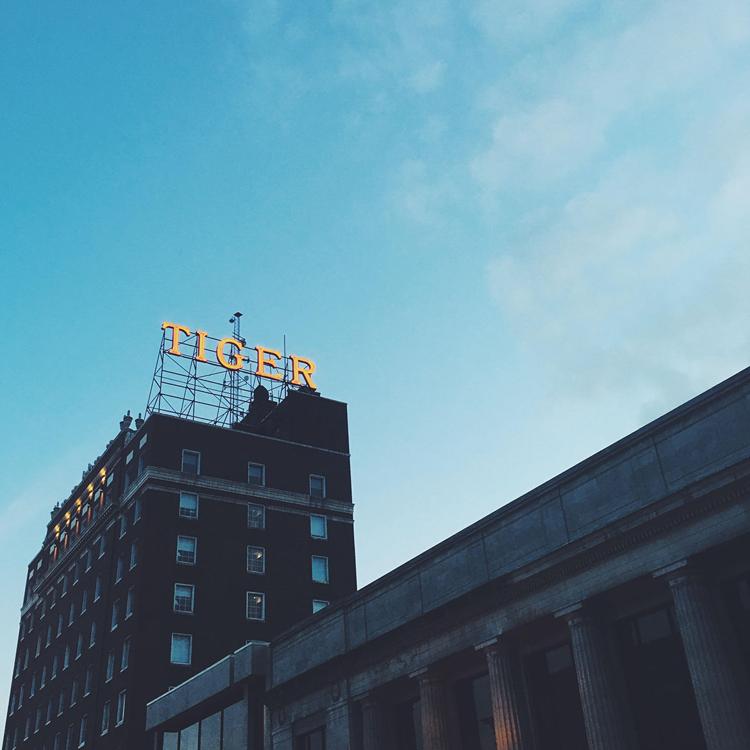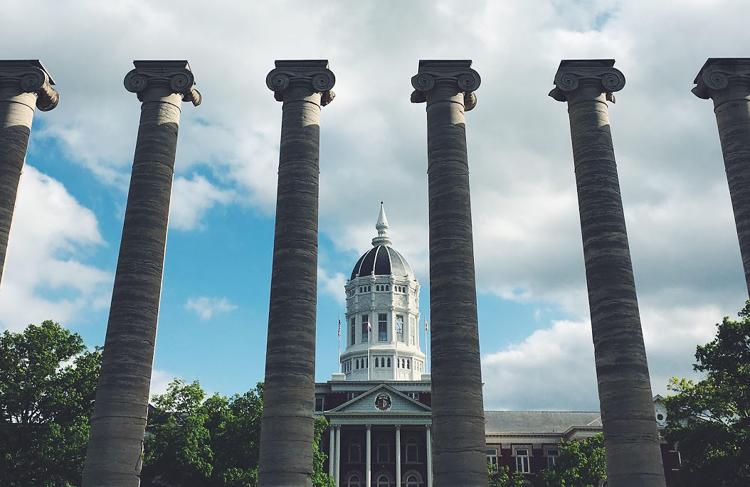 ---
21. Drive-in eats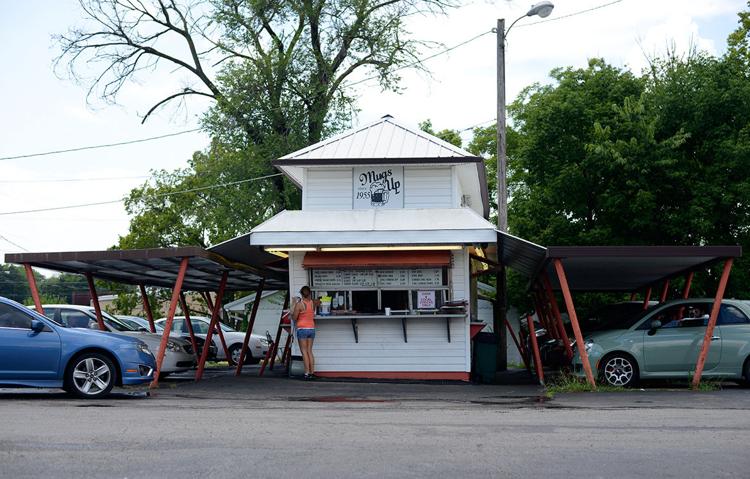 Off the beaten path of your regular downtown haunts, Mugs Up Drive In lies tucked between the trees on Orange Street off Business Loop 70. Originally one in a chain of 60 restaurants when it opened in 1955, Mugs Up is now the last location standing. For more than 60 years, this spot has been a staple for people looking to get drive-in food fixes. So park your car, roll the windows down, and get your cash ready because any trip to Mugs Up wouldn't be complete without a signature "zip" burger, fries and a homemade root beer.  
---
22. Mark Brown 
Before opening Buckingham Smokehouse BBQ, Mark Brown spent 20 years and more than 2 million miles traveling with some of the biggest bands in history 
By Lauren Styx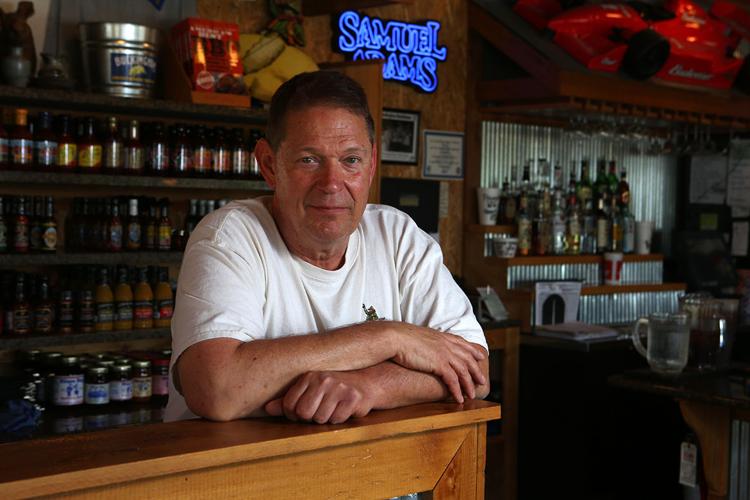 What got you into the roadie life?
I was 23 years old and was asked to go on the road. The phone rang one night when I was living in Springfield, Missouri, and the next morning, I was headed for LA. I grew up with a couple of the Ozark Mountain Daredevils, and that was 1976 when the phone rang. I came home in 1996. I never had a year less than 300 days out (on the road). I tell big stories, but I can back them up.
Who have you worked with?
After the Daredevils, I did the Pink Floyd, Genesis, Rod Stewart, Elton John, KISS, Prince, AC/DC, Judas Priest, Depeche Mode, The Cure, Fine Young Cannibals and Grateful Dead tours. I did staging in '78 for the Hotel California tour for the Eagles. Pink Floyd tours had 58 tractor-trailers, 12 buses and massive stadiums. I've got around 100 tour passes. Five platinum albums are hanging on my wall at home, and I'm not even a musician. I've worked for everybody from Liza Minnelli to Willie Nelson. Even Fleetwood Mac. The name of the restaurant, Buckingham's, came from Lindsey Buckingham, Fleetwood Mac's guitar player.
What do you love about Columbia?
Columbia's a good place to live. I opened (Buckingham's) in Columbia in '98, and I've been here ever since. I don't want to be in a bigger town, even if Columbia keeps getting bigger all the time. You're two hours away from K.C. or St. Louis, and the University of Missouri creates a huge amount of catering for my business. I'm glad I ended up in Columbia. I don't think it's a bad place to live at all.
---
23. Master moves
Learn how to get down, all around town
By Cheyenne Roundtree
It's finally Friday night, and you've been waiting for this beloved day since Monday morning. Like Rihanna, you might have sung the lyrics "cheers to the freaking weekend," or posted a #TGIF tweet. It's time to blow off some steam in the best way possible: heading to the dance floor and letting loose. 
Suddenly, Shakira plays. You surprise friends with some fancy Latin footwork. As the night winds down and Van Morrison's "Brown Eyed Girl" comes on, you grab someone and lead a lively swing dance. Where did these skills come from? You've been taking some stylized dance classes to add to your dance arsenal. Columbia has classes for several dance forms. So in the words of David Bowie, let's dance, Columbia. 
Moon Belly Dance Studio: Belly Dancing 
Kandice Grossman teaches classes for aspiring belly dancers at Moon Belly Dance Studio. Learn how to position your body, isolate hips and master other general hip movements. Use these classes when shimmying and getting your groove on to heavy synth beats. 
110 Orr St., Mon.–Fri., 8 a.m. to 5 p.m., 777-0917, moonbelly.org
Jabberwocky Studios: Break Dance 
You don't have to be in Step Up or America's Best Dance Crew to learn how to break dance. Nor do you have to roll around on the ground. Jabberwocky Studios' beginner class will teach the basics to become a b-boy or -girl. Students practice footwork, power moves, toprocking and freezes. Learn how to feel the beat and respond with some rhythm. Maybe with some practice, you can master the famed sliding elbow stand from Stomp the Yard. 
1308 Grand Ave., 239-9899, Jabberwockystudios.org
Mizzou Swing Society: Swing Dancing 
Whether it's at The Penguin Dueling Piano Bar or a house party, some classic oldies are bound to play. When they do, you'll be ready with some snazzy moves courtesy of the Mizzou Swing Society. Learn how to Lindy Hop and West Coast Swing at weekly classes in the spring and fall. With or without a partner, you can do the jitterbug and transport the room back to the 1930s.
Facebook.com/groups/MizzouSwingSociety 
Studio B Dance Center: Argentine Tango 
Why yes, you actually can use tango skills on the dance floor. Studio B offers weekly classes on the Argentine Tango, in which you'll learn the basics of this thrilling international dance. Ladies can follow as men learn how to lead. Or decide to switch up gender norms and be comfortable with either role.
2909 Falling Leaf Lane, Mon.-Thurs., 2–9 p.m.; Fri., 2–10 p.m.; Sat. and Sun., by appointment, 441-2200, danceatstudiob.com
---
24. Four-wheel stripes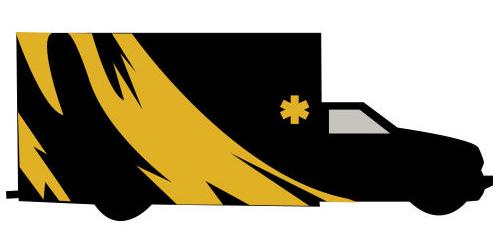 University of Missouri Health Care purchased the first four-wheel drive ambulance in mid-Missouri in November 2015. Ambulance 1501 is the only four-wheel drive emergency vehicle in Boone County and allows crews to access those in need without worrying about  road conditions. The ambulance features a liquid spring suspension system for comfort during transport and more room and safety features than other ambulances. A ramp system makes transportation easy for both patients and EMTs.