When Roxane Meera Jeffries was a little girl, she wore her dark brown hair pulled away from her face in a ponytail, and her hazel eyes had already seen more of the world than some people ever will. Trying to catch a glimpse of her father's quarter-sleeve tattoo, she used to tug on his shirtsleeves to push them up. She was 5 years old the first time she watched her father get tattooed. That was the moment she became obsessed with the craft of tattooing.
Born in Malaysia and raised by hippie parents who preached equality and practiced wanderlust, Roxane was surrounded by a community of artists and free spirits. "I was given a lot more free rein for self-expression than I think happens in a lot of family dynamics," she says. "The other thing is my parents had some wild, wonderful friends, so I was introduced to a lot of different art forms and strong personalities from a young age."
Her parents' friends experimented with art in a variety of mediums — from airbrush artists to jewelry designers to belly dancers and yogis. She says the environment of constant creativity rubbed off on her and the other kids she grew up with, whom she playfully refers to as "hippie spawn."
Roxane, 40, is happy that she and her husband can provide a similar hippie-esque upbringing to their 11-year-old son. Although her lifestyle is much tamer and steadier than her parents', she makes an effort to expose their son to diversity in art and people.
After a lifetime of sketching and dabbling in graphic design and piercing, Roxane found her way back to tattoos. Although her last name is Jeffries, she uses the name Meera in the tattoo community. In 2006 she joined the staff of Living Canvas Tattoo in downtown Columbia and apprenticed under Pete Tieman, who has been tattooing for nearly two decades and has mentored three other artists over the years.
In the office
We're sitting in Roxane's office, a sterilized space with yellow-gold walls that make you feel like you're comfortably trapped inside a fruit. There is an enormous wooden fireplace that stands out against the paint. The walls display paintings and portraits, and there's a corkboard with her sketches for clients tacked on it. Roxane sits across from me in a leather swivel chair and pushes back her black side bangs to reveal a stud piercing in the top part of her cheek. Her tongue is pierced, too, and there's a silver bar through her bottom lip. She's wearing a necklace with a silver bat on it. She has an easygoing manner and talks to me like she's known me forever. It's easy to see why her clients feel at ease around her.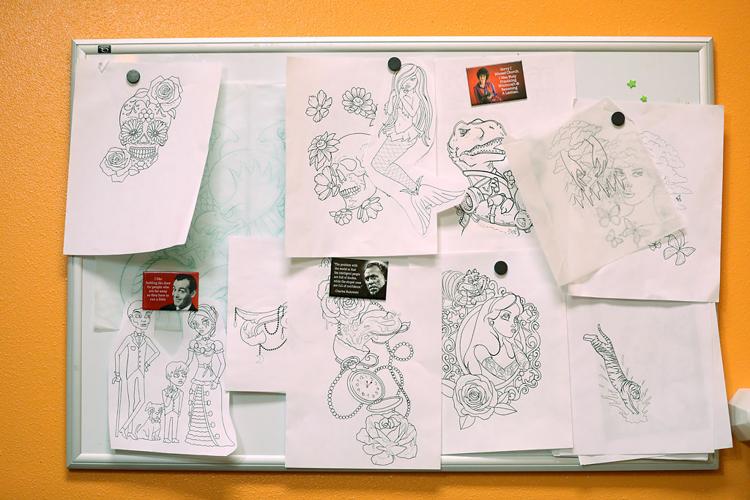 There's a knock at the door, and a man wearing a black T-shirt and sweatpants enters.
"Sorry for interrupting," he says. "You got a package." And he slips out of the room.
"That's my new machine," Roxane says. She continues talking, but I can tell she's distracted.
"Do you wanna go open that?" I ask. She smiles and stands up instantly to retrieve her box. Her high heels click against the wood floor.
"I'm gonna be really sad if it's just the pigment and the needles," she says. "You're gonna see me go on an emotional roller coaster."
She pulls out a key from the top drawer of a black metal cabinet and opens the box.
"It's my needles and pigment," she says. "So sad." But she's not disappointed for long. "I'm excited about these two," she says of two small capsules of colored ink. "I haven't tried that yellow yet; it looks pretty bright."
For now, the seven tattoo machines in her arsenal will have to hold her over.
"I'm a dork; I name my tattoo machines," she says. There's Legs, a black machine with a picture of a woman's bent leg on it; Cyndi Lauper, which is hot pink; Prince, which is purple, of course; Benedict Cumberbatch, a serious black machine named after she binge-watched Sherlock; and Odetta, a metallic blue piece named after the folk/jazz/blues musician Odetta Holmes, who her father introduced her to. Except for her oldest one, they're all rotary machines, which she switched to after noticing early stages of carpal tunnel.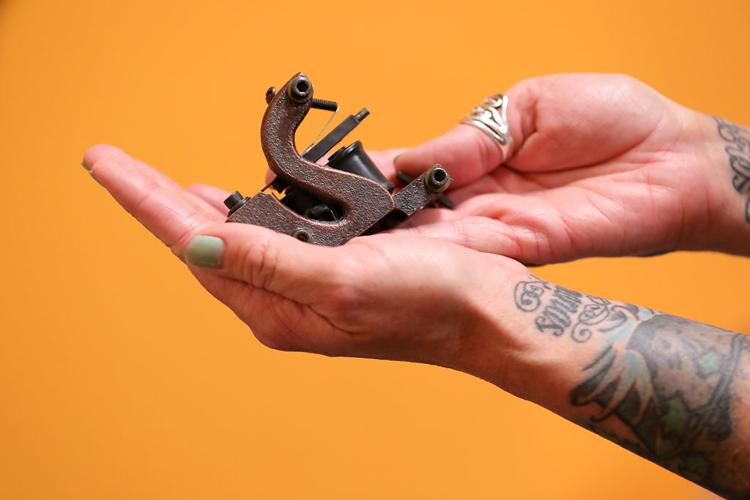 Tattoo machines work by puncturing many tiny holes in the skin, which lets the ink between the needles sink into the correct layer. The rotary machines are lighter than old-school coil machines, and they don't need as much tuning or fixing as coil machines tend to require. Each varies in "how hard they hit," she says.
Double standards
There are 10 tattoo parlors in Columbia, and most have two to four artists. Although female tattoo artists are outnumbered by male tattoo artists in town, Roxane says she's never felt left out of the local group.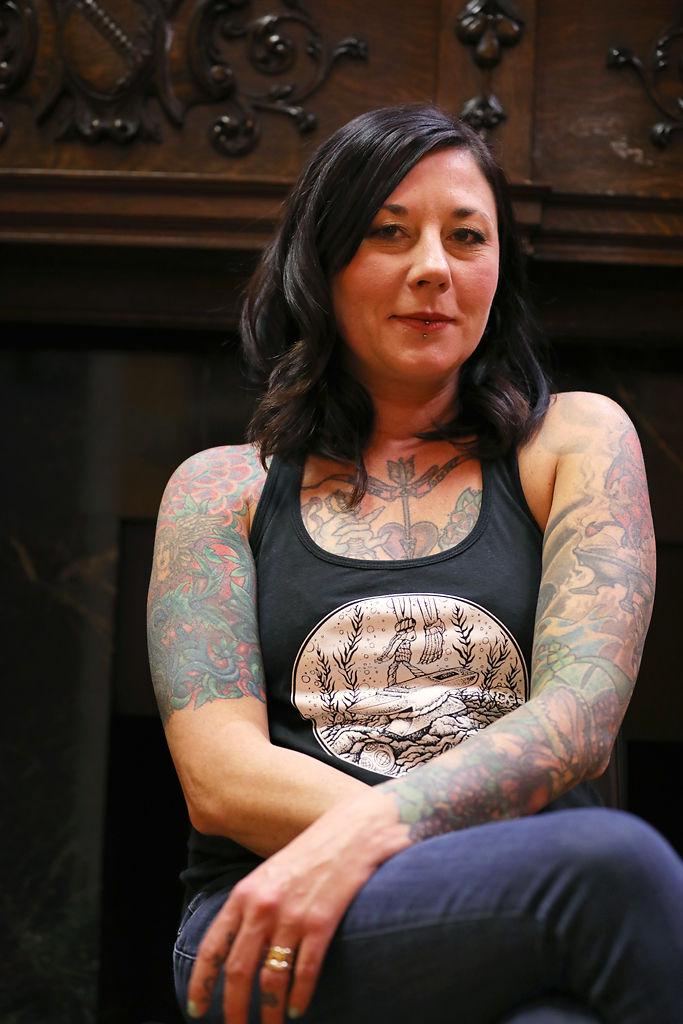 "It's just about the art," she says. "If you work hard and you care about what you're doing, you're going to be respected in the industry. Gender's not really an issue."
Women have a history of pushing boundaries in the tattoo industry.
Kari Barba, a California-based artist who has inspired Roxane, pioneered a new style of realistic portraits in the '80s that incorporated color in a way that was untested in the region.
"She's incredible," Roxane says. "The textures in the tattoos she does, they look like oil paintings. It's just mind-boggling how beautiful her pieces are, so some shops really missed out by not hiring her."
Representation of women in the tattoo industry has evolved even over the past decade, especially through television exposure. Kat Von D rose to fame through shows Miami Ink and LA Ink. The reality competition show Ink Master has featured an increasing number of women as the seasons progressed, even crowning the first female Ink Master, Ryan Ashley, in 2016.
But there still seems to be a double standard between men and women in the tattoo industry as tattooed women tend to be overly sexualized. After her Ink Master win, Ashley was in an Inked magazine feature spread, where she was photographed in lingerie and various furs — not the same professional outfits the previous male Ink Master winners wore for their photo shoots. Inked magazine's website also has a subsection, Inked Girls, (note girls instead of women) that claims to have "more sexy tattooed girls than any other website." An Inked Boys counterpart is either nonexistent or still in beta testing.
In an industry that often seems more focused on women's bodies than women's creativity, some female artists are taking matters into their own hands and using social media to get their art to a wider audience.
There isn't much data to be found on the number of female artists compared to male artists in the tattoo industry. This is because of a lack of consistency in records; tattoo shops and artists are regulated on a state level, not a federal one. However, there has been analysis of the people who are getting tattooed. A 2012 study by Lightspeed Research found that 59 percent of American women have tattoos compared to 41 percent of American men.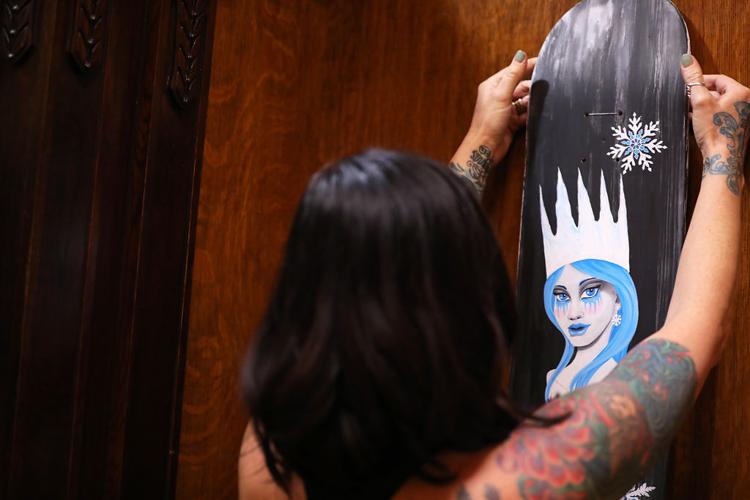 Roxane has carved out a special niche tattooing women. In particular, she's gained the patronage of many women who are members of Muse Pole Fitness, a pole dance workout facility.
"They're a creative bunch," Roxane says of the women, "and they beat themselves up with practicing, so they sit very well."
She has also been pleasantly surprised by the diversity of people and ideas she has encountered in Columbia. Among the lineup of strange tattoos she has been asked for over the years is a succubus mermaid and a cactus with trapezoidal flowers growing from it. She loves the variety and the collaboration with her clients that she encounters in her job.
Her specialized style has also helped her gain a loyal customer base. She focuses on illustrative tattoos that have bold black outlines, high contrast and color that will hold up over time. To ensure longevity, it's important to pack the color into the right layer of skin: the third. Too light, and the color will fade and look old; too deep, and you'll reach the fatty layer and the pigment will spread outside the intended area. Roxane equates the process to learning to drive a stick shift. She says you can feel when you're doing it right, and if you mess up, you can sense the drag. It's the combination of visual and tactile input that allows her to hit the sweet spot. In doing so, she's able to ensure that her living art will look fresh for many years to come.
"I think with Roxane, the biggest thing is her stuff is really stylized," her mentor, Pete, says. "I can look at a tattoo and be like, 'Yup, Roxane did that.' She's just got her own style of tattooing."
Permanent marks
Roxane's apprenticeship under Pete lasted about a year. Some apprenticeship programs can be twice that length, but since Roxane came in with a thorough understanding of sterilization and safety procedures — learned from her time as a piercer — she completed her apprenticeship ahead of schedule.
Throughout her time as an apprentice, Roxane referred to Pete as her "sensei," or "master" in Japanese, and she wore a Padawan braid because of his love for Star Wars. She says she loved the fun environment of the tattoo shop, but those 12 months weren't easy. Pete explained to her that to be successful, she would need to live, eat and breathe art and tattooing.
"It's not like somebody plays football for the first time and they're ready for the NFL," Roxane says. "Anything that you want to be good at, you have to really work at it and hone that skill."
"It's kind of an all-or-nothing thing," Pete adds. "You're either gonna get it, or you won't." He says it's not the kind of job where you can only have skills in certain aspects and still get by; you need to be excellent at everything. It's not enough to be good at outlines if you're not good at shading. It's certainly not enough to be a creative artist if you don't understand the sterilization process. As a tattoo artist, you need to be aware that the art you create is permanent and will be marked on someone's body forever. There's no room for error.
That being said, there are certain things Roxane refuses to do as an artist. On her "no way" list: racist tattoos, Confederate flags and names of romantic partners, which she calls "the kiss of death." She has a lecture that she gives to anyone who's interested in getting their partner's name etched on their skin, though she says people don't always listen. She once tattooed a partner's name on a middle-aged woman who'd been in a relationship with her boyfriend for several years. She figured this woman was old enough to make her own decisions though she did still give her the lecture. Six months later, the woman was back to get the name covered up; they'd broken up.
A musical mindset
In an average week, Roxane works four days tattooing at the shop. At home, she spends her time with her son and draws, paints and sketches for her tattoos. To get in the zone, she'll turn on some music, maybe old-school '90s hip-hop such as Mos Def or OutKast or perhaps some metal if she's drawing something dark. Her husband laughs at her when he hears the metal, but she's not embarrassed; it helps her find the right mindset.
Music has always been an important part of Roxane's life and her creative process. The first live show she attended was The Cure, and since then, she has seen Santana with her parents and crashed the gates at a Pink Floyd show in her teenage days. She has also seen indie bands like Man Man and Modest Mouse.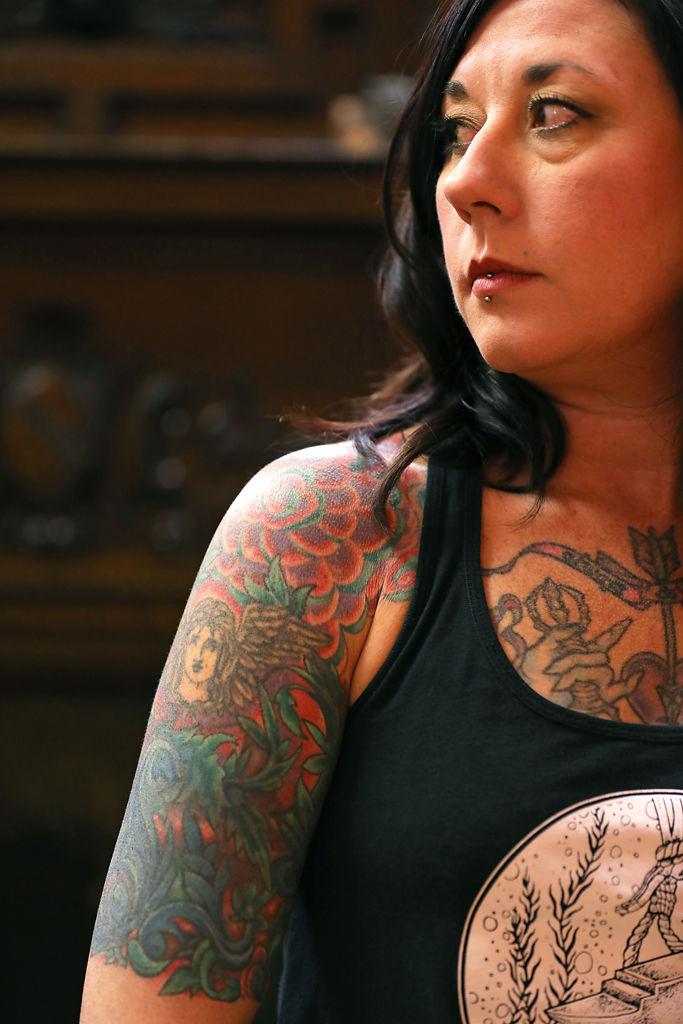 Focusing on the feeling and energy of the music rather than constricting her taste to one certain genre, Roxane has seen all types of musicians perform. "I would have trouble playing a tambourine or a cowbell," she says, "but I make a really good fan." The joy for her comes from seeing an artist create. Although they work with different media, they share a creative spirit. When she's feeling the artist's equivalent of writer's block and is trying to get out of a lull, she turns to music. "I'll listen to some really good hip-hop, and my arm's flying across the page as I'm drawing," she says. "I guess creative people just feed off of each other."
Increasing accessibility to new materials has allowed tattoo artists to expand their creativity in recent years by experimenting with new colors and styles. "When tattooing first started, a lot of it was what was available to the artist as far as supplies," Roxane says. With the introduction of new colors, the styles changed from American traditional to things like full-color portraits and '80s-style geometric designs. One style that's arisen over the past decade is Realistic Trash Polka, which involves black and grey photo realism layered with elements such as colored paint-smear or typewriter text. "It looks like something that you'd go into a contemporary gallery in New York and see," Roxane says. "Thirty years ago, you never would've thought to see that on skin." New ink colors and innovative styles makes now an exciting time to be in the tattoo industry.
Inspired ink
If you ask Roxane how many tattoos she has, she'll tell you she has lost count. They cover both of her arms, her chest, her feet and her fingers. There's a story behind each one: some good, some bad and some that have affected the way she tattoos other people.
For Roxane, the hardest part about getting her first tattoo was waiting to turn 18. Because she'd fallen in love with tattoos at such a young age, she'd already spent years thinking about what she'd get when she was old enough. Having spent part of her childhood in Asia, where she learned about many aspects of Indian and Chinese culture, she wanted to incorporate those influences into her design. "The deities and mythologies were my bedtime stories," she says of growing up in that part of the world. Her father has a tattoo of a dragon and a phoenix chasing each other around clouds, which she wanted to incorporate, too. She liked the meaning behind the phoenix. It represents feminine energy and the classic mythology of ashes to rebirth. So she decided to get a phoenix on her shoulder blade.
Before she went to the tattoo shop, she stopped by her dad's house. She says she received a different reaction than most people get from their parents about tattoos, which was, "Cool, come show me when you're done." With his blessing, she went to the tattoo shop, finally ready for the moment she'd thought about for 13 years.
The encounter wasn't great. It started out rocky when the artist was more interested in flirting with Roxane's friend, which made it an unfortunate experience. "The guy was really nice to my friend who was this tall, voluptuous Italian woman in cute little shorts," she says. "I used to dress like a boy like all the time, so he was not as nice to me."
It got worse: He talked on the phone the entire time he was tattooing her. "I was like, 'Can you just pretend like I have your undivided attention?'"
In the end, the tattoo turned out fine; the experience just wasn't what she'd hoped for. The incident has helped her in her own career, though. Knowing exactly how it feels to be in that position, Roxane tries to never give clients less than her full attention and respect.
Another unexpected result came out of Roxane's first tattoo. Years later, when she was flipping through some of her parents' old slides, she found a photo she'd never seen before of her mother holding her. Her mother had died when she was 2, so finding a previously unseen photo of her was a gift in itself. The photo showed her mother holding Roxane over her shoulder, and when Roxane looked closer at the photo, she saw the tail of a phoenix tattooed on her mom's shoulder blade — the exact location and subject matter Roxane had picked for her first tattoo. She couldn't believe her father had neglected to tell her about her mother's matching tattoo, so she brought it up to him.
"The funny thing is her second tattoo was a yin-yang on her ankle," was his reply. Roxane's second tattoo was an om symbol on her ankle: different cultures, but similar ideas and the same placement.
"I don't know if I had that in the recesses of my memory," Roxane says.
Although unexpected, the connection to her mother through tattoos made them even more special.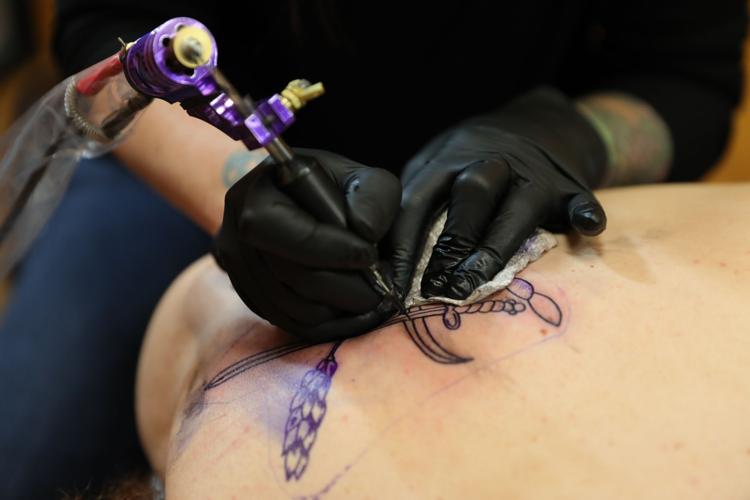 Trustworthy hands
A client walks in, apologizes for interrupting, and asks to go quickly over the sketch Roxane has designed for her. It's a back piece that Roxane says will take a few sessions: a spider elegantly dangling from its web, which is looped and draped around her back and covered in small dew droplets which Roxane proposes filling in with a smoky purple. As Roxane explains the concept, the woman audibly oooohs and even claps at one point. "You're in great hands if you're getting a tattoo done by her," the woman tells me. "Don't you worry."
I smile and thank her for the reassurance.
"OK, I'll go set my appointment," she says, skipping out of the room.