On a crisp October morning at the Columbia Farmers Market, round loaves of sesame street, honeyed quarter, country sour and golden spice sourdough sit on display at Chris Foley's tent. Behind the table, he sips a Diet Coke while his mother, Trish Foley, who helps him at the market every Saturday, drinks sparkling water. In the red truck behind them is a fiddle case. Through the tinted truck window, a dog cage is visible in the back seat. The wind carries a folk song playing from Foley's portable speaker.
Why is the baker also a fiddler? Why does he drink Coke? And where is his dog, Apollo?
Baking with a little help from his best friend
Foley, 37, bakes his bread in a wood-fired brick oven at Creekside Mill, located in southwest Columbia. His process to make 200 sourdough loaves per week is an all-day affair on Mondays and Fridays. He begins by making the dough at home the night before and letting it ferment. In the warmer months, he uses Café Berlin's walk-in cooler for this. You can find his bread at the Columbia Farmers Market, and he also sells to Rhett Hartman of MO Local Routes, who delivers food from mid-Missouri farmers and producers to customers.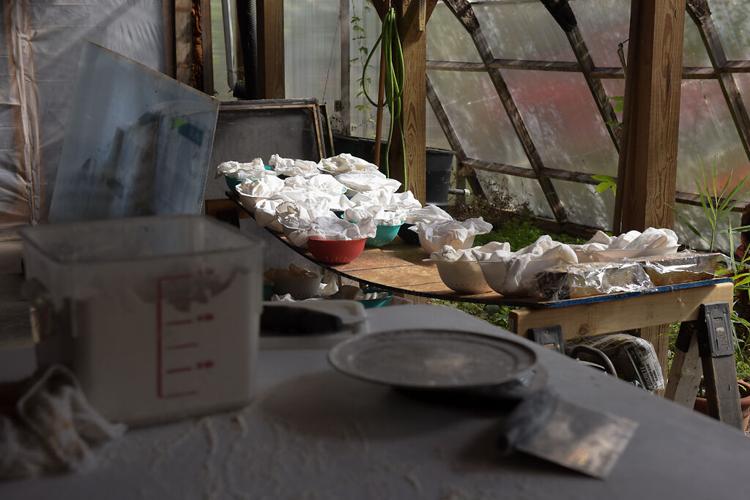 At the mill, Foley's dog, Apollo, runs free. "He's my little healer," Foley says as he explains naming his blue heeler after the Greek god. All Apollo wants to do during the hours they spend at Creekside Mill each week is play Frisbee. Foley never wants to say no, and Apollo never gets tired. But Foley must also do what he came here to do: bake bread for the farmers market.
The brick oven was built in 2014 by Richard Knapp, the mill owner and a local farmer who grows and mills wheat. Knapp had always wanted a baker to use the oven, so when Foley asked, Knapp immediately agreed. On Fridays and Mondays, Foley does the final baking preparations in a greenhouse at the mill.
6:30 a.m. wake-up call
Foley leaves his house and picks up the dough from Café Berlin. He loads it into boxes and heads for Creekside Mill. He arrives at the farm by 8 a.m. and lets the dough rise in the warmth of the greenhouse. He then begins prepping for the bake and starts a fire in the oven.
Music from his playlist of 1,000 songs hums in the background. Many of them feature the fiddle, what many call the violin when used to play folk music. "It's representative of the nature of baking," Foley says. "There's a whole lot of hard, fast rules and a whole lot of fiddling around trying to sort out what's what."
As he begins working, Foley's black hoodie, which has an illustration of a fiddle on the back, gets dusted with flour. Quickly and efficiently, he dumps out the dough, sections it, folds it into round balls and places each sphere into a separate colander lined with a towel. A gray cap hides his mullet and prevents his hair from interfering. Afterward, he goes outside to check if the oven is warm enough.
Apollo rushes to Foley with a teal Frisbee in his mouth, drops it on the ground and gazes at him with puppy-dog eyes. On this particular day, Oct. 19, Apollo is celebrating his first birthday. He came into Foley's life in December 2019, a few days after Foley's 37th birthday. Now, he paws at Foley's gray Levi's, held up by a belt with a fiddle-shaped buckle.
Foley picks up the Frisbee and throws it. As Apollo rushes away, Foley walks to a nearby shed and brings back a log. Apollo returns, and they repeat their practiced motions. Foley grabs an ax and chops the log. He pokes around in the oven as he loads it with wood. Apollo returns. "You really love to play Frisbee, don't you?" he says to Apollo. "It's sort of an addiction. We might need to have an intervention."
Without his dog, the long hours of baking at the farm used to be lonely. When Foley goes to the farmers market, Apollo stays home with Foley's roommate, Joshua Santiago, because he's too excitable for the crowds. But at the farm, the two wait together for the bread to bake.
No knead for a strict plan
Foley's schedule changes based on the season. He needs to wait for the oven to reach over 470°F, which can take two to six hours depending on the weather. Then Foley scrapes the wood and ash into a metal trash can. With a wet mop, he cleans the inside of the oven to prepare it for baking. It'll hold its temperature for hours. He dusts a long wooden paddle with flour, plops four dough sections on it, scores each one with a knife and places them in the oven. He repeats the process until 30 to 40 loaves are baking. When all the loaves are inside, he seals the oven opening with bricks and a wooden door. Twenty minutes later, Foley checks the loaves and shifts them around if they've gotten stuck to one another.
Another 40 minutes later, the comforting aroma of fresh bread wafts in the air, and the loaves are done. Foley pulls out a loaf and sticks it with a thermometer. When the temperature reaches 212°F, he pulls out the loaves and cools them on metal racks. When baking large quantities, he goes through a second or even a third batch. Depending on the number of batches and the weather, his day can take up to 11 hours. Then he packs the finished loaves in huge boxes that he pushes into the back of his red truck. Apollo jumps in the kennel in the backseat, and they head for home.
Starting from scratch
Four years ago, Foley quit drinking. That's when sourdough found him.
Foley stopped drinking for many reasons. He was losing friends who didn't want to be around him, he was rotating through jobs he didn't enjoy, he racked up credit card debt he couldn't pay and he had an unreliable car he sometimes slept in when he got too drunk. "The fun had left," he says. "It was just the thing I did to feel OK."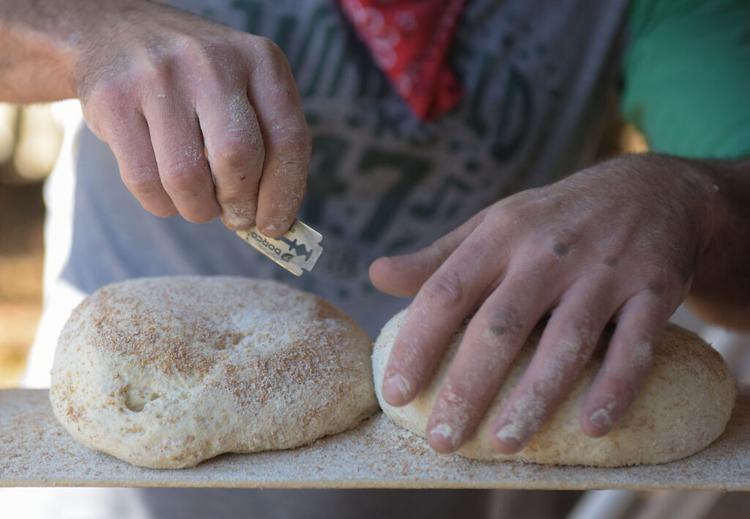 His rock bottom was the day his landlord demanded he pay five to six months of back rent. Sitting in a bathtub of cold water in what he describes as a horrible apartment, he decided something needed to change. "I kind of made a deal with God; I can't keep going like this," he says.
The next morning, he went to an Alcoholics Anonymous meeting that a friend had recommended to him. He hasn't had a drink since. These days, Foley sips on sparkling water and Diet Coke."He's changed so much about the way he lives his life," says Santiago, Foley's friend since 2008 and current housemate.
After, Foley began experimenting with bread, exploring YouTube tutorials and books about sourdough. "I ended up with just so much time on my hands," Foley says. "I remembered I used to like making bread."
Three years ago at the Columbia Career Center, he took a natural leavening course, taught by Michael Kalanty, an artisan baker and author of the book series How to Bake Bread. Kalanty saw that Foley was more advanced than other students and offered him some of his 34-year-old sourdough starter, a fermented mixture of water and flour, which Foley uses to this day.
Some hard work and some genetic luck
Foley has baking in his genes. His great-grandfather and great uncle were bakers in France. In 2011, Foley and his mother visited family there, including a cousin who is a baker in Dijon. If he could take the trip again now, Foley says he'd focus on the bread. "At that time, I had no interest in bread," Foley says. "I was there for the wine."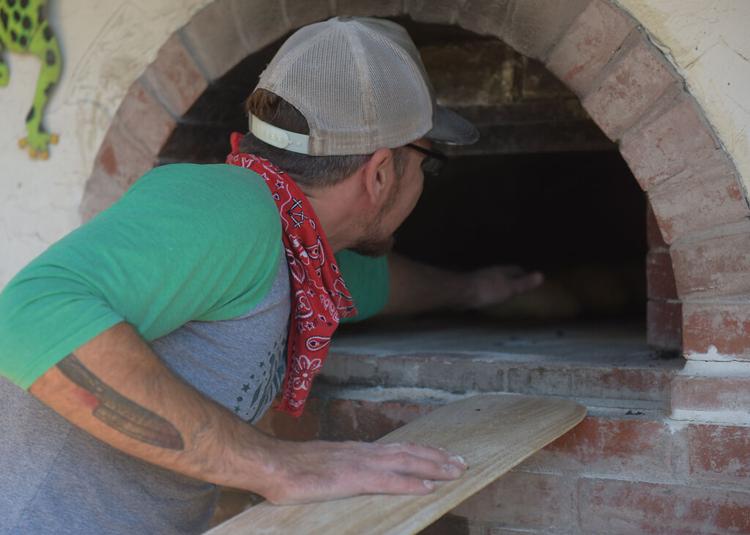 Foley's first baking job was at age 15 at Ellis Bakery in Ashland where he lived with his family. His main task was making different kinds of dough. But after two years of long hours and low pay, he quit.
In subsequent years, Foley has worked at Shakespeare's Pizza, Pizza Tree, Café Berlin, Lucky's Market, Wolf's Head Tavern and Ozark Mountain Biscuit Co. Everywhere he has gone, he has worked with dough. He credits Café Berlin owner, Eli Gay, for first giving him the space to experiment with bread. Six years later, Foley still bakes the restaurant's bread.
Ready to leave his small town behind, Foley left Ashland right after high school. He moved to Columbia and later transferred to MU to study literature after a few years away from Missouri State University. In his 20s, Foley worked at Shakespeare's Pizza with John Gilbreth, who later opened Pizza Tree and hired him. "He's a guy who likes to say yes," Gilbreth says of Foley. "That was something that I really liked about him." Gilbreth says Foley was always an asset at Pizza Tree, where he worked intermittently in his early 30s.
Gilbreth introduced Foley to Knapp, owner of Creekside Mill. In May 2018, Gilbreth and Foley visited the mill to try the oven Knapp had told them about. They were there for 18 hours and stayed up all night beforehand to prepare the dough. They tried to fire up the oven and get it to work. "The bread sucked," Gilbreth says. "We didn't know what we were doing."
Despite the failed experiment, Foley remembers everything he learned that day. And now, each week at the farmers market, customers tell him his bread is the best they've ever had.
Down to business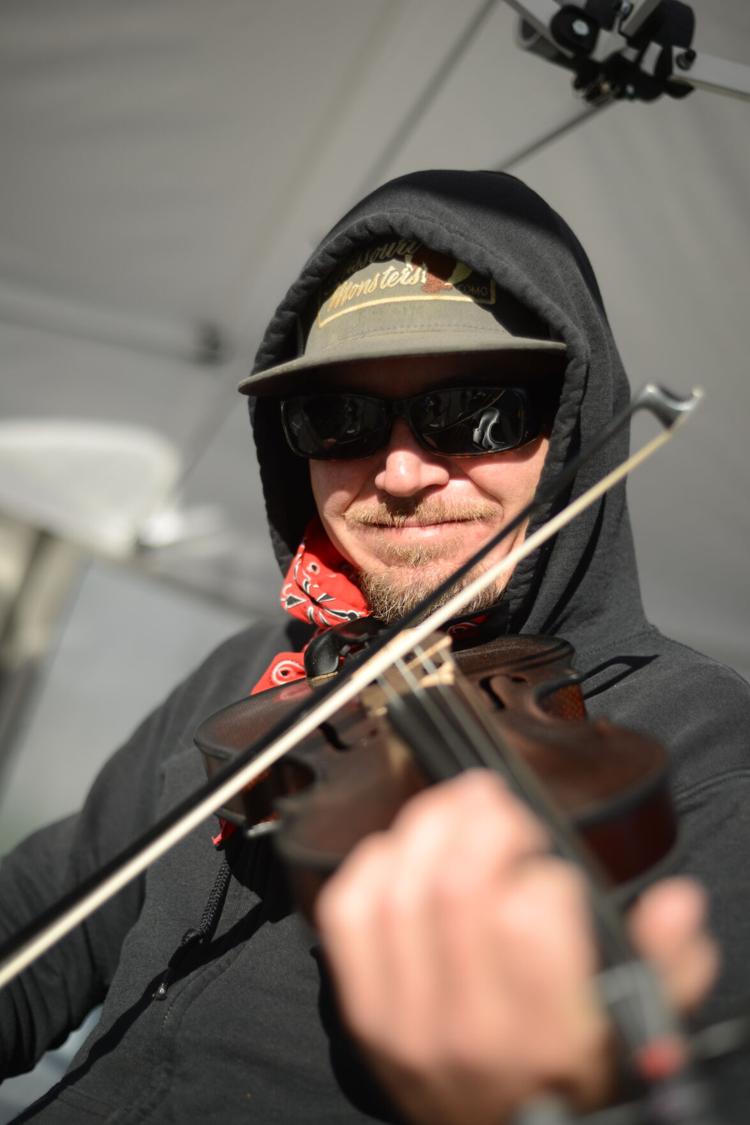 His mother, Trish, helps Foley out at the farmers market. She's a people person while he's more of an Apollo person. After he launched Fiddle & Stone Bread Co. in February 2019, it quickly gained popularity and developed a loyal clientele. The pandemic has slowed down business, but Foley manages.
Foley's customers are familiar with his fiddling; he posts pictures on his business' quirky Facebook page and sometimes plays the instrument himself at the market. Foley's father, John William "Bill" Foley, plays the banjo, guitar and fiddle. In his teenage years, Foley played the guitar before eventually selecting the fiddle nine years ago. Soon, he began fiddling for square dance events in Hallsville.
In mid-October, Foley started a new website to expand his reach. Eventually, he hopes for a brick-and-mortar retail location where he can teach bread-making as well as sell bread. He muses over moving into the loft above the mill's greenhouse to work harder at his craft. He says everything is better since he stopped drinking.
"For the first time in my life, I can honestly tell people that I'm just super fortunate," Foley says. "I found something that I have a knack for and a huge support group between friends, parents and customers. It still blows me away that people buy my bread and enjoy it." 
Related Stories