Karl Otto Henson couldn't wait to get his hands on the new iPhone 7 Plus when it was released in September 2016. The demand for the phone was so high that it sold out immediately. Eager to get the latest model, he came up with a reasonable plan: buy an iPhone 7 to use, then sell it once the Plus he'd preordered was in stock. For Henson, what started as a simple desire to sell his phone escalated into shots fired and an arrest — and the state's first case in which a gun owner attempted to defend himself with the new "stand your ground" law.
The 23-year-old's iPhone 7 was listed on Facebook for about a month when 20-year-old Devonte Robinson messaged him about buying it. The two agreed to meet at Henson's apartment at Grindstone Canyon, an off-campus student-oriented housing complex, but Henson postponed the deal when he was unable to clear his data from the phone.
They rescheduled the meeting for Jan. 23 and met in the front yard of a white two-story duplex in a cul-de-sac on Riva Ridge Court in north Columbia. When Henson first handed Robinson the phone, he says Robinson commented that he needed to get his SIM card and walked behind the duplex. After he returned and examined the phone again, he took off running with it behind the duplex, Henson says. Henson had a gun. He took it out, chased Robinson and shot at him — seven times. Henson watched him fall to the ground as he ran through a field before getting up and taking off again. At the time, he was unsure if he hit Robinson.
When officers arrived at 5:25 p.m. in response to a call about gunshots, they found Henson's handgun in the back of his car. (No one would comment on the type of handgun). They searched for Robinson but were unable to find him until they were told that a man with a gunshot wound to his left heel had checked into University Hospital.
"The only reason I thought it was OK to shoot at him while he was running away was because of what happened with the new year with the gun law change," Henson told Officer Spirit Stevens, according to the probable cause statement, the fact-based written account of the evidence and circumstances provided by law enforcement. "Something along the lines of 'the old law, you weren't allowed to shoot somebody when their back is turned to you,'" Henson says. He was detained and charged with armed criminal action and first-degree assault. There's no record that Robinson was charged.
The shooting happened 23 days after Missouri implemented SB 656, which contained a new law, commonly known as "stand your ground." It allows a person to shoot if they feel their life or someone else's life is threatened and they have no alternative. A person cannot, however, use force to protect property.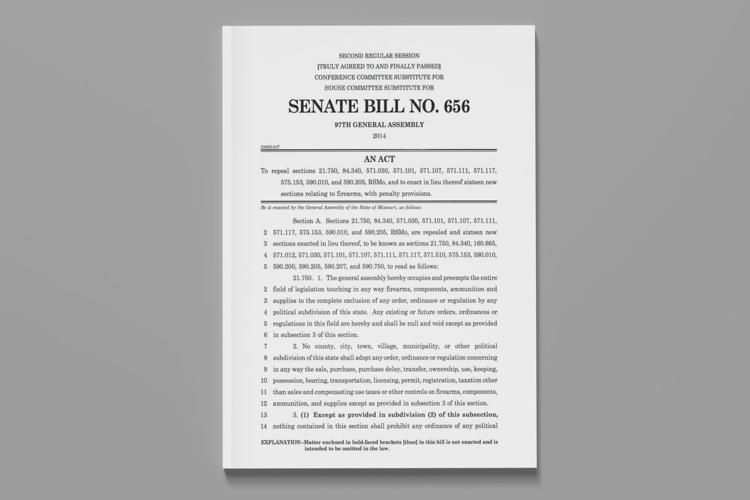 The law was met with controversy, confusion and lots of opinions. Supporters say it gives citizens more power to defend themselves. Opponents worry that it creates a dangerous "shoot first" mentality.
"The default is: Consider everybody armed," says Caroline Light, author of a new book, Stand Your Ground: A History of America's Love Affair with Lethal Self-Defense. "It escalates confrontations that could have been solved by reason."
In reference to Henson, Tim Oliver, a concealed carry class instructor in Columbia, says "This guy is the perfect example of somebody who just had no business carrying a gun without knowing the law." Oliver teaches his students not only how to shoot a gun but also when to shoot.
A former conceal-carry instructor named Mike Stassi stopped teaching after Missouri, in 2014, lowered the legal age for obtaining a concealed-carry permit from 21 to 19. Of SB 656, he says, "It's got to be one of the dumbest things that the Missouri legislature ever did," he says. "You have people buying a gun and not knowing what the law is. It's like buying an automobile and not knowing how to drive."
KNOWING THE LAW
On the evening of March 7, handouts and business cards sat as placeholders on tables in a conference room at the Best Western Plus in St. Charles. A few people flipped through the handouts as new arrivals signed in near the door. All had something in common: an interest in knowing their gun rights. "I'm putting on a seminar simply because I've gotten a lot of calls from clients since the laws have changed," says the instructor, Wayne Schoeneberg, a criminal defense attorney, as the seminar begins.
Now that the state no longer requires firearms training in order to own a gun, education is up to the individual. Training reduces the risk of making a serious mistake, Schoeneberg tells the 20 or so men and women in the class. They are mostly white and middle-aged. "If force is ever used, the fact that you had the training will be to your benefit when law enforcement assesses your situation," Schoeneberg says.
A trained gun owner is more likely to understand the ever-changing laws. For years, Missouri operated with the "castle doctrine," which allowed a person to shoot an intruder while inside his or her own home if there was a perceived threat to his or her life. The law required a shooter to "retreat" before firing. The new "stand your ground" law, which went into effect Jan. 1, removed the retreat requirement and allowed for such shootings in public places, not just the home. "I worry about the "castle doctrine" and the "stand your ground" doctrine because I think that people think this is a license to do more than they're really allowed," Schoeneberg tells the audience.
Schoeneberg previously defended a former sheriff's deputy in a "castle doctrine" case. He was found not guilty. The deputy's wife had gone out to the couple's garage one morning to go to church when she found a drunken man in her car. She ran back inside and told her husband that she was scared. In response, he grabbed his handgun, called 911 with his name and location and said, "You better get somebody out here before I shoot this bastard." He shot the bastard.
A blond woman in a purple shirt who was sitting toward the back of the room raised her hand. "I had a girlfriend who lived out here in one of the random, isolated subdivisions, and she came home and she found a dude taking a shower in her shower," she says. "If she had ran and got her gun and shot at him, would that have been, you know? 'Cause she feared for her life."
Schoeneberg says that for the "castle doctrine" to apply, the man needed to have entered and remained unlawfully. "The question becomes, then, is it reasonable to shoot a naked man in your shower?" Several people laughed.
At the end of the seminar, Julianne Leimkiller, an instructor at Stellar Concealed Carry, thanked Schoeneberg for reaffirming that gun owners are "still responsible for knowing the law." She told him, "Unless you're trained or unless you take the time to read the law yourself and understand it, how are you going to be able to quote it if you're standing there with a smoking gun?"
THE WAITING GAME
After spending about a month in the Boone County Jail, Henson was released on home detention. He now lives at his parents' home in House Springs, Missouri, while he is awaiting trial.
Before the incident, Henson was a junior studying fisheries and wildlife at MU and working at MC Sports, a chain sporting goods store. Now, he faces felony charges. He used to go to a recreational shooting range in Columbia every week, but lately he says he tries not to think about guns because as a condition of his bond, he can't be around them. If convicted of a felony, he may never own one again.
Although Henson says he thinks he is going to win his case because he has "the best lawyers in the Midwest,"— his attorneys are Nicholas Williams and Thomas Dudash, both based in St. Louis — he worries he will lose his rights to own a gun and vote if convicted. "I mean, this is going to take a lot of my basic American rights away for defending myself, if you ask me," he says.
Henson had heard that prosecutors wanted Robinson to testify against him. Vox reached out to Robinson to discuss the incident and upcoming court case but despite repeated efforts, was unable to reach him for comment.
The next hearing is scheduled for May 11. Apart from court visits, Henson says he has no intention of returning to Columbia. When asked how Vox reporters could reach him to conduct a follow-up interview, he offered his email. He'd just gotten a new phone, and he couldn't remember the number.