Everyone has always told Renu Olson that she had a knack for cooking. Finally heeding her friends' compliments, she teamed up with her husband, Rob Olson, and opened Nuu Thai food truck, a mobile trailer serving dishes similar to the ones Renu grew up with in Thailand. Nuu Thai dishes out chicken and peanut sauce, pad thai, drunken noodles and more in the Macadoodles parking lot.
Renu and Rob's three kids — 19-year-old Levi, 16-year-old Luke and 13-year-old Yada — also help to staff the 8-by-16 kitchen and take orders at the window. Together, the Olson five prep, cook and serve to locals with a more international palette.
For Rob, the best part of the business is doing it as a family. "We have our ups and downs, of course, but it's kind of fun to be together in the food trailer," he says. If you ask Luke, the middle child, what his favorite part of working at the food truck is, he'll tell you with a big grin that it's "eating the food."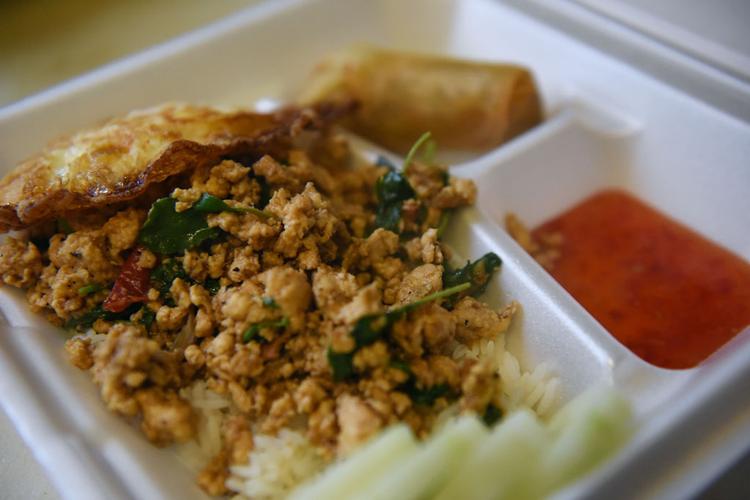 Nuu Thai — inspired by Renu's nickname, Nuu, and pronounced like "new" — quietly opened while college students were away this summer, so it's possible that folks who were out of town might not have noticed it. The truck has limited operating hours and is open only from 11 a.m. to 7 p.m. every Saturday. Staying open more would be tough, if not impossible, because Renu and Rob have full-time jobs, and the children have school during the week.
Monday through Friday, Rob works in the information technology services division for the State of Missouri in Jefferson City while Renu chases kids during her workweek baby-sitting.
Despite the loaded schedules, Rob and Renu began to put the idea of a food truck on paper back in December when they started the process of opening a business with the city. Six months later, they opened and immediately ran into a technical issue with the trailer that caused them to close two hours into their first day.
Luckily, there haven't been any major problems since, and business is doing well. "It's been good," Rob says. "Every week we were doing a little bit better, and now, we've kind of leveled off."
The couple says they think the heat could be a reason the number of customers has steadied, but support from local establishments keeps the Nuu Thai owners optimistic. They've received continued requests to sell their food at different businesses and events around Columbia.
In the future, Rob says one goal is to "make it through the winter," as he and Renu share a laugh. "To be able to sell at least one or two weeks when it gets cold. But maybe by next summer, open another day — maybe during the week or something," he says.
If you go, make sure to try the basil chicken or pork with rice, fried egg and cucumbers. It came highly recommended from Luke and Yada. Renu says she could "eat that every day."