Cecil Owens bought not one, not two, but three engagement rings to propose to Tabitha Atterberry. The first two were for Atterberry's daughters, ages 5 and 6, who couldn't stop smiling when he knelt down and asked to be their daddy. The final ring was for Atterberry herself.
She said yes.
Before Owens and Atterberry can tie the knot next September, the Fulton couple have a lot of decisions to make, including what their budget will be.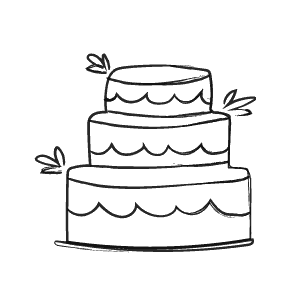 The cost of a wedding has risen over the past six years, now averaging $33,931. With the price tag climbing, so too has the number of people taking out personal loans to pay for the big day. One-third of couples getting married between 2018 and 2019 planned to borrow up to $10,000 for their wedding, according to a poll by LendingTree. This brings the national average wedding loan to $16,000 — roughly the same price of a 2020 Nissan Versa. CNBC reports that 11% of engaged couples who are planning to borrow will take out loans of $50,000 or more.
Online lenders are issuing up to four times as many wedding loans as they did a year ago, but not everyone agrees wedding loans are a financially smart move. "It's not about being cheap," Atterberry explains. "It's about knowing what we can and cannot afford."
Jessica Humble is a certified financial planner and senior private banking advisor at Landmark Bank's downtown location. She categorizes a wedding as a luxury item and doesn't recommend taking out a loan. "Culture-wise, we think it's great to have a huge wedding, invite lots of people," Humble says. "But to start off a marriage in debt, that puts a ton of strain on a new couple, and I just don't think it's worth it."
So is it worth it? That's the question Atterberry faces as she jots down guest names and tries on dresses. With her job at a daycare and Owens hoping to start his own business, extra spending money is hard to come by. It's tempting to allot a giant budget to the wedding, but there other investments they'd like to make. "That's actually taking money out of our budget that we could put toward activities our kids could do or moving to somewhere other than an apartment where they have room to run," Atterberry says.

Despite the financial hardships a personal loan can create, sometimes the prospect of a perfect big day is too great to resist. High Ridge, Missouri, resident Nicholas Tindall knows this well. Married in September 2012, Nicholas and his fiancé took out a $5,000 personal loan with a payment plan of a couple hundred dollars per month. Having already saved about $35,000, they hadn't expected to need loans when they started planning their wedding. But when a reception at Busch Stadium raised their budget to roughly $40,000, Nicholas and Amanda realized there wouldn't be enough money in the bank when the bills arrived.
When a loan became an option, they were relieved that much of their payment stress could go away. "I was running out of money," Nicholas says. "I didn't know where to get it from." With the help of cash wedding presents and a sizable tax return, they paid off the loan in six months.
Not all couples are fortunate enough to pay off their loans quickly, in part because most loans accrue interest over time. As the winter season unfolds, plenty of couples will consider how to pay for their nuptials. Whether a blowout party or an intimate gathering, the "something borrowed" for many couples becomes the money they use to afford the big day.
Related articles