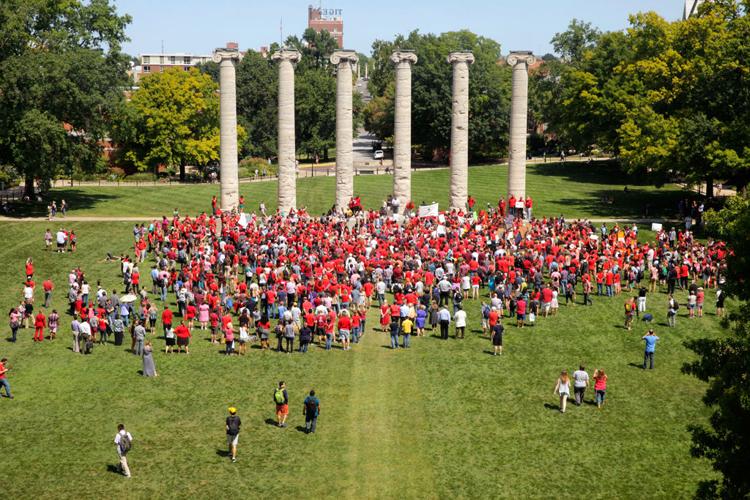 The abdominal pains shot through her like nothing she had experienced before. Natalie McCabe, an MU doctoral student in the Department of Theatre, woke up at 3 a.m. and immediately knew something wasn't right. And then the hemorrhaging began.
McCabe was having a miscarriage. It was Monday, Aug. 17, just three days after MU graduate students received an email from the university informing them they were losing their health insurance.
The child was supposed to be her second, but McCabe's body had different plans. Eleven weeks into her pregnancy, she knelt on her bathroom's tile floor in the early morning and attempted yoga poses to relieve the pain. There was a graduate meeting planned that day at noon to discuss what the students were going to do about their insurance. McCabe planned to attend, but her situation made it impossible. "I had other very immediate concerns, so I never made it to that meeting," McCabe says.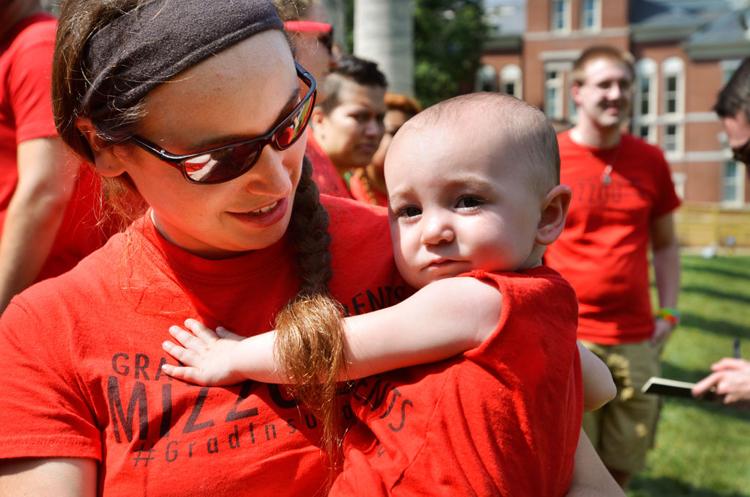 She knew she needed to go to the emergency room, but she no longer had insurance to help pay for the visit. McCabe logged on to the MU website and signed up for the student health insurance plan out of her own pocket with the hope that the insurance would start working right away. For the fall semester, this coverage would cost $1,240. "I delayed going to the ER, so I could have health insurance," McCabe says. "But I didn't have health insurance through someone else's fault — not my fault." 
She says she went through a lot of negative emotions that day. She felt sadness for herself and anger toward the administration. The crying didn't hit her until later, McCabe says, because she was focused on dealing with the immediacy of her situation. She was ultimately able to cancel the out-of-pocket insurance and sign up for MU's reinstated plan, which went into effect a few days later on Aug. 21. But the timing of the changes couldn't be worse. "You do everything right, but then your body fails, and administration fails with you, too," she says. McCabe was one of the almost 6,500 graduate and professional students who were blindsided by MU's decision to end health insurance coverage. None of the governmental bodies for graduate students that work with the administration were notified prior to Friday, Aug. 14. 
Rachel Bauer, vice president of MU's Graduate Professional Council, was on vacation with her parents in Maryland when she received the email. Bauer handed the phone to her mom in shock and asked her to read the email out loud to confirm that it was true. "I just didn't think that the university would do something like that," Bauer says.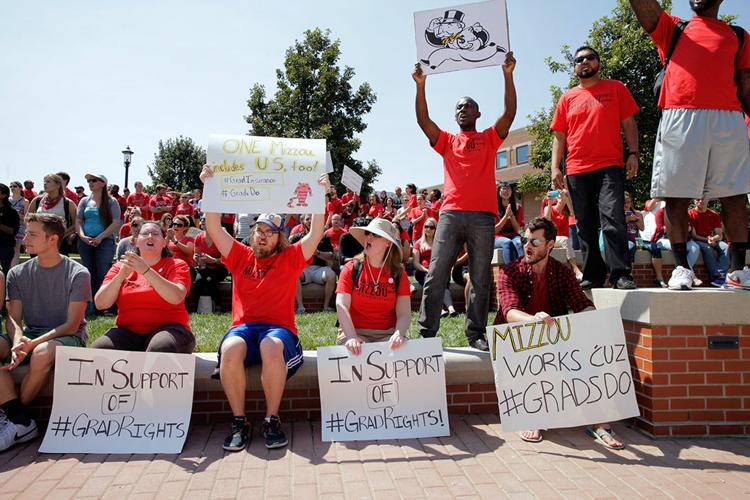 The announcement was especially problematic for international graduate students because MU requires them to have coverage. This costs $1,865 for the annual premium coverage and the administrative fee. Jacqueline Gamboa Varela, a doctoral student in the Department of Chemistry, is from Chihuahua, Mexico. "My thought process was that I need to start saving money," she says. "It's not like domestic students where they can choose whether they want to be added onto the student health insurance. For us, it is automatic when we enroll." 
To make matters worse, it's hard for international students to get jobs outside of their appointments at the university, which makes it even more difficult to save money. Gamboa Varela has a teaching assistant position at MU but says she can't get another job unless she goes through the Curricular Practical Training, a temporary employment authorization for foreign students in the United States. This authorization allows for off-campus employment, but these jobs have to be related to a work or study program. 
The end-of-coverage decision followed the MU Office of Graduate Studies announcement in June 2015 that graduate students who have quarter-time assistantships would not get a full-tuition waiver after fall 2016. Instead, these students would have to pay 50 percent of their tuition. Quarter-time assistantships require 10 hours of work every week with a minimum stipend of $6,000 per academic year. If students with quarter-time assistantships do not have a tuition waiver, they will pay close to $1,250 as a resident and $3,600 as a nonresident for a full-time course load of nine credit hours per semester. "I don't think you should be going into more debt in graduate school," Bauer says. "I know a lot of students who take out loans just to get by."
Bauer receives the minimum stipend for a half-time assistantship at MU. She receives a full tuition waiver and earns a little more than $12,000 per year for 20 hours of work per week. But Bauer says she normally works more than that. "What we are paid is not really enough to live 12 months out of the year," Bauer says. "My money is taken up in just bills every month." 
Once the health care coverage change was announced, graduate students met that Monday, Aug. 17, to decide the proper course of action. "It seemed to have taken everybody by surprise," says Cheryl Black, director of graduate studies and professor in the Department of Theatre. "Everybody seemed to be trying to get a handle on it.
Two days later, the Forum of Graduate Rights, which was created in response to the health insurance email, released six demands. These demands included a tuition waiver regardless of the assistantship hours or position, pay above the poverty line for all graduate students, a fully subsidized student health care plan, on-campus housing at an affordable price, course fee waivers and on-campus childcare.
The Forum allowed the administration six days to come up with a plan to meet these demands. During that week, graduate students also sent emails to administrators explaining why losing subsidies had such an impact on their lives. McCabe emailed former Chancellor R. Bowen Loftin, former UM System President Tim Wolfe and the UM System Board of Curators. The first response she received was from Wolfe. She says his assistant sent an email addressing her by the wrong name, then sent her a second email saying, "President Wolfe would like to retract that email." Then she got a third email with the exact same text as the original email but with the correct name. The UM System Board of Curators responded later. Loftin never did.
The former MU chancellor reversed the decision to end the year's health insurance coverage Aug. 21, a week after the announcement that the subsidies would be taken away. Still, the students did not think that was enough. Crowds of graduate students, faculty, children and supporters streamed out of classrooms and buildings across MU during the first graduate student walkout of the year on Aug. 26., the second day of the semester. The group stood in solidarity, many decked out in red as a sign of protest against the university.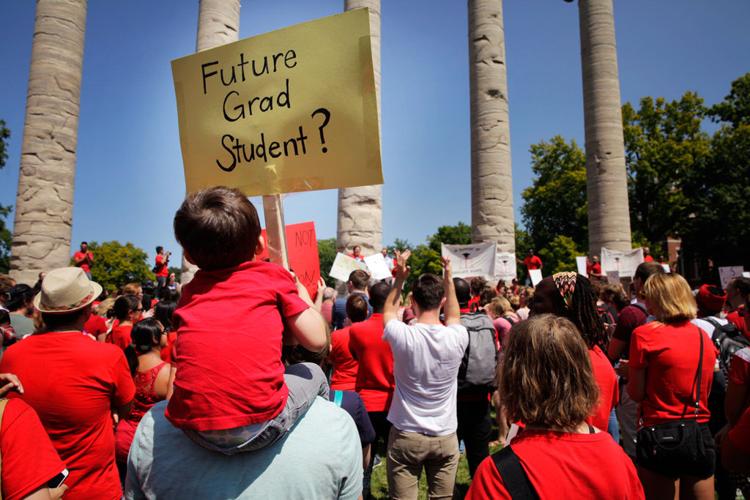 McCabe; her husband, Jean Tartiere; and their daughter, Niamh, were in the group that marched at noon, starting from Francis Quadrangle, around Jesse Hall and ending at Traditions Plaza.
A colleague took one of the red shirts and sewed it into a dress that McCabe's toddler could wear for the protest. McCabe's family was one of the many that could be heard across campus screaming chants such as, "M-I-Z shame on you." One child wore a red shirt and held a sign that said, "Grad student rights affect me too!" The rally continued for the rest of the afternoon as people filtered in to listen and sign petitions in support.
The university created a health insurance task force to present students' recommendations in place of the current insurance plan.* There are four graduate students on the task force: an international student, a student with the lowest stipend, a parent and a first-year graduate student. 
"We tried to put together four names that were as broad of a representation of graduate students on the task force," Bauer says. She is one of the four on the force and represents those who receive the lowest stipend. Together, the four individuals were responsible for creating a plan that was originally supposed to be given to Loftin by Nov. 30. Instead, the task force presented its plan to Interim Chancellor Hank Foley on Nov. 16. 
Foley reviewed the recommendations for health insurance to come up with a course of action. The three recommendations the group presented were to provide a financial fellowship to graduate student employees, increase stipends or provide a silver-level insurance plan option through the Affordable Care Act. 
*Correction: A Previous version of this video incorrectly explained why University Village closed. The apartment complex was demolished after a balcony collapse in February 2014. 
"We just want to be compensated for the work we are doing," Bauer says. "It's not that we aren't willing to work. We are. I don't know a single person who is not in it for the long haul to improve this university, and it would be nice for the university to acknowledge that." 
Outside of the health insurance issue, college departmental fees can take up a large chunk of graduate student stipends. For MU students, there is usually a per-credit-hour course fee when registering for classes. A graduate student will get tuition waived but will still have to pay these fees. Kristofferson Culmer, president and CEO of the National Association of Graduate-Professional Students and a graduate student in the College of Engineering, also makes the lowest stipend. In the College of Engineering, fees are $82.40 per credit hour, according to the MU cashiers office. So if an engineering graduate student takes the maximum of nine credit hours, the student will have to pay $741.60 per semester in fees. Also, the Engineering Excellence Fee, passed in Spring 2014, is $73.50 per credit hour for nonresidents and $31.50 for residents. 
Graduate students, specifically teaching assistants, define these fees as "being charged to receive their own paychecks," according to the Forum on Graduate Rights website. "I'm done taking classes; I do mostly research," Culmer says. "Graduate students aren't using the same resources as undergraduates. So charging a student for resources they aren't using is a bit unfair." 
The graduate students want better housing in addition to the waiving of excess college course fees. McCabe was pregnant with Niamh when the University Village apartments balcony collapsed in February 2014. Although she was living in a different building at the complex, she still had to move apartments two weeks before her due date because MU vacated all units. McCabe and Tartiere moved to Tara, another university-owned apartment complex.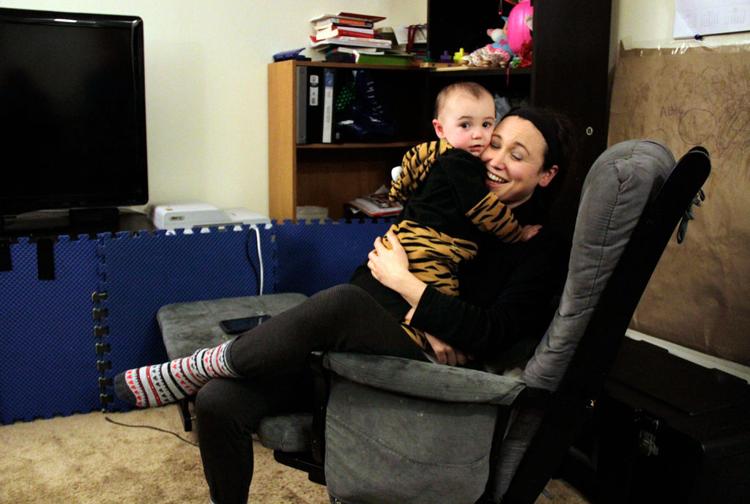 "Housing that gets maintained better is the first goal," McCabe says. As a precaution, all the balconies in Tara were torn down after the University Village collapsed. But McCabe says that the rent stayed the same. "Sometimes it seems that when they come across things that are going to cost money, they ignore them or eliminate them," McCabe says. "There was a pool in Tara, and now, it is completely filled in with concrete." 
On top of more and better housing, there is a need for on-campus early childhood care. McCabe's 21-month-old daughter is currently not enrolled in childcare. Both McCabe and Tartiere work on campus. It's difficult for them to find affordable childcare near campus that fits their daughter's age group, so they alternate watching her throughout the day. This is increasingly difficult as Niamh becomes older and more active. 
"There is not a feasible option for us right now, especially one that meets our time and budget," McCabe says. She and Tartiere share the same office, and they have a playpen and toys set up so that they can watch their daughter on campus. But not all graduate students have the option to bring their children to work. 
Students and supporters also want to establish a union on campus for graduate student workers. Eric Scott grew up in a union household with his father in the St. Louis Carpenters union, renamed the St. Louis-Kansas City Carpenters Regional Council. Scott's wife is a graduate student at the University of Illinois, where the graduate students have been unionized since 2003. Scott has wanted a union at MU since he came to campus in August 2013. He just didn't know if he was the right person to lead the charge. When the health insurance situation started at the beginning of the fall semester, he decided it was time and was elected as co-chair of the Coalition of Graduate Workers. 
"I don't think you should be going into more debt in graduate school." — Rachel Bauer, Vice president of MU Graduate Professional Council
The support for graduate students to form a union is widespread across the university. Heather Carver, chair and professor of the MU Department of Theatre, sees graduate students as workers, too. "The previous chancellor was not on board with understanding the importance of graduate students at the university," Carver says. "(Graduate students) feel the need to have a presence and to be heard." 
Scott formed the group with Connor Lewis on Aug. 18. "The purpose of the coalition is two-fold," Scott says. "The first is that we want to get a contract in place that has enumerated provisions for graduate student workers. The second thing is that we want to be a social movement." This is a large reason why graduate students supported Jonathan Butler and Concerned Student 1950. 
On Nov. 2, Butler announced he would partake in a hunger strike until Wolfe resigned from office. The Forum on Graduate Rights announced that graduate students would hold another walkout in solidarity with Concerned Student 1950 on both Nov. 9 and Nov. 10. "Black graduate students are graduate students as well, and these racist incidents that we have been having affect them," Scott says. "It was just important for us to stand with students of color for that reason." 
Classes were canceled across many departments on Nov. 9 as people gathered on Mel Carnahan Quad. At 10:15 a.m., Wolfe announced his resignation, and Butler ended his eight-day hunger strike. Six hours later, Loftin announced that he would be stepping down from his position as MU's chancellor. Despite these announcements, graduate students continued to participate in the two-day walkout to raise awareness of their rights and their desire to create a union.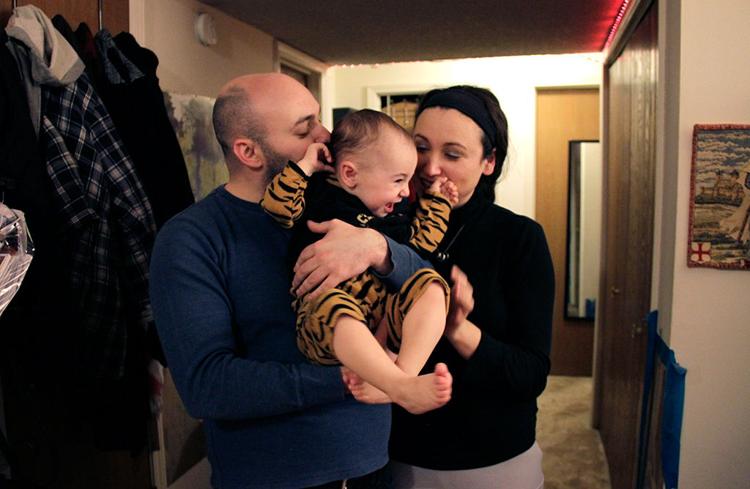 The first step in forming a union is to get people to sign a card saying they want a union election vote. The graduate students have to show that there is enough support on campus before an election can occur. In order to move forward, a minimum of 30 percent of the graduate student body needed to sign, and the coalition has since received a majority of more than 50 percent interest in the union. 
The next step is to hold a third-party election, which students must work with the university to arrange, Scott says. This is proving to be more difficult because there is a legal gray area under the Missouri constitution regarding whether graduate students have a legal standing as workers, and there is currently no legal precedent for this, he says. "We have a constitutional right to have an election, but there is no clear process for that," Scott says. "We're continuing to press for our constitutional rights." 
The coalition is currently working with its lawyers to build a case that grad students who work for MU should be considered employees. Scott is hoping for the dispute to be resolved within the next couple of months, so they can host a union election. If they are not approved as employees to have an election, the coalition will still keep fighting for the right to form one, Scott says. Until then, the coalition meets weekly to work on its bylaws and to plan further action and organization. 
The union would help ensure that the same health insurance issue wouldn't be able to happen again because of the contract it would hold with the university. Although the university now promises graduate students health insurance through the next fiscal year, Scott doesn't believe this is enough. "I don't care about their promise; I care about having a union," Scott says. "If we have a union, we won't need a promise because we will have a contract."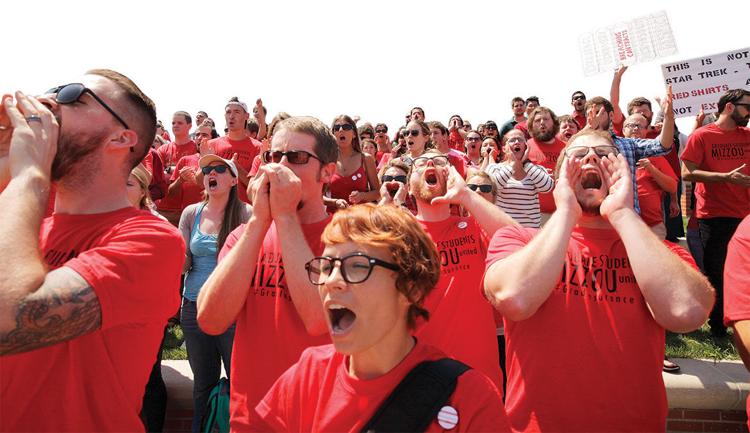 Loftin announced Oct. 14 that the university would guarantee health insurance for all graduate students in the future. McCabe isn't convinced, though, that losing something so quickly won't happen again in the future. 
 "We had something that was in writing (in our job contracts)," McCabe says. "That wasn't listened to, so why should I listen to the chancellor? Those are words, so until I see that put into action, I won't believe it." 
The university also released a statement on Nov. 5 stating that a tuition waiver would be guaranteed for graduate students through fall 2017 and that those accepted into programs are grandfathered in if further changes occur. 
The uncertainty and back-and-forth about what graduate students will receive in their contracts throughout the next couple of years has made the recruitment process difficult. Carver was as shocked as the students when the health insurance announcement happened. "No one, even faculty, knew it was going to happen," Carver says. Not only did her department worry about the current graduate students but also the graduate students they had just recruited. "We weren't going to make promises that we couldn't keep with their contracts," she says 
Carver has been working with administrators and on a graduate student task force to help make life better at the university. "We depend on (graduate students)," she says. "A healthy person makes for a good person on the job." The English Department has felt the uncertainty surrounding the graduate programs. Applications are down 25 percent this year, according to Bill Kerwin, the director of graduate studies for the department. He believes this is partially due to the climate of instability on campus. 
Graduate students across campus have lost confidence in the administration. McCabe loves her department, but with how betrayed she has felt by administration, she can't say that she would choose the university again. "I don't have any faith in this administration, and as an outsider looking in, I would rather go to a university with a better track record," McCabe says. Health insurance is a large reason why Bauer and many other graduate students chose MU. "Ethically, I'm not sure I can recommend this university to someone unless this is fixed," Bauer says. "It makes up for the low pay." 
This betrayal by administration has haunted McCabe since the day she miscarried. After her husband and doctor persuaded her, she finally went to the ER, about six hours after the miscarriage started. That wasn't the end of her health problems, though. 
By the numbers: SEC graduate students
How MU stacks up against conference rivals when it comes to tuition waivers, health insurance and union
Tuition waiver


Health insurance

Unionized

Univ. of Missouri

Full waiver for both quarter-time and half-time assistantships


University pays for some half-time assistantships; quarter-time must pay 50 percent

Working on forming a union

Univ. of Alabama

Full tuition waiver for half-time assistantships; 50 percent tuition waiver for quarter-time assistantships


Free for half-time assistantships; quarter-time depends on program

No

Univ. of Arkansas

Half-time assistantships get full tuition waiver; quarter-time assistantships pay in-state tuition


Half-time assistantships get 60 percent of plan paid for by university; quarter-time must pay for plan on their own

No

Univ. of Florida

Tuition waived for both quarter-time and half-time assistantships


University does not pay for plan. The minimum plan is $2,500 per year, and the maximum plan is $5,000 per year

Yes

Univ. of Mississippi

Half-time assistantships receive full tuition waiver; quarter-time assistantships receive 75 percent tuition waiver




University pays plans for both quarter-time and half-time assistantships

No

Texas A&M

University waives out-of-state tuition and fees but requires in-state tuition and fees


Half-time assistantships eligible for university to pay; quarter-time assistantships are not eligible

No
In early October, she learned that she still had placental tissue inside her that was causing problems. McCabe had a dilation and curettage to clear out the uterine tissue that would cause further complications. Her health insurance was reinstated, so she could have the procedure, but she says that she would not have consented to the procedure without insurance, even though it was badly needed. 
There have been big changes in administration with an interim chancellor and UM system president taking the reins. Foley reviewed the task force's recommendations and announced on Jan. 27 that the university will raise graduate student stipends to at least $18,000 for the 2017-18 school year for half-time assistantships. All other assistantships will see similar raises throughout the next two academic years. Graduate students showed up to Foley's speech dressed in red. Although many are happy about the increase, concern lingers. 
It's a step in the right direction, but this isn't the end of graduate students working for progess. The Coalition of Graduate Workers is continuing the fight to form a union. No longer will they rely on the university to give them the benefits they believe they deserve. Together, clad in red, the graduate students are moving forward. There's no stopping them.
Rachel Bauer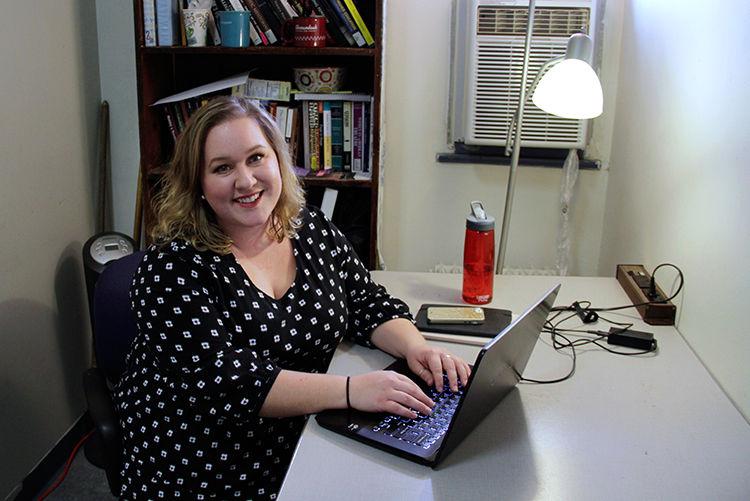 Bauer is vice president of MU's Graduate Professional Council and, as a teacher and teaching assistant in the theatre department, makes the minimum stipend for this halftime graduate assistantship. She makes a little more than $12,000 for nine months of work, at least 20 hours per week. Bauer is one of four on the task force for the Forum on Graduate Rights.
Eric Scott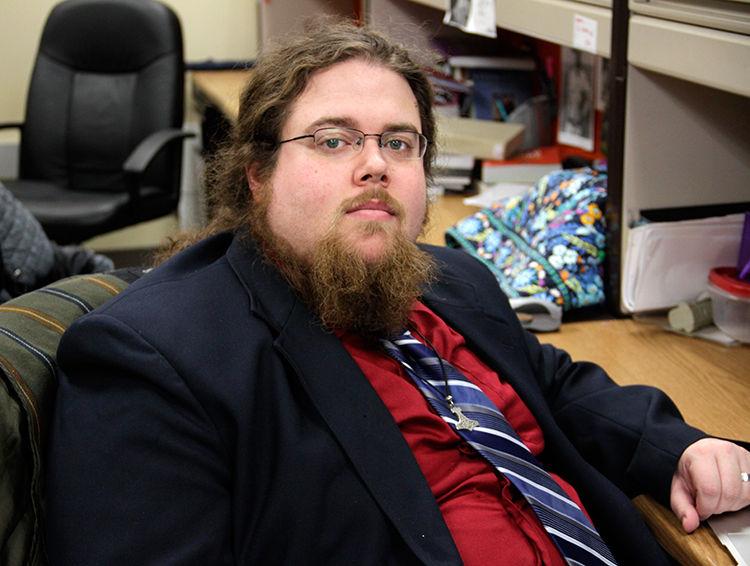 Scott is co-chair of the Coalition of Graduate Workers, which he formed with Connor Lewis on Aug. 18, 2015. He is working to establish a union for MU graduate students like himself. His father was in a carpenter's union in St. Louis, and his wife is a graduate student at the University of Illinois, which has been unionized since 2003.
*Correction: A previous version of this article misidentified the group that created the health insurance task force.