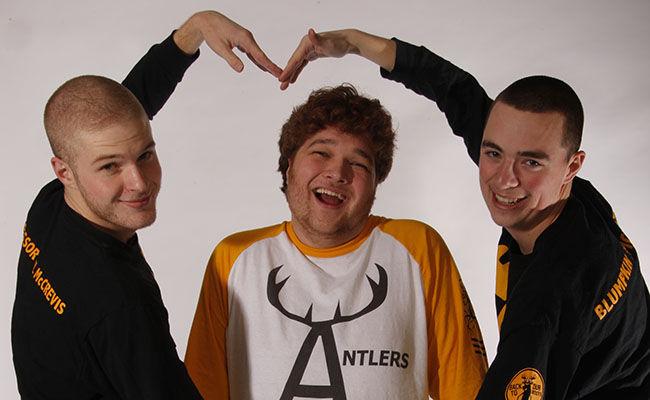 It's a song and dance they play every game. The most notorious cheering section in college basketball comes head-to-head with the event staff charged with containing their ESPN-worthy antics.
Ninety minutes ahead of a preseason, out-of-conference meeting with Xavier, roughly 20 Antlers munch bite-sized cupcakes and await the arrival of their leader. When the Grand Poobah arrives, a golden-vested woman named Cathi welcomes the MU senior with suspicion, "How did you get in last game?" she asks, having missed the Poobah at the previous game.
The lobster-shirt-wearing, karate-belt-baring, definitely-not-caring Julian Vizitei responds, stammering, "I was late, I had important things to do."
Cathi pats him on the shoulder of his ridiculous button-down as he tries to hide a smirk. She reiterates that they've been good lately, hinting that they had better keep on their best behavior. Julian nods, but the mischief hasn't left his smile.
In his right hand he carries a plastic cross, which he's been using to anoint fellow Antlers for the past hour. It's finally piqued the curiosity of senior Antler Brendan Simpson.
"Why do you have a cross?" Brendan says.
"Because, I'm a yellow belt!" Julian responds, as if it's obvious.
"But, why the cross?"
"Oh, just because."
The doors open, and golden-vested staffers retreat from the entrance to the ticketing checkpoint just inside the arena. The Antlers bring copious signage to each game, all of which must be approved by hawk-eyed event staffers looking for clever innuendos and precarious props that don't comply with university policy.
It's all very TSA-like. No, there aren't metal detectors and full body scanners, but the Antlers must be scrutinized in excess by ritual of their desire for publicity. The frisking has been a bit more frisky since the ejections last year. As the only MU fans to consistently show up 90 minutes before tip-off, they allow event staff plenty of time to ensure that the university doesn't end up on ESPN for the wrong reasons. Again.
As the Antlers pass through the turnstile one-by-one, watchful eyes fix on their matching black long sleeves. Each Antler uniform sports a personalized nickname that must be approved by the herd of event staff. Julian's shirt reads "LeprechaunXXXX" across his shoulders because "Leprechaunorrhea" was redacted by event staff duct tape at the University of Missouri-St. Louis game in early November.
To the group's relief, Dr. Duke E. Stains and Blumpkin Spice Latte make it through. So does Fart Garfunkel.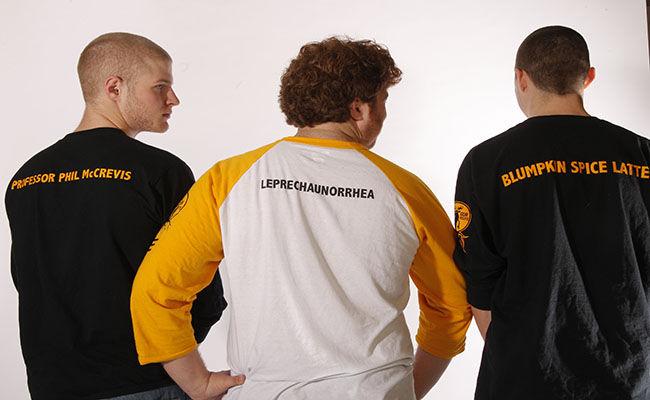 This time, Julian's plastic cross is the only casualty. A tall man in a sleek gray suit confiscates the dollar-store item and walks off with it. The exchange catches Cathi's eye, and she turns to Julian.
"You lied to me!" she shouts after him. It's no use. His mind is already on the game.
Every tradition at MU has a purpose. The bars on Broadway serve sloshing undergrads, the Columns give floundering tour guides something to talk about, and the Antlers make life very difficult for visiting teams at Mizzou Arena.
The band of basketball super-fans was formed in 1976, when co-founders Jeff Gordon and Rob Banning were observed mimicking a dance from a Saturday Night Live skit known as the Antler Dance. A sportswriter at the game dubbed the pair "The Antlers," and the name stuck.
Before the final Missouri v. Kansas men's basketball game in 2012, former Kansas coach Ted Owens had some reflections on the most persistent provocateurs of the storied rivalry. "That group of Antlers was completely out of hand," Owens told KUsports.com. "They would call you at your hotel and say terrible things."
The Antler's exist to spice things up. If the university-sponsored basketball cheering section, ZouCrew, is low-level infantry, the Antlers are Seal Team Six.
The dynamic group will happily antagonize opposing football, women's basketball, soccer and other teams as well, but their most drastic measures have always been reserved for men's basketball.
They once dumped a vat of pig blood on Arkansas coach Nolan Richardson. That was after affixing a severed pig head to a chain and swinging it in the air as the team exited their bus. When an Oklahoma coach said the Antlers made him sick, one member approached him at a restaurant posed as a Sooners fan in want of an autograph. When the coach obliged, the Antler lifted his shirt to expose the pronged logo and puked on the coach's feet.   
Through all the pig blood and vomit, the Antlers were relatively unnoticed by the media, and that was on purpose.
"I heard from one of the older Antlers, 'Any publicity for the Antlers is bad publicity,'" freshman Taeler Gunter says.
Last November, the Antlers got publicity — the bad kind. University police ejected them from a game against Gardner-Webb for reciting the decades-old Antler chant: "Scum, scum, scum! Go back to where you're from! And die!"
Two days later, at a game against Indiana University-Purdue University Indianapolis, Athletic Director Mike Alden sent them packing for a "pattern of inappropriate chants."
MU spokesman Chad Moller emailed reporters a list of one-time slurs and cheers that were deemed inappropriate. One such instance involved a new member who, at a game against Southeastern Louisiana, shouted "Raise your hand if you think Hurricane Katrina was a good thing!"
That quote, among other bits of distasteful rhetoric, was republished by The Huffington Post and ESPN; the latter featured the Antlers in a March 2014 segment of "Outside The Lines" about overzealous student sections called "The Art of Noise."
On the wrong end of national notoriety and administrative favor, the band of super-fans decided to make some changes.
"This is actually laughable to me," Alden said then. "But let me just say this: we have high expectations for our students and our staff at the University of Missouri."  According to the Columbia Daily Tribune, Alden would not identify a specific infraction, but offered a generalized statement when questioned by reporters after the game.
So, this January when Alden announced his impending resignation as athletic director, the Antlers threw their support behind an unlikely candidate for the position — themselves. KOMU anchor Mark Kim shot video of them shouting, "The Antlers for AD!" during a home game against Arkansas.
Eighties-era rapper Ice-T once said: "Pimpin' ain't easy, but somebody's gotta do it." Pimping is the term for the Antlers' pre-game taunting ritual. They don't know why they call it that, but because the other 7,830 fans have yet to show up, somebody's gotta do it.
At 1:50 p.m., 70 minutes before tip-off, the Xavier players hit the floor for warmup. About 20 members of ZouCrew sit scattered throughout their priority reserved seating area, which holds 250. While the domesticated bunch study their iPhones and munch 8-dollar popcorn, the Antlers wait just above the section, as close as they're allowed to be until five minutes before the game, when they can flood the remaining seats in the section.
Junior Louis Mahaffey kicks off the pimping. "Did your hairline run away with your basketball skills?!"
"I've got a blank space baby, and that's where your talent used to be!"
"The power of Christ compels you to stop sucking at basketball!"
The Xavier bench chuckles at the jeers hurled their way. Senior Antler Kasey Devine takes notice.
"Don't worry, we'll be closer during the game!"
The verbal jabs land, thanks to the "stat sheet."
The stat sheet is social media stalking at its finest: dirty laundry of every opposing player and coach, with headshots accompanying embarrassing factoids for the entire roster.  The Antlers charged with compiling today's stat sheet have made a few key notes:
"#11 Dee Davis follows 'Daily Sex Supply' on Twitter"
"#15 Myles Davis was forced to sit in 2012 for academics (or lack thereof)"
"#5 Trevon Bluiett – his last name is 'Bluiett' (pronounced 'blew-it')"
"#2 James Farr – A trending thing is Xavier fans think he's "Farr 2 good" – we think he's Farr below average"
"Coach – Married to Christi Mack (like the porn star)"
Armed with knowledge, the Antlers hit harder with their jabs, and the Xavier Musketeers struggle to tune them out.
"If sucking at basketball was cool, I'd be Myles Davis!"
"Hey Remy, wanna make 14 dollars the hard way?!"
"Look at me when we make love!"
Jogging in a line from the baseline to half court and back, the Musketeers give in and crack up laughing at the Antlers. It only provokes them further.
"Your strength coach is kinda fat; that's not a good sign!"
"What does your strength coach lift, doughnuts?!"
"Hey Stainbrook, I have more points on my license than you do all season!"
Brendan targets Xavier guard J.P. Macura, or more specifically, his sister.
Brendan: "Hey J.P.!"
Macura looks up.
Brendan: "Your sister is hot!"
Macura shouts back: "Oh, really?"
Brendan: "Yes! You!"
Macura shakes it off and attempts a three-pointer.
It rims out.
Brendan: "That would've been cool if you made it!"
Although the shoot–around continues, the pimping has died down. This doesn't sit well with Julian.
"Hey, they're still on the court!" he shouts at his fellow Antlers. "Why are you sitting? What's wrong with you?!"
The Poobah leads by example and engages the on-edge guard again.
"Hey J.P.! What did you get on your ACT? Drool?"
"Grand Poobah" pays homage to the cartoon The Flintstones, where the member of the "Loyal Order of Water Buffaloes" is deemed the Grand Poobah. Fittingly, the Grand Poobah in The Flintstones wears a hat with two upturned horns protruding from each side — just like the Antlers logo.
Julian wears no such hat but sports a springy, red mop that only furthers physical and personality parallels to John Belushi in Animal House. And one might expect that the leader of a boisterous cheering section be gaudy, impulsive and carefree like Belushi. But then, one might also be wrong.
Poobahs are selected annually by the Poobah before them. Julian has but one year to leave his mark on the group's history, and it's a position of power he takes very seriously.
"My word goes –— to a point," Julian says. "It's a voluntary organization; they choose to be in the group and trust me to make the right decision."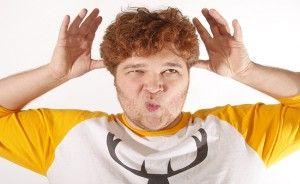 It might be voluntary for them but perhaps not for Julian himself. The Columbia native, former mini-Mizzou member says he devoted "unnecessary time and effort" to Missouri athletics growing up. It's a philosophy that drives many Antlers.
Nowadays, the Poobah devotes time and effort to repairing the group's damaged reputation.
He's not without a sense of humor, though. At the Missouri v. UMSL game, he gave a solo performance of his patented lobster dance during halftime while the entire arena sat and watched. When asked by a member of security what he was up to, he said:
"We live in an even society, and they won't let me be on Golden Girls!"
"Scum! Scum! Scum! Go back to where you're from! And die!"
The Xavier Musketeers receive the traditional Antler welcome as they take the court for tip-off. Mizzou Arena is finally filling up, and the Antlers count down the seconds to the five–minute warning. Devine sounds the battle cry.   
"Mr. Gorbachev, tear down that wall!" he shouts as the 25 Antlers scramble down the reserved bleachers. The tormentors are now less than 20 feet away from the tormented.   One event staffer stands between them, and he seems to enjoy the Antlers. The grinning man in the golden vest is fond of the long time tenants of his section.
"I enjoy them; I think they're a great addition to the fan base," Bill Moyes says. "I like the enthusiasm. They're super Tiger fans."
At every tip-off, the Antlers spout off "Let's go! Tigers!" until the first Missouri point is scored. No matter how long it takes.
Forward Ryan Rosburg gets the tip and drives down the lane but loses possession. Xavier's Stainbrook botches a pass, and the Antlers intensify the chant as Missouri guard Keith Shamburger dribbles toward center court. Shamburger finds forward Johnathan Williams III, who misses a three-point attempt. Xavier rebounds, hits a layup and draws the foul.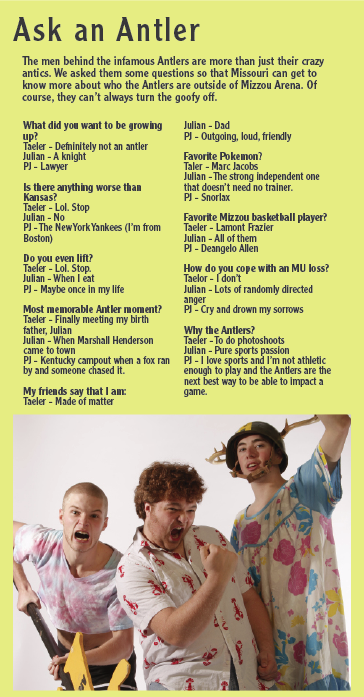 The Antlers urge the crowd to be louder, trying in vain to will the Tigers to a point. Shamburger misses a jumper, Xavier ball again. Xavier's Stainbrook mercifully commits a travel, forcing a turnover. Shamburger feeds freshman guard Namon Wright, who finally nails a jumper.   The game clock reads 16:55. The Antlers have been cheering for five minutes straight. Even the cheerleaders are laughing.
The Antlers are more winded than the players themselves — they never stopped chanting.
At the time of this writing, Missouri ranked dead last in the SEC play, with an overall record of 7-16. Hope initially surrounded the arrival of Head Coach Kim Anderson, the star forward under Missouri legend Norm Stewart. But, for now, Missouri isn't very good.
And Tiger fans let them know it. Missouri ranks 10th in the SEC in overall attendance. Anderson thinks that's fair.
"We need to win games," Anderson told the Kansas City Star on Jan. 31. "I'm happy for everybody that comes and (am) grateful. I hope they bring friends. But you know what? We better win some basketball games. We don't need to be complaining about the crowd. They're great. They're tremendous. I enjoy having every one of them here."
And yet the conviction within the tight-knit Antlers rivals any student section in the nation. Why?
"It's just a good feeling," freshman Antler Bruno Vernaschi says. "Even though everyone else is quiet, we want to be there for our school."   PJ Morin, aka "Blumpkin Spice Latte," a freshman from outside Boston, shares the sentiment.
"I like the idea of impacting the game. If you can't play the game, you should have the ability to impact it another way."
For Brendan, time with the raucous bunch is precious.
"In 20 years, I'll have to sit there instead of cheer," he says.
Taeler is one of the loudest freshmen and perhaps the most provocative. He never feels for the players on the receiving end. "No, absolutely not! They deserve it."
Remorse is not an Antler attitude.
Auditions for the Antlers aren't kind to the socially anxious or easily embarrassed. 
"All of it was a head game for me," PJ says.
Freshmen and transfers interested in trying out are first handed a quiz, with questions pertaining to Missouri basketball lore among other topics. One such question reads: "If you were a peach, what would you want your legacy to be?"
For three weeks, Antler hopefuls are allowed to associate with current members at weekly hangouts called "caps nights."
Those selected for auditions receive an email instructing them to meet at Speaker's Circle at 5 p.m. PJ and Taeler were among this year's crew.
"They brought us into a room in the Arts and Science building and told us the rules: 'No swearing, don't break anything, don't hurt anyone," PJ says. "Basic stuff like that."
Taeler describes the atmosphere in the room as hostile — after all, the audition determines the persona of each Antler for the next four years. Taeler opted to go last, wanting to leave an impression. 
PJ was pulled from the room earlier and arrived in Speaker's Circle to a crowd of passersby and a slew of Antlers yelling questions at him.   One Antler asked: "You and your father made a birdhouse. What type of birdhouse did you make? Was your father pleased? When was the last time you saw your father pleased?"
"It was a very nerve-wracking three-and-a-half to five minutes," PJ says. "There's so much going on so quickly, and you don't know who to respond to."
Each audition is capped by the infamous "15 seconds of fame," a last chance to leave an impression. PJ found a nearby girl and went for it.   "I got down on one knee and screamed 'Will you marry me?'" he says. "I got denied, but, you know, it's the thought that counts."
Taeler, or "Phil McCrevis," was alone in the room when he was pulled. At the 15-second mark, he asked the Antlers around him to name a song. He proceeded to belt out the lyrics to Creed's "Higher," but using the Tibetan art of throat singing to impress the crowd.
When Antlers told him to leave, he ran down the street to Lowry Mall and waited for a ride.   
"I was glad it was over, but I felt pretty confident."
However, not all Antler hopefuls 15-seconds are fame-worthy. While the one and only female Antler joined in 1998, Taeler says women are completely welcome to try out.
"The last one decided that her 15 seconds of fame was going to be flashing the audience," Taeler says. "They didn't let her in."
The Tigers are struggling against Xavier. A slew of controversial calls and careless turnovers have the Antlers on edge. When the neighboring ZouCrew tries a generic "S-SC-S-C-O-R-E!" chant, they receive an unsolicited opinion from the Antlers.
"Screw your dumb chant!"
The frustration turns to the stripy shirted men on the court.
"Your calls are terrible, you're terrible, and you should feel terrible!"
The sports reporters opposite the bench giggle at that one. The Antlers go again.
"Ref! You're awful! Your wife sleeps around!"
By the second half, Xavier's three point shooting percentage is through the roof. The Musketeers' back–court execute with the efficiency of a firing squad, while the Tigers brick just about everything. Looking for the last word, the Antlers turn petty during an Xavier time out.
"Nice circle! Jerks!"
Louis sounds off a defense chant for the entire duration of the shot clock, just for Xavier to drain another. Moyes turns to him, disappointed.
"Didn't work," he says, shaking his head.
With less than two minutes remaining and a 20-point deficit to overcome, Alden walks out on the game.
Fans are following Alden's lead, shuffling up the steps to exit Mizzou Arena. At that moment, the stocky Zach lifts his shirt and does the truffle-shuffle to the camera.
Brendan accuses Zach of interrupting his pimping, and a shoving match breaks out. It's quickly broken up, but the harmless altercation catches Moyes' eye.
"One of these days, someone's gonna tell on you," he tells Julian. The Poobah nods respectfully and walks off. Alden or no Alden, Julian is always mindful of perceptions.
When the Titanic sank, it's been said that the orchestra continued to play until they were drowned in the Atlantic. In T-shirts instead of tuxedos, the Antlers proudly go down with the ship.
"It doesn't even matter!"
"We're all made of matter!"
"Follow Dave Matter!"
When the buzzer finally sounds, Xavier has embarrassed the Tigers 74-58 at home. The Antlers are some of the last to leave, and although they despise the loss, they eventually re-assimilate to the world outside Missouri basketball.
Except for Julian.
The Grand Poobah trudges through the yellowed grass outside Mizzou Arena by himself. His cherished lobster button-down is bunched up in his hand, his head down, face blank, dejected.
Next game, he'll be the fearless, animated leader of the Antlers.
For now, he mourns. It's the consequence of living and dying for the home team.