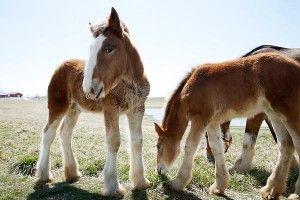 Five days ahead of Chinese New Year, on Jan. 31, St. Louis Clydesdales appeared on the Great Wall in Beijing to officially start its celebration tour in China. The journey marked the world-famous horse breed's first visit to the country. 
In December, a few Budweiser Clydesdales traveled to China from St.Louis. They will spend the next four months traveling around cities to send out special blessings and fortune. After Beijing, their second destination will be the southern city of Guangzhou, according to reporting from Chinanews.com.
Missouri has long had a special tie with the horse breed. The 100-acre Anheuser-Busch brewery complex in St. Louis is the Clydesdale's official home, according to Warm Springs Ranch's website. Warm Springs Ranch near Columbia is home to more than a hundred Clydesdales and offers special farm tours for visitors to experience an intimate interaction with the horses.
The legend and mission of the Clydesdale
The Clydesdale has been a hit and a staple at parades around America and worldwide, according to reporting from People.cn, a Chinese website. In the 1930s, Budweiser Clydesdales first appeared in public to celebrate the repeal of Prohibition.
Thereafter, the horses not only once appeared in Harry Truman's and Bill Clinton's presidential inauguration parades in 1949 and 1993, respectively, but also witnessed several Super Bowl ceremonies. The appearance of Clydesdales has always pushed the celebration to its climax.
Not every Clydesdale can be in the Budweiser hitch. In order to make it, according to the Warm Springs Ranch website, they have to meet certain requirements — get through the beauty pageant.
Horse requirements
In order to be Budweiser Clydesdales, a horse must stand at six feet tall, weigh between 1,800 to 2,300 pounds and have a bay coat, four white stockings, a blaze of white on the face, and a black mane and tail, according to the Warm Springs Ranch website.
The breed history
The Clydesdale was born in the early 19th century in Clydesdale, Scotland, which now is called Lanarkshire. For its birth, Scottish Farmers mated a few Flemish horses with their local mares. Then, the Clydesdale was used as a draft horse on farms and helped pull heavy loads, according to Horse and Horses Information.
However, in modern times, the Clydesdales experienced dramatic role changes — mostly as the advertising celebrity in ceremonies. The Clydesdale population once plummeted to about 80 animals and in 1975 was considered a breed vulnerable to extinction by the Rare Breeds Survival Trust.
Yet, with the horse breed's growing popularity, its population has recently bounced back to over 5,000 worldwide and 4,000 in the U.S.
Talk Back:
What do you think about Clydesdales? Share in the comments below.