Hippo Campus is an up-and-coming indie rock band from St. Paul, Minnesota, that stopped by The Blue Note this April for a one-night performance. They've grown from down-to-earth aspirations of playing house shows in 2013 to an internationally touring success story in 2019. They have a strong appeal for high school and college-aged fans. An article from Isthumus describe their sounds as, "somewhere within the nebulous realm of indie rock, perhaps cataloged somewhere between Tame Impala and Perfume Genius."
The group is known not only for popular singles such as "Golden" and "Way It Goes," but also for its sizable female fan base. The five members — all young men — have spoken at length about their cringe-y characterization as a "chick band." Their response: "We think (our audience is) the best," guitarist Nathan Stocker told Billboard. "And anyone that doesn't want to listen to us because young women listen to us — whatever, maybe they're jealous." 
From what I witnessed in Columbia, their fans are truly a devoted bunch — the kind most performers would kill to have. Here are a few of the highlights from an evening with Hippo Campus. 
It's immediately obvious why lead singer and guitarist Jack Lupen has achieved heartthrob status, but it's clear he's much more than that. It's one thing to be good looking; it's something else entirely to have total command of the stage.
Between his engaging vocals and eye-catching dance moves, put simply, Lupen is a delight to watch on stage. He emulates the sounds of modern pop singers, but he delivers with the energy of a rock star, a sure-fire combination to win over a modern audience.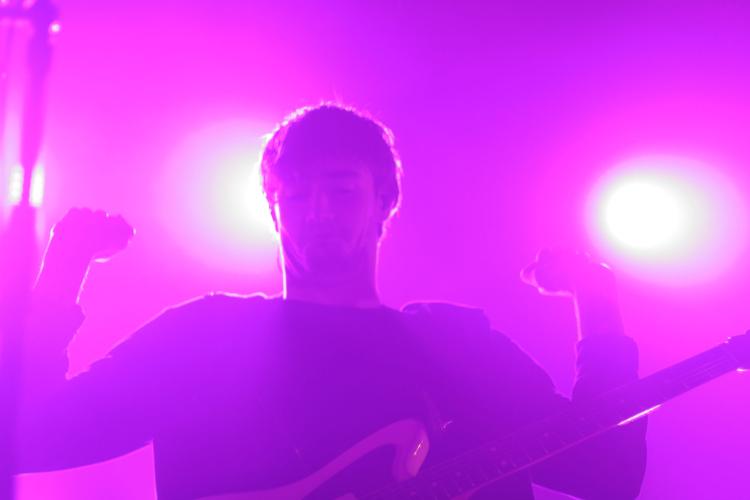 Pandering to the front row — composed, yes, entirely of teenage girls — he didn't take himself so seriously. Lupen relied on self-aware humor to boost his charm, but unfortunately he stuck to this same method for most of the show. After a while, the cheeky jabs got a little tired. However, a great concert necessitates much more the talent of one man.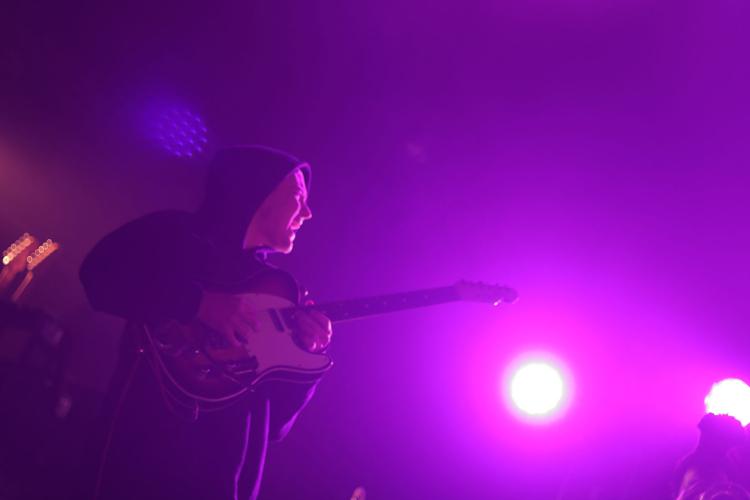 Lead guitarist and other vocalist Nathan Stocker gave a surprisingly entertaining performance to compliment and counter-balance Lupen. Typically, a singer will steal the spotlight, so it was refreshing to see someone else take on some showmanship responsibilities. 
He took time to speak with the audience between a few songs, and he was all over the stage when he wasn't singing. 
Bassist Zach Sutton stuck to what bassists do best: keeping to themselves and maintaining a too-cool-to-care attitude. That's for the best because, let's be honest: If every band member tries to draw attention to himself, the situation gets messy quickly. Sutton's bass-playing isn't anything too complex, but it provides a steady, dependable backing for the rest of Hippo Campus.  
Similar to this band's use of bass, drummer Whistler Allen is not the center of attention — he just gets the job done. My brother is a drummer, so trust me when I say that if the guy wanted to be seen he wouldn't have become a drummer.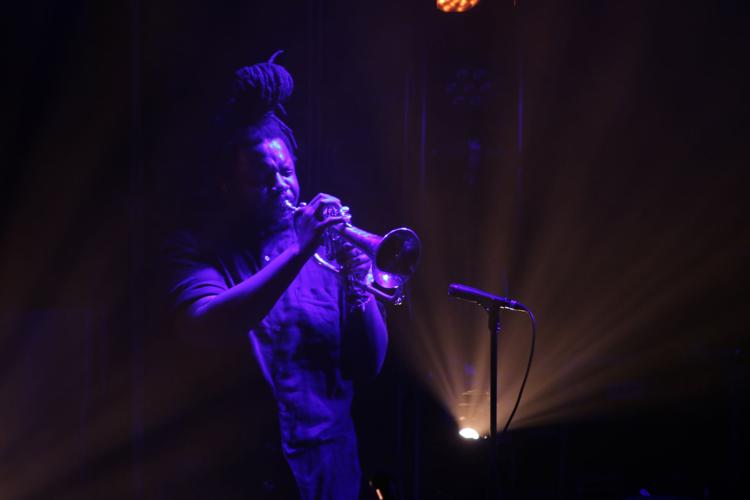 DeCarlo Jackson is a man of many talents. Within Hippo Campus, he alternates between trumpet, bass and his own piece of a drum. It was easy to forget he's there in the back, but when he had his own moments to shine he added a much-needed dose of variety and spontaneity to the crew.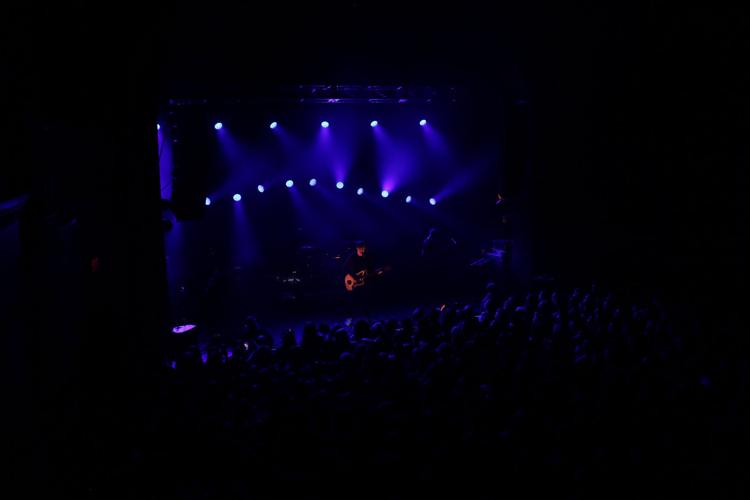 Overall, the performance started off strong: Hippo Campus came out swinging with some of their bigger hits, and they played well to the audience. Unfortunately, I quickly noticed a shortcoming in the show. 
The lighting arrangement was not thought out. Almost all of it was back-lighting, leaving most of the band merely silhouetted, not illuminated. When there was front-lighting, it centered solely on Lupen. Sure, he's the lead singer, but can we see someone else, please?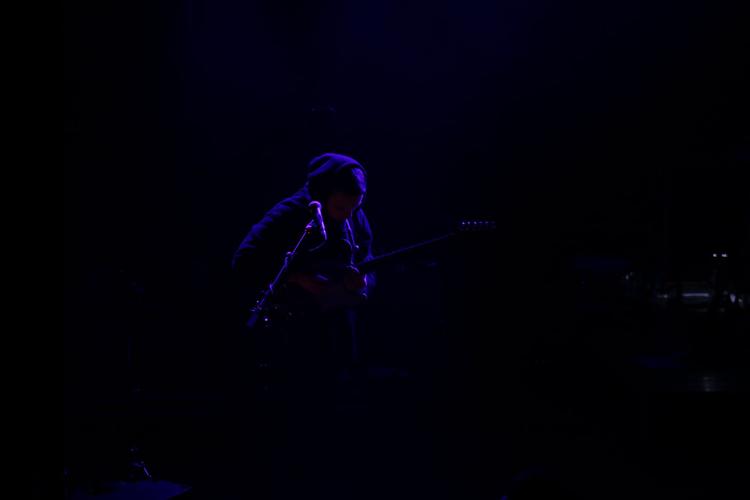 No, I want to see the whole band. Stop spotlighting just one member!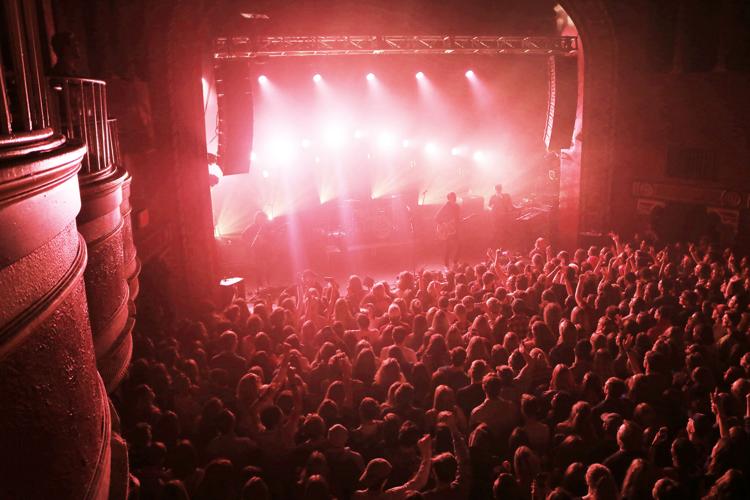 Well, now I can't see anything because you've just flashbanged my retinas into oblivion.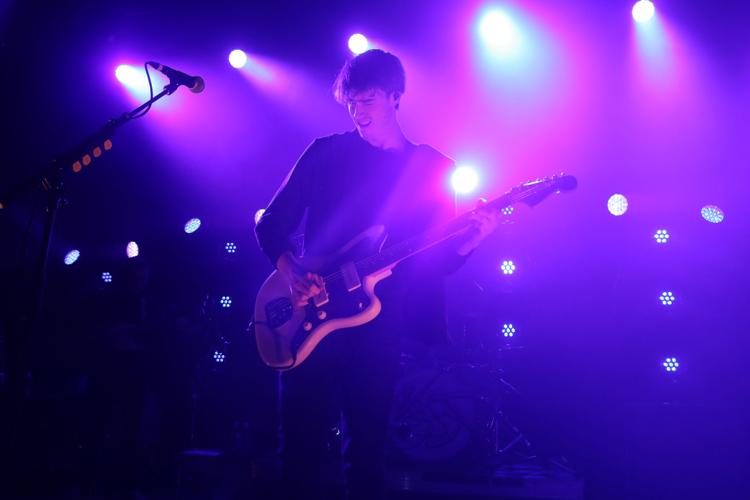 Of course, at the end of the day, the sound is the most important part of music. While Hippo Campus plays around with a lot of sounds, my primary impression is that they lean toward more laid-back, melodramatic tunes. I predicted a somber show to fit this, but the band surprisingly injected much more fun and energy into their performance than I'd expected. That isn't to say that Hippo Campus is a different band live than in the recording studio; the show was simply an illustration of how a song can take on new life depending on how it's performed. 
Bring all of this together, and I had a fine time seeing Hippo Campus live. The band members' youth is obvious in both their energetic performance as well as their reliance on charm (and poor lighting) throughout the set. If you're familiar with their work, you're bound to enjoy yourself. However, if you don't really know them, you might be underwhelmed for such a nationally recognized group. The crew is surely enjoying their newish celebrity status, but they'll need to find something to differentiate themselves if they wish to gain wider recognition. 
Related links