What's in a name? Certain band names tell you right away what their music will sound like and what message they'll represent. The Beach Boys wrote the soundtrack for all future excursions to the sand and sea. De La Soul spoke the truth and became one of the most influential hip-hop acts of the late 1980s and early 1990s.
So, in that vein, what comes to mind when you think of a band called Cannibal Corpse?
Whatever your impression might be, Cannibal Corpse has been melting faces and rupturing ear drums as one of America's premier death metal bands since 1988. Violent lyrics, demonic vocals and various tempo changes that smack you in the face are all calling cards of the death-metal genre, and Cannibal Corpse has perfected this repertoire. 
So it was only fitting that Dec. 1 was a dreary, dark and rainy day in Columbia: the perfect weather for a Cannibal Corpse concert. Fans were milling about inside and outside The Blue Note throughout the night, all dressed in their favorite shade of black with hair and beards in varying lengths. In between sets, fans regaled of past performances during which they'd lost half their hearing. They showed off tattoos of their favorite bands or of fallen metal idols. Although the appearance of so many black-and-leather-clad people with violent lyrics written on their vests and hoodies might appear troublesome to the uninformed eye, don't be fooled. These are some of the nicest, most respectable people you can meet, who will high-five you after a particularly heavy song or help take a photo of you and your friends. At the end of the day, it's all just good-hearted appreciation of the macabre.
As for the music itself, there's a certain allure to the power of metal music. Drummer Paul Mazurkiewicz pounded away on dual bass drums, creating a rhythm that made my ribcage rattle. Pat O'Brien and Rob Barrett's guitars were tuned to lower resonances and loaded up with heavy effects to deliver the most powerful audio punch possible. Although bassist Alex Webster didn't stomp around the stage, his rock-solid bass playing was especially important for keeping the band's rhythm on track. I'm not quite sure how to explain George "Corpsegrinder" Fisher's vocal range to someone who's never heard the band before, but it sounded to me like a demon had taken up residence in his body before he stepped onstage. It seemed as if every time he opened his lips, out came an esophageal, guttural groan.
Under a growing glow of red stage lights, the band emerged and immediately ripped into "Code of the Slashers," a track from the band's most recent album, Red Before Black. When not unleashing violent lyrics on the audience, "Corpsegrinder" would head-bang to the rhythm of the song and whip his damp, long hair in a circular, head-twisting motion. Certain fans in the audience would replicate their head-banging leader themselves, while others would jump up and down in excitement, which prompted a mosh pit of bumping and banging. The band played a wide range of its catalog, going back to the early days with tracks such as "Wretched Spawn," "Pit of Zombies" and "Kill or Become." After the last notes of each song, fans threw up the "devil horns" hand gesture in appreciation for the sheer brutality they had just heard and witnessed onstage.
The highlight of the night came during the performance of one of Cannibal Corpse's biggest hits, one with a very NSFW-title about bleeding from a certain orifice. (Feel free to Google at your own peril.) "Corpsegrinder" urged the fans before the opening notes to try to keep up with his furious head-banging. "You won't be able to, but you can still try," he said with a sadistic grin of mischief. If Corpsegrinder's head-banging was set to spin cycle earlier in the show, he cranked it up to overdrive on this track. Fans tried to crowd-surf and the mosh pit expanded, at one point knocking down a small quadrant of fans near the stage.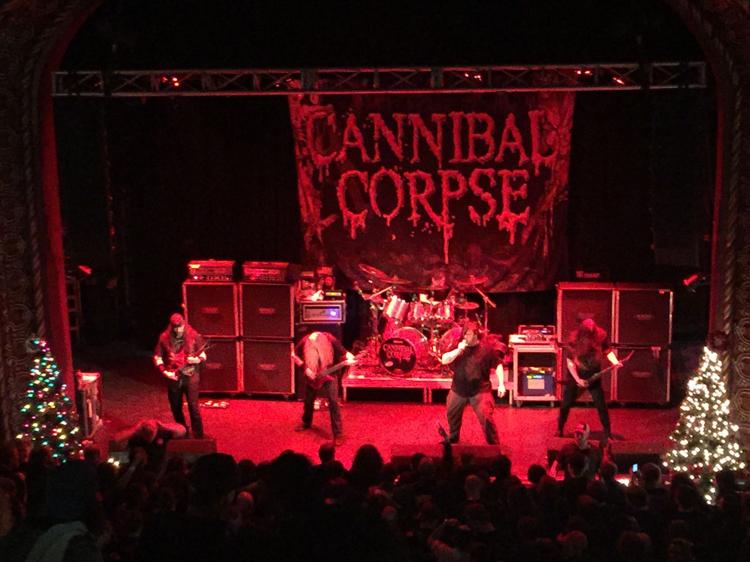 In the end, this was a brutal, heavy, deafening and obscene three-plus hours of metal. It was amazing. No joke, I've been going to The Blue Note for years for a variety of concerts of all genres, and this was certifiably near the top. The crowd was hot and excited the whole night; Harm's Way and Hate Eternal were great opening acts that kept the crowd buzzing for the headliner; and of course, Cannibal Corpse was a well-oiled metal machine firing on all cylinders. Even as I write this, my ears are still ringing from the show. I might have survived Cannibal Corpse, but any shred of innocence I had left in my soul has been assaulted and left on The Blue Note's floor. Even if you don't consider yourself a metal-head per se, I definitely recommend checking out Cannibal Corpse based on the craziness I witnessed on this night.