Have you ever seen The Fly?
If you have, cool. If you haven't, I wouldn't necessarily recommend you do. It's pretty gross. Here, look at this clip. It's all you need to know.
So yeah, that's a pretty representative 10 seconds of the film. It's not bad by any means; it's just gross. But what's important about The Fly is that it features Goldblum. Jeff Goldblum, to be specific.
Goldblum-centric content is what makes the world go 'round, boys and girls. The actor's charisma, his sensuality, his sheer presence in the universe makes the Earth a little more eager to spin on its axis. So yes, though a movie like The Fly isn't necessarily visually appealing, Goldblum makes it special. If he can do it with a film about a man turning into a fly, he must be able to do it with anything. And he did. With jazz. 
The Capitol Studios Sessions, the live record Goldblum crafted with his band, The Mildred Snitzer Orchestra, was released in early November. And would you believe it, it hit No. 1 on the jazz charts! Jeff Goldblum! This man — famous for highbrow films such as Jurassic Park, Independence Day and the aptly titled The Tall Guy — made a jazz album.
I shouldn't have been surprised. Goldblum is the Renaissance man. Forget Da Vinci, forget Galileo, forget Ben Franklin. Goldblum is the one true polymath. But I was surprised, to be honest. I felt much like this: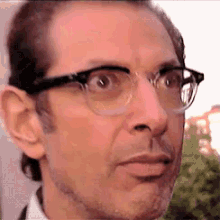 And then, I was skeptical. Say, like this: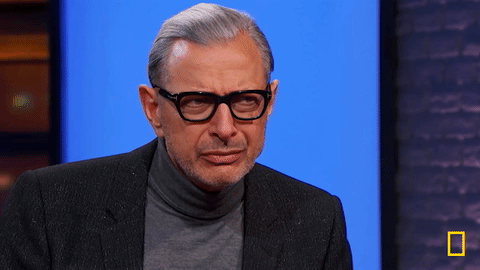 But that was also silly of me. See, Goldblum's really quite musically talented. His everyday conversational tone is roughly the speaking equivalent of jazz — always fluctuating from deep, pronounced baritone to a whispery alto — and his singing voice is just as dulcet and melodic. Plus, the man can tickle the ivories. He's been playing music longer than he's been in movies. And he's been playing with The Mildred Snitzer Orchestra for a long time, too. As far as I can tell, Mildred Snitzer is not a real person. But I'm sure she's thrilled either way.
Before we dive into The Capitol Studio Sessions, I'd just like to say I know next to nothing about jazz. It's improvisational, it's fun, it's fast (or slow if you want!), but I just have to be clear that I have no expertise on jazz. But I have expertise in Jeff Goldblum, so dive in I must.
In a September interview with Billboard, Goldblum said he wanted the album to be like jazz the way jazz was meant to be played: "fun, social, sexy music." And it is that! I had fun. Goldblum and his piano mostly cede center stage to his bandmates, guest musicians (trumpeter Till Brönner) or the few singers he brings along (Hailey Reinhart and Imelda May). As he is the bandleader, he leads, and they follow, and when he grants them space to shine, they do.
We don't hear Goldblum's voice much either, singing or speaking. He duets with comedian Sara Silverman on the riotously funny "Me and My Shadow," but that's really the only time he flexes the pipes. Occasionally, he'll interject with a distracted thought — "Hey, recently I've been keeping my butter out at night so that it's soft in the morning. Is that risky?" Yeah, Jeff. That's wild.
Other than that, he mostly spends his time on the mic bantering with his guests, particularly Silverman and Reinhart. His playfulness and their ability to lean into his game is fun, and it's usually accompanied by a light, bouncy rhythm from the band. It feels like listening to some old friends get together and rip off a few songs.
Oh, right, the songs. "Cantaloupe Island" is a very cool, easy-going opener. It's a Herbie Hancock cover, perfectly suited to reel you in slowly. Both of Reinhart's songs, "My Baby Just Cares for Me" and "Gee Baby (Ain't I Good To You)" are two other highlights, but largely because Goldblum is very present and interactive. The aforementioned "Me and My Shadow" gives us one 4-minute stretch of Goldblum weaving back and forth between his syrupy singing voice and his equally syrupy speaking voice. More of that, please.
Another grand highlight includes Till Brönner's trumpet on the 6-minute "It Never Entered My Mind." The musician is great on all six tracks he shows up for, but this one finds him toeing a delicate line. Sometimes he's soft, sometimes he's sharp, but it's always slow and calmly guiding us through the tune. My personal favorite, however, is "Caravan," the second-to-last track that's just an adventure. It's 5 minutes of Goldblum playing a game of back-and-forth with the skittering drums and an interjecting Brönner. If I had to pick a jazz word to describe it, I would say "swingin'." If I had to pick a Goldblum gif to describe it, it would be this one: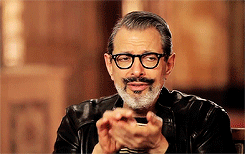 The final track is Goldblum thanking the crowd and his bandmates for the evening. It's barely more than a minute long, but in the last few seconds, as the sound fades out, you can hear Goldblum say, "This is the best night I've ever had in my whole life."
And you know what? I believe him.