One, two, a one, two, three, four.
I jumped into the ring and I was in. I had joined the fight club. Ukulele Fight Club of Columbia, that is. The ring? A long table covered in sheet music, iPad screens with lyrics and pulled pork and ribs.
Chestnut, mahogany, oak, and black ukuleles sat on laps or hung from shoulder straps. Strummers of all ages sat in the private room at Dickey's Barbecue Pit on Forum Blvd, where they meet biweekly.
The pads of the fingers on my left hand were dented from the strings, and the thumb on my right hand was worn pink from plucking. Worried I might not know the songs, my first few strums were light and I didn't dare sing. After "Folsom Prison Blues," though, it was too hard not to sing along. The roundup was classic — "Down On The Corner" by Creedence Clearwater Revival, "Blue Suede Shoes" by Elvis, "(What A) Wonderful World" by Sam Cooke, just to name a few.
The room was filled with laughter and the sweet scent of barbecue. Everyone's toes tapped out the beat and heads bobbed with the rhythm. Kazoos buzzed during choruses and shakers and tambourines introduced another layer into the meter.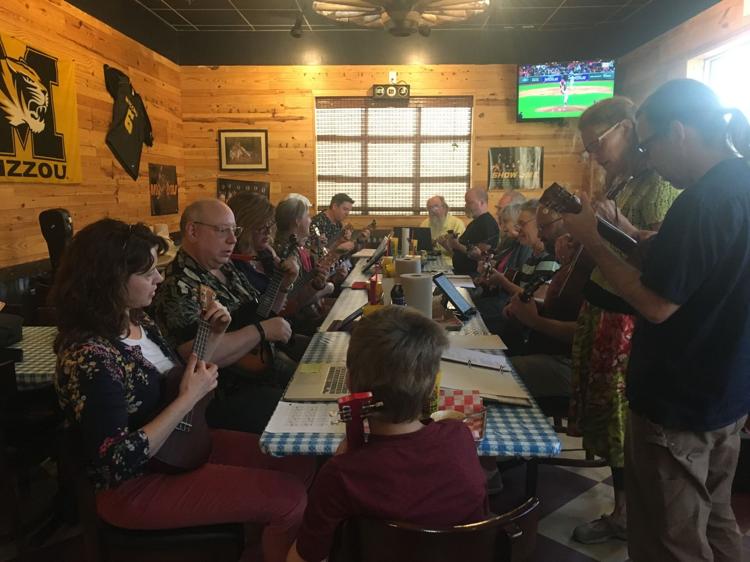 Ukulele Fight Club has been gathering since November 2013, Debbie Carney Karwoski, one of the founding members, says. Back when they first began, the group plucked out their tunes at Café Berlin. After that, it was Lucky's Market. Now, the twice-monthly meetings happen at Dickey's, where it's not uncommon for diners to peek their heads in to see what's going on.
How easy is it to join? Bradd Anderson remembers tracking the group down at Lucky's. He wanted to seek out other ukulele people and there they were.
The group is warm and friendly, which makes picking up a new instrument much less intimidating. I asked Aaron Daniel what his favorite part was: "Oh I enjoy all of it." And that seemed to be the general feeling in the room; if you messed up a note, someone would tap his or her finger on the fretboard to show you the right cord.
Fight Club meets every first and third Monday of each month and will have a concert outside of Bluestem Missouri Crafts at 6:30 p.m. this Friday.