You might miss them if you're not looking for them. 
The bald eagles' nests usually sit right in the middle of some tall, lone tree close to a body of water. Their big, dark clusters of twigs can be up to 6 feet wide and 4 feet deep. Use binoculars, and you might see a juvenile eagle moving around in the massive nest. If you're lucky, you'll see one of the parents nearby.
There are two nests near the McBaine trailhead, one on the Katy Trail and another along the MKT Nature and Fitness trail, and a third at the very back of Eagle Bluffs Conservation Area. Looking for these resident eagles is an ideal activity if you're looking to get out of the house while practicing social distancing . Along the way, you might see snakes, turtles, herons, ducks and more.  
Deborah Lucia has been going to Eagle Bluffs to view and photograph birds for about five years. She recently became a member of the Friends of Eagle Bluffs Conservation Area Photographers, a group with more than 400 members that seeks to connect wildlife photographers and share work.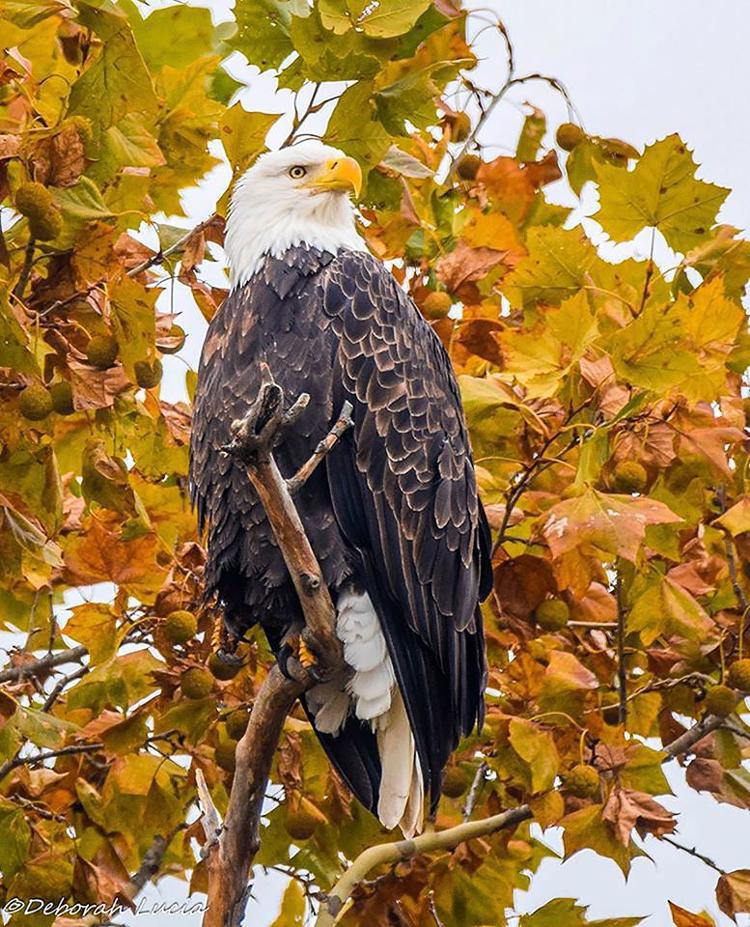 "I try to concentrate on getting close ups as much as possible because you get more detail," Lucia says of her images. "You get the expressions and the emotions, and that's what I do in all photography that I do with people and animals. I love catching their emotions. You can get a bird sitting in a tree all day long, but getting them in flight or landing or taking off, that's what I try to go for."
The group has even named some of the eagle pairs. The duo whose nest is in the back of Eagle Bluffs are called Boone and Becca, named for Daniel Boone and his wife, Rebecca. The pair that lives near the MKT trail are called KT and Mac, names that Lucia proposed and the group later voted to adopt.
Lucia visits Eagle Bluffs once or twice a week, bringing her Nikon D53 camera with her. It's her "getaway from reality." She's retired, and she's found a new passion for photographing wildlife. There's "never a dull moment" looking at eagles and other birds throughout the year. She never knows what she's going to find.
Bald eagles weren't always so easy to spot. They were on the federal endangered species list for nearly 30 years before being removed in 2007.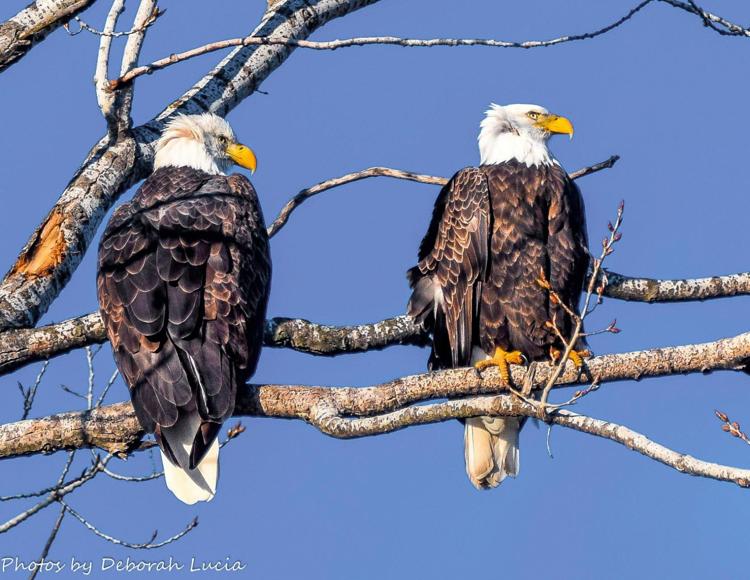 "Growing up in Missouri, I never saw eagles," says Robert Hemmelgarn, media specialist at the Missouri Department of Conservation. "The return of bald eagles is a great conservation success story. Now, I go down to rivers around the state, and it's almost more rare that I don't see one at this point."
Missouri's state ornithologist, Sarah Kendrick, says that Missouri's position at the intersection of the Missouri and Mississippi rivers and the state's lakes and diverse ecosystems make it a great habitat for bald eagles.
The Conservation Department hosts events to educate private landowners, school children and the general public about bald eagles and their conservation. The department also collaborates with the Friends of Eagle Bluffs Photography group to which Lucia belongs, sponsoring events and photo contests.
As the trees continue to leaf, the nests will get harder to see. But Kendrick says there are more than 170 breeding bird species in the state during the summer. But if you bring your binoculars and your eagle eye, you just might catch a glimpse of America's favorite bird.
Related stories