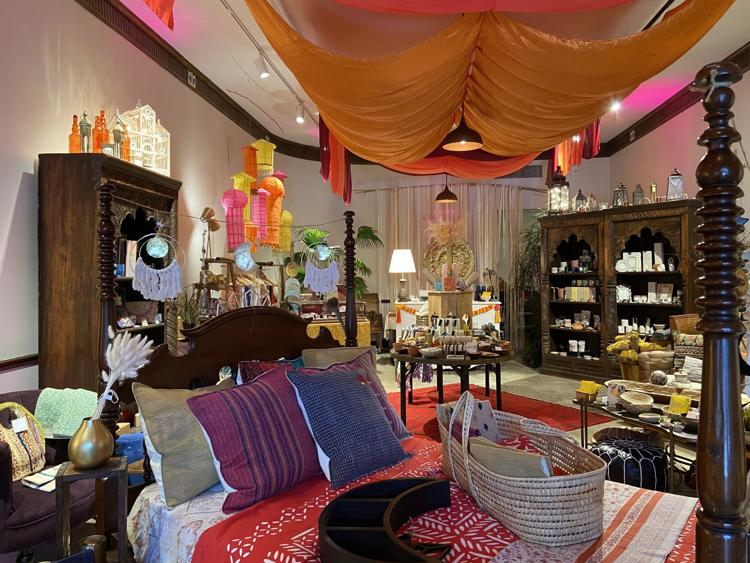 From the person behind Poppy, Made by Hand — a local shop known for handmade gifts, such as fine jewelry, colorful greeting cards and limited edition weekly collections — comes another pop-up shop to transport shoppers across the globe while brightening our homes and closets for spring. 
The pop-up titled "Marigold Bazaar" draws loose inspiration from Beth Snyder's travels in India. Snyder is the owner of, 1canoe2, which sells paper goods and gifts, such as planners, notebooks, art prints and stickers.
Although Snyder's brand can be found at Poppy, her items sold at the pop-up have a different feel than her other work. The pop-up is a collection of global goods ranging from textiles to home decor to apothecary. 
Liz Tucker, the owner of Poppy and a close friend of Snyder's says that Snyder purchased thousands of dollars worth of textiles, jewelry and journals when in India and had them shipped back to the U.S. in hopes of selling them somewhere in the future. When thinking of the idea, Tucker knew that her friend's finds would be the perfect addition to the pop-up.
The pop-up allows Tucker to expand her creativity in new and diverse ways, gives the shop an opportunity to showcase items not normally found in the store, and displays others' work in a unique way. 
"It's very textile heavy, which hasn't happened at Poppy before," says Tucker. "It's going to be a feast for the eyes." 
This is unlike the shop's pop-up last year called Provisions, which specialized in food, such as tea, chocolate bars and homemade marshmallows.
"It feels very cool and colorful," says Tucker. Compared to the minimal setup used for the Provisions pop-up, Tucker drew inspiration from photos of India for the color scheme, organization and overall feel. 
The setup for this round is as close to an open air market as you can get in Columbia. "It kind of transports people," Tucker says. 
Bright orange, red and pink pieces of fabric hang from the ceilings. The same colors are sprinkled throughout in paper lanterns, baskets and items themselves. 
Besides Snyder's pieces from India, Tucker brought in other items, such as french market bags, new chocolate bars and a home fragrance collection to add some extra flair — all of which she showed in a Facebook video. All items from the pop-up can be purchased in person or online. 
The pop-up opened in April and will continue to sell goods through May 15. 
Related Stories