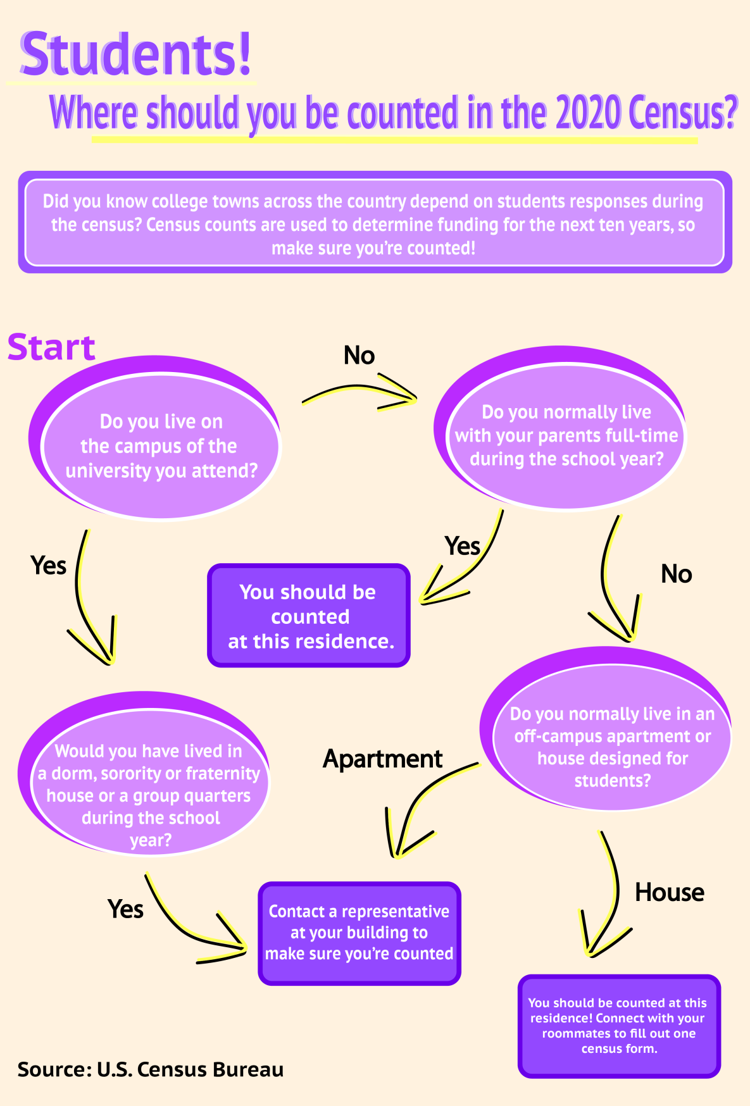 The pandemic is leaving many fearful of what the future holds, but for now, empty college towns like Columbia face taking on the 2020 census. 
The higher institutions in Columbia including MU, Stephens College and Columbia College are large parts of the city's history and house thousands of students each year, so it's important that those students who were supposed to live there before the pandemic get counted in the census. 
"The data that's collected during the census will be used for 10 years," Sara Humm, spokesperson for the Columbia City Manager's office says. "While some students will make Columbia their home for years to come, the students who graduate and move on will still have a large impact on our community just by filling out the census."
Every year, billions of dollars are allocated to Missouri based off of census data, Humm says. The funding is for important programs, like schools, hospitals, roads, bridges, school lunch programs, Federal Pell Grants and much more.
The cancelling of in-person meetings and closing of businesses causes another setback. Boone County Counts, a joint effort created by Columbia and Boone County to make sure people are counted in the census, is moving their resources to social media, Humm says. They are making an attempt to reach college students by posting at least once per week, targeting students at the college level using Facebook and Instagram.
The group is using the resources to tell students: count yourself where you were living before the pandemic. This means where they were living and sleeping most of the time as of April 1, 2020.
Boone County Counts is also using social media to educate young people about the importance of the census — and how to fill it out. 
"We know this is likely the first time for all college students filling out the census so we need to give them all the information they need," Humm says. 
Humm also says the universities are responsible for counting students who lived on campus. Dorms are considered "group quarters" for the census. Other types of group quarters, according to the U.S. Census Bureau website, include treatment centers, group homes, military barracks, correctional facilities and maritime and military vessels. In order to count everyone in group quarters, the bureau will identify an administrator to make sure everyone is counted. 
In addition to the efforts Boone County Counts is making to ensure college students are counted, Missouri's census committee and the U.S. Census Bureau are also funding advertisements online and around the state on social media, as well as on billboards, radio and TV, Humm says. 
One MU junior, Meadow Jayko, says she is not sure where to count herself. She went home to Chicago following the announcement of online classes for the rest of the semester. 
"I spend most of the year in Columbia, but technically my permanent address is still considered in Chicago through the school," Jayko says. "It says I need like a number or something in the mail, and I don't know where to look for it."
Jayko is just one of many MU students who returned home due to the pandemic. She says she hasn't received any information about how she should fill out the census. 
MU spokesperson Christian Basi says prior to the COVID-19 pandemic, MU was putting quite a bit of effort into education the campus community about the census. 
"However, based on the extraordinary need for additional communications, we've had to scale back other communications, including those related to the census," Basi says.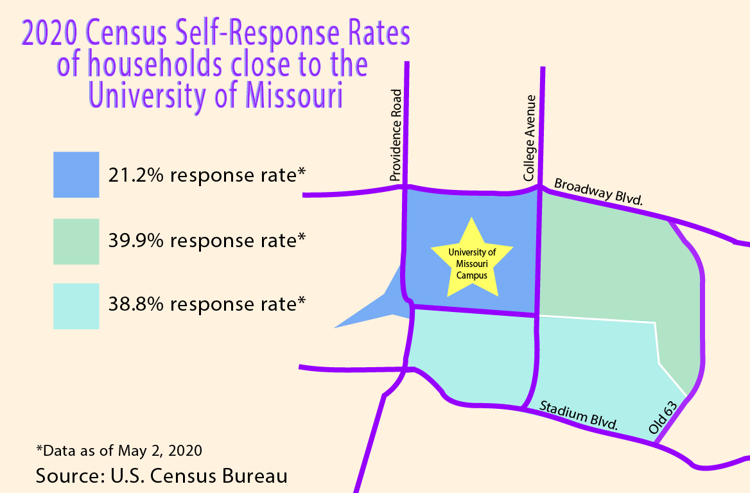 As of May 2, the rate of self-response for the census is only 58.1% of households in Columbia, according to the Census Bureau. As of the same date, 60% of Boone County households have self-responded. 
Although the Census Bureau has extended the timeline to submit a census response, Humm says giving people more time to respond can also be a concern. For example, if someone moves in July of this year, they should still be counted where they were living on April 1. 
Related stories