Finding a flawless spot for your proposal may seem daunting, but with the help of a few local photographers and couples, we found some of Columbia's best locations for a moment like this.
The holidays are a popular time for couples to get engaged. In fact, a Newlywed Report done by WeddingWire found that nearly 40 percent of proposals occur from November to February. So, once you've chosen the holidays as your season, the planning of this day should be just as important.
When planning to ask the big question, there's a smaller query that takes place first: Where will it take place? For many couples, somewhere sentimental is the right choice. But for anyone in Columbia who is having a little trouble finding their dream spot, there are quite a few stunning locations throughout the city. Local photographers and couples shared some of their favorite memory-making spots throughout Columbia.
Capen Park
Capen Park's scenic trails could be the perfect spot for your proposal. There is a beautiful overlook that shows off all the trees in the area and the surrounding park. With a few different trails in the park, little nooks on and off the trail are often popular for the private moment. Kyla Phillips, of Kyla Taylor Photography, shared that her favorite spot in Capen Park is near the bridge by the creek, especially during the fall with the colorful trees. This blend of scenery and colors makes the moment more magical and the photos more stunning.
"It's one of the places in Columbia I think is more unique," Phillips says.
Capen Park is located at 1600 Capen Dr.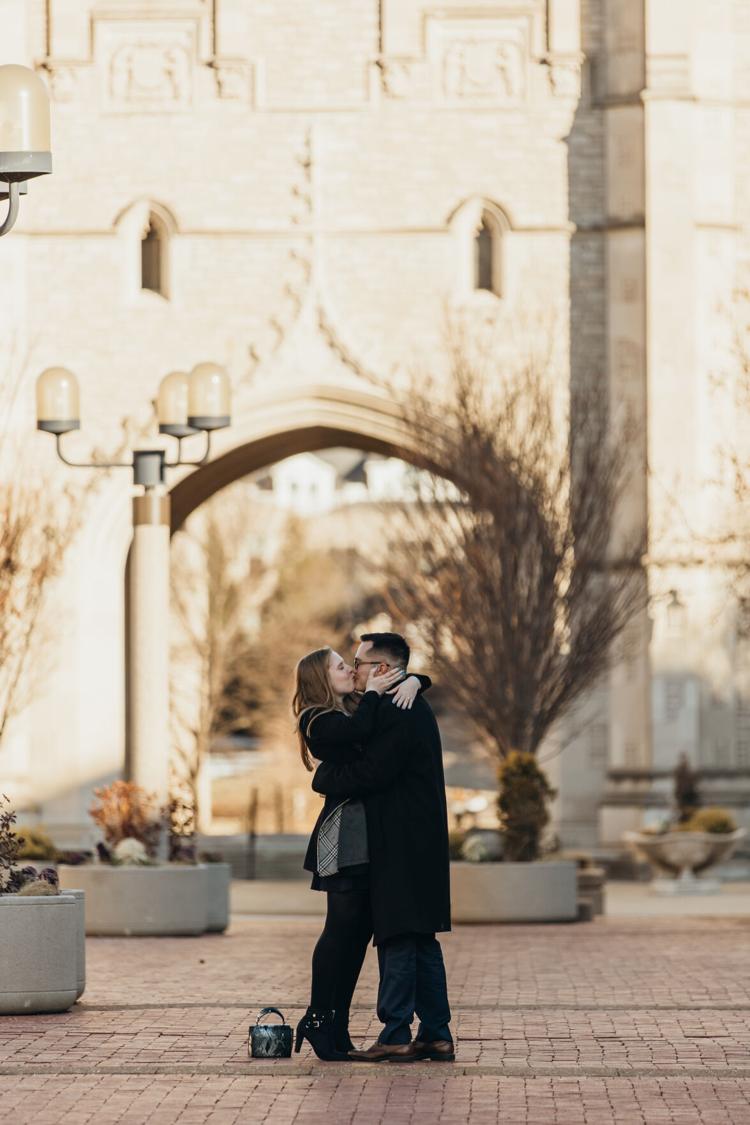 University of Missouri Campus
If you are a University of Missouri alumni looking for the best spot, perhaps heading back to your roots would make for a great location to propose to your partner. Yes, we've all likely seen an MU proposal in the columns, but we promise the campus has more spots to offer. For couple James and Noelle Campo, Memorial Union was the perfect location. The two met in Kansas City in 2018 and were MU alumni. This January, James staged a fake party that they drove past and took Noelle the airport. Their friend, who happened to be a pilot, flew them into Columbia where they started walking around campus. Once they got to Memorial Union, James finally asked the question. Because the two weren't connected during their time at school, he wanted to create a memory on campus as a couple.
"It was something that I wanted to actually have a part of our lives," James says, "So why not the engagement, so we can always remember like we did have one memory there at school."
Memorial Union is located at 518 Hitt St.
Rock Bridge Memorial State Park
Rock Bridge is another example of a scenic trail with a plethora of trees and greenery for your proposal background. Ashton Ahring, a Missouri photographer, captured a couple's proposal on one of the dry creek beds. This couple had a shared enjoyment of hiking, so the park offered a great way for them to appreciate the hike and create a lovely moment too. Rock Bridge has a few different hidden caves that would make a perfect private spot. Additionally, there are waterfalls and paths that are stunning to view and even more beautiful for moments like a proposal.
You can find this location at 5901 South Highway 163.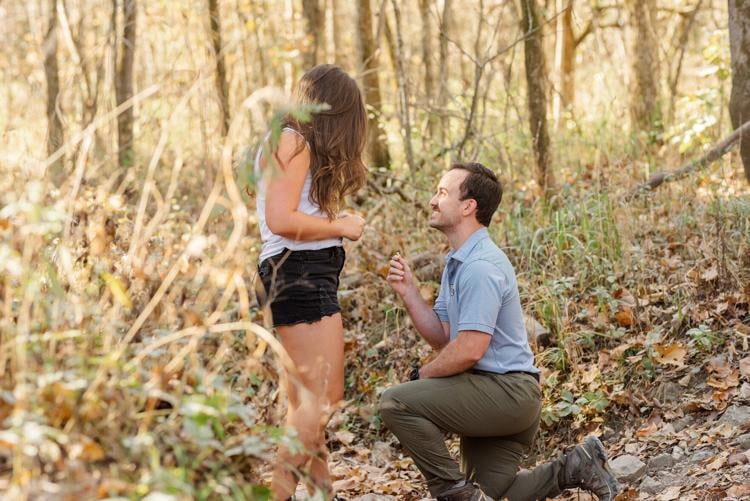 Shelter Gardens
Shelter Gardens offers a great location at all points of the year, especially during the fall and winter season. Grace Snyder, of Grae Marie Photography, has taken photos for a few different proposals at this spot. Snyder says that the flowers are beautiful throughout the year and makes the photos even more beautiful. Even during the winter, the gardens have flowers and holiday lights. Snyder recently captured Auryetta Torres-Jeffrey and Takira Douglas' engagement here. The two met a little over a year ago and got engaged in October. Torres-Jeffrey pretended the photoshoot was just for Douglas' birthday. She chose Shelter Gardens to pop the question since Douglas has an interest in flowers.
"We had passed by the place going to the farmer's market one day," Torres-Jeffrey says, "And I thought, 'Yep, that's it'."
Once they found a huge patch of flowers near the entrances, Snyder had the two not face each other and take a couple steps back. They turned and Torres-Jeffrey was on her knee ready to ask the question.
Shelter Gardens is located at 181 W Broadway.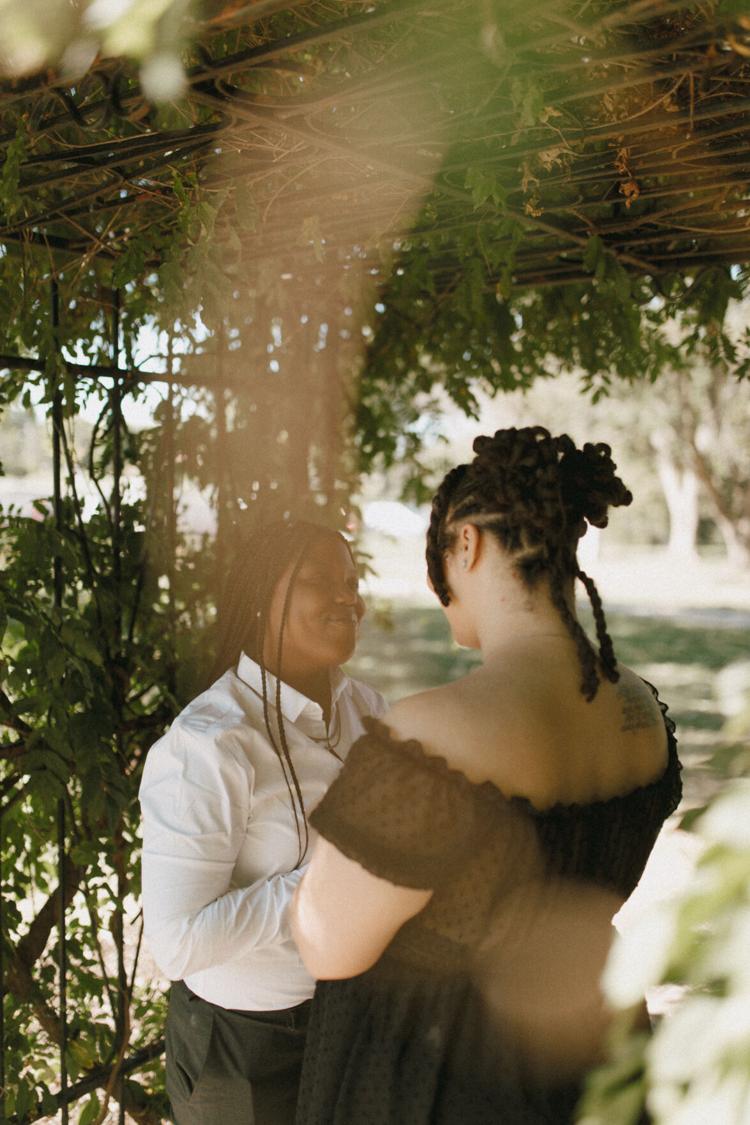 Downtown Alleys
Not everyone is the type to want nature in the background of an engagement. If you are looking for a more urban look for a proposal, there are a few different alleys downtown that make a great and more private, unique spot for weddings. "I like to, if I can, have them be private spots," Snyder says.
While downtown may feel like a public location for this intimate moment, the alleys offer a great in-between. Alley A, with the butterfly mural and hung lights, is one example of a great seclusive spot downtown that keeps the moment from being intruded on by strangers. You can capture the city of Columbia, while also making the moment about you and your partner.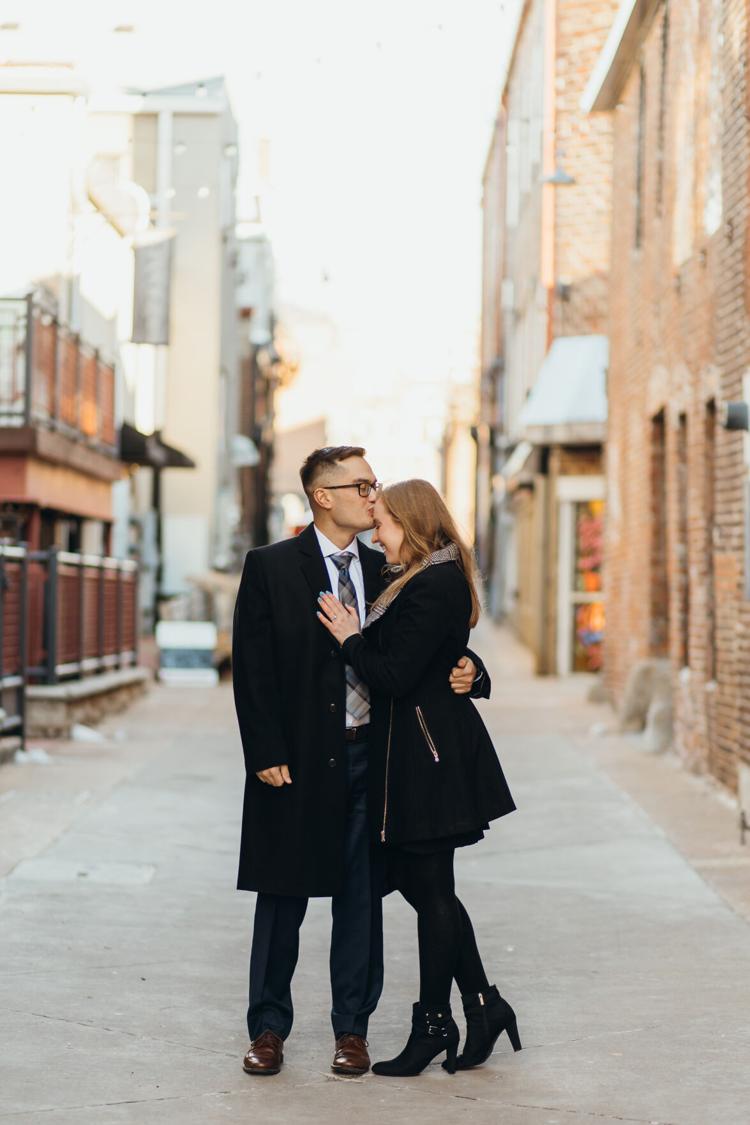 Proctor Park
Are you still unsure of where to go? Here is one stunning location that Snyder has not crossed off her list yet. Snyder shared that Proctor Park is one spot she has not done but would love to capture. The park has a few different elements to it that could make one's proposal lovely. There is quite a bit of green field space if you are looking to put together a scene yourself or have more privacy. There's also a creek in Proctor Park that Snyder says would be super creative. Here, there's plenty of variety of spots if you're looking for a different, more private proposal location in Columbia.
Proctor Park is located at 411 Proctor Dr.
The Village of Cherry Hill
Another location that Snyder would love to capture a proposal at is the park in Cherry Hill, specifically during December. With the holiday season just around the corner, Cherry Hill Park has the Magic Tree and has lots of lights. Every Christmas season, the village lights up a huge tree for the holiday season. This proposal would be a lovely gift from you to your partner. These annual lights are stunning, and if you are looking for a seasonal spot for your proposal, Cherry Hill is the perfect location.
You can find this location near 2100 Cherry Hill Dr.
Related Stories