Mask-wearing now goes beyond protection from Covid-19. Across the country, masks are being used to make statements in support of various movements, communities and businesses. Here are some Columbia residents who found new ways to express themselves and their beliefs through a mask.
Encouraging school spirit  
Kelly Durante, who has a daughter at Rock Bridge High School, started making and selling masks after watching a video where Jeremy Howard, a data scientist, explained why everyone should be wearing one. Durante says she was worried that students would be afraid or anxious to go back to school, so she wanted to find a way to make mask-wearing exciting. 
"I think that putting the school's identity on the masks makes it an exciting thing," she says. 
With the help of her kids, Durante started making the one-of-a-kind Rock Bridge-themed masks out of her daughter's graphic T-shirts. Durante says her biggest customers were teachers and staff. The proceeds, which totaled over $2,000, went to the Food Bank for Central and Northeast Missouri.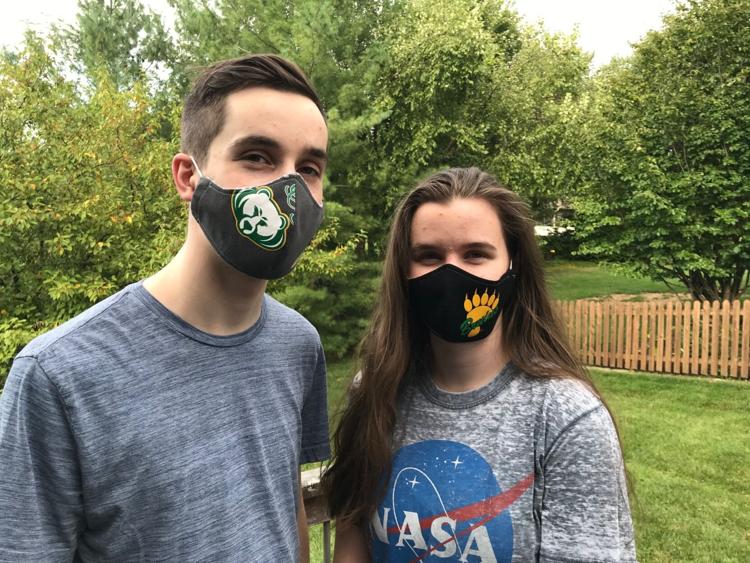 Celebrating LGBTQ Pride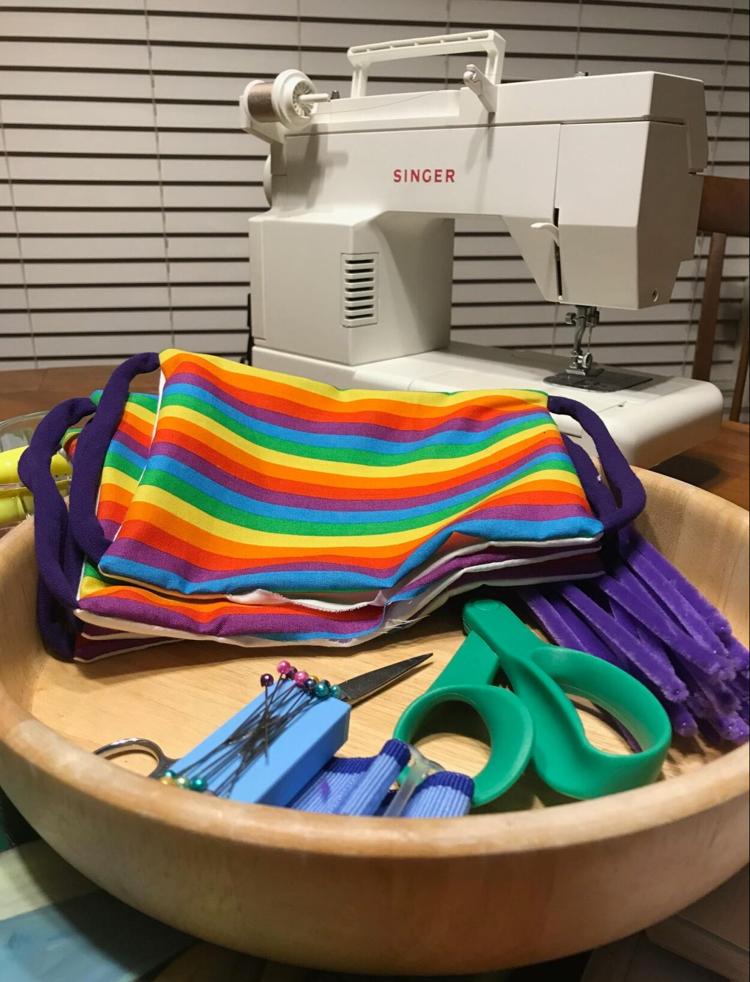 Durante also made and sold masks in support of the LGBTQ community and to honor Pride Month. The money raised from masks in June was donated to Columbia's The Center Project.
"Pride month was rolling around, and I was thinking a lot about people who were staying at home and maybe not in the most supportive environment," Durante says. 
She says she did not want Pride Month to be "quarantined away." "So I got my hands on some rainbow material and started making the masks," she says. 
Supporting Black Lives Matter 
Initially, MU freshman Jayona Shields, who is studying diagnostic medical ultrasound, did not see masks as a way to make a statement, but once she came across a particular mask at Viva Fashion, she says she knew she had to buy it. The mask has big letters that read "BLM" with the words "BLACK LIVES MATTER" underneath. 
"I was like, 'This is something I need to wear, this is what's going on with today and this is how I can show my support,'" Shields says. "I'm Black, and I'm a part of why this country is hurting, so by wearing my mask I'm helping to spread awareness for the cause."
Besides using her mask for everyday wear, Shields proudly sported the mask at Columbia Black Lives Matter protests. She says that even though the mask is just fabric, it represents something bigger.
"It's just a small portion for the bigger change," Shields says. 
Showing honor and pride for veterans 
Paola Fernandez launched her Etsy shop, Guate Creations, to sell masks after realizing how many she had been making for family. Although she sells masks with various patterns, her military-themed masks make a statement about those who are serving or have served in the armed forces. The goal is to turn the mask into a badge of honor, Fernandez says in an email. The project is personal as Fernandez served four years in the U.S. Navy.
"I take pride in the masks I make, and I get fulfillment every time I receive a review from a happy customer," she writes. "I love the feeling I get by representing the military in these masks, and I know other veterans feel the same. I'm passionate about helping veterans because I am one."
Her customers are mostly veterans, and she says her job at the Harry S. Truman Memorial Veterans' Hospital has allowed her to expand her reach. According to Fernandez, sporting one's military branch colors, even on a mask, comes with a sense of pride.
"For the wearer, they honor the branch that they served in, or maybe it's a family member who didn't serve but has another person in their family who served," Fernandez writes. "There's a feeling that all veterans have when they earn the colors of their uniform. It wasn't given, and it can never be taken away. So just like putting on a uniform that was earned, wearing a mask with those same colors and military emblems represents the same feeling of accomplishment."
Supporting an essential business
Aaron Anderson, owner of Ascent and lab manager of Essential Extracts Missouri, uses his mask to support Essential Extracts, the very first U.S. company licensed to sell hash, which is a concentrated form of cannabis. Anderson says he will soon be operating the business in Missouri, and says the company just recently broke ground on its roads. 
Given to him by his partner and founder of Essential Extracts, Nick Tanem, Anderson says the mask promotes their business's values: quality, health and education.
Since the marijuana industry was deemed an essential business, Anderson and Tanem say the pandemic has not negatively impacted the business. 
"The pandemic has kept us even more busy preparing to supply an even larger audience," Tanem says. 
Related Stories