They made their move around dusk, mouths shut. They made no plans to speak. They made no plans to explain. Nine individuals, most no older than 18, walked in unison through the swinging door of Columbia's Minute Inn in April 1960. Silence washed over the tiny diner as they entered. The servers watched as the group slid onto the 10 stools at the lunch counter.
Four of the demonstrators were white, five of them black. The glass service window outside the Inn was meant for black customers; they were directed to stand and order their hamburgers and hash browns out in the elements, cordoned off from the diner's white patrons. This night, six years after the Brown v. Board of Education decision, James "Jim" Nunnelly and his friends would follow the example of Baltimore, of Durham, of Oklahoma City, of Greensboro. This night would become the almost-forgotten "sit-in at the Minute Inn."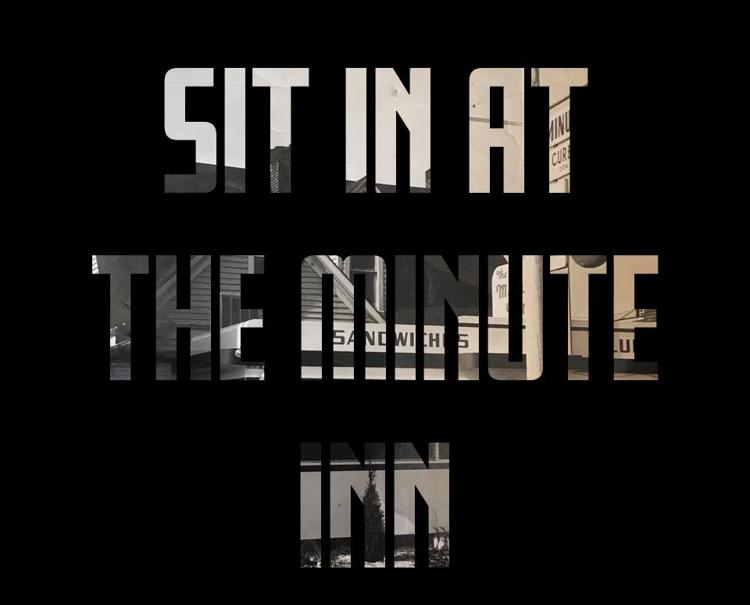 The group, organized by the Columbia Committee on Racial Equality (CORE), entered the diner at 7:35 p.m. For reasons no one can remember, they temporarily disbanded, then returned to the diner at 11:55 p.m. Inside, Jim occupied the stool closest to the door. He was 17 years old, a few weeks away from graduating high school and "160 pounds soaking wet" — or so he puts it now — with a long face and ears that poked out. He was the quarterback on the football team at Douglass High School, the all-black high school in Columbia. His girlfriend and eventual wife of 53 years, Janice, thought he looked cute in the soda jerk hat he wore working for her father at The Freeze King, a soda fountain and ice cream parlor. Most people in their small, impoverished, majority-black neighborhood knew him as a good kid.
That night at the Minute Inn, he was in unfamiliar territory. He was cautious. The silence lingered. Fifteen minutes passed, and Jim ordered nothing. He was getting tired, or maybe antsy, maybe worried, and he was going to leave. The group planned to disperse in the next five minutes, having made their mark in the sit-in movement, having said what they wanted to say without saying anything. This is our neighborhood. We have every right to be here.
---
Hubert Odell Blakemore interrupted their plans to leave quietly. He owned the Minute Inn and had since 1950, when he hired a plane to scatter fliers about his new business all over Columbia, after which the city banned advertising dropped from the sky. He'd transported the diner to town on a rail car from Wichita, Kansas, and he named it the Minute Inn when his wife, Hazel, tried to stop him hurrying out the door: "Now, just a minute," she'd tell him.
Blakemore was a farmer, an entrepreneur and a member of Olivet Christian Church. And somewhere between the late hours of April 18 and the early morning of April 19, he was alerted that a group of protesters were staging a lunch-counter sit-in at his business.
The door swung open, and Blakemore filled its frame. Jim remembers him wearing bib overalls, with as much reddish-brown hair on his arms as on his head. He looked disheveled, Jim recalls, like he'd been roused from a deep sleep. The man was built like an offensive lineman. Blakemore was big; he could swing.
Jim hadn't watched the owner come in, so when he turned around to follow everyone's gaze, he was surprised. Blakemore occupied the only way out. The owner blinked in disbelief at the black faces in his restaurant. They were supposed to be outside.
Before Jim could speak, Blakemore had catapulted him through the diner's swinging door, where he nicked the edge of the concrete stairs and landed heavily in the gravel. In addition to Jim, Blakemore threw out Robert Hanson, a white MU student who had joined the CORE protest, as he told them, "I own this place, and I want you out." The rest of the group immediately scattered, fearing the imminent arrival of the police. Jim leapt back to his feet without checking for injuries and went across the street, adrenaline overwhelming his common sense.
---
News travels fast in a small town, especially in a neighborhood like Jim's, where the discrimination of the Minute Inn stuck out with such stubborn indignation. Restaurant desegregation had begun in Columbia, but not every business owner agreed. He believes a group walking by the restaurant watched him and his friends enter the premises, and they started spreading the story as soon as it had happened. Within 20 minutes, it seemed as if everyone knew. By the time Jim bolted across the street to vacate Blakemore's property, a small crowd — he estimates 20 people — had gathered. George Brooks, Jim's high school teacher and football coach, was there; he would later become MU's first black administrator, and a residence hall on campus now bears his name. Sarah Bell Jackson was there; she was the adult sponsor of the youth NAACP. Janice was at home; she heard everything after the fact.
They asked Jim what had happened. Brooks — who would traverse the neighborhood around Douglass on school nights to ensure his athletes were home safe before 9 p.m. — was gentle with the kid: "Ya sure you're alright?" Jim was. There were no visible wounds, and when he woke the next morning, he felt fine.
Although local police arrived on the scene, they made no arrests. Jim doesn't remember ever getting interviewed by police or local reporters, though the Columbia Missourian ran a story on April 19 detailing that the acting city counselor would not bring criminal charges against Blakemore. His reasoning was that the assault had been "provoked." John D. Schopp, an assistant professor of astronomy at MU who was a member of CORE, found the argument ridiculous. The sit-in had been peaceful until Blakemore arrived.
Jim told his tale a few more times over the years, for an oral history at the State Historical Society of Missouri, for a journalist or two, and eventually in a Facebook post in November 2017 that sparked an outpouring of online appreciation and support from Columbia community members. But for the most part, he kept the burden to himself. He rarely, if ever, discussed it at length with his family. It became a stain on his memory, something he perhaps thought better to forget.
That night in 1960, Jim's mother met him on his walk back home. After hearing the news, she had traveled two or three blocks from their house near Jefferson Junior High School to come and pick him up. When they ran into each other, Jim knew that she would be worried. When she spoke, there was anguish in her voice.
"You have to be careful with this whole race situation," she told him. There was pride in her tone — pride for her son who chose to sit down. But there was also a deep, unfathomable fear. Geraldine and Raymond Nunnelly were the parents of five children, and though Raymond was illiterate, both he and his wife were supportive of their bright young son's education. They did not want to see his smarts snuffed out by a racist system.
Back at the house, Jim called Janice and told her what had happened. She listened with concern but not shock. She knew from the beginning what kind of man she was with, and she knew the kind of world they lived in. There was never any notion of controlling Jim. Even then, when she was still his girlfriend and not yet his wife, Janice could predict how the Minute Inn would haunt him over the years. When he couldn't recognize it in himself, she could already see the cracks in his composure, how they would propel him, almost immediately, to analyze every complexity of race in America; to understand the troubles facing black Americans in his community; and to embed himself in the mentorship of young people — especially young people who looked like him. The Minute Inn would change Jim, and he would no longer keep his mouth shut.
Only weeks after the events at the Minute Inn, Jim graduated from Douglass High School as part of the final segregated class before administrators temporarily closed the school. He had a deep loyalty to Douglass. When Hickman High School started integrating its black and white students in 1958, Jim chose to stay at Douglass, desperate for administrators to pour resources into the black school. This was six years after "separate but equal" educational facilities were deemed unconstitutional. Change was supposed to be happening faster than it was. But Columbia was slow to adapt and slow to understand its own racial trauma.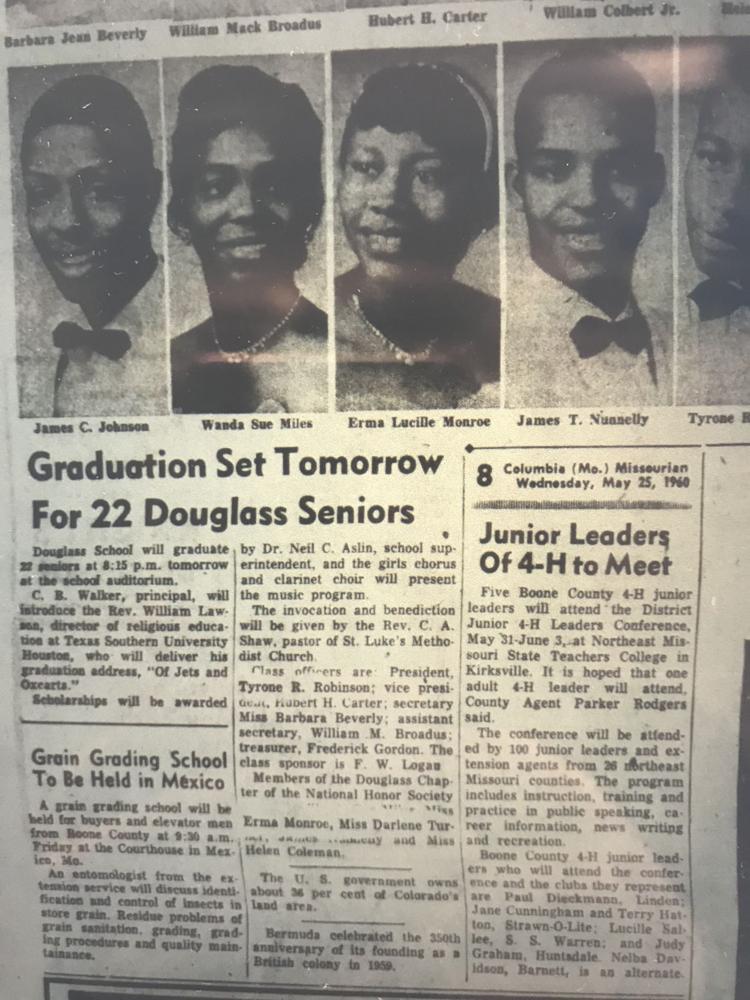 A little over 20 years before Jim's protest, Lloyd Gaines, a black man, disappeared after fighting the U.S. Supreme Court for the ability to attend MU. He was never found. A few years later, in 1941, Lucile Bluford won a Missouri Supreme Court case for her right as a black woman to participate in MU's graduate journalism program. Before she had a chance to take one class, the school shut down the program, claiming too many students and professors were overseas during World War II. In 1954, Columbia began the destruction of the Sharp End, the majority-black business community in the city. The federal Urban Renewal Program allowed white business owners to buy areas deemed as "slums" and demolish them for redevelopment, altering the entire face of the black neighborhood.
This was the atmosphere Jim grew up in. He knew it and understood it well. His own home — a four-room cottage with no running water — was a potential target for the Urban Renewal Program. But the story that stuck with him as he entered the door of the Minute Inn, and as he walked up to receive his diploma weeks later, was that of Emmett Till.
A 14-year-old black boy, Emmett "Bobo" Till was visiting family in Mississippi in 1955 when he was accused of whistling at a white woman. He was kidnapped and lynched by the woman's husband and his half-brother. They tied him with barbed wire to a metal fan at the bank of the Tallahatchie River. When he was later found and identified by the signet ring on his finger, his face was damaged beyond recognition. Yet Till's mother chose an open-casket funeral, leaving her son's body visible for five days. More than 100,000 people saw him at the Roberts Temple Church of God in Chicago.
It was an image Jim couldn't shake. He always felt something was going to happen to him — not because he was reckless, or particularly prone to cause trouble, but because he was young, and he was black. The violence that killed Emmett Till could still happen. And when Hubert Blakemore threw him from the door of the Minute Inn, Jim experienced a small piece of that violence, and it has not left him since.
When Jim was forced to bridge the distance between "the town and gown," as he puts it — the divide between the city of Columbia and MU — his fear almost stunted him. If he'd had his choice, he says, he might have attended a historically black college or university. But after the events at the Minute Inn, he had been elected the head of the local youth NAACP, which urged him to attend MU so that more black students like him would follow in his footsteps. He knew that the decision was bigger than just him.
In his own city, Jim became a "domestic immigrant" — a term he uses when referring to black people who come from around the same communities as white people but are treated as foreigners. His family had lived in Columbia for over 120 years, but at MU he felt out of place, and that made him cautious.
He had good reason. He was one of a handful of black students surrounded by thousands of white students. He says he scored so highly on his college entrance exam, the Ohio State Psychological Exam, that the administrators told him to take it again, to ensure this kid from Douglass was as smart as he seemed on paper. Every morning during college, he walked to campus from his home with two fellow black students, John Kelly and Charles Allen. The three of them developed a support system, of sorts.
The university transformed Jim. It expanded his worldview, his "territory," as he puts it. He received an "awful good" education at MU, he says. He almost skipped graduation, but Janice pressed him to go, insisting he was making history.
He explains that, most days, he wears at least one article of clothing emblazoned with MU's logo. He graduated from college almost 50 years ago, and he says he has close to 75 MU shirts, sweatshirts and jackets. His experiences at the university led him to run a campaign for mayor of Columbia; to take an eventual health care job in Kansas City; to help establish the Jackson County Drug Court and Jackson County Fathering Court for addressing substance abuse treatment and parental financial responsibility in Kansas City.
His time at MU inspired him to work with students at a Kansas City radio program called Generation Rap, where he transformed the format of the program so that kids were in charge, creating and hosting each show. That night at the Minute Inn and the ensuing days at MU helped create the man known to hundreds of young people as "Granddad." Some don't even know his real name is Jim.
He describes his position on the frontier of college integration as if it were a battle: desegregation, the no man's land, and Jim, the "undecorated, wounded war hero." No one ever told him the psychological consequences he'd experience as one of the university's sociocultural guinea pigs. Today, certain experiences can still trigger uncomfortable memories from his time at MU. And yet he refuses to say anything ill about the school. He isn't bitter. He's educated. He's a self-proclaimed historian, "who doesn't want history to repeat itself," equipping hundreds of minority students with the tools they need to get to — and through — college, in a system often set against them.
---
At home in Kansas City on an afternoon in April, Jim's door is open. The hinges creak as his family and friends slip in and out of his house near Swope Park with little notice. On the couch today sits Christian, the Nunnellys' 28-year-old grandson, and next to him is Andrew McDowell, a 30-year-old former Generation Rap student. They discuss Andrew's new business, a smoke shop in Raytown, Missouri, named the Funky Skunk, while Jim steps outside. He'll be back soon, he promises; he's heading out to introduce Congressman Emanuel Cleaver before a keynote speech downtown. Cleaver, once Kansas City's first black mayor, has been friends with Jim for years. He says nothing of consequence happens in the Kansas City black community without Jim's involvement — or without the involvement of someone who has been influenced by Jim.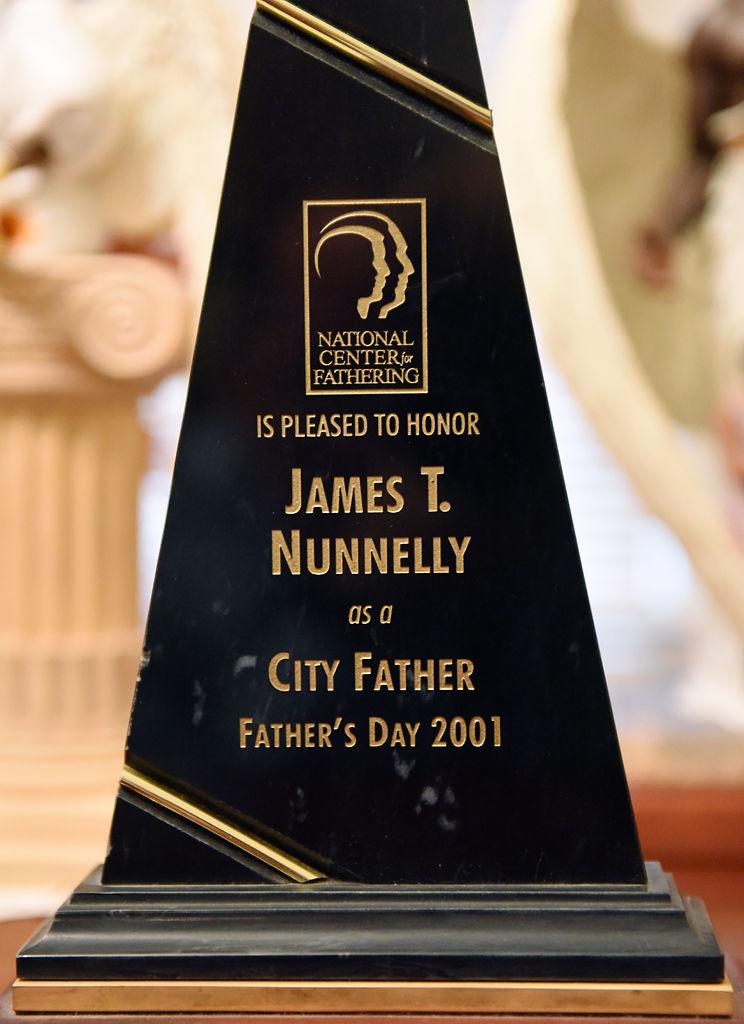 The Nunnellys have owned their home for almost 50 years, ever since they arrived in Kansas City in 1969. Jim moved to the city to support a new community health center, now known as Samuel U. Rodgers Health Center. The struggling clinic, focused on providing care for minorities, enlisted Jim to handle government affairs and publicity as the chief administrator. During his time there, the clientele increased, he estimates, from fewer than 30 patients a month to hundreds of patients a day.
Bent on furthering his education, he earned a master's degree in public health economics at the University of Michigan in 1973, commuting every six weeks to see his family. After graduating, he returned full time to his job in Kansas City and aided the creation of a family residency practice. To this day, Jim's a staunch health care advocate, often leading radio and social media campaigns to educate minorities about diabetes risks. He says he feels his work in health care is overlooked due to his volunteering activities. He jokes that most of the Generation Rap kids had no idea he had a day job.
---
Inside the house, Janice flits through the art-stuffed living room to show off her figurines and collectibles. Every trinket has a meaning, from the pipe-smoking statues she bought in Jamaica to the brass sculpture of a ship above the fireplace. She refers to it as "the ship that brought us over from Africa." A china cabinet in the dining room is filled with figurines of black men and women, most from Thomas Blackshear's Ebony Visions collection.
"This is called The Guardian," she explains, pointing out the figure of an angel-like man, eyes closed, arms open, his enormous white wings closing around two small black children. "That represents Jim guarding our grandchildren." And another, this one a young woman in a black dress, clutching a rose behind her back. "This is called Evening Rose," she says. "That's me when I was young and cute." She flashes a devilish smile.
In one bedroom, Janice has decorated a wall with portraits of the Obama family. On the opposite wall are portraits of her own family. The living room is stuffed with souvenirs from her travels around the world, from France, Ghana, Kenya, Egypt and China. Working as a registered nurse for hospitals and nursing homes while her children grew up, Janice wasn't sure she'd ever have the chance to leave the country. So when she brought home a pamphlet advertising a nursing exchange trip to China, she left it to gather dust atop their bedroom dresser. Jim picked the paper up and paid the initial $300 fee without telling his wife. A few months later, she walked The Great Wall of China.
That's the relationship they've always had. Jim has his adventures; Janice has hers. They come together to raise their two children, their five grandchildren, their four great-grandchildren and the hundreds of other non-biological "grandkids" they've mentored over the years, many of them from Generation Rap. The house — and the items it holds — are a testament to the life they've built.
---
Without Jim around to listen, Christian is candid. He says he has to speak with Granddad at least once a week, like church, "just to kinda stay alive and not feel like I'm drowning." He lived with his Nunnelly grandparents for seven years as a kid, from first grade through seventh grade, while his mother worked nights. Even in those days, he felt the immense pressure of following in his grandfather's footsteps. Christian didn't want to go to college initially — he went because Granddad wished it for him. Now, he works as a travel agent in Atlanta. But when asked what Jim expects of him as a young man, Christian answers, "to become president." It's clear from the slight smile on his face that he's only half-joking.
Neither he nor McDowell know much of anything about Jim's experience at the Minute Inn. They know he shook hands with Martin Luther King, Jr. in Selma, Alabama*, but they chuckle as they share that tidbit. Typical. Granddad would have met Martin Luther King, Jr.
As for his trauma in Columbia, Jim has chosen to keep that mostly to himself.
When he returns from his introduction of Congressman Cleaver, Jim sweeps into the living room with purpose. His face shape has changed over the years; it's a little thicker, accented by a wispy black mustache. But for a man with so many experiences, he doesn't look weathered. He still has enormous, bright eyes behind his giant silver-rimmed glasses, and today, he's excited to welcome a former mentee. Taylor Brown, he says, is probably the Generation Rap student who's relied on him and his mentorship the most over the years. She's now a 27-year-old working as an education outreach specialist at ArtsTech, a nonprofit youth organization in Kansas City.
She was a troublemaking kid, or so he puts it. "Incorrigible" is how he describes her. She had a mouth on her, a sassiness — but a sincere sass, not the immature acting-out of most teenagers. Jim was fascinated by it. She grew up in poverty; her father was in and out of prison due to a crack addiction. But Brown had a light in her. Jim would pick her up every Saturday morning and let her eat all the candy he kept in his car while the two of them drove to the studio to record Generation Rap programs. He would teach her big words such as "pyrotechnic" while she yawned in the passenger seat, complaining that it was 7:30 in the morning. Granddad, stop. In his 30 years of working with Generation Rap, Jim only missed four sessions. He was there with Brown almost every week.
When it came time for her to run her own program, she wanted to use her hour of radio to address whether criminals are put in prison or in treatment. Thrilled with her spunk, Jim set up a meeting with the Jackson County prosecuting attorney. During the afternoon meeting, Brown sat across from the prosecutor, locked eyes with him, leaned in close and demanded, "You tell me why it is that my father keeps going to jail and not going into treatment." It was then that Jim knew he could transform that courage and bravery into something worthwhile.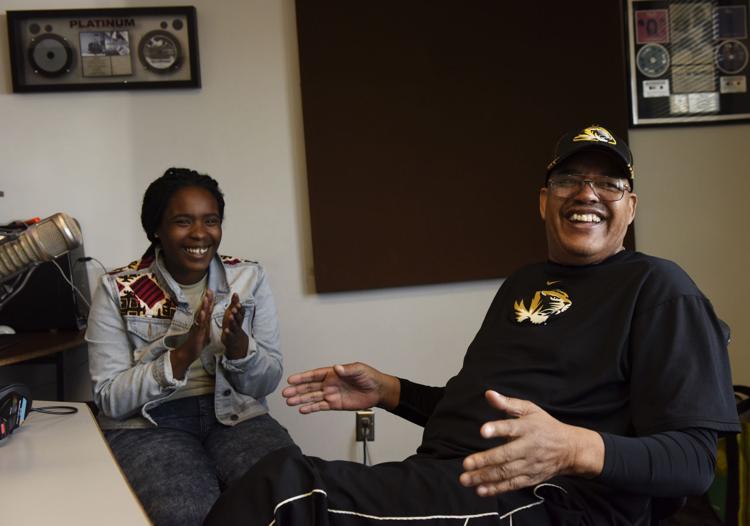 When Brown steps through the front door, the frame rattling behind her, it's immediately clear that she's home. She jumps to embrace Janice, who she calls "Nana," and when Jim protests in mock jealousy, she wags her tongue at him. "You're just a pure hater," she says.
Jim ignores them. "She's really one of the prides of the city at this point," he says of Brown, and he watches adoringly from across the room.
A few minutes later, Brown launches into a description of her upcoming trip to Senegal. As a part of her work with ArtsTech this summer, she organized a trip to Africa, where her group of volunteers donated refurbished computers to Senegalese students to aid them in tutoring and ACT prep. And within the next year, Brown plans to return to college and complete her bachelor's degree.
Jim explains, away from Brown, that her personal development has been a long-term investment. He wasn't always sure he could help her get where she wanted to go. He says she was expelled from multiple schools growing up. She didn't understand why everyone wasn't excited to be black, why Jim himself wasn't always excited to be black. She forced him to rethink his own "cultural inclinations," to reassess his identity and his history. And here she is now, healthy and successful, her grin lighting up his living room. In many ways, she's the tangible representation of his life's work.
---
For his part, Jim is excited to have been involved in the work that he's done, helping youth through times of transition. But even after multiple retirement parties, he's constantly working. He travels back and forth to Columbia for the occasional university event. He wears his MU shirts almost every day.
He never went back to the Minute Inn after Hubert Blakemore threw him through its front door. The restaurant was purchased by Rex Freemyer in the 1960s, and from there, it underwent shifts in culture, location, title and ownership until a new building was erected and the Minute Inn eventually became today's beloved Broadway Diner.
Jim declined. He wasn't remorseful. He'd just had enough.
He says there has been nothing in the years since like what he experienced in Columbia. He never talks about his old home with anger. He owes a lot to Columbia. And, in turn, he has helped hundreds of minority students grow and choose their path toward education, whether it leads them to MU or somewhere else. He sees that this is what he was meant to do.
And he is grateful. 
* Correction: Jim Nunnelly met Martin Luther King, Jr. in Selma, Alabama. An earlier version of this article misidentified the location.