Although the pandemic may cause some hesitation about secondhand shopping, most local thrift stores have COVID-19 precautions in place to make shopping sustainably a safe experience. Whether you're looking to buy used furniture, children's clothing or even vintage costumes, there's a store in Columbia for you.
Leo's
Decorated with vintage knickknacks and old paintings, Leo's is a throwback to the past that customers are bound to find charming. Open since 1972, the store offers a wide range of vintage clothing, army gear and shoes, as well as costume sales and rentals. Leo's also sells vintage records and books.
The store describes itself as "Columbia's best-kept secret" due to its tucked-away location. To enter the store, customers must ascend a glittery yellow staircase next to Coffee Zone.
While Leo's is located in a relatively small space, there is still plenty of room for social distancing from other shoppers. The store's dressing room also remains open.
Location: 9 N. Ninth St.
Current hours: Thursday-Saturday, 12 p.m. to 6 p.m.
Harmony's Treasure Box
If you're looking for new or gently used children's clothing, maternity clothing or baby gear, Harmony's Treasure Box is the place to go. Owner Harmony Evans tries to avoid designating the shop as a thrift store because she only accepts gently used items that are in pristine condition and are currently in style. Despite this, the store still sells new items for lower than retail price and used items for anywhere between 40% to 90% off retail price.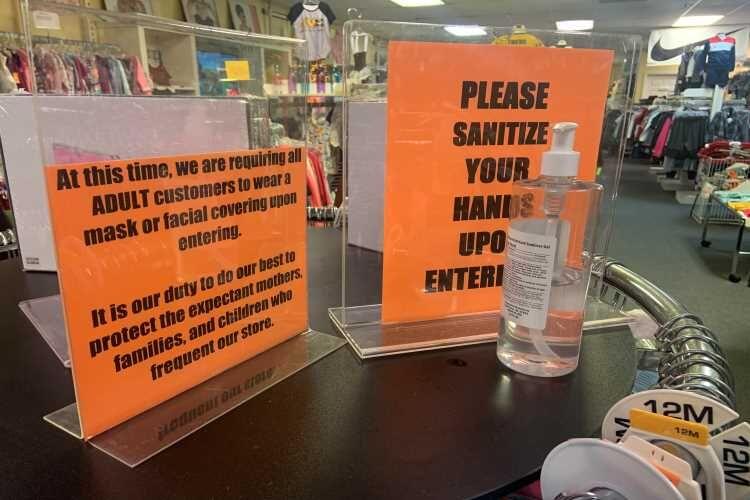 "When we opened in 2009, we wanted parents to have an option for nice, stylish, affordable children's clothing and baby gear, because kids grow out of their clothes extremely, extremely fast," Evans says. The store also buys clothing, which gives parents the option to resell their children's old clothing for cash or store credit.
Harmony's Treasure Box offers online shopping as well as curbside pickup for customers who want to avoid shopping in person.
Location: 1900 N. Providence, Unit 210
Current hours: Monday-Saturday, 10 a.m. to 7 p.m.; Sunday, 12 p.m. to 5 p.m.
The Wardrobe
This not-for-profit, volunteer-run thrift store is a must for cheap clothing, books, household items and more. The Wardrobe sells almost all adult clothing for only $1 per item, and other items such as books and children's clothing are sold for as little as 25 or 50 cents.
"Our prices allow people to buy even more than if they went someplace else," says Evette Nissen, board chair for The Wardrobe. "A lot of college students I'm seeing are liking the vintage stuff too. We have a little bit of everything there."
All profits from The Wardrobe are used to help struggling Boone County families purchase school shoes for their children.
There is a limit of 20 customers in the store at a time, and patrons must sanitize their hands before shopping. Carts are also sanitized after every use.
Location: 715 Park Ave.
Current hours: Tuesday (referral customers only), 11 a.m. to 2:30 p.m.; Wednesday, 11 a.m. to 2 p.m.; Saturday, 9 a.m. to 12 p.m.
Maude Vintage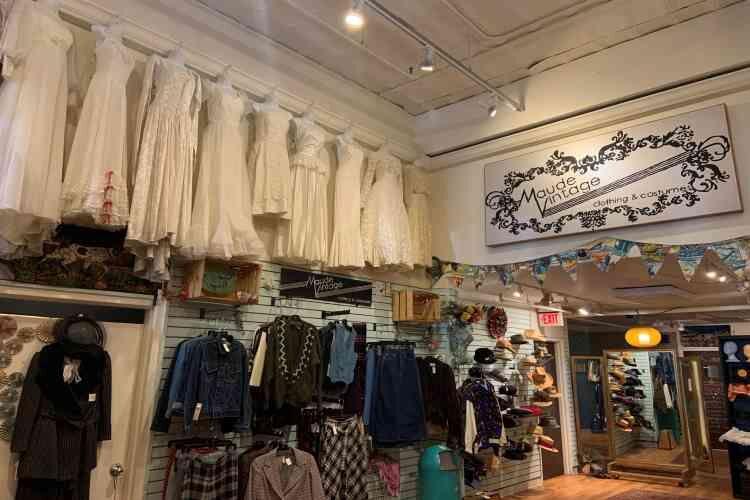 This eclectic store offers a wide range of stylish vintage clothing, costumes and accessories. While price points are higher than some other secondhand stores, the shop's stylish vintage pieces ranging from the '20s to the late '90s are in prime condition and are all hand-picked by owner Sabrina Braden.
The store has many COVID-19 precautions in place. Disposable masks are offered for free to customers, and sanitization stations are placed throughout the store. Shoppers are allowed to use the dressing rooms, and clothes are incubated for 72 hours after they are tried on.
For those looking to shop online, Maude Vintage has some items available for purchase through their website.
Location: 818 E. Broadway
Current hours: Monday, 12 p.m. to 5 p.m.; Tuesday-Thursday, 12 p.m. to 7 p.m.; Friday-Saturday, 11 a.m. to 8 p.m.; Sunday, 1 p.m. to 5 p.m.
The Love Seat
On the lookout for affordable furniture and household items? The Love Seat has you covered. This not-for-profit store sells gently used furniture pieces, household decorations, appliances and clothing.
Store manager Sherri Hockett says that The Love Seat's large furniture selection and friendly customer service is what makes the store special.
"We do have a good atmosphere in here," Hockett says. "It is our employees who love our customers and try to greet each one with a friendly smile."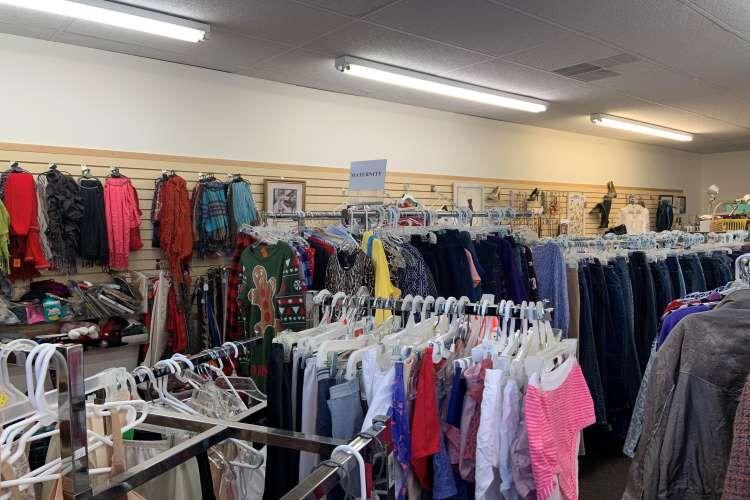 All profits go to the store's mission of providing furniture, clothing, financial assistance and resources to those in need. Hockett says that much of the store's profits have been going toward housing homeless Columbia citizens who lost their jobs during the pandemic.
The Love Seat supplies masks to customers, sanitizes surfaces frequently and limits the number of customers in the store at a time. Customers may try on clothes as returns are currently not allowed for clothing.
Want to skip the store? The Love Seat sells some select, high value items through their website.
Location: 19 Business Loop 70 E.
Current hours: Monday-Friday, 10 a.m. to 5 p.m.; Saturday, 9 a.m. to 4 p.m.; Sunday, closed
Where to start?
Here's an interactive map of where to find a few of Columbia's great thrift stores.
Related Articles